Avec Amour is a go-to for luxurious lingerie
Looking for some comfortable or racy lingerie? You can get some great pieces in here if you know where to look, so read on to discover where to shop lingerie in Hong Kong.
We love to shop here at Honeycombers Hong Kong. From shopping sneakers in Hong Kong to fashion from Hong Kong designers and finding treasures at vintage stores, there's nothing like a little treat to brighten your day. And one of our favourite vices is shopping for bras and underwear including lace, satin, silk, floral, leather, sheer, bondage and designer. Check out our picks for the best lingerie shops in Hong Kong.
Where to shop lingerie in Hong Kong
1. Avec Amour
First opened in Hong Kong in 2011, Avec Amour features luxury lingerie designer brands from Europe, the United States, and Australia including Agent Provocateur, Bluebella, Bordelle, and Maison Close. We love the fact that they cater for all sizes and stock a wide range of styles at various price points – from gorgeous bodysuits and corsets for when you need to dress to impress, or ultra-provocative open bras and ouvert panties.
Avec Amour also sells products to ramp up the fun in the bedroom, such as crotchless hosiery, bondage harnesses, handcuffs, and accessories. Looking for something last minute? Avec Amour is based in Hong Kong, so your lingerie can be delivered to your doorstep swiftly and discreetly in just a few days.
Read our full story on Avec Amour.
Shop Avec Amour online, p. 2488 6155
2. Lonely
Lonely is a New Zealand brand that aims to celebrate body positivity and women, creating lingerie, swimwear and clothing pieces that fit women of all shapes and sizes. The brand finds inspiration from everyday women, and is committed to designing clothes that provide comfort and the perfect silhouette for each body. We love the brand's playful use of materials, colours and silhouettes.
Shop Lonely online.
3. Raven + Rose Lingerie
Raven + Rose Lingerie sells edgy intimate wear that lingers outside the norms of traditional female beauty standards. The fashion house offers online and in-store shopping and has a soft-bondage and soft-lace design that is incredibly edgy, giving off an unpredictable playful sex appeal. Definitely not to be missed when you're looking for lingerie in Hong Kong.
Raven + Rose Lingerie, 5/A Gough Plaza, 33 Gough Street, Central, Hong Kong, p. 8191 7673. By appointment only
4. Marks & Spencer
Head to Marks & Spencer for more than just your favourite food treats, as their lingerie section features a great selection of bras, knickers, shapewear, hosiery, nightwear, thermal wear and bridal wear. The British brand has a special collection with Rosie Huntington-Whiteley, a former Victoria's Secret Angel and also a bra fitting service, so shop online or in-store for the latest designs.
Marks & Spencer has multiple locations across Hong Kong.
5. Monki
One of our favourite places to buy lingerie in Hong Kong, Monki is all about making cool clothes for strong, confident women of every shape and size. Acing the comfort factor, the collection comes in shades of dusty rose and ochre rose that have us dazzled. We also love the little animal print additions for when you need a little "grrrr" underneath to get you through the day (and night!).
Shop Monki online.
6. Sheer
Available online and in-store, the Hong Kong based luxury store sells designer lingerie brands from Europe and the United States including Bordelle, Chantells, Fleur of England, Ginia, Hanky Panky, Heidi Klum and Zimmerli. Sheer also offers a private bra fitting service with their lingerie consultants and stocks a range of maternity and shapewear.
Sheer, Shop 310, 3/F, Landmark Atrium, 15 Queen's Road Central, Central, Hong Kong, p. 2388 2876
7. Victoria's Secret
When speaking of lingerie in Hong Kong, you can't miss Victoria's Secret. American design house Victoria's Secret is an iconic woman's lingerie brand that sells lingerie, sleepwear, loungewear, activewear, accessories and beauty products. The brand is renowned for its annual fashion show, and has been credited with bringing cultural acceptance to lingerie.
Shop Victoria's Secret online.
8. Peach John
Peach John features a range of kawaii and feminine bras, panties, lingerie, beauty, room-wear and swimwear. The Japanese brand is recognised for its signature delicate flirty and floral designs, and aims to bring confidence and happiness to the young women who wear their pieces every day.
Peach John has multiple locations across Hong Kong.
9. Wolford Boutique
Austrian brand Wolford Boutique sells a range of products, including hosiery, leggings, legwear, pantyhose, bodysuits, ready-to-wear, lingerie, underwear, shapewear and accessories. Enjoy online and in-store shopping for innovative pieces that are customised to shape and contour every woman's figure.
Wolford Boutique has multiple locations across Hong Kong.
1o. Bonds
Bonds is an Australian underwear brand that offers a wide range of youthful ready-to-wear casual intimate pieces. The affordable brand is great for young women who are growing into their bodies, and is perfect for those who enjoy colourful patterns and bright toned underwear items. Shop online for bras, briefs, leggings and sets.
Shop Bonds online.
11. Cotton On: Body
One of the most convenient spots to get lingerie in Hong Kong is Cotton On: Body. They offer intimates, activewear, sleep and lounge wear, swimwear, maternity wear, accessories and socks. The affordable knickers and bralettes are both flirty and fun, with lace set pieces valued at only $139. We think they have a great selection of sports bras too for the girl on the go too.
Cotton On has multiple locations across Hong Kong.
12. 6ixty 8ight
Purchase cute, fresh and affordable lingerie from your local 6ixty 8ight store, a brand that offers a range of bras, knickers, lingerie, nightwear, accessories and clothing. Recognised for their fun and fresh contemporary designs, mix and match your wardrobe with their large range of pieces, and pick up some great deals.
6ixty 8ight has multiple locations across Hong Kong.
13. Simone Pérèle
Established in Paris in 1948 by corset maker Simone Pérèle. The French brand features elegant and seductive designs in solid colours like black, white and nude making them the perfect label for women in the workplace. The pieces are made with extreme care and detail and are sourced from luxurious and wearable materials including silk and lace.
Shop Simone Pérèle online.
14. Intimissimi
Intimissimi offers a wide selection of quality intimate wear from bras, knickers, lingerie, nightwear to a special bridal collection and even caters to the male audience with a men's range. The Italian brand also features bodysuits, babydolls, nightgowns, suspenders and garters in a range of materials from cotton, silk, satin, lace, to risque sheer net.
Intimissimi has multiple locations across Hong Kong.
15. Calvin Klein
This iconic brand is notorious for their designer underwear and racy ad campaigns, with celebrities like Mark Wahlberg, Kate Moss, Justin Bieber and Bella Hadid having in the past advertised with the label. Calvin Klein has pieces for every occasion, from athletic items like swimwear to sports bras, to traditional fit wire bras and push up bras. The brand also offers risque intimate wear like lace and sheer briefs and thongs.
Calvin Klein has multiple locations across Hong Kong.
16. Triumph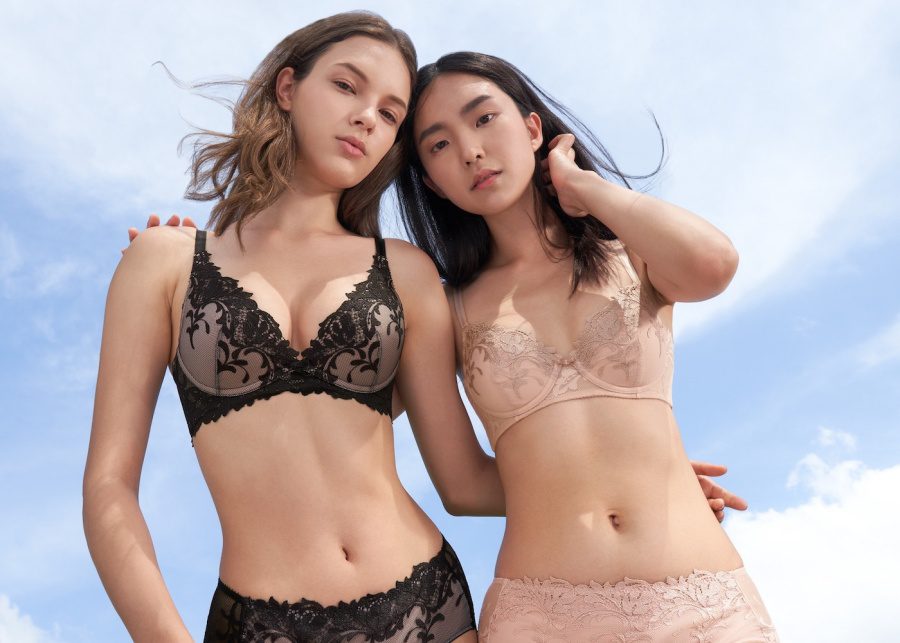 Established in Germany in 1977, Triumph has over 130 years of experience in tailoring women's intimate wear. The lingerie and shapewear brand offers a range of sensual and stylish designs that are sure to leave you confident, comfortable and happy.
Triumph has multiple locations across Hong Kong.
17. La Perla
Founded in 1954, La Perla, is a high-end Italian designer lingerie brand that sells ready-to-wear, lingerie, nightwear, beachwear, bridal and accessories. Available online and in-store, purchase extravagant floral inspired intimate lingerie in Hong Kong including thongs, underwear, bras, bralettes, bodysuits, babydoll dresses, robes, and slip dresses made from embroidered lace, silk and satin.
La Perla has multiple locations across Hong Kong.
18. Love Stories
Looking for lingerie in Hong Kong? The romantic Dutch brand, Love Stories, is founded on the belief that each individual piece is about showcasing one's identity and style. Love Stories' pieces are comfortable, stylish, and have a feminine and flirty appeal to them. Find bright coloured and vibrant patterned bralettes, briefs, thongs, swimwear and lounge wear.
Shop Love Stories online.
19. Agent Provocateur
Not only does British brand Agent Provocateur sell elegant lingerie in Hong Kong, they also offer an array of swimwear, nightwear, ready-to-wear, accessories and bridal wear. The brand uses stunning colours to really make the lingerie pop and mixes a variety of fabrics to create truly stunning pieces. Purchase flirty, naughty, delicate and beautiful designer lingerie from the store in Central.
Shop Agent Provocateur online.
20. Sally's Toy
Sally's Toy is an upscale intimate store that offers a wide range of lingerie in Hong Kong, as well as bondage wear and female-friendly sex toys. The store embraces female sexuality and sexual pleasure, and you will find see-through body stockings, bras, bralettes, thongs, underwear, masks, costumes and even full one-piece leather latex catsuits at their Central location.
Sally's Toy has multiple locations across Hong Kong.
21. H&M
If you're looking for a casual piece to throw on then H&M sells a wide range of lingerie at affordable prices. You can pretty much find anything you're looking for, for bras; shop padded, push-up, and strapless. For knickers; shop hipsters, thongs, Brazilian, and shorties. They all also offer options in different fabrics, whether you like lace, seamless, or cotton. Shop the bundles to stock up and add bang for your buck.
H&M has multiple locations across Hong Kong.
22. QuestChic
Based in Hong Kong, QuestChic's lingerie and sleepwear aim to help you discover your inner chic and beauty with carefully selected materials and styles designed to give you maximum comfort. You can shop different collections including bridal, classic, and romance for more pink and red hues. As for returns, QuestChic is happy to exchange unworn items within 30 days but they don't offer refunds.
QuestChic, Floor 1, Kong Ling Building, 100 Jervois Road, Sheung Wan, Hong Kong, p. 2541 1810
23. Perk by Kate
Feel good inside and out with Perk by Kate's affordable range of luxurious pieces. This Singapore-based studio knows how to make a woman fall in love with herself with intimate pieces available in a high-quality fabric in a range of colours. We love their maternity bralettes (they're so functional and great for breast-feeding) because new moms need to feel sexy too.
Shop Perk by Kate online.
24. Her own words
For support where you like it, and comfort where you need it, Her own words is on a mission to make women feel comfortable with innovative designs that are designed to provide a good fit. From "invisible" seamless to push up, sports bras and more, their extensive collection aces both quality and quantity! Plus, they have up to 50% off and buy-two-get-one-free offers on selected bras.
Her own words has multiple locations across Hong Kong.
25. For Love and Lemons
In the market for playful yet classic lingerie? Look no further than For Love and Lemons, which features sets adorned with patterns and vibrant colours. Selling everything from bras and panties to teddies and bodysuits, For Love and Lemons is the one-stop shop you need for undergarments that will make you feel and look beautiful.
Shop For Love and Lemons online.
26. Bordelle
If you want to splurge on your lingerie (because why not?), head to Bordelle. With thoughtfully designed lingerie and bodywear, you can find only the finest materials here. For those who want to spice things up even more, Bordelle offers collections of luxury bondage-inspired lingerie with 24K gold-plated hardware.
Shop Bordelle online.
Bla Bla Bra (CLOSED)
Specialising in bra wear, including sport bras, shaping bras, support bras, and push-up bras, Bla Bla Bra also has a collection of sexy lacy lingerie sets and pieces available for those looking for something more risque. For days in the sun and days spent exercising, find affordable pieces in their swimwear and activewear collections.
Bla Bla Bra, Shop 25-31, Level 9, Langham Place, 8 Argyle Street, Mong Kok, Hong Kong, p. 3514 4326
Braologie (CLOSED)
Braologie is a Hong Kong-based lingerie store that focuses on selecting the perfect bra for your bodyshape. Walk in and find a selection of bras, shapewear pieces, pants, and suspenders in a range of beautiful fabrics. Braologie also provides a bra fitting service, where private one-on-one bra consultants are on hand to educate women on the correct way to wear a bra.
Braologie, Unit 1615, 16/F, Office Tower One, Grand Plaza, 625 & 639 Nathan Road, Mong Kok, Hong Kong, p. 5500 3094