With an iconic Seminyak cafe and a popular burger joint already on his list of accomplishments, there is no stopping Adam McAsey. We chat to him about Bali life, his new food and drink ventures and who he classes as the ultimate boss man!
The café culture in Bali is ever growing, and one haunt that absolutely nails it and has the island's in-crowds queuing up for their daily coffee fix and delicious homemade dishes is Sisterfields.  This Seminyak cafe is located in the hustle and bustle of this hip town, right next to another legendary eatery that serves possibly the best burger [and loaded fries] in Bali… the totally naughty but very, very nice, BO$$ MAN!  Both establishments are the brainchild of one man, and we got the chance to catch up with him to find out what he loves about Bali and what he has next in the pipeline.
Currently living in Umalas with long term partner Linda, Adam McAsey is no stranger to the fabulous Bali life perks.  On his down time he explores nearby Nusa Lembongan island or does some paddle boarding in Nusa Dua.  And whilst he assures us that whilst it might seem like Bali life is all about cocktails around the pool all day, it is far from it.  His 'slightly chaotic' [as he calls it] lifestyle involves being Director of 8 degree Projects, which has many successful venues within it, including two exciting new hospitality venues hitting the Bali food and drink scene very soon!
Firstly Adam, describe our beloved Bali in five words.
Opportunity.  Energy.  Gratitude.  Chaotic.  Transit.
Your family have been in the hospitality business for a number of years, is that what influenced you to be a part of the industry?
No that's what convinced me to not be in the industry! But as anyone in hospitality knows, it's hard to get out of the game once you're ingrained in it.  I grew up in the industry and my strengths are in business so it was a natural transition to open up businesses here.
What first brought you to open your first eatery in Bali?
I was already in the property market here so over the years I have observed the growth but when I first moved to Bali I actually thought it would be my retirement to the hospitality industry and that I would focus on property.  But I saw a fast growing market with huge potential and opportunity and so I wanted to focus on bringing world class venues to Bali, so I struck while the iron was hot!  When the Sisterfields space came up I had no idea what I would do with it, I just knew I loved the location. It was very shortly after that Sisterfields was born.
You obviously had a great vision and found a perfect location in Seminyak and now the businesses are famed on the island – what do you feel has differentiated you from existing and new eateries on the island to make people line up for a table?
We tick all the boxes, we create experiences and venues that can be found in any city of the world and bring it to Bali.  With that comes produce, service and venues at a high level. We take no shortcuts in our venues and run them as a very tight ship to ensure the customer has a great experience time and time again.
Your first cafe in Bali, Sisterfields, is influenced by Melbourne interior design styles. What was the reasoning behind the design? 
The brief for Sisterfields was to create a venue that would appeal to the sophisticated international traveller and compliment the luxurious surroundings, while maintaining a strong connection between the indoors and outdoors.
Your second haunt is the popular burger joint, BO$$ MAN. Who is your ultimate BO$$ MAN?
'Screw it just do it', Richard Branson all the way!
You have been working closely with Executive Chef, Jethro Vincent, for a number of years.  How did you convince him to move from his native New Zealand to Bali?
Jethro was recommended through a mutual friend who knew that he was itching to get to Bali and make something of it. I saw the talent that Jethro had through his creativity and so I employed him for Bikini, but with Sisterfields being the first project for the group.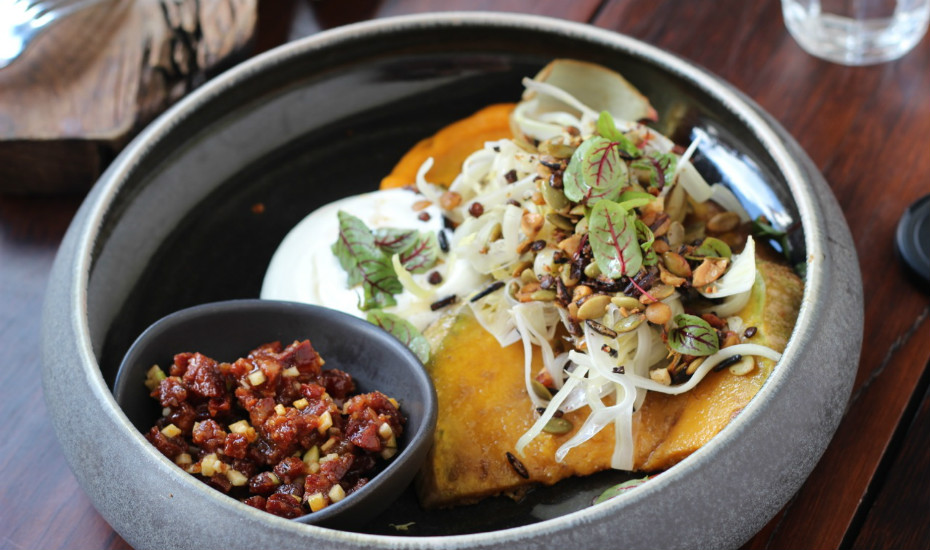 What has been the most risque dish created that made it to the final menu of Sisterfields? And what flavor combinations do you believe have been the most surprising for you and your patrons?
Our pumpkin salad was a gamble going on the menu but it has turned out to be a popular choice. We pair apple, chorizo and pumpkin with a curry spiced granola and whipped feta. Believe it or not it's great! [We can vouch for that, it is one of our fave salads on the island!].
The food scene in Bali is blowing up right now, what do you think it is about Bali that makes it so culinary forward?
Bali attracts people that are innately creative and then it becomes the platform for them to create whatever it is they want. There are very few limitations here so it's a playground for anyone who thinks outside the box.
What are your favourite resto's to eat at in Bali?
Bali has so many great restaurants but my go-to's at the moment would have to be Sip, Sarong and Cuca.  Oh, and one of my favourite places on the island for breakfast has to be La Lucciola.
And finally, what plans have you got in the pipeline?
The next six months will see us open two new venues.  First up will be EXPAT. Roasters, a specialty coffee store located next door to Sisterfields which aims to gives locals and holidaymakers the best possible coffee experience on the island. Later in the year we will open Bikini, which I am so excited for!  Bikini will bring a unique, playful dining experience to the island…. Think Miami beach club meets New York warehouse.  
We can't wait!
Visit Sisterfields, Jalan Kayu Cendana No.7, Seminyak, p. +62 (0)811 3860 507 or BO$$MAN, Jalan Kayu Cendana No. 8B, Seminyak, p.+62 (0)812 3916 7070.