Sitting right next door to Finns Beach Club, this exclusive VIP venue brings the kind of celeb-status services to Canggu that Beyoncé herself would be proud of...
Ahhh Finns Beach Club – Canggu's iconic bamboo powerhouse of tropical island hedonism. This toes-in-the-sand venue on Berawa beach has long had the hearts of sun-worshippers, partygoers and luxury lovers alike, famous for its front-row seaside location, its oh-so scrummy gourmet bites and cocktails, and don't even get us started on the fabulous parties beneath the stars…. 
Well, this island icon is once again getting Bali's beach club connoisseurs raving, because Finns is doing what it does best and upping the Bali beach club stakes once more – this time with a VIP destination that'll knock your Jimmy Choos off.
You'll want to dig out your finest designer bikini for this one, because Finns VIP Beach Club is a sleek and elite sunshine destination that's dedicated to treating you like the celebrity that you are – sunglass-cleaning services and complimentary sunscreen included…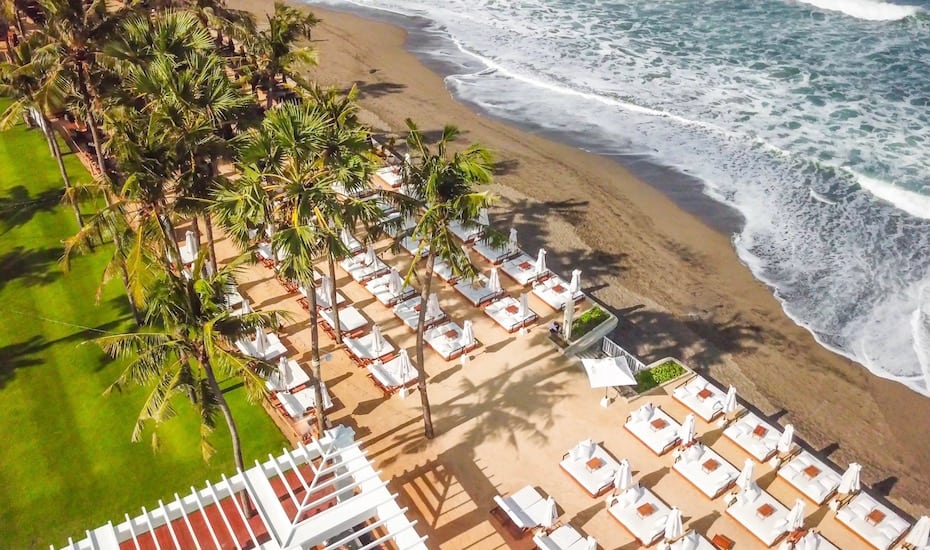 Sitting right next door to the Finns Beach Club OG, this superlative creation is the first of its kind on the island. Five-star facilities and celeb-style services are the name of the glamorous game, wrapped up in island-chic aesthetics that sprawl across acres of manicured estate. Like a tropical Utopia that blends the glitz and glam of St Tropez or Santorini, Finns VIP Beach Club is in a class all of its own, and we're totally hooked.
The VIP Experience
Before you even step foot into the fabulous grounds of Finns VIP Beach Club, the superstar service is already in full swing. At the dedicated VIP entrance, a valet service awaits, smoothly followed by a five-star, hotel-style check-in at the foyer. Here, you'll be met with ice-cool complimentary face towels, oceanfront vistas and your own personal host who'll escort you to your VIP area, surrounded by emerald green lawns and a glittering horizon of pool-meets-beach views. Heaven!
Once you arrive at your bright white daybed (with its comfy cushions and fresh umbrellas) that's when the celeb status really kicks in. Lay back beside the pool deck with a chilled glass of bubbly from the dedicated Champagne Bar, and graze the day away on Finns' signature dishes, served up from the Sandbar and Dining Terrace with a bird's eye view of the beach directly out front.
After a fresh feast of seaside-inspired gourmet nibbles, follow the decked path to Finns' opulent two-storey residence, where the ground floor has transformed into an oasis of relaxation. Aptly named Ocean Spa, here you can treat your tootsies to an al-fresco mani-pedi, complete with those dazzling sea views…
Then, as the warm afternoon sun begins to do its thang, the lush central lawn turns into a paradisal picnic area every day from 3pm, with baskets full of grazing goodies to tuck into beneath the palms. Best enjoyed with a glass of  vino or two, this Grazing on the Green experience invites you to take in the sights, scents and sea views from your very own blanket on the lawn.  
You'll want to stick around for golden hour too (trust us on this one) because as the sun starts to dip into the Indian Ocean out yonder, head upstairs to the Belvedere Rooftop Bar where you'll find specialty cocktails and a grazing menu of small plates. It's the most dreamy gathering spot for pre-dinner drinks, a private party or an intimate evening beneath the stars, topped off by those ever-present, unbeatable views of the Canggu coastline.
Now that's a day at the beach done right…
The VIP Touches
In true Finns style, it's not only the aesthetics that'll blow you away at this VIP venue. The first-class service is what truly makes a day at Finns, and as part of the VIP experience, you can expect plenty of celeb-style touches at every turn to delight your inner diva.
We're talking cold towels and face mists delivered direct to your daybed, plus complimentary sunscreen, a sunglasses cleaning service, free-flow Balian water, morning tea & coffee, afternoon refreshments, yummy fruit skewers and VIP lockers. There's even exclusive access to the private changing rooms, decked out with showers and every luxe amenity you could ever need to make your effortless transformation from beach-chic babe to evening goddess.
Heck, there's even a wholly private Penthouse on hand if you're looking to up the elite stakes even further. Oozing exclusivity on the entire upper floor of the Semara Beach House estate, this two bedroom pad is the pinnacle of private soirees. It's a luxe, secluded retreat away from the other VIP areas, with luxurious appointments and uninterrupted views of the beach club and beyond. 
Yup, Finns VIP Beach Club really is the bee's knees of Bali's beaching scene. It's refined, it's chic, and we've never felt so fabulous when sunning ourselves by the sea. Need more convincing? Check out the video below… 
See you poolside, Honeys!
Finns VIP Beach Club, Jl Pantai Berawa, Canggu, e. +62 361 844 6327 / +62 828 9701 6178, e. [email protected].