Whether it's a haircut, beard trim or moustache shape, these barber shops in Bali are the place to go for men's grooming.
Beards have become all the rage, and you will find it near impossible to walk down Batu Bolong in the hip 'hood of Canggu without seeing a bearded type whizz past you on a roaring motorbike. Men, listen up: we don't mind the extra facial hair, but for goodness sake, keep it tidy! There are tonnes of barber shops in Bali that offer reasonably priced haircuts and beard trims, and here are our top seven. No excuses!
The Barber of Bali, Seminyak
This is probably the most famous barber shop on the island: if you are looking for somewhere that can do Western-style cuts and traditional wet shaves then this should be on your hit list. Located in Seminyak, this are the perfect place to tidy up your look before you head off out for a night on the town on the island's main party district! The Barber of Bali offers the whole package, including massages, facials, nail care and more. And if that wasn't enough, there are beers and tequila shots available throughout your treatment!
The Barber of Bali, Jalan Raya Basangkasa No.8X, Kuta, p. +62 (0) 361 8439 867.
Dorsey's Barber Shop, Canggu
The fact that this barber shop is part of extremely cool hangout, Deus, speaks volumes. Everything from the vintage interior, the tattoo station, and the smiling guy [with awesome hair] cutting your hair screams hipster. This is the place to go in the 'Gu.
Dorsey's Barber Shop, Deus, Jalan Batu Mejan 8, Canggu, p. +62 (0)878 6188 2488.
Ubud Barbershop, Ubud
One of the only barber shops in the jungle! Although Ubud Barbershop's space is fairly simple, it does the trick when it comes to great haircuts and close shaves.  Plus you can buy all your beard and hair essentials from the shop before you leave!
Ubud Barbershop, Jalan Suweta No. 6, Ubud, p +62 (0)829 405 4634.
AWAY Spa, Seminyak
The W Retreat & Spa Bali has opened its spa doors to men now, and with celebrity clientele in its little black book, you know you are in for an experience!  Enjoy free drinks, snacks and (wait for it) an oxygen mask whilst you wait, and after your treatment feel free to use their jacuzzi, steam room and plunge pool.
AWAY Spa, W Retreat & Spa Bali, Jalan Petitenget, Seminyak, p.+62 (0)361 4738 106.
THE HEADMOST Barbershop Bali
This barber shop in Seminyak offer treatments from razor cut, hair tattooing and a basic hair-cut and shape.  And they give an awesome head massage!  We love their modern but vintage décor, in particular the restored burgundy Takara Belmont barber chairs.
THE HEADMOST Barbershop Bali, Jalan Sunset Road 27x, Seminyak, p.+62 (0)815 7589 5171.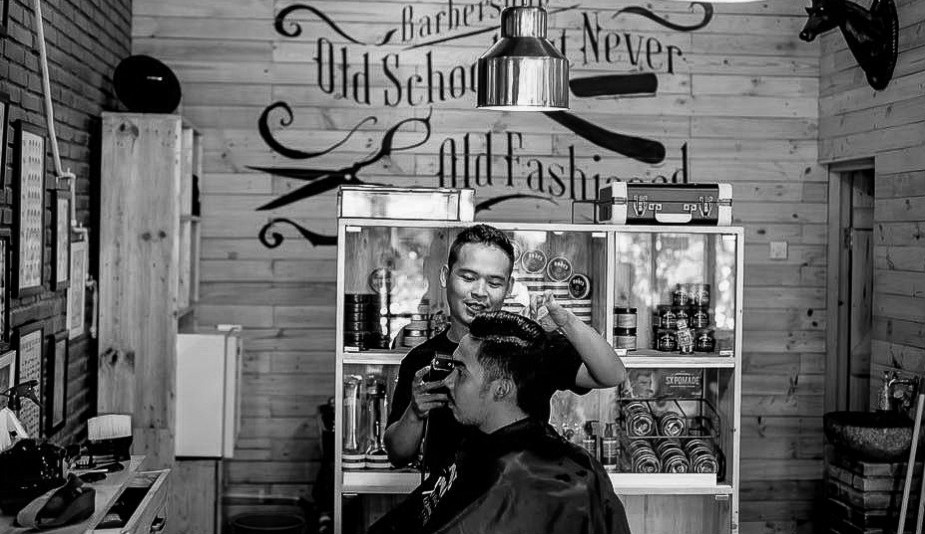 The Roots Barbershop & Concept Store
Priding themselves on creating a space where gentleman can come and hang out, relax and and socialise, The Roots Barberhsop & Concept Store, in Seminyak, is a contemporary barber shop with those classic, old school touches.   We especially love their Father & Son cut package for the perfect boys day out!
The Roots Barbershop & Concept Store, Jalan Sunset Road No. 27X, Seminyak, p.+62 (0)815 758 5171.
Seven Barber, Denpasar
When you walk in to Seven Barber you can't help but be sold on the designer vibes. Vintage barber photos and images of clean-cut movie stars like Marlon Brando and Sean Connery adorn the walls, and we're liking the antique gramophone and lightbulb letters too. Classy.
Seven Barber, Jalan Merdeka, Merdeka Arcade, Denpasar, p.+62 (0)361 264 568.