Photography: Stella McCartney via Facebook
If you want to be fashion-forward with less-than-usual environmental impact, you've come to the right place. Here's where to get your sustainable luxury fashion fix in Singapore!
Beautiful, trendy, controversial… high fashion is many things, but sustainable it is (mostly) not. Following our search for eco-conscious local brands, we delve into the luxury outfitters that are taking tangible steps to save the planet. By looking at sustainability declarations on these name brands' websites and checking out ratings on platforms like Good On You, we've rounded up the top spots to shop for high fashion picks in Singapore with less eco-guilt.
The brand: Stella McCartney
Ask someone to name a sustainable luxury fashion house and there's a good chance that "Stella McCartney" will be the reply. This British label has been at the forefront of eco-conscious fashion for about two decades now, and it's no surprise that it has stolen the hearts of both planet lovers and the fashion-obsessed.
Sustainability practices
A Sustainable Apparel Coalition member, Stella McCartney uses recycled fabrics like nylon, polyester and cashmere. Viscose (or rayon) is sourced from Sweden's sustainably managed and certified forests (this means the forests' biodiversity and regeneration capacity are maintained), while wool is procured from animal welfare farms. Vegetarian leather, skin, fur and features ensure that the production of the brand's luxurious products are not just better for the environment, but for animals too.
The brand has also been open about the impact of its metal consumption, revealing it to be the highest impact material used. To combat damage to the planet, it has been investing in low-impact, recycled or recyclable metals.
Items we're eyeing
The signature Falabella mini totes, of course! These roomy babies have been known to be sturdy wardrobe staples that pack a stylish punch, featuring soft vegan leather and woven brass chains that add a little edge.
We've also fallen for Stella Stan Smith, a collab with Adidas that featured Stella McCartney's vegan take on this popular sneaker (right down to the animal product-free glue!). These kicks keep to Stan Smith's classic silhouette, with the addition of mood-boosting rainbow-coloured laces and the knowledge that they're much kinder to the planet.
The brand: Versace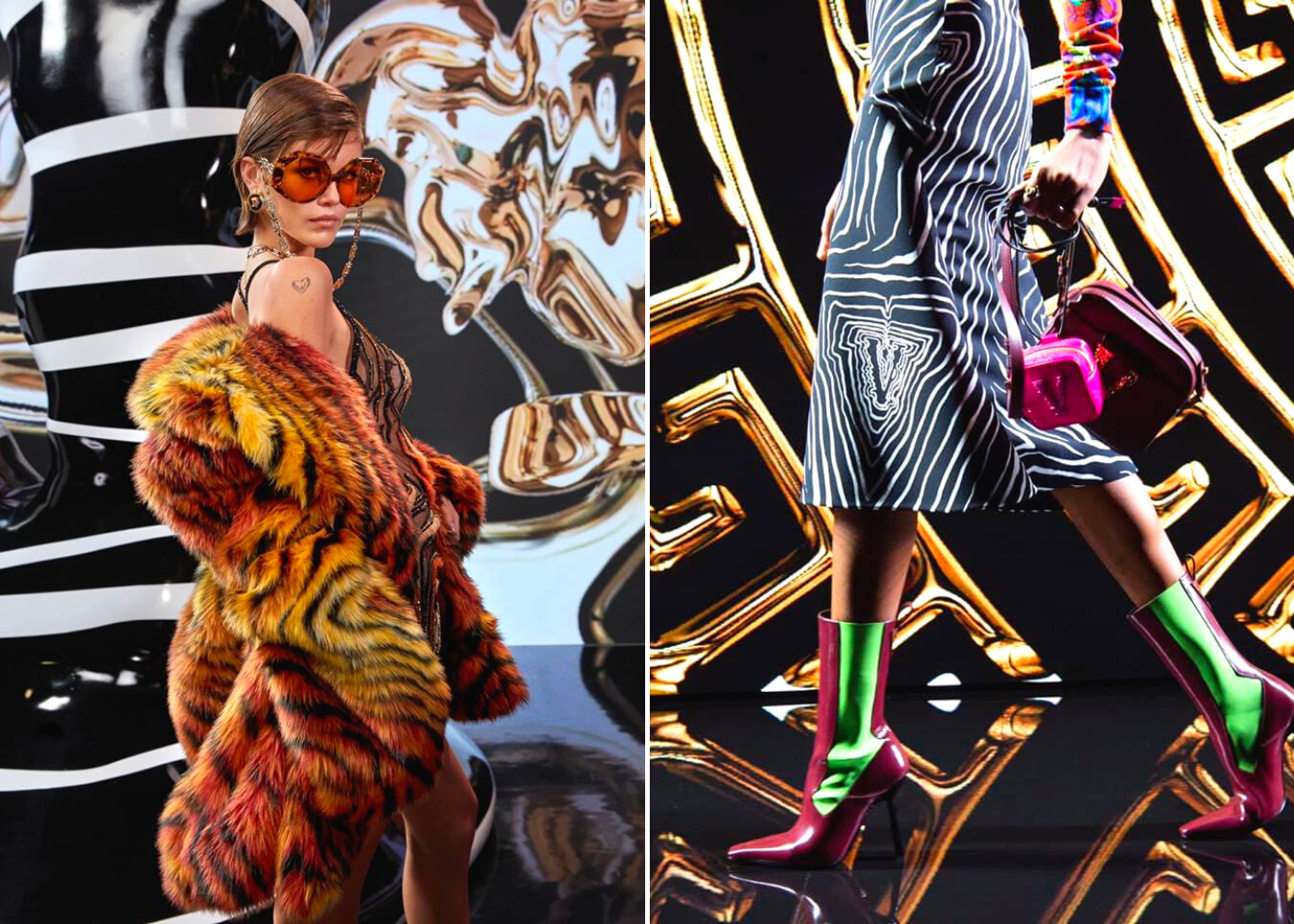 "Fur? I'm out of that!" Donatella Versace's famous proclamation is just one part of the brand's move towards sustainable practices. From reducing carbon emissions to protecting biodiversity, this fashion house has been taking admirable steps to being practicing eco-responsibility and protecting Mother Nature.
Sustainability practices
Low-impact technologies, energy-efficient systems and water-saving solutions feature in Versace's production processes. The luxury label strictly avoids chemicals harmful to humans and the environment, in compliance with the Restricted Substance List followed by the Gianni Versace Spa. In terms of raw materials, going fur-free is a start, and we're keeping an eye out for more planet-friendly materials that will be added to Versace's sustainability agenda.
Items we're eyeing
Speaking of fur, the fashion house has us swooning over the faux fur eye candy. Notably, leopard-print finds like the Virtus faux fur belt bag and Virtus faux fur clutch. If you wanna be extra with your sustainable luxury fashion picks, check out the fluffy palazzo slippers and live your dream of prancing around the house in designer footwear emblazoned with a gold Medusa plaque.
The brand: Tommy Hilfiger
Tommy Hilfiger doesn't have a rep for being the most environmentally conscious, but it seems the brand is repositioning itself as a sustainability-minded label, if its recent initiatives are any indication.
Sustainable practices
Tommy Hilfiger has a foot in the eco-friendly door. It has committed to ensuring all cotton is supplied from more sustainable sources by 2020, while looking towards expanding the range of sustainable materials used. The 2020 deadline also applies to the promise to shift production to facilities that sustainably manage water, energy and chemicals.
Items we're eyeing
We liked Tommy Hilfiger's collection made from recycled denim, but we prefer the recent (part) pineapple fibre sneaker drops. You read that right: alternative leather has gone fruity with this intriguing creation. Partly crafted with fibre from selected fruits, Tommy Hilfiger worked with Italian startup Frumart to develop this material from apple industry scraps. These sneakers were unveiled in its Spring/Summer 2020 collection and we're keeping our fingers crossed that they'll make their way to Singapore stores soon!
---
Where to shop secondhand luxury
Here's another idea for your next wardrobe update: Your sustainable luxury fashion fix can come from a secondhand purchase or rental find from these popular platforms…
Style Theory
A homegrown fashion rental subscription and buying platform, Style Theory stocks both designer outfits and arm candy. The latter is a particularly exciting development, with brand name bags from the likes of Chanel, Balenciaga, Celine, Bottega Veneta, Dior and others. The best part? You can try them out for a month or two (via the rental service) before committing to a purchase.
Style Theory, available online and at 313@Somerset.
MadThread
MadThread is a well-loved local apparel rental service with designer finds. Notable names include Givenchy, Tory Burch, Max Mara, Moschino, Kate Spade, Zimmerman and many more. Tried something you can't bear to part with? You can opt to make a purchase so it stays with you forever. Don't miss the sale section for marked-down luxury goods!
MadThread, available online.
StyleTribute
Secondhand designer store StyleTribute is the place for the well-heeled to suss out their next preloved buy. The extensive selection encompasses apparel, bags and footwear for men, women and even kids (with the exception of bags for little ones). The dizzyingly long list of designers comprise 3.1 Philip Lim, Burberry, Marc Jacobs, Ermenegildo Zegna, Manolo Blahnik, Viktor & Rolf, Saint Laurent and more coveted names.
StyleTribute, available online.