Photography: Thirdman via Pexels
Nothing beats lounging at home. Make your way to these boutiques for sexy, stylish, and comfy pyjamas in Singapore.
Sometimes, the best thing besides dressing up to go out is staying in for a lazy day at home and indulging in a good book or a binge-watch sesh. Whether you're chilling in your cosy bedroom to get a good night's sleep or throwing a sleepover party with your girlfriends, be sure to fill your wardrobe with pyjamas that are both comfy and chic from these loungewear shops in Singapore.
Where to buy loungewear and pyjamas in Singapore
1. LoveFreya
LoveFreya's collection is one we keep coming back to every time. It carries a huge range, with collections that range from demure satin PJ sets to seductive slips and chemises. The playful satin rompers are perfect for a sleepover with your friends or with your beau. For something more modest, try the boyfriend shirt that's a simplistic show-stopper.
LoveFreya, available online
2. Silk Madame
When it comes to comfy sleep, the right sleepwear can make all the difference. If you want something luxurious and cosy, look no further than Silk Madame's sleepwear range. It's made with 100% premium mulberry silk, so you can slip into its premium garments to wind down for the night.
Unlike satin, mulberry silk is a natural fibre, it's comfortable on the skin and gentle on the environment too. With its hypoallergenic properties, it's perfect for sensitive skin, as the sericin residue in silk acts as a natural repellent against dust mites, bacteria, and other allergens. The silky fabric also helps to regulate skin temperature through the night.
Want to give Silk Madame's mulberry silk pieces a go? Shop its pyjama sets, camisoles and other items that are perfect for sleep or even lounging around the house!
Silk Madame, shop online
3. Bedtribe
So you want a cosy snooze? Snuggle up in Bedtribe's loungewear for the comfiest picks. A good sleep starts with the right sleepwear, which is why we love investing in quality pieces that make bedtime a dream. Its ultra soft bamboo loungewear is designed to be suitable for both warm days and nights, with a super breathable material that keeps you cool. With porous bamboo fibre, this loungewear set absorbs up to four times more moisture than cotton while rapidly evaporating the sweat it absorbs, which means you'll stay cool all night.
The natural material is also non-irritating and suitable for sensitive skin. This hypoallergenic material can be worn by anyone and everyone! Plus, bamboo is a fast-growing crop, creating more material with lower water use and requiring less land than cotton to farm, making it eco-friendly too. Shop Bedtribe's bamboo loungewear for men and women in various colours – here's to comfy sleepwear and better sleep!
Bedtribe, available online
4. Rawbought
Founded by three sisters who refuse to sacrifice comfort, you know you'll be getting the very best with Rawbought. After wrapping yourself up in Rawbought's pyjamas, you'll see exactly what it means to stay comfy. You'll want to lounge all day in cropped tank tops and tees that are perfect to relax in, but also stylish enough for a casual day out. Guys, don't think we forgot about you! If the pyjama sets aren't your thing, you can always grab yourself a pair of comfy joggers to go with the crew neck tees.
Rawbought, available online 
5. Her Velvet Vase
We live for some beautiful floral designs. Her Velvet Vase carries satin loungewear with gorgeous floral placements. The loungewear co-ord set is just one more thing we've added to our wishlist. For anyone that prefers a straightforward colour with zero patterns, there are also plenty to choose from. The collection of loungewear also includes satin kimonos and camisoles.
Her Velvet Vase, #B1-55, CityLink Mall, 1 Raffles Link, Singapore 039393; also available online
6. White Trousseau
Join the elite sleep club with White Trousseau. Its luxury silk loungewear will feel like butter sliding on the skin, giving you all the comforts for your beauty rest. Made from quality materials, the collection will make you feel like a princess. Aside from the super cute PJ sets and slip dresses, check out the silk eye masks and pillowcases to help you get those ZZZs.
White Trousseau, available online
7. Rye
For soothing colour tones and minimalistic pyjamas, head to this local brand in Singapore. The collection embodies simplicity and includes the essentials: tank tops, drawstring trousers and lapel collared shirts amongst others. We love the belted, kimono-inspired lounge robe that you can get in a pinstripe pattern or plain white. Following the philosophy of 'less is more', this shop is also known for its socially conscious initiatives.
Rye, available online
8. Marks & Spencer
If you're gonna lounge in something all day, it has to be oh-so-comfy. Marks & Spencer does the trick with humidity-friendly Cool Comfort technology for extra hot days. Are you the kind that wears the same ensemble over and over again? The StayNew technology keeps colours and materials fresh despite multiple washes.
Marks & Spencer, multiple locations including Wheelock Place, Paragon and VivoCity; also available online
9. Sleebbee
Hands up if you're all for quality sleep. This Singapore-based loungewear label offers just that – sleepwear that's so soft and comfy, you'll hit snooze town in a jiffy. After all, Sleebbee was founded by a mum who faced sleep issues during her pregnancy and couldn't find what she needed. Made from breathable, soft and anti-odour bamboo fabric, the quality pieces feature chic designs in various sizes (maternity wear included). Safe to say it makes a great gift for your girlfriend or mum-to-be.
Sleebbee, available online
10. 6ixty8ight
Great for tweens and teens at heart, 6ixty8ight is changing the face of loungewear in Singapore with adorable sleep dresses, classic striped pyjama sets, and cotton lounge pants. No room for the ordinary oversized shirt and shorts combo here.
6ixty8ight, multiple locations including Bugis Junction and Tampines 1; also available online
11. The Slow Mode
Our love for multi-label boutique The Slow Mode never ends. Just look at the list of brands it carries and you'll see what we mean. This sustainable emporium includes Aussie-born Araminta James' effortless loungewear sets. Equal parts chic and comfy, they're great to don for a day in or running errands. You'll never want to get out of these relaxed silhouettes made with lightweight linen, cotton towelling and cotton waffle material.
The Slow Mode, available online
12. Perk by Kate
You know and love this local brand for its dainty lingerie in gorgeous designs. But news flash: Perk by Kate also has dreamy sleeping sets. Think silk camis and shorties, sweet chemises, and classic short pyjama sets that we want to live in forever.
Perk by Kate, 134A Telok Ayer Street, Singapore 068600
13. Bells and Birds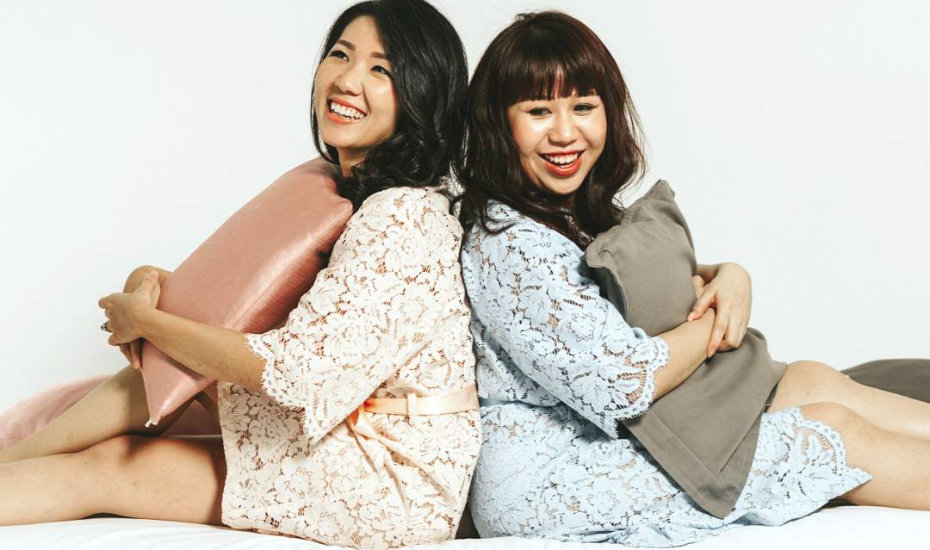 You know romance is in the air when you hear Bells and Birds. No two robes are the same; each luxuriously lush robe is handmade to perfection with lace and silk at the home studio of Amanda, founder and designer of this local label. Its stunning collection of robes is fab for pre-wedding preps and too irresistible not to wear at home. Made in limited amounts, we highly recommend you grab anything that catches your eye before it's gone. Alternatively, you can request a bespoke loungewear set.
Bells and Birds, #02-36, Raffles Hotel Shopping Arcade, 328 North Bridge Road, Singapore 188719
14. Muji
Yup, Muji does sleepwear too. Simple and cosy, its collections are high on comfort and low on fuss. Pick from PJ sets and sleeping gowns made of soft organic cotton. They come in stripes and plain patterns, which is a total plus! Anyone looking for minimalist chic, this is the place to be.
Muji, multiple locations including Bugis Junction, Ion Orchard and VivoCity
15. Kooshi
If comfort is top of your pyjamas list, Singapore brand Kooshi has it all. Besides activewear, it also offers an endless catalogue of sleep, lounge and home wear exclusively designed in-house. Keep things minimal with its subtle details and clean designs, or unleash your inner seductress with its range of soft intimates like cami-shorts sets.
Kooshi, available online
16. Uniqlo
Another snug fave, Uniqlo's range of loungewear is comfy, lightweight and super practical for Singapore — think ultra stretchable lounge trousers that make a great pair for yoga and light exercises. Its range of Relaco shorts is also ace for adding a splash of colour and bold prints to your chill ensemble.
Uniqlo, multiple locations including Bugis+, Plaza Singapura and VivoCity
17. Victoria's Secret
If there's one name synonymous with sexy wear, it's Victoria (as in the Victoria's Secret). Fulfil your fantasies of becoming an Angel (sort of) with its collection of sleek sleepwear, from pyjama rompers and satin kimonos to lightweight off-the-shoulder tops and ribbed sleep joggers. Alas, no Angel Wings for sale – but one can always dream, no?
Victoria's Secret, multiple locations including VivoCity and Mandarin Gallery; also available online
18. Honeydew Intimates
Honeydew Intimates has it all if you're looking to zhuzh up your nighttime wardrobe. From stylish matching pyjamas sets to snug robes and sexy chemises that fit like a glove, sleep time will be a grand affair. We'll happily stay in these sleepwear pieces all day long!
Honeydew Intimates, available online
Hit up these loungewear shops for the prettiest pyjamas in Singapore!