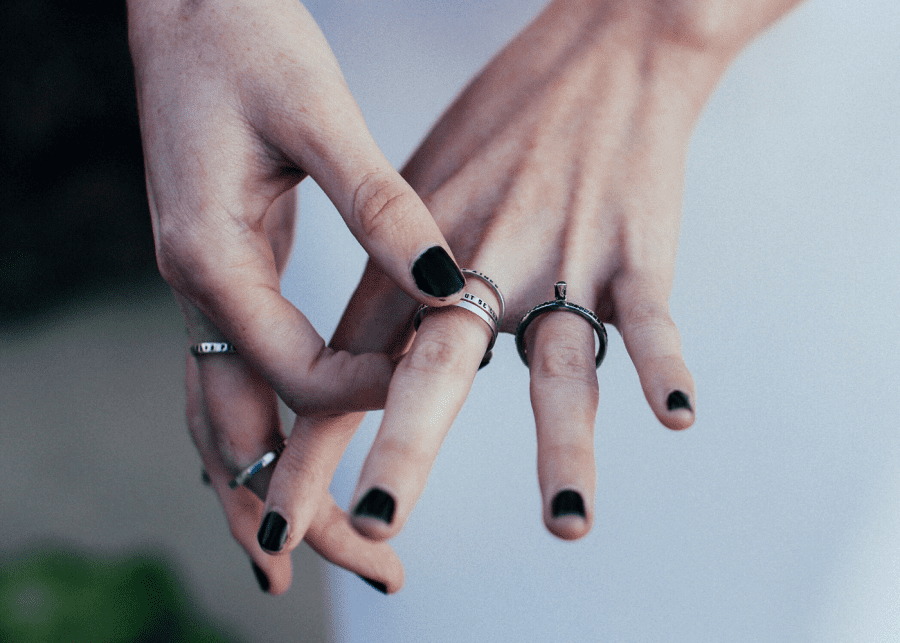 Photography: Rachel Claire via Pexels
Shop for necklaces, earrings, bracelets, rings and more at the finest jewellery stores in Singapore.
Whether it's the newest fit from your favourite local label or a fetching throwback ensemble, your look won't be complete without some bling. Glam things up with gorgeous gems, splurge-worthy jewellery and other sparkling picks for your accessories stash. Here are the top jewellery stores in Singapore to shop for sparkling pieces.
Best jewellery shops in Singapore
1. Palawan Hq
Inspired by a trip to Palawan Beach, this local brand creates timeless unisex jewellery that's perfect for any outfit. United with a love for summer and living life to the fullest, it's all about minimalist accessories here. Looking for new silver pieces? Bling up your wrist with a bangle bracelet, or the unique 50/50 necklace with a half chain and half pearl design.
Palawan Hq, available online
2. H. Sena
Looking for amazing vintage jewellery? H. Sena should be on your radar. This brand was founded and named after Sinhalese craftsman Henry Senanayake in 1919, making its debut in Bangkok. H. Sena subsequently opened boutiques in Singapore and Malaysia and is now known as a Singapore-based fine jeweller. Currently helmed by his grand-daughter, the renowned brand boasts heirloom-worthy vintage and contemporary fine jewellery that'll turn heads.
Now, it's Singapore's leading stockist for conflict-free, GIA certified natural diamonds and untreated coloured gemstones of the highest grade and finest quality. All that minus the high mark-ups of international brands for similar stones! For handcrafted custom jewellery, get a consultation to create your own one-of-a-kind piece. Each item is crafted by master jewellers in its Singapore production facility, with the highest level of quality and attention to detail.
H. Sena, #12-06, Ngee Ann City Tower A, 391A Orchard Road, Singapore 238873
3. XVXII Jewellery
When a brand's first collection sells out within the first month of release, you know there's plenty to love. All jewellery is nickel and lead-free, which means it's hypoallergenic. And typical silver or gold chains are given pops of vibrance with coloured gems. You can even get sets of charms to string onto chains for a new necklace every time! We're big fans of the Medusa collection. The green gems will complete a gorgeous and elegant evening look.
XVXII Jewellery, 61 Haji Lane, Singapore 189254
4. Michael Trio
Founded by three sons who wish to immortalise their father's legacy through a jewellery brand that symbolises true love, Michael Trio makes its own beautiful pieces. Think quality, but at an affordable price point. Want a customised engagement ring? Your design can be ready to wear in a month! The label also boasts a stunning collection of bracelets, earrings and necklaces that come in various shapes and designs.
Michael Trio, multiple locations including Tanjong Pagar and Tampines
5. Amado Gudek
Eco-warriors, sustainable jewellery is actually a thing – just look to Amado Gudek. All pieces are crafted using environmentally-friendly bioresin. These contains bio-based renewable materials and UV properties to prevent yellowing. The best part? Everything resembles wearable art.
Amado Gudek, available at Resin Play, #02-02, 37 Beach Road, Singapore 189678
6. Pequitobun Jewellery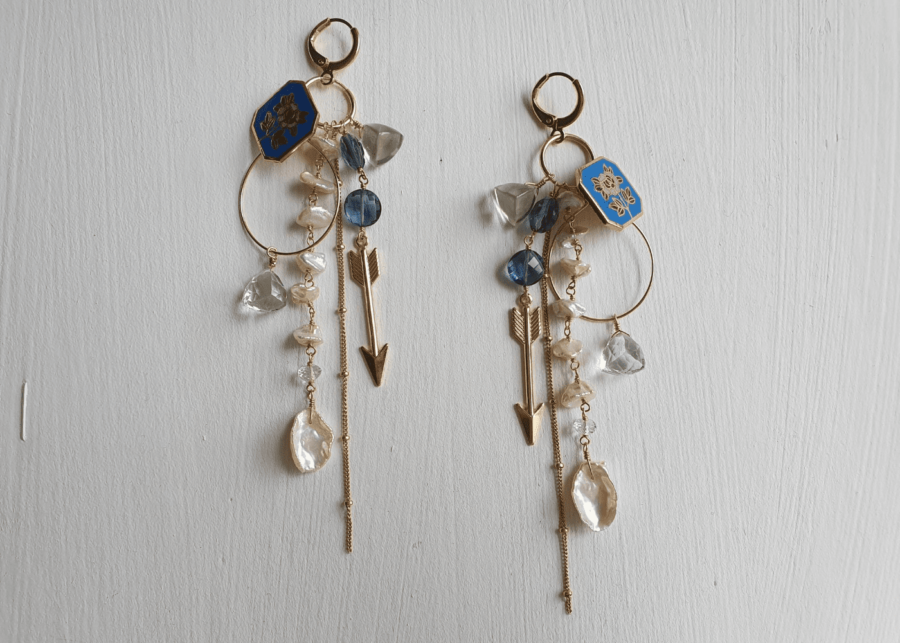 Metamorpq by Pequitobun Jewellery is one ear candy collection in Singapore that caught our eye. These modular numbers enable you to stretch your dollar with multiple ways of wearing – whether it's for a work day or a glamorous night out. Handmade with fine 14K gold-filled metal and top-grade gemstones, these will last well with proper care.
Pequitobun Jewellery, available online
7. ALT
You're missing out if Curated Editions was lacking from your list of go-to jewellery stores. The multi-label online boutique brings together an array of globally sourced accessories, as well as designer pieces. Look out for ALT, the store's in-house brand conceived by founder Angie Lai-Tay. The pieces range from understated to statement-making and are handcrafted by local artisans, as a result of collaborations with fair trade organisations in Southeast Asia.
ALT, available online
8. Swarovski
Crystals and Swarovski are synonymous in the jewellery world, so there's no better place to search for them. The brand's fresh collections include Millenia, with its bright sparkles of pink, blue, yellow and more. Check out Harmonia for its cushion cut designs and fab chokers, while Constella is best for rose gold elegant bling. For a playful, daring and sporty look, browse through the newest collection (donned by supermodel Bella Hadid!).
Swarovski, multiple locations including Raffles City and Plaza Singapura
9. Bvlgari
This renowned Italian label boasts a palatial past studded with Roman roots, and an elite clientele of artists, writers and actors. Today, Bvlgari for women retains its timeless appeal with its glamorous, generously decorated gemstone jewellery and stylishly audacious fine pieces.
Bvlgari, available at multiple locations including Orchard, Marina Bay Sands and Changi Airport
10. By Invite Only
Like its name suggests, By Invite Only caters to discerning jewellery fans in Singapore who favour exclusivity and dedication. Targeted at the city-dwelling, sophisticated woman, its pieces seek to finish outfits with a flourish. They're easy to wear, versatile and seamlessly transition ensembles from day to night. The range of beauties includes gold and silver plated designs, as well as gemstone-driven collections that won't break the bank.
By Invite Only, multiple locations including VivoCity and 313@Somerset
11. Carrie K.
Time to sweep all your conventional notions of jewellery out the door. The brilliant brainchild of local artisan, Carolyn Kan, this handcrafted jewellery label is strikingly conceptual. It makes pieces that are perfectly wearable and covetable for years to come. With a modern spin on Singapore's multi-cultural heritage, the accessories are truly one-of-a-kind.
Carrie K, #02-02, National Design Centre, 111 Middle Road, Singapore 188969
12. Cartier
Crowned the "jeweller of kings and the king of jewellers" by King Edward VII of England, Cartier's creations are consistently adorned by the rich and famous. Regular clients include Angelina Jolie, Kate Middleton and Kylie Jenner. Those with cash to splash need to acquaint themselves with the French luxury label's star items like the 18-karat gold Trinity collection (released in 1924) and the celeb-donned Love bracelets. For something contemporary, the iconic nail-shaped bracelets simply hit the spot.
Cartier, available at multiple locations including Ngee Ann City, Ion Orchard and Marina Bay Sands
13. Citigems
Citigems, now sold under Maxi-Cash, consistently pushes the perceptions of fine jewellery in Singapore. Its modern yet timeless collections are ideal for the stylish set. Our picks include the gold collections – think geometric bangles and four-piece sets of rings, necklaces and rings.
Citigems, available at multiple Maxi-Cash locations including Little India and Bugis Junction
14. Harry Winston
With a legacy in producing exquisite rings — such as the legendary 40.42-carat Lesotho III – Harry Winston's diamond ring collection carries vintage flair. Delicate split prongs won't draw attention away from the lustrous, magnificent ring of your choice. What sets this jewellery brand apart from the rest is that each diamond is selected based on its complex calculus and is expertly handled differently to suit its wearers, making sure no two rings are the same.
Harry Winston, #02-19, Ion Orchard, 2 Orchard Turn, Singapore 238801
15. Madly Gems
Few things make us swoon like customised jewellery – it's a wonderful way to make the accessories your own. Whether you love bold colours or classic shapes, the team does it all, from family jewellery to engagement rings. You're always welcome to be part of the creation process of bespoke jewellery pieces. Once you've settled on a design, expect to get nothing less than top quality gems handled by the world's most reputable European master cutters.
Madly Gems, 13 Ann Siang Road, Singapore 069693
16. Joanne L.
Since her experiment with a box of beads from Toys 'R' Us, Joanne L threw herself into training to be a jewellery designer. And finally, she set up her eponymous label in 2012. Known for her bold and colourful designs, her jewellery pieces are timeless yet alluringly sensual. You'll find many of them accented with gemstones like jade, citrine and amethyst.
Joanne L., available online
17. Larry Jewelry
One of Asia's most renowned jewellers, Larry Jewelry's rings – from classic solitaires to fluid, nature-inspired designs – drip with opulence. From white gold numbers to diamond-studded bands, you'll be sure to find something that'll be a staple in your jewellery stash.
Larry Jewelry, #01-10, Scotts Square, 6 Scotts Road, Singapore 228209
18. Monica Vinader
If you're big on arm candy, you'll love Monica Vinader. This brand is home to the most delicate bracelets. The range includes everything from thin cuffs to thin gemstone chains. But more than just wrist accessories, Monica Vinader also features a stunning variety of earrings, as well as necklaces and rings for layering and stacking.
Monica Vinader, multiple locations including Ngee Ann City and Ion Orchard
19. Niessing
Niessing means business when it comes to creating the finest contemporary hand-crafted jewellery, including wedding bands and rings. It also has a personalisation corner, giving customers the freedom to customise their rings based on size, material, finish, and the number of diamonds added, ranging from one up to eight. Alternatively, you can opt for its signature the Niessing Spannring – a tension ring with a shiny floating diamond cut to perfection.
Niessing, #03-04, Ngee Ann City, 391 Orchard Road, Singapore 238872
20. Pandora
Pandora is loved by women all over the world for a reason — its sophisticated handcrafted charms let wearers customise arm candy according to their personalities. But more than just charm bracelets, the jewellery brand also offers unique precious metal rings (in 14 karats yellow gold, sterling silver and Pandora's signature shade of rose) as well as earrings. Having dropped Marvel and Disney collections, we can't wait to see what the brand has up its sleeves next!
Pandora, multiple locations including Ion Orchard and The Shoppes at Marina Bay Sands
21. Poh Heng
With "Poh" meaning "precious" in Mandarin and "Heng" translating to "luck" in Teochew, there's no denying Poh Heng brings its wearers good fortune. Its devoted fan base can attest to that. The varied jewellery collections cater to multiple generations of women, including young, glam #girlbosses and their elegant mums.
Poh Heng, available at multiple locations including Jem and Orchard Shopping Centre
22. Stelliyah
Not one for ostentatious, statement pieces? Stelliyah may just be your thing. Well known for quality jewellery crafted with traditional metalsmith techniques, its creations aren't your usual glam pieces, but they're certainly no less interesting. The jewellery is one-of-a-kind and embellished with gemstones like topaz. Bag your faves – there's no restocking once sold!
Stelliyah, #01-13, The Modules, 387 Joo Chiat Road, Singapore 427623 (by appointment only)
23. Tessellate.Co
Jewellery with a conscience? We're sold. This travel-inspired jewellery shop in Singapore works with fair trade artisans and commits to empowering underprivileged girls with education. For every item sold, the boutique donates a dollar to Fior Di Loto, a non-profit organisation in India that improves the lives of village girls. Its bling is nothing less than stunning, with designs inspired by Southeast Asia's traditional jewellery. Our picks include the 925 Silver rings and the array of gemstone pendants that dress up a simple bracelet or necklace.
Tessellate.Co, #02-14, Wheelock Place, 501 Orchard Road, Singapore 238880
24. Thomas Sabo
Apart from stylish timepieces that will make men look effortlessly dapper, Thomas Sabo is known for its equally diverse collection of vivid-coloured jewellery from sterling silver bracelets and necklaces to rings and ear danglers. Ladies, check out the collections from statement pendants to minimalistic ear climbers.
Thomas Sabo, Ngee Ann City, 391 Orchard Road, Singapore 238872
25. Tiffany & Co.
No other jewellery label can inspire squeals like Tiffany & Co. Known the world over for its signature robin's egg blue coloured box, the centuries-old brand has spawned copycats everywhere with its eponymous six-prong ring setting. But Tiffany & Co. isn't only worshipped for its engagement rings. It also offers everything from (relatively) pocket-friendly charm bracelets to diamond-dripping necklaces.
Tiffany & Co., multiple locations including Ion Orchard, Marina Bay Sands and Changi Airport
There you have it – the best jewellery shops in Singapore. Happy shopping!