Get your fitness on!
Achieve your fitness, health and body goals with a certified personal trainer in Singapore who can come up with customised exercise regimens and meal plans that work for you.
Personal trainers in Singapore aren't just for those who can't seem to muster enough motivation to get back to the gym or stick to their workout routine. Having your own fitness coach can also help you up your game and hit specific goals that are difficult to achieve. Plus, these kickass sporting pros can create a unique recipe of moves and motivational techniques just for you, which means you're less likely to get bored. Prices range from $75 to $130 per session, depending on the gym and qualifications of the PTs, but the thought of having chiselled bodies and a taut waistline is enough to make us swipe our plastic without hesitation.
Below, we list the gyms and clubs in Singapore with top-notch personal training programmes…
Pure Fitness
With a prime location at Marina Bay, Pure Fitness is the go-to gym for many of us in the CBD. Achieve your #bodygoals with its team of highly qualified and dedicated personal trainers. Its training programme is curated to fit your personality and bring out the best to your abilities, offering a range of experiences and skills to match your needs. Do more with a private stretching session where the PTs will help in correcting physical stresses, inflexibility and mobility problems.
Pure Fitness, multiple locations including Asia Square, Ocean Financial Centre and Ngee Ann City.
Gymmboxx
If you prefer one that's away from the hustle and bustle of the city, look no further than Gymmboxx. Founded by the Fitlion, an online distributor of supplements and fitness supplies in Singapore, the suburban gym stands as one of the city's more affordable personal training sessions with 10-session and 20-session packages, starting from $599. Plus, all PT packages come with free membership.
Gymmboxx, multiple locations including Bedok, Bishan and Bukit Batok.
Gym N Tonic
Despite its homey facade, Gym N Tonic maintain a serious attitude when it comes to helping you reach your ultimate fit goals. Its team of personal trainers specialises in weight loss, improving muscle strength and tone, as well as demonstrating the right form of exercises. Brides-to-be can also sign up for its bridal programme to prep themselves for the big day. You can also get the lil' ones (kids and teens alike) on board with its PT for kids.
Gym N Tonic, available at South Bridge Road and Tanjong Katong Road.
True Fitness
This gym is all decked out with modern strength and resistance training equipment, and the latest cardio machines with integrated televisions and iPod links. It also offers interesting personal training sessions like cardio-kickboxing and Synrgy360 Workout Express. Plus, if you're gearing up for an upcoming running marathon or a sporting event, the personal trainers are there to help you prep up!
True Fitness, seven locations including Great World and Millenia Walk.
Level Gym
Aside from being a beautiful place to work out (it's pretty important to enjoy your surrounds when you're being beasted!) and in the oh-so-convenient location of Telok Ayer Street, Level has a great psychology when it comes to training. First of all, they keep it interesting, with a huge variety of original, high-end equipment that's used to create a different, dynamic and fresh routine every time you visit – there's not a running machine in sight! Plus, you're encouraged to learn why you're doing what you're doing and how it works; and to complete the movements properly – think doing ten incredible dead lifts in your own time rather than 30 dodgy rushed ones. The trainers at Level are both very personable and specialise in different fitness techniques, whether you're looking for boxing, weight-lifting, toning, cardio, or a bit of everything. It's a nice, calming gym, with personal training only (and one – two classes a day that anyone can attend), so it never feels hectic or rushed (and there's never a queue for the lovely facilities).
Level Gym, #01-03, 137 Telok Ayer Street, Singapore 068602
Gold's Gym
We're all over the tailor-made programmes here. There's a variety for you to choose from, including three-month fat loss sessions for ladies and gents, bulking for men, pre- and post-natal classes or pre-wedding weight loss plans – all with periodic tweaks every time you reach a goal. But if you're looking for something that's more niche, purchase the customised plan and they'll build something catered to your body and needs, from tips on lifestyle changes right up to your diet plan.
Gold's Gym, 12 locations islandwide including Tanjong Pagar, Bugis, Upper Thomson and Joo Chiat.
Genesis Gym
Pay a visit to Genesis Gym for programmes that utilise science-based methods and a holistic approach. The 21-day smart challenge runs you through everything from customised training programmes and nutrition plans to unlimited training sessions with coaches. You're bound to see results, stat. The three locations boast a total of over 10,000 sq ft of training space so you don't have to worry about a crowded gym.
Genesis Gym, locations at #04-01, Katong Shopping Centre Annex Block, 65 Mountbatten Road, Singapore 437844; #09-00, Grand Building, 17 Phillip Street, Singapore 048695; #01-06, Alexis, 354 Alexandra Road, Singapore 159948
TFX
Four key pillars stand tall at TFX's four-quadrant fitness programme – metabolic, strength, restoration and variability conditioning, all of which are customised to your goal. Want to push it to the next level? The TerraX Obstacle Race Training programme will unleash your inner #beastmode with a massive indoor training playground that includes tire flips, wall jumps, pegboard climbs, Olympic ring cross and rope climbs, just to name a few. You can even design your own course! All this is available exclusively at the new Millenia Walk outlet, which has been touted as the country's largest gym.
TFX, #02-63, Millenia Walk, 9 Raffles Boulevard, Singapore 039596
UFIT Singapore
If you're looking for a gym that specialises in personal training, UFIT is it. UFIT's team of highly trained PTs come from a wide range of athletic backgrounds like professional boxing, bodybuilding and even MMA. Their team of trainers also include physiotherapy-trained coaches as well as four female trainers who are qualified in pre and post-natal training for mums and mums-to-be.
UFIT, various locations in Amoy Street, Orchard, One North, Bukit Timah and Tanjong Pagar.
The PIT Singapore
The best advice comes from experience, and the trainers at The PIT Singapore are in no shortage of that. Managing Director and PT Irving Henson himself has over a decade of experience and is a competitive powerlifter who set a world record benchpress in 2015 (178 kilos!). Eschewing the latest fads and trends for tried and tested workouts like traditional barbell training and functional strength training, the gym's PITmasters (PTs) will design a customised program based on your fitness level, goals and your lifestyle. Since they do all the brainwork, you can focus completely on working out.
The PIT Singapore, 123 Devonshire Road, Singapore 239883
Fitness First
PTs at Fitness First aim to make every workout count by using fitness science to plan the most effective workout routine. The club's trainers are required to complete Fitness First's "Personal Training Foundation Course" that gives them a solid foundation for educating and coaching gym-goers on proper techniques and forms. For added peace of mind, first aid-trained staff are always on hand.
Fitness First, multiple locations including Marina Bay Financial Centre and One Raffles Place.
Ooberfit
Ooberfit, helmed by Sam Blakely, offers specialised sessions run by PTs who are experts in post-natal fitness to help mums get back into pre-baby shape. Plus, they also offer Oobermini sessions for mums who need to keep an eye on their babies. Just let your little one snooze in the shade while you get cracking.
Ooberfit, sessions are held at outdoor locations based on bookings.
Ultimate Performance Singapore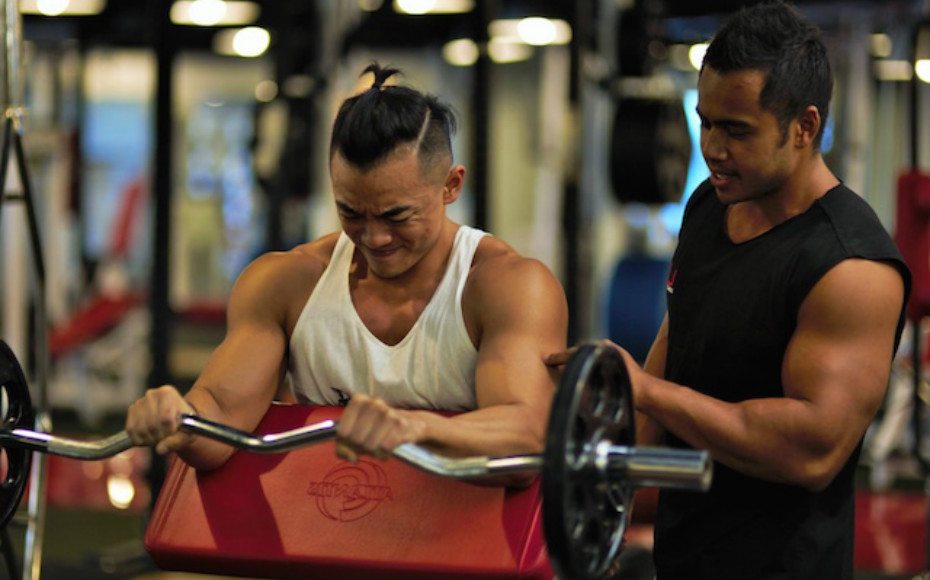 Busy schedules are no excuse to neglect the barbells. PTs at Ultimate Performance Singapore regularly handle clients at the top of their careers and can help you tackle issues like lack of sleep, stress and unpredictable schedules. PTs here can also offer advice outside the gym, be it what to have for dinner or how to work out when you're away from a gym – great for frequent travellers!
Ultimate Performance Singapore, Ground Floor, PWC Building, 8 Cross Street, Singapore 048424
Amore Fitness
The gym's PTs specialise in workout routines and exercise techniques designed specifically for women and have a firm background in sports specific injury, nutrition and weight management. Their facilities are also equipped with machines developed specifically for women who often have smaller frames.
Amore Fitness, multiple locations including Bugis Junction and Plaza Singapura.
Virgin Active Fitness Club
Warm-ups typically take up a good portion of an hour-long PT session. At Virgin Active, PTs teach you how to do warm-ups on your own, beforehand, so you've got more quality time on the clock with your trainers. Those who are keen on lunchtime workouts can opt for their quick 45-minute sessions. But if you have more time, go on and enjoy the club's cool facilities including sleep pods for quick power naps and Himalayan salt inhalation rooms.
Virgin Active Fitness Club, multiple locations including Tanjong Pagar, Raffles Place and Holland Village.
Celebrity Fitness
PTs at Celebrity Fitness are a goal-oriented bunch of fitness experts. There are five different personal training sessions to choose from. Need to squeeze into a new dress? Pick the Fitness and Weight Loss programme to drop a few pounds. New moms who want killer abs and a lean post-natal body can opt for the Strength and Toning sessions.
Celebrity Fitness, multiple locations including Junction 10, Bukit Timah Plaza, Downtown East and City Square Mall.