Get your fitness on! Photography: Bruce Mars via Unsplash
Achieve your fitness, health and body goals with a certified personal trainer in Singapore!
Personal trainers in Singapore aren't just for those who can't seem to muster enough motivation to get back to the gym or stick to their workout routine. They can also help you achieve peak fitness goals by creating a unique exercise plan just for you. Look no further as we list the best gyms and studios in Singapore with top-notch personal training programmes.
Best personal trainers in Singapore
Pure Fitness
With a prime location at Marina Bay, Pure Fitness is the go-to gym for many of us in the CBD. Achieve your #bodygoals with its team of highly qualified and dedicated personal trainers. Its training programme is curated to fit your personality and bring out the best of your abilities. Do more with a private stretching session where the PTs will help with correcting physical stresses, inflexibility and mobility problems.
Pure Fitness, multiple locations including Asia Square and Ocean Financial Centre
Gymmboxx
If you prefer one that's away from the hustle and bustle of the city, look no further than Gymmboxx. Founded by the Fitlion, an online distributor of supplements and fitness supplies in Singapore, the suburban gym stands out as one of the city's more affordable personal training sessions. We're talking about packages starting from $850.
Gymmboxx, multiple locations including Bedok, Bishan and Tampines
True Fitness
This gym is decked out with modern strength and resistance training equipment, plus the latest cardio machines with integrated televisions and iPod links. It also offers a diverse mix of personal training sessions like cardio-kickboxing and Synrgy360 Workout Express (which is an intensive circuit training). Plus, if you're gearing up for an upcoming running marathon or a sporting event, the personal trainers are there to help you prep!
True Fitness, multiple locations including Great World and Millenia Walk
Level Gym
Aside from its convenient location in CBD, Level has a great psychology when it comes to training. First of all, these folks keep it interesting with a huge variety of high-end equipment that's used to create a dynamic and fresh routine every time you visit. Plus, you're encouraged to learn why you're doing what you're doing and how it works, and to complete the movements properly. Like doing ten incredible deadlifts in your own time rather than 30 dodgy rushed ones.
Level, multiple locations including Telok Ayer and Robinson Road
Gold's Gym
We're all over the tailor-made programmes here. There's a variety for you to choose from, including three-month fat loss sessions for ladies and gents, bulking for men, pre- and post-natal classes or pre-wedding weight loss plans – all with periodic tweaks every time you reach a goal. If you're looking for sports-specific training like rugby or tennis, the PTs will come up with a customised training programme for you to perform at your best.
Gold's Gym, multiple locations including Tanjong Pagar and Farrer Park
Genesis Gym
Pay a visit to Genesis Gym for programmes that utilise science-based methods and a holistic approach. The Body Transformation programme runs the gamut from muscle building plans and nutrition guidance to flexible training sessions with coaches. You're bound to see results, stat.
Genesis Gym, multiple locations including East Coast and Philips Street
TFX
TFX's four-quadrant fitness programme covers four important aspects – metabolic, strength, restoration and variability conditioning, all of which are customised to your goals. Want to push it to the next level? The TerraX Obstacle Race Training programme will unleash your inner #beastmode with a massive indoor training playground. Think tire flips, pegboard climbs, Olympic ring cross and rope climbs. You can even design your own course!
TFX, multiple locations including Pacific Plaza and Millenia Walk
Virgin Active
Virgin Active is basically Disneyland for fitness junkies, from its Altitude Room (where you train in high altitude conditions) to Himalayan salt inhalation room (for a little detox sesh) and sleep pods (for clocking in enough zzzs to maintain a fit bod). Take things up a notch with the PTs as they provide you with a tailor-made fitness plan within 45 minutes. Depending on your fitness level, you can take your pick from three choices. Kickstart, a foundation programme for beginners; Accelerate, a goal-oriented route for busy bees; and Full Throttle, a gruelling regime that will get you ripped in a hot minute just like Chris Evans in Captain America.
Virgin Active, multiple locations including Tanjong Pagar and Holland Village
UFit Singapore
If you're looking for a gym that specialises in personal training, this is it. UFit's highly trained PTs come from a wide range of athletic backgrounds like professional boxing, bodybuilding and even MMA. The team of trainers also include physiotherapy-trained coaches alongside female trainers who are qualified in pre- and post-natal training.
UFit, multiple locations including Club Street and Orchard 
The Pit Singapore
The best advice comes from experience, and trainers at The Pit are in no shortage of that. Managing Director and PT Irving Henson himself has over a decade of experience and is a competitive powerlifter who set a world record benchpress in 2015 (178 kilos!). Eschewing the latest fitness fads and trends, the gym's PT aka pitmasters will design a customised program based on your fitness level, goals and your lifestyle. Since they do all the brain work, you can focus completely on working out.
The Pit Singapore, 123 Devonshire Road, Singapore 239883
Fitness First
Fitness First aims to make every workout count by using fitness science to plan the most effective workout routine. So take the DNA test and find out your unique genetic makeup to make the most out of your fitness investment. And if you're a homebody, there are also customised online training sessions.
Fitness First, multiple locations including Paragon and Capital Tower
Ultimate Performance Singapore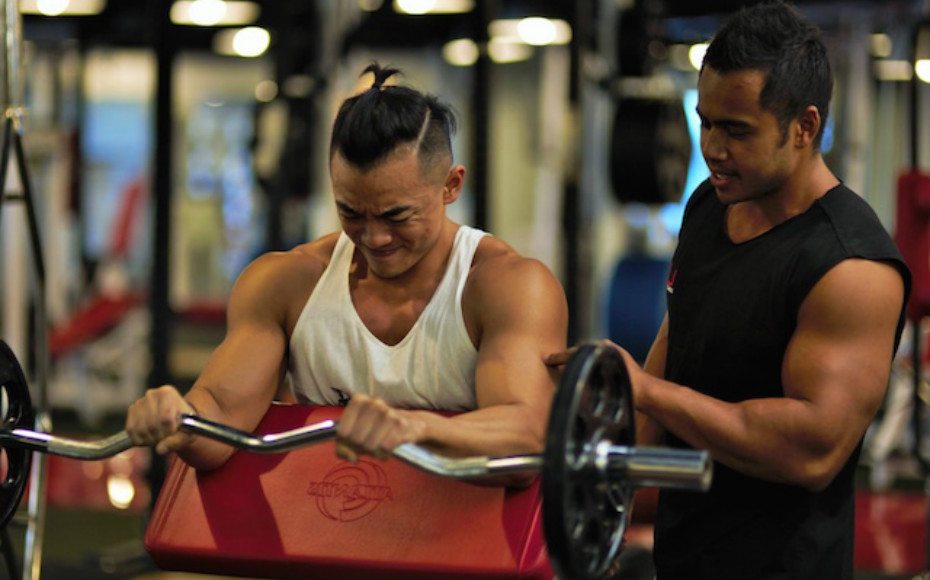 Busy schedules are no excuse to neglect the barbells. PTs at Ultimate Performance Singapore regularly handle clients at the top of their careers and can help you tackle issues like lack of sleep, stress and unpredictable schedules. On top of its offline programmes, there are virtual training sessions, from personal coaching to an intense beach-body workout plan for men and women alike.
Ultimate Performance Singapore, #01-01, Manulife Tower, 8 Cross Street, Singapore 048424
Amore Fitness
The gym's PTs specialise in workout routines and exercise techniques designed to suit women. With their firm background in sports specific injury, nutrition and weight management, you know you're in good hands. Plus, the facilities are equipped with machines developed specifically for women who often have smaller frames.
Amore Fitness, multiple locations including Plaza Singapura and Bugis Junction
My Fitness Comrade
My Fitness Comrade is a personal trainer matching service. Think of it as Tinder but for fitness. All you have to do is pick a PT based on your preference – be it by location, fitness goal or the type of trainer. Sounds very bespoke, right? But don't worry about breaking the bank as rates start from as low as $25! The road to a toned body is just a click away.
My Fitness Comrade, locations based on bookings
Now, are you ready for a personal trainer to whip your body in shape?