Photography: Yan Krukau via Pexels
So you think you're a foodie? Get acquainted with these iconic Indian sweets in Singapore...
We love a good slice of cake or a quick cupcake fix every now and then. But there's nothing like indulging in Indian sweets – and we're taking Deepavali season in Singapore as our excuse to give in to temptation. With vibrant colours and complex flavours, Indian sweets – or mithai – are synonymous with celebrations and all things positive.
But proceed with caution: these goodies can be really sweet, especially for the uninitiated. Still, we say you haven't really lived in Singapore until you've experienced the real deal in Little India. We keep going back to Moghul Sweet Shop at Little India Arcade and Komala Villas just a few steps away. But if you're down for a gourmet twist, hit up Michelin-starred Song of India or Punjab's Grill for next-level festival boxes. See if you can resist: the sweets that make us feel like kids again are right this way…
Indian sweets for sweet tooths in Singapore
1. Karanji
Known by a multitude of other names like gujia, somas, and pedakiya, this dessert is a flaky pastry filled to the brim with treats. After getting stuffed with shredded coconut, sesame seeds, nuts, raisins, and various spices, the sweet dumpling is deep-fried to crispy perfection. It's probably one of the most indulgent Indian sweets in Singapore.
Where to get it: Venture off into the Deepavali bazaars because we're sure you'll find at least one snack stall serving them up. We've seen Mithai Mandir and Moghul Mahal sell them previously too, so keep an eye out to see if they'll make a comeback on their menus.
2. Rasgulla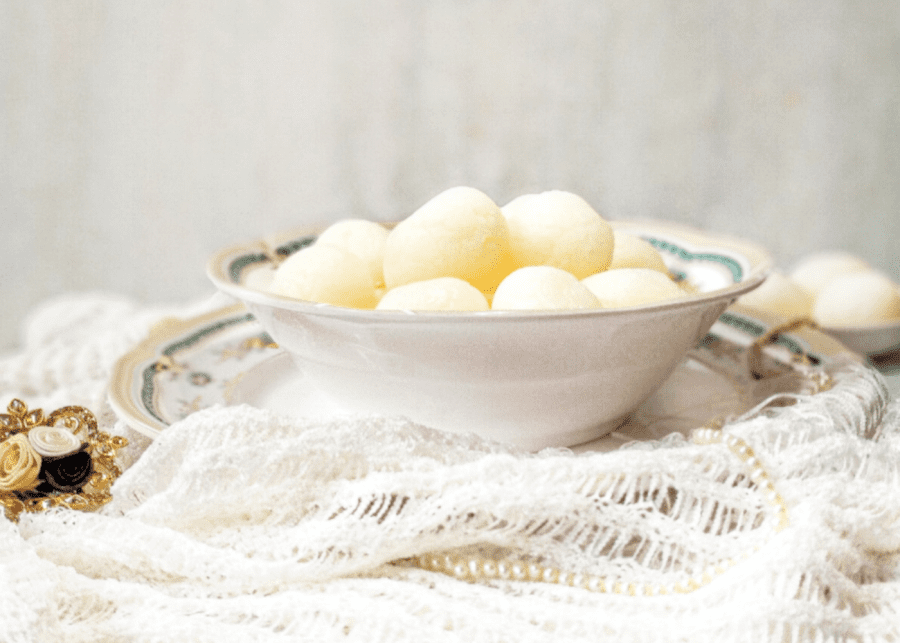 This syrupy dessert starts with curdling milk, but before you turn away at that mental image, hear us out. Once you separate the chenna (Indian cottage cheese – yup, there's a whole technique to it), it's kneaded and rolled into balls. Next, it's cooked in a sugar syrup, and you'll get sweet dumplings that are soft and spongy.
Where to get it: You can find rasgulla tinned up and ready to eat from stores like Dashmesh or even at FairPrice. Alternatively, pop by Shamiana Restaurant or The Curry Culture. Both have rasmalai on their menu, which is similar to rasgulla except the cheese dumplings are dipped and served in thickened milk.
3. Adhirasam
We call it the Indian doughnut, but trust us, it's not as sweet as the aforementioned confections. Made from rice flour and jaggery (cane sugar), this treat is deep-fried, so it's nice and crisp on the outside but pillowy soft on the inside.
Where to get it: Bawa's Delicacy sells mini adhirasam along with other snacks that you can add to your Deepavali list.
4. Patisa soan papdi
Light and flaky with sugar strands peeling off at the corners, soan papdi's texture is as smooth as cotton candy and literally melts in your mouth. It's so popular that it was sold out at the sweet shop so we decided to go for the patisa soan papdi, a less flaky version that's still on par with its sister.
Where to get it: Boxed soan papdi (both flaky and non-flaky versions) are available online at Grocer. There's even a chocolate soan papdi at Adyar Sweets & Snacks!
5. Laddoo
The laddoo (or laddu) is the quintessential poster boy for Indian sweets – if you're going to a wedding or a religious Indian ceremony in Singapore, you know this will be waiting for you. Plump with ghee, flour and sugar, these sweet treats are made from tiny drops of chickpea flour mix. They're fried in ghee and soaked in sugar syrup. Sounds easy, but it takes special skill to mould the mixture into those iconic spheres (and you have to do it while it's hot!). Much respect.
Where to get it: It's pretty easy to find variations of this sweet just about anywhere, but our pick is Moghul's Sweets. It's known for its signature motichoor laddoos that will complete your Deepavali spread.
6. Palkova
There are only two ingredients in this: milk and sugar. The magic is in the way it's made. First, the milk simmers till it reaches a paste-like consistency, then sugar is added to the mix. Once it becomes semi-solid, it's cooled and ready to be devoured. But really, you don't have to break your back in the kitchen – just pop by Little India to get this ivory white treat.
Where to get it: You can devour this sweet treat at Komala Vilas, along with other tempting creations like pista or cashew nut burfi.
7. Mysore pak
Fair warning: this isn't for the faint-hearted. Hailing from Mysore in the south-western Indian state of Karnataka, this sugary confection contains just three ingredients – sugar, gram flour and slabs of ghee. Consider it an Indian version of fudge: it's soft, dense and a melt-in-your-mouth kind of fantastic. There's another version that uses less ghee, but you know what we'd rather pick. As much as we love to indulge in this every now and then, it's best to share unless you want a 24-hour sugar rush.
Where to get it: You can find these indulgent sweets at Komala Vilas or Adyar Sweets & Snacks around Rochor along with other temptations like chocolate burfis and mothi laddoos.
8. Gulab jamun
If you're a sucker for sugar, you'll adore these brown beauties. Made from milk fats, they're deep-fried and drenched in a saccharine syrup infused with rose water. Expect a heady sugar rush after as little as two bites.
Where to get it: Along with delicious masala dosas and palak paneer, Kailash Parbat serves up some mouth-watering desserts – gulab jamun included! Wash it all down with a mango lassi and turn it into a feast.
9. Burfi
Probably the most refined looking out of the lot, burfi catches the eye with its pretty silver coating. It's purely for vanity though: this edible silver leaf is mainly used for occasions like weddings and has no effect on the taste. Perfectly cut into diamonds, this dense and milky sweet tastes as good as it looks. Plain burfi is usually made of solidified condensed milk and sugar with a hint of cardamom, but you can also find cashew nuts, pistachios, coconut or almond varieties.
Where to get it: Many people rave about Bikanervala's food for being savoury and authentic. Of course, you can't forget about the desserts. Get a taste of dhoda or kaju burfi after feasting on rich curries.
10. Kesari
Kesari is said to have originated from many regions down south of the subcontinent, so you can bet it's popular among South Indians. Perhaps that's the reason why it's still one of our favourites. And don't you think the bright orange colouring's super tempting? The semolina is what gives this block of sweet goodness texture along with staples like sugar, ghee (surprise surprise), water and milk. We like ours with cashew nuts and topped with a sprinkle of saffron.
Where to get it: MTR Singapore around Little India serves it with evaporated milk, sugar and spices. We're already drooling just thinking about it.
11. Jalebi
This confection is (almost) sickeningly sweet and sticky. It gets its muruku-like pretzel shape by plopping the fermented batter in a spiral motion into a pool of hot oil. The crisp snack is dunked in a saffron sugar syrup for that iconic orange glow.
Where to get it: We all agree this is best eaten freshly fried. You can get jalebi served up at Bikanervala or Jaggi's North Indian Cuisine. It's an absolute melt-in-the-mouth delight.
12. Kaju katli
Think of this dessert as a type of fudge, except there's no chocolate and it's decorated with edible silver foil. This traditional North Indian sweet is made with cashew nuts and sugar, flavoured with cardamom powder, rose water, and even saffron. The nuts are crushed into a coarse powder, sieved, and mixed with sugar syrup. The result? A delightfully sweet and dense dessert that's mildly flavoured and melts in your mouth.
Where to get it: Kaju katli is quite easy to make at home if you understand the intricacies of sugar syrup. But if you don't, you can find boxed kaju katli from Peshwai's. Looking for something freshly made? Pop by Moghul's Sweets at Little India Arcade.
Ready for a sugar rush? Now you know where to grab all these Indian sweets in Singapore!