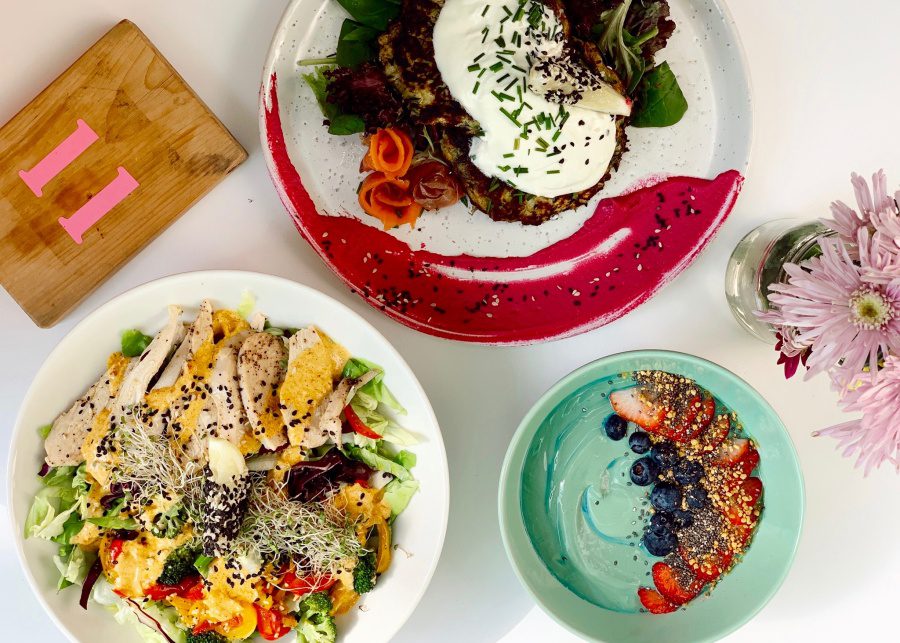 Photography: Carrotsticks & Cravings via Facebook
Can't take gluten? Fret not. There are plenty of restaurants and cafes in Singapore that cater to gluten-free diners.
Gluten, meaning "glue" in Latin, is a protein that's mainly found in grains like wheat, rye and barley. It helps things like pizza dough and pasta keep their structure. For some of us, eating it is no biggie. But when you've got a gluten sensitivity, leaky gut issues, or celiac disease, avoiding that stuff is essential for your wellbeing. Luckily for you, healthy eateries and salad bars are popping up everywhere. This list of recommendations will make going gluten-free in Singapore a piece of cake!
Top gluten-free restaurants and cafes in Singapore
1. Carrotsticks & Cravings
We love this quaint, healthy food haven tucked along Stanley Street. It serves nutritious dishes that nourish you from the inside out. And it caters to dietary preferences and restrictions of any kind. We're not kidding. Its menu features a variety of vegetarian, vegan, gluten-free and paleo options. You can even find refined sugar-free dishes, hormone-free chicken, salads bowls and smoothies loaded with superfoods! You can bet it's one of our fave go-to cafes for a good ol' slice of guilt-free carrot cake.
Carrotsticks & Cravings, multiple locations including Robertson Quay and Stanley Street
2. The Butcher's Wife
If you have coeliac disease, you can close your eyes and pick anything from the menu here. Why? 'Cos all the dishes are gluten-free and tasty! From crispy skin barramundi to grilled octopus to fermented black bean falafel, The Butcher's Wife is proof you don't have to skimp on flavours while going gluten-free.
The Butcher's Wife, 19 Yong Siak Street, Singapore 168650
3. Oh My Goodness!
These bakes are what sweet dreams are made of. The best part? All the goodies, including walnut carrot cake and lemon raspberry cake, are gluten-, dairy- and refined sugar-free. The holy trinity of healthy eating, if you ask us. You can get your hands on these treats at places like vegan ice cream parlour Kind Kones and online grocer RedMart. Alternatively, check out the e-store and have 'em delivered right to your doorstep.
Oh My Goodness!, shop online
4. Ryan's Grocery
Named after the founders' son (who's allergic to gluten products), Ryan's Grocery is a gourmet butcher with quality organic and free-range meats. It also houses a wide selection of wheat-free, gluten-free, dairy-free and preservative-free goods. That includes superfoods, organic greens and meats, healthy snacks and more. Go crazy at its biggest outlet in Great World City!
Ryan's Grocery, multiple locations including Binjai Park and Great World City
5. Wild Honey
Not only is Wild Honey one of our favourite places for brunch, but it's also a top dining hotspot for a hearty gluten-free meal in Singapore. Think an extensive list of all-day breakfast dishes that take inspiration from far-flung destinations like Tunisia, New York, Jerusalem, Sydney and Texas. Our personal recommendation: load up on creamy scrambled eggs, smoked salmon and caramelised onions on a gluten-free bagel when you order the I Love New York!
Wild Honey, multiple locations including Mandarin Gallery and South Beach
6. Coriander Leaf
This menu boasts myriad pan-Asian dishes that are split into six flavour profiles such as spicy, umami and fresh. The idea is to pick a few from each category and share. If you happen to be dining with someone who's going gluten-free in Singapore, no problem! Order the charcoal-grilled baby lamb chops, or barbecued stingray fin slathered with spicy sambal. What about vegetarians? There's a dedicated plant-based menu, too. Expect the same categorisation but with falafel, tofu, kale and Impossible meats.
Coriander Leaf, #02-01, Chijmes, 30 Victoria Street, Singapore 187996
7. The Living Cafe
Joined at the hip with holistic wellness centre Balanced Living, this cafe aims to inspire patrons with its dedication to sustainability and health. Take a look at the menu and you'll see it has something for everyone, no matter your dietary requirements. Gluten-free options include brown rice bowls topped with chicken, barramundi, tempeh or kale and cauliflower. Also, try the wholemeal pizzas that can be switched to a gluten-free base.
The Living Cafe, 779 Bukit Timah Road, Singapore 269758
8. GlutenFree SG
So you hate going through the entire supermarket just to pick out gluten-free ingredients in Singapore? Simply order them online with GlutenFree SG. Here's where you can get ingredients for your weekend bakes and even gluten-free salami or mac and cheese!
GlutenFree SG, shop online

9. Kitchen by Food Rebel
This popular lunchtime resto has a mind-boggling array of gluten-free options. Pop by for brekkie and enjoy a three-egg omelette topped with avo, mushrooms or both. More gluten-free lunch options include the zoodle bolognese – a spaghetti-inspired dish that swaps carbs for shredded zucchini.
Kitchen by Food Rebel, 28 Stanley Street, Singapore 068737
10. Delcie's Desserts
If it's something sweet you're after, take a gander at Delcie's Desserts for a selection of gluten-free cakes and bakes. In addition to vegan-, diabetic- and baby-friendly cakes, its gluten-free selection is sure to satisfy you. Order chocolate treats like the decadent fudge brownie and banana fudge cake, or nutty numbers like the strawberry nutty ice cream cake.
Delcie's Desserts, #01-83, 34 Whampoa West, Singapore 330034
11. The Whole Kitchen
The Whole Kitchen is founded by two Singapore-based Aussies on a quest to find healthy, wholesome treats. Its range of locally made gluten-free goodies is, frankly, amazing. The granola bowl with fresh seasonal fruits and natural Greek yoghurt is one of our go-tos at the bakery cafe! We're also impressed with the keto smoked salmon tartine topped with cream cheese and avo.
The Whole Kitchen, multiple locations including Katong and Robinson Road
12. Guzman y Gomez
This Mexican joint has all your gluten-free lunch and dinner options sorted. Go crazy with its soft and hard tacos, nachos and filling salads topped with steak, pulled pork, grilled chicken and pan-seared barramundi. Vegetarian and vegan options are available too! With several outlets peppered across the island, we can see why this fuss-free taqueria is a hit.
Guzman y Gomez, multiple locations including Funan and Guoco Tower
13. Grain Traders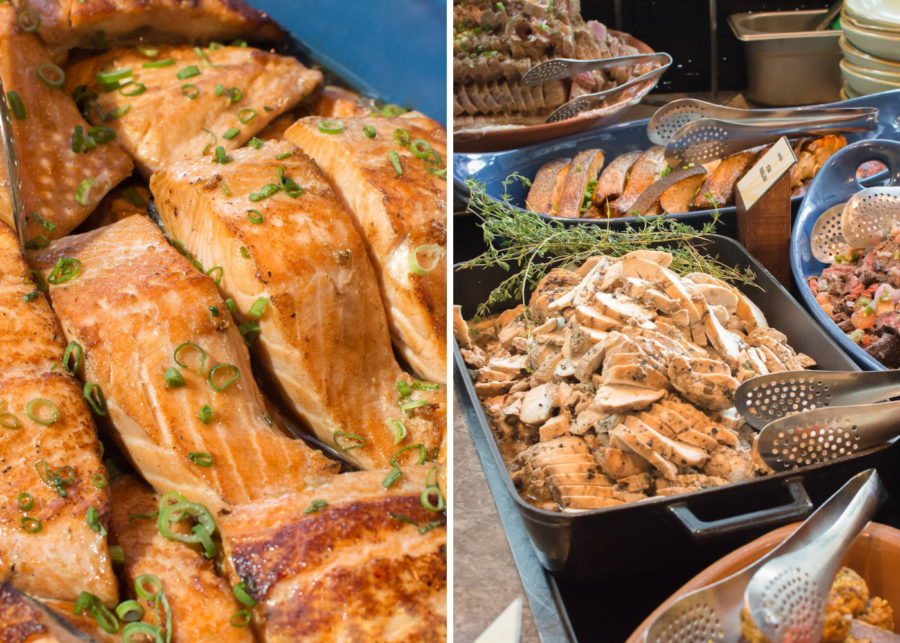 Grain Traders is where it's at. Championing the slow food movement, it doles out hearty grain bowls topped with proteins like tuna tataki and beef steak parillada. Switch up your base options with quinoa and super greens, we say. You'll see it's easy peasy to put together a satisfying gluten-free meal that's takeaway-friendly and high in protein.
Grain Traders, CapitaGreen, ground floor, 138 Market Street, Singapore 048946
14. TWB Pizza and Bar
Going gluten-free doesn't mean you have to give up your favourite comfort food. TWB Pizza and Bar makes delish options that are available with gluten-free pizza bases. Go for favourites like the peri-peri chicken or Philly prime steak.
TWB Pizza and Bar, 215R Upper Thomson Road, Singapore 574349
15. Afterglow
Specialising in raw and vegan plates, this industrial-chic cafe serves tasty meatless dishes that insatiable carnivores would give a thumbs up. Most of the menu is gluten-free except for the burger buns. But those can be easily swapped out for a gluten-free brown rice variant or lettuce. You've gotta try the delish spiced tomato barley risotto served with tofu "feta" cheese!
Afterglow, 24 Keong Saik Road, Singapore 089131
16. Bakening
We're eyeing Bakening's gluten-, dairy- and egg-free vegan and paleo cookies. Yeah, that's a mouthful, but these tiny cookies are a real delight. Our fave has to be the sea salt-sprinkled ones! Plus, Bakening's almond and cashew bread is soft and crumble-free. Gluten-free bread eaters, you know what we mean. And don't get us started on the choc fudge cake – it's simply divine.
Bakening, shop online
Enjoy delish, wholesome meals at these vibrant gluten-free restaurants and cafes in Singapore!