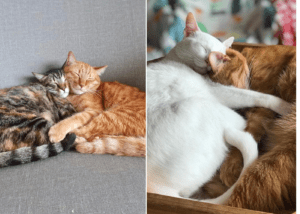 Neko No Niwa's cool cats in their element. Photography by Neko No Niwa via Facebook
If you like your cats, coffee and cake, you should be curled up at these cat cafés in Singapore for a purr-fect day.
We're animal-crazy in Singapore, there's no doubt about that. We've got pet-friendly cafés and pet hotels around the island. Cat cafés might just be another sort of place to celebrate our love for our pets, especially for all the cat ladies (and gents) out there. Control your squealing, let's check out these meow-gical spots.
Neko No Niwa
The one that started it all. Having set up shop in Boat Quay back in 2013, Neko No Niwa is the pioneer that sparked off a slew of copycat (pun intended) cat cafes. The cosy shophouse space houses a clowder of adorable kitties – all lovingly rescued by owners Sue Lynn and Sam. We're especially fond of brother-sister pair Kai Kai and Jia Jia, the mischievous tabbies with a penchant for stealing food and nibbling fingers when you're not looking. Order up some coffee, cake and smoothies and proceed to de-stress by watching some kitty antics.
Neko No Niwa, 54A Boat Quay (Level 2), Singapore 049843
The Cat Café
Bucking the trend of charging customers per hour, The Cat Café lets cat lovers indulge in kitty goodness for an unlimited time period for just $15 (with a complimentary drink!). At 1,200 square foot, the roomy loft-like space in the heart of Bugis houses 15 to 20 felines, all of them ex-strays or adopted. Stay for the special meal times during the day so you can get in on feeding action.
The Cat Café, 241B Victoria Street, Singapore 188030
Meomi Cat Café
Located in the Kampong Glam area is the small but inviting Meomi Cat Café. It houses only seven resident in-house cats but these beauties are quite the lookers, and with the personalities to boot! With comfy seating, kitty toys and human treats like cake and coffee available, you'll spend hours at this place.
Meomi Cat Café, 668 North Bridge Road, Singapore 188801