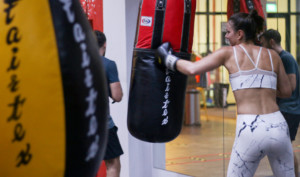 We step into The RING with our Account Director, Lacey
In this edition of Fitspo Find, our Account Director, Lacey, takes us into this boxing gym to experience a real Ronda Rousey-style workout
We all know the struggle is real when it comes to choosing a fitness regime. There are so many choices: spin class, F45, you name it. As for me, I wanted to find something that would torch the maximum amount of calories in the shortest possible time; something similar to the intense training routines I was familiar with like HIIT and bootcamps. I wanted to try my hand at something that required learning a new skill while getting super fit. So in November last year, I stumbled into the world of boxing at The RING.
I'd also heard that all the Victoria's Secret Angels do boxing training to get hyped for a fashion show. And if its good enough for Alessandria Ambrosia, sign me up!
Located in the heart of Robertson Quay on Kim Yam Road, The RING is a state-of-the-art boxing club, boasting brand new equipment, facilities, and a huge range of sessions including boxing, Muay Thai and conditioning classes. The coaches, Moose and Rae, are also experienced boxers and amazing teachers, who will constantly push you and give you feedback on the areas you need to improve on.
Did I also mention there's even an in-house juice bar to get your post-workout protein shake fix? Score!
So what does an average boxing session look like at The Ring? Our coach will start us out with a warm-up; this usually entails skipping for two 3-minute rounds or running on the treadmill for 10 minutes. We will then move on to shadow boxing, usually three 2-minute rounds. This is where we move around the room practising throwing our jabs, cross-hooks, and uppercuts to warm up the muscles. By this point, you will have definitely worked up a sweat!
We then move on to partner-work, where we put on our gloves and take turns practising punching combinations, ducking, slipping and weaving. Usually after partner-work, there will be some burpees, squat jumps and sit-ups.
After that, we move on to the hard bags and put our combinations into practice. Usually alternating between speed and power, you will push your cardio limits and improve stamina (it's also a really effective way to rid yourself of the stress of the working week!).
We then finish the class with an ab/core workout. This usually entails sit-ups, planks, Russian twists and mountain climbers.
If you are keen on trying your hands at a new skill and get super fit in the process, lace up and enter The RING.
The RING, #01-01, 58 Kim Yam Road, Singapore 239359, p. 6385 1488. To find out more about rates and classes, check out its official website.
Wanna find more fun ways to get fit? Check out these wrestling classes in Singapore, and trampoline bounce classes in Singapore.