Breakfast for champions. Photography: Pacamara via Facebook
Live for breakfast? You need this bucket list of our faves across the island...
Yes, we love our nasi lemak and grabbing a curry puff on the run, but when you've got a lazy morning lined up for doing nothing but breakfast, these dishes hit the spot. From the ultimate eggs showdown to avo toast mania; the massive paper thosai to a whole lot of bacon, the Honeycombers team recommends the best breakfast spots in town that could convert any night owl. Are you game to take on the bucket list?
Breakfast platter at Pacamara
Available for takeaway and delivery via GrabFood, Foodpanda or WhatsApp at +65 8121 8904.
Breakfast platter (pictured above) has the best and creamiest scrambled eggs… perfect combination with its thick-cut bacon and mushrooms. We also love their avocado toast paired with the in-house roasted latte.
Pacamara, 185 Upper Thomson Road, Singapore 574333

Turkish common man breakfast at Common Man Coffee Roasters
Available for takeaway and delivery via WhatsApp at +65 9739 0704 (Martin Road), +65 9739 0106 (Stanley Street), GrabFood, Deliveroo and Foodpanda.  
We adore the Turkish Common Man Breakfast – phyllo-wrapped soft-boiled organic egg, crispy feta, fresh cucumber, tomato, olives and hummus with pita bread. It's got the perfect mix of naughty and nice – a healthy egg, deep fried in pastry, with loads of veggies on the side. Yummo! Wash that down with a good flat white and your day is off to a good start.
Common Man Coffee Roasters, 22 Martin Road, #01-00, Singapore 239058; 11 – 12 Stanley Street, Singapore 068730

Avo and vegemite toast at Jimmy Monkey
Brunch and dinner sets are available for self-pickup, takeaway and delivery. Call 6777 8470 or WhatsApp +65 9690 0853 to order (minimum 3 hours in advance). Cashless payment only. 
Possibly one of our favourite brekky place in Singapore is Jimmy Monkey in Buona Vista. We oscillate between The Hulk (smashed avocado on toast, sprinkled with dukkah and feta) and Soldiers and soft-boiled eggs (done the Aussie way – the bread is smeared with Vegemite and then topped with cheese and toasted) and the eggs are always soft-boiled to perfection with a bit of butter snuck on top for good measure at the end. The portion sizes are also extremely generous. If you're not in the mood for a coffee, wash brekkie down with a peanut butter speculoos milkshake instead.
Jimmy Monkey, #01-51 One-North Residences, 9 One-north Gateway, Singapore 138643

Pig and eggs at Bearded Bella
Available for takeaway and islandwide delivery. Call or WhatsApp +65 9880 0775 to place an order.
This Melbourne-inspired cafe off Duxton Hill is a strong contender for best comfort foods in town, and while you'll spot a so-Aussie avo on toast on the brunch menu, we've gotta say the offering here isn't like anything else you'll find in Singapore. Take the pig and eggs you see above. That's slow-cooked pig jowl, cooked to a crazy crisp, over poached eggs and green hollandaise sauce. The contrast between crunchy and silky is sublime, and there's some pickled daikon tossed in for punch. The coffee is a winner, but our heart really belongs to the beautiful pottery it's served in.
Bearded Bella; 8 Craig Rd, Tanjong Pagar, Singapore 089668
Kaya toast at Hong Lim Food Centre
Available for takeaway. For more hawker food, check out our guides to hawker delivery and alternative delivery platforms. 
The Kaya Kaya stall uncle at Chinatown's Hong Lim Food Centre makes in best kaya toast ever. He puts in just the right amount of kaya that's not too sweet (makes us feel less guilty for indulging) and cold slices of butter. Uncle is so calm and meticulous… watching his process in the morning is borderline meditative. And once it all toasted, we're served a delicious, crumbly kaya toast and kopi o kosong with a giant smile.
Hong Lim Food Centre, 531A Upper Cross Street, Singapore 051531
The Fry Up at Sarnies
Available for takeaway and islandwide delivery. The Fry Up is only available for weekend brunch on Sat, Sun and PH from 10am – 3pm. 
Bacon, sausages, homemade beans, eggs – what more could you ask for? This is one hearty meal that'll keep you full till lunch time. If you love bacon, they're really generous with their servings. Oh, and apparently they cure their own bacon! It's just the right fat to meat ratio and served crispy – just the way we like it. Is it obvious that we love bacon? When they get the balance of Marmite and butter right (it can be a bit hit 'n' miss), Sarnies sourdough toast really hits the spot too.
Sarnies, 136 Telok Ayer Street, Singapore 068601
Roti prata and teh tarik at Alif Bukit Gombak
Available for takeaways. For more hawker food, check out our guides to hawker delivery and alternative delivery platforms. 
The fluffy prata with the spicy fish curry is a damn good combination. And the hot milk teh tarik in the morning makes our morning. Breakfast for less than five bucks, y'all!
Alif Restaurant, Blk 374 Bukit Batok West Ave 5, Singapore 659083

Pancakes at Clinton Street Baking Co.
Available for takeaway and delivery. Call +65 9654 6822 to make an order. 
As someone who prides herself on her pancake making skills (we make them from scratch every Saturday), we don't mind splurging on the blueberry pancakes from Clinton Street Bakery. They're fluffy yet dense and suuuuuuper yummy. Don't forget to drench them in maple syrup and of course order a side of… yup, you guessed it. Bacon.
Clinton Street Baking Co. & Restaurant, 31 Purvis Street, Singapore 188608
Scrambled eggs with truffle and vegan cheese at Food Rebel
Available for takeaway and delivery via Deliveroo. 
Food Rebel has this amazing special – scrambled eggs on sourdough toast with truffle and vegan cheese. It's SO GOOD, it's literally the only thing we look forward to on Friday mornings. Totally makes our day!
Kitchen by Food Rebel, 28 Stanley Street, Singapore 068737
The weekday breakfast at Halia
Available for takeaway and islandwide delivery. 
Just look at that table loaded with colourful breakfasts. Even if you're being virtuous and sticking to chia seed pudding, their combo of mango and strawberry is divine. But if like us, you like your breakfasts fully loaded, you need to try the chilli crab with eggs, and the epic Wagyu beef 'nasi lemak' with coconut pandan rice, fried egg, spiced nuts, pickled cucumber & ginger flower sambal. We think it's all worth taking the morning off work for. Shhh…
Halia; 1 Cluny Road, Ginger Garden, Singapore Botanic Gardens, Singapore 259569 (enter via Tyersall Avenue)
Toasties and summer smoothies on Telok Ayer Street
Available for takeaway and islandwide delivery. 
We are also rather partial to a smoked salmon and scrambled egg toastie from Free the Robot. And when we are feeling virtuous? The Endless Summer smoothie from The Muffinry (or whatever it is called these days).
Free the Robot & The Muffinry, Telok Ayer Street, Singapore
Avo toast at Maxi Coffee Bar
Another blink and you'll miss it spot. Their avo on toast is only $8 (avo, feta, chilli flakes, pepitas, cherry tomatoes). Plus, some of the best coffee we've had in the CBD. Oh, and the ham and kim chi toastie is the surprise toastie combo we can't get enough of now…
Maxi Coffee Bar, Emerald Garden, 31 Club Street, #01-02, Singapore 069468
Minced pork congee at Maxwell Food Centre
Available for takeaways. Closed on Tuesdays. For more hawker food, check out our guides to hawker delivery and alternative delivery platforms.
Who knew that a mere bowl of piping hot minced meat congee could bring us so much joy? Ho Kee Porridge's thick and flavourful congee topped with fried shallots, white pepper and of course, chilli padi  – just the way we like it. Trust us, it's totally worth the quick porridge run during the morning crowd.
Maxwell Food Centre, 1 Kadayanallur Street, Singapore 069184
Paper thosai at Komala Vilas
Available for takeaway, drive-through (call 6293 6980 to make an order) and islandwide delivery via MyFoodSG, FoodPanda, Deliveroo and GrabFood.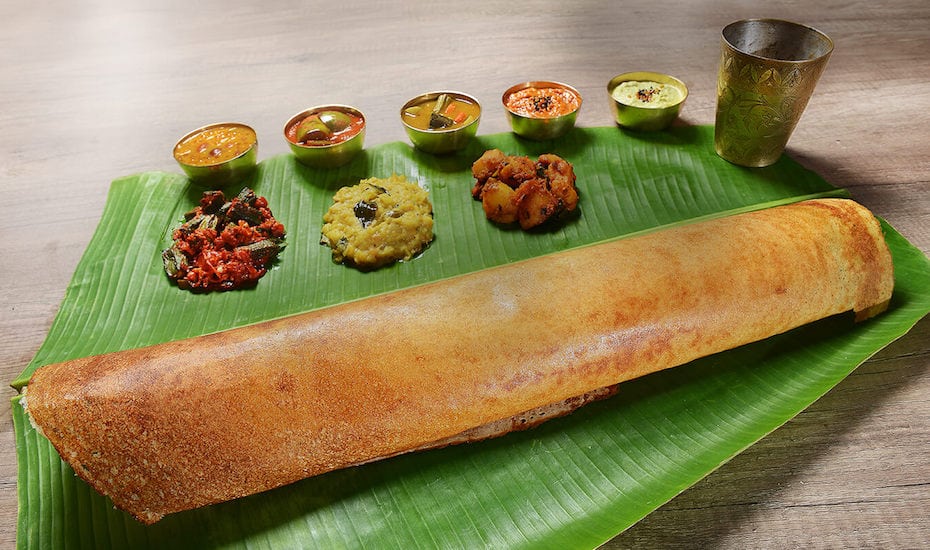 Paper thosai is the mother of all thosais  – a thin and crisp version that's twice in size and sure to turn heads as the waiter brings it to the table. You can find paper thosais at almost any Indian restaurant but Komala Vilas always does it right. The thosai comes on a plate with a choice of three dips  – sambar, coconut chutney and a spicy tomato chutney. Fold the thosai in half, break a piece and dip it in the chutney to find your fave flavour combo. Wash it down with a cup of Bru coffee (a popular coffee brand from South India) and you're good to go.
Komala Vilas, 76-78 Serangoon Road, Singapore 217981