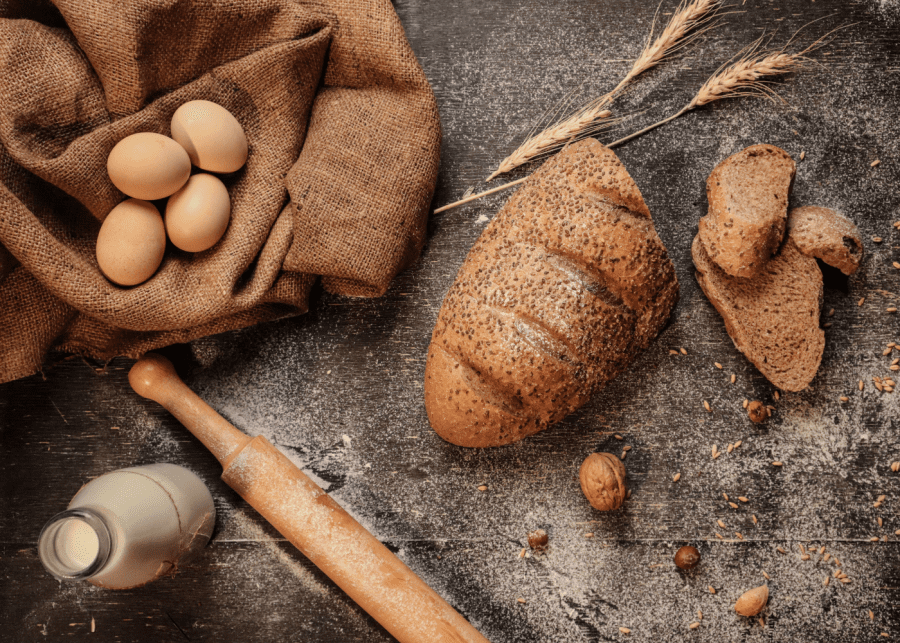 Photography: Hossein Farahani via Unsplash
Craving freshly baked treats with sweet and savoury goodness? We found the best bakeries in Singapore for pastries, pies and all things in between.
Are you a big fan of carbs – bread in particular? Us too! Nothing can come in between us and our baguettes, buns, croissants, pastries and all that jazz. Sourdough your thing? We feel you. Lucky for us, food-crazy Singapore just keeps evolving with top-notch bakeries offering high-quality and artisanal bakes. Now we're seriously hungry…
Best bakeries in Singapore
1. The Durian Bakery
If you're a fan of durian, you'll be stoked to find out about the selection of durian-infused cakes and pastries at The Durian Bakery. This local bakery offers premium handcrafted bites with its signature Mao Shan Wang durian puree that's blended through a special process for an extra creamy texture.
The classic Mao Shan Wang durian cake is one of its crowd-pleasers – think fluffy vanilla sponge that hides a thick durian puree at the centre. The durian mille crepe cake is another highlight, with each cake boasting 20 carefully crafted layers of crepe with five layers of pure durian puree and durian flesh at its core. (Limited bakes daily, so fastest fingers first!) The bakery also offers same-day cake delivery in as little as two hours for urgent orders.
For gatherings and sharing with the fam, there's also a durian dessert box with Mao Shan Wang giant durian puffs, D24 mochi and more. Or, try the freshly prepped Mao Shan Wang durian fruit tarts that come in a bundle of six, filled with a delicious durian custard base.
The Durian Bakery, available online
2. Le Matin Patisserie
Order online for delivery.
Matin in French means "morning", and Michelin-starred pastry chef Mohamed Al-Matin believes that pastries found him. The basic pastry boxes feature five baked goods including pain au chocolat, almond croissant, and the signature kouign amann, a pastry layered with butter and caramelised sugar. But the Grand Matin V2 boxes will satisfy all sweet tooths, thanks to the berry danish, cashew tart, and vanilla and salted caramel flan. On the savoury side, don't miss out on the wagyu and bone marrow sausage roll. Hurry, as these sell out like hotcakes!
Le Matin Patisserie, #01-25, Blk B, 10 Raeburn Park, Singapore 088702
3. Balmoral Bakery
Order online for delivery.
This bakery was founded in the 1960s and has been standing tall in all its brick-walled vintage charm ever since. If you're an old school pastry lover, this is the perfect place for you. Pop by the bakery for traditional pastries and hard-to-find treats such as rum ball and cream horn (a pastry cone pipped with buttercream and maraschino cherry. Don't leave without trying the chicken pie and samosas too.
Balmoral Bakery, 105 Clementi Street 12, #01-06, Sunset Way Residence, Singapore 120105
4. Bakery Brera & Fine Foods
Order online for delivery.
One of our faves for artisanal bread, pastries, cakes and tarts, Bakery Brera is popular for good reason. Its treats are made with fresh and fine ingredients, and the flavours are on point! Must-tries on the menu include cruffins, croissants, burnt cheesecakes and the oh-so-sweet kouign amann.
Bakery Brera & Fine Foods, #01-05, 8 Empress Road, Singapore 260008
5. The Fat Kid Bakery
Order online for delivery.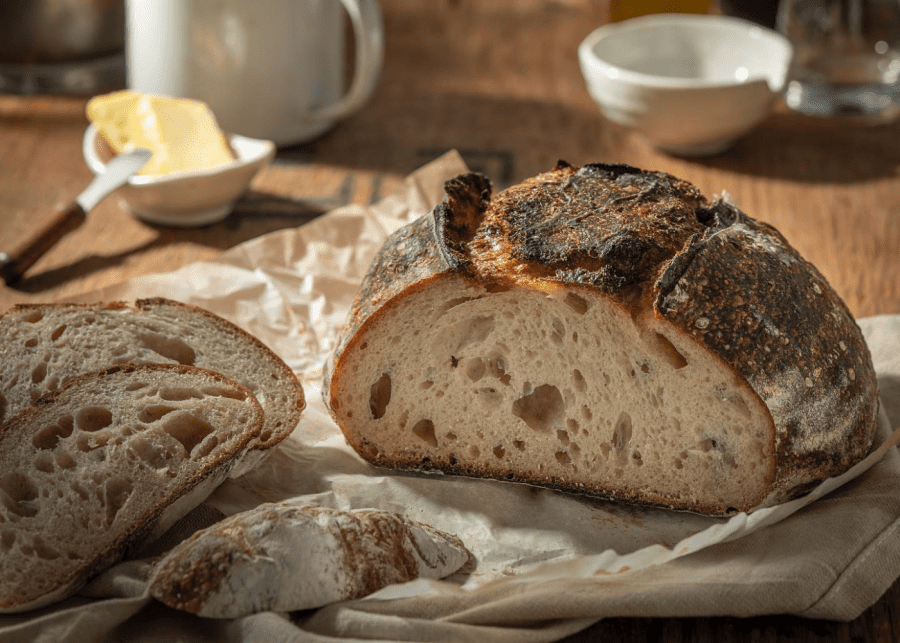 This bakery in Singapore is brought to you by self-taught baker Ariel Tang, who started getting hands-on in the kitchen 10 years ago. After whipping up goodies for her family and friends, she's expanded her repertoire of bakes from brownies to sourdough bread, croissants, eclairs and bombolonis. Psst: the brownies are the bomb, seriously!
The Fat Kid Bakery, #01-07, Floravista, 7 Ang Mo Kio Street 66, Singapore 567708
6. The Bakehaus
A cosy space in Farrer Park, this hotspot is known and loved by the neighbourhood for fresh pastries and sourdough loaves. Its menu is ever-changing, so you'll always get a pleasant surprise every time you step in. We're talking about sourdough bread in flavours like beetroot with cheese and pain au chocolat with cookie dough. Totally one-of-a-kind!
The Bakehaus, 130 Owen Road, Singapore 218394
7. Origin + Bloom
When you're at Marina Bay Sands and the hunger pangs come calling, head to Origin + Bloom for gourmet bread, sandwiches, salads, desserts and cold-drip coffees. This standout store offers bread varieties such as pecan nut raisin, turmeric sunflower seed and banana walnut. While you're there, pick up a couple of croissants and sammies stuffed with pulled pork, falafel, smoked salmon and more for the fam.
Origin + Bloom, Tower 3 Lobby, Marina Bay Sands Hotel, 10 Bayfront Avenue, Singapore 018956
8. Starter Lab
Order online for delivery.
Having amassed a cult following for its sourdough bread at its flagship store in Bali, Starter Lab is now gaining traction here at its first foray into Singapore. Tuck into the sammies and pastries to taste what the hype's all about.
Starter Lab, 721 Havelock Road, Singapore 169645
9. Mother Dough Bakery
"Mother dough" refers to the fermentation starter or sourdough culture used in bread making. Trust owner and baker Naadhira, who perfected her bread making skills in New York, to make a dough reference in her store name. We implore you to check out the bakery's Instagram feed and not get hungry for some fresh bakes, from cookies and cakes to beautiful looking brioche buns. Plus, now we can get our croissants straight from the source anytime.
Mother Dough Bakery, 3 Jalan Kledek, Singapore 199259
10. Nick Vina
Order online for delivery.
Artisan baker Nick Chua was trained in Hanover and took it on himself to master the art of bread. It has definitely paid off though, they have amazing bread here. Our personal fave is the 'Rusti' loaf, which is sprinkled with seeds and always gets gobbled up the same day. The bakery also does great chocolate pastries for the kids and excellent baguettes.
Nick Vina, #01-54/55, Icon Village, Gopeng Street, Singapore 078877
11. Bread & Hearth
Order online for delivery.
Adopting age-old bread-making techniques, the bakes and goods of Bread & Hearth yield a real distinct flavour. Besides good focaccias and ciabattas, it's also a good place to have a good and hearty breakfast. Tuna sandwiches, BLTs and avocado and bacon eggs benedict – you're pretty set for the weekend.
Bread & Hearth, multiple locations including Keong Saik and East Coast
12. Simply Bread
Simply Bread may be named as such but simple is not what these folks do. A great place to grab loaves and buns, this place is also a wonderland brimming with pastries, sliced bread, and large loaves. You can get your orders in via food delivery platforms too!
Simply Bread, multiple locations including Fifth Avenue and Cluny Court

13. Tiong Bahru Bakery
Order online for delivery.
This iconic bakery first opened in the neighbourhood of Tiong Bahru and remains one of our top spots for pastries. Hot sellers such as the butter and chocolate croissants look almost too good to eat – the layers are distinctly fanned out and provide a great crisp to the pastry. If you need to satisfy your sweet tooth, you have to give the kouign amann a go. And don't get us started on the rich, fudgy brownies…
Tiong Bahru Bakery, multiple locations including Fort Canning and Funan
14. Maison Kayser
Order online for delivery.
Known to weave exotic and sometimes unusual flavours into traditional French recipes, Eric Kayser's eponymous bakery, famous for its use and invention of the Fermentolevain (a machine that creates and maintains liquid leaven), rolls out a wide range of savoury and sweet baked goods. Try the famed croissant, which has even been named the best by Paris' Figaro newspaper.
Maison Kayser, multiple locations including Somerset and Serangoon Gardens
15. Cedele
Order online for delivery.
The proponent of healthy food scratches your itch for fresh-from-the-oven bread loaves that are handmade with traditional and time-honoured techniques, containing no improvers and artificial ingredients. Lucky if you're a bread lover, 'cause you can choose from three types of bread: sweet, savoury and organic. And if you're done with bread shopping, catch a brunch bite with eggs benny or the selection of gourmet sandwiches and soups.
Cedele, multiple locations including Waterway Point and Raffles City
16. Boulangerie Asanoya
Order via GrabFood and Foodpanda for delivery.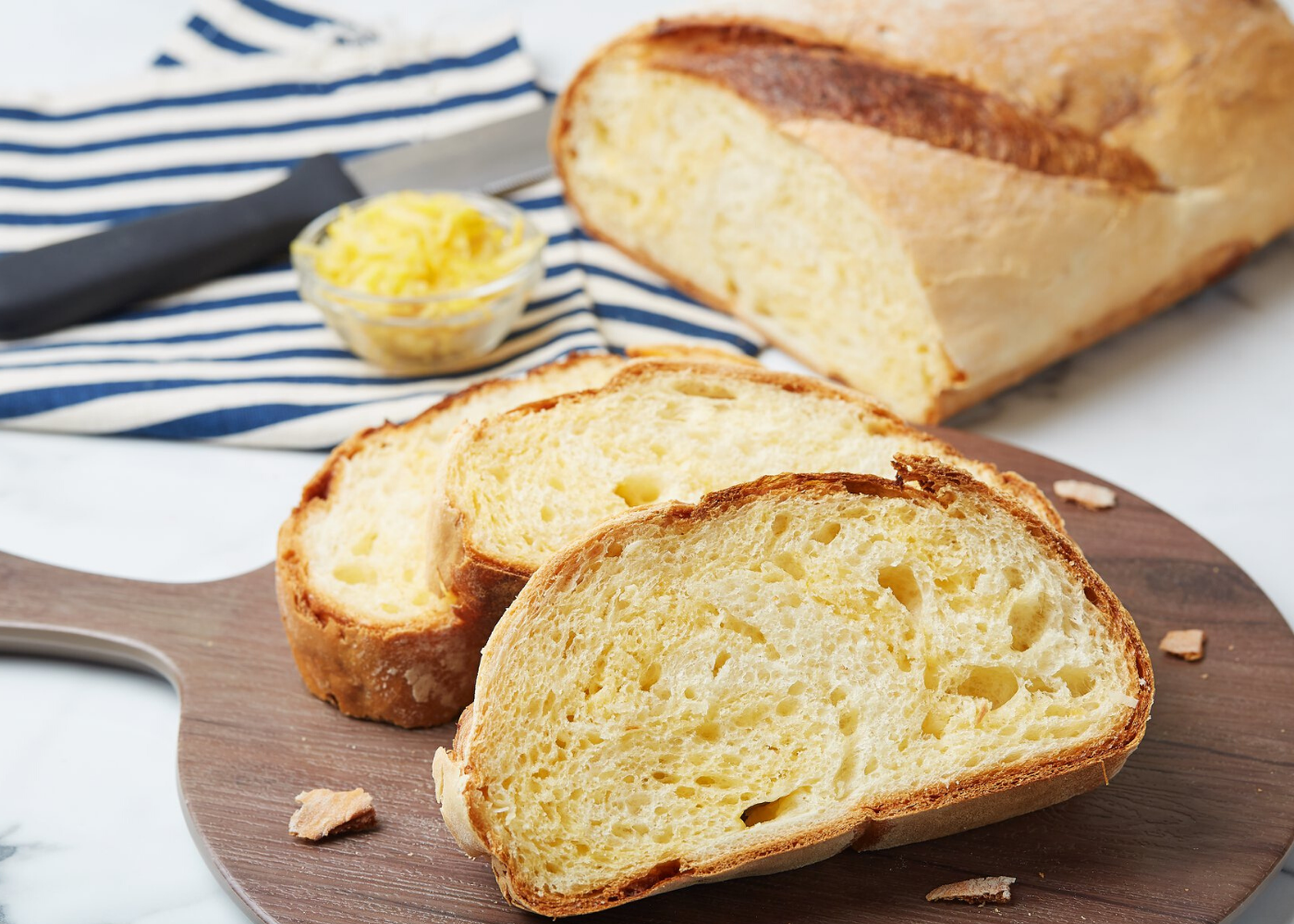 The range of baked treats here is absolutely to die for! We're loving hot sellers like the French potato, kaya mochi cruffin and curry donut. You can also pick up sourdough loaves, multi-grain bread, cookies, tarts and sweet or savoury buns.
Boulangerie Asanoya, multiple locations including Paragon Mall and Bukit Timah
17. Choupinette
Have a slice of Paris at this decade-old French cafe along Bukit Timah Road. Popular breakfast items include the famous egg Benny – one of the best in town – and the crab bisque. Oh, and make sure to pick up the freshly made loaves and croissants for brunch at home.
Choupinette, 607 Bukit Timah Road, Singapore 269708
18. Carpenter and Cook
Co-owner and chef Shenn, a graduate of the prestigious Le Cordon Bleu in London and a former apprentice at Cocomaya, helms the kitchen at this lovely spot, churning out excellent bread, packaged jams and desserts daily. Phoebe, on the other hand, curates the vintage European furniture at the quaint dual-concept venue. So even if you're not here to shop, the lovely furnishings around the cafe provide a charming, laid-back ambience perfect for those lazy off-duty afternoons.
Carpenter and Cook, #01-06, 19 Lorong Kilat, Singapore 598120
19. Baker & Cook
More than just a bakery, this hotspot is also a gourmet food store, helmed by renowned baker Dean Brettschneider. He brings to the table 25 years of experience and a strong love for the perfect sourdough. Crowd favourites include ham and cheese croissants, cobb bowl and savoury tarts. Brunch, anyone?
Baker & Cook, multiple locations including Dempsey and Bukit Timah
20. Paul
Order online for delivery.
The international outpost of France's largest chain bakery in Singapore is great if you're hankering for delectable French croissants. These croissants are crispy, flaky and absolutely tasty when fresh in the morning. The menu also offers a selection of dessert pastries to enjoy over a pot of tea or cuppa, at one of the lush tearooms if you feel like you've binged on too many croissants for a day.
Paul, multiple locations including Tanglin Mall and Paragon
21. Provence
Order online for delivery.
This unique Japanese style bakery and cafe in Singapore offers a selection of bread that's handmade from scratch. Decked with necessary baking tools for in-house, made-from-scratch products, you can enjoy the freshest bread hot off the oven. Whether you're up for sweet or savoury, Provence is one bakery that you cannot miss. The milk bun and koshi an pan (smooth red bean paste) are simply divine.
Provence, #01-04, Raffles Holland V, 118 Holland Avenue, Singapore 278997
22. Artisan Boulangerie Co.
Order online for takeaway.
Award-winning French baker Eran Mayer uses flour imported directly from a traditional mill in Chartres, France, and the highest quality natural ingredients to make some of the finest gourmet pastries in town, all baked fresh daily in-house. Try the wagyu beef burger, though it's hard to resist the flaky, buttery croissants too!
Artisan Boulangerie Co., multiple locations including Balestier and Killiney
23. Konditori
Order online for delivery.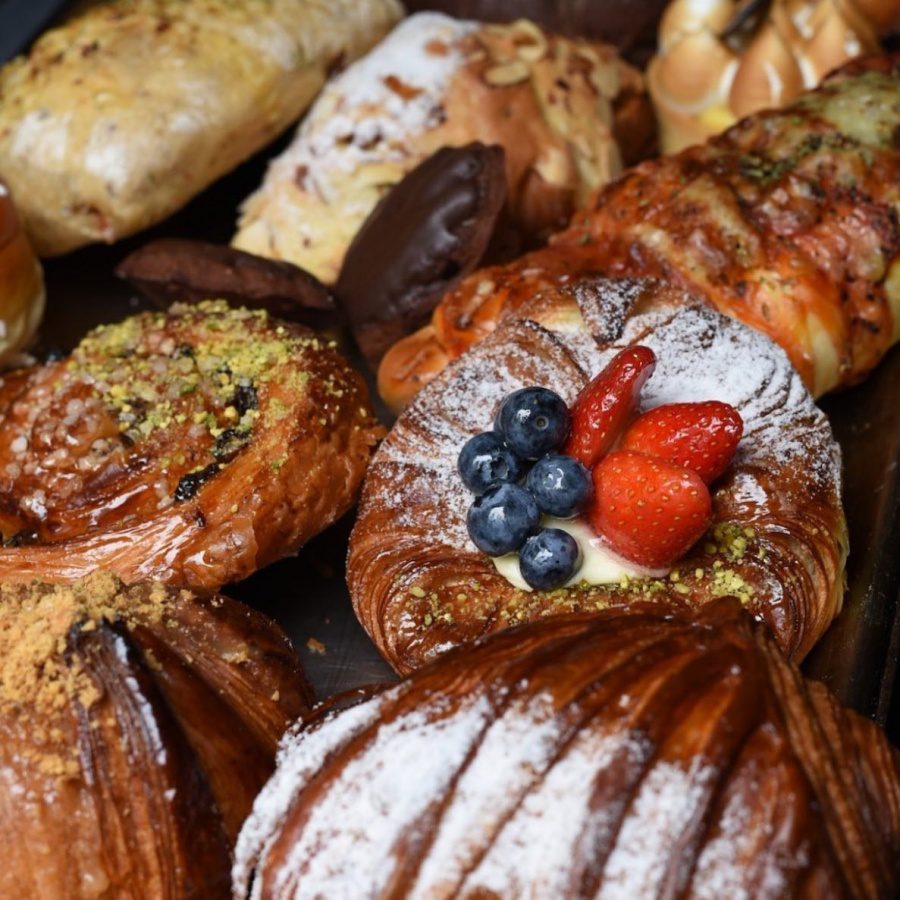 It's hard to miss Konditori while on Bussorah Street. Simply follow the glorious scent of baked dough and freshly brewed coffee. Brought to you by the same people behind Fika Swedish Cafe & Bistro, Konditori serves up artisan bakes alongside comforting cuppas. Take your pick from croissants and crusty loaves to cinnamon buns and delectable tarts.
Konditori, 33 Bussorah Street, Singapore 199451
24. Nassim Hill Bakery Bistro Bar
Order online for delivery.
Located right across Tanglin Mall, Nassim Hill is a bakery, bar, and bistro that has all the right things going for it. Apart from its classic brunch options, you'll be treated to a wide array of freshly baked goods like waffles, apple crostata and buttermilk scones. Psst: check out the Killiney location for a different vibe!
Nassim Hill Bakery Bistro Bar, multiple locations including Tanglin and Killiney
The next time you're in the mood for bread and pastries, you know the best bakeries in Singapore to hit up!