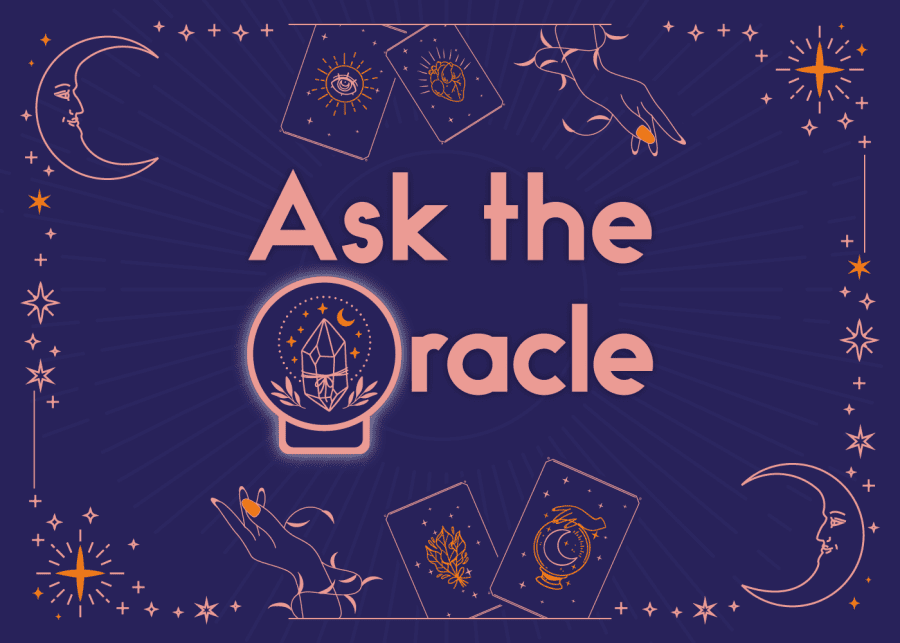 Illustration: Emily Rosadi
Welcome to our monthly advice column: Ask and you shall receive answers from our tarot Agony Aunt.
Navigating life, love, career and everything else is hard. Sometimes you just need a listening ear and a little guidance. Enter: Ask the Oracle, where cosmic guide and life coach Kelly Lightworker helps you get answers to love, luck, money, success, and living your best life. Simply fill out this form and our tarot Agony Aunt will pick three questions to answer at the start of each month (don't worry, you can use pseudonyms for privacy and choose to be anonymous). We look forward to hearing from you!
Ask the Oracle: September edition
Dearest Kelly, I'm 31 and a full-time mummy to a toddler. Before that, I was a busy working woman. Although taking care of a child is equivalent to a full-time job, lately I'm not feeling productive, maybe because I don't have financial income. I thought of going back to studying after a gap of 12 years to obtain my master's degree through distance learning. I've applied and paid for part one of the course, but I'm getting cold feet. 
Was this a wise decision? Will I get through it or will it hinder my parenting? Can I juggle home and study without any classes, relying totally on self-study? Will I be able to score passing marks? It's giving me anxiety. What can you advise? Thank you, Kelly, for your time and energy.
Hello, my dear NC,
Congratulations! You're standing at the doorway to a new cycle of life (cuddling your lovely toddler, no less) and feeling a little nervous. That's the best way to go in life. Your future is unfolding in an exciting way and it's completely normal to feel anxious.
Remember that your feelings are valid but they're also signposts. Not maps! Your feelings are useful in telling you where you stand in a situation, but never let them hijack your inner wisdom and direct your choices or actions.
The Tarot advises you to manage your expectations as you move forward into this new phase. You'll benefit from a consistent routine with in-built boundaries for self-care. But you may need to enlist hubby – or someone you rely on and trust – to assist you with caregiving tasks. Please don't overthink this or feel bad asking for help! The cards indicate this will work out if you keep calm: you seem to have good people around you, and your child makes an appearance in this reading to assure you all will be well.
The Tarot is gently reminding you to be patient. Don't expect perfection from day one. Getting where you want to be is about making small adjustments to align with your goals, day by day. Your inner balance is key. There's no rush. Tackle your tasks one at a time and focus on what you can control.
You are encouraged to keep your eyes on your long-term goals: this move will bring you and your family happiness, financial prosperity and great wealth. Your job is to stick to your decision and act in wisdom. The cards indicate that you'll receive help from people who are supportive of your goals (it appears you'll have helpful teachers and mentors), so reach out when you need a helping hand.
There you go, NC, taking your life to another level of accomplishment. I'm so happy for you! Deep breaths. You can do this. Let's go!
Kelly xoxo
My husband has poor health. I have to perform daily home treatments for him and manage his diet. I'm exhausted and I don't want to wake up every day knowing we'll argue and shout. He doesn't listen to the doctor and dietician. He gets angry when he can't get his way. He wants to eat whatever he wants but his health is failing. I have so much resentment and frustration that I want to leave him but I don't have the courage. I've neglected myself as I don't see any light at the end of my tunnel. Please advise, thanks.
Hello, my dear,
I'm concerned about your situation. Caregiver burnout is a very real thing and it's not talked about enough.
The Tarot immediately pointed out that you're feeling stuck, helpless and taken for granted. This last point is creating a great deal of resentment and frustration in you: the fact that you're trying your best, but your husband is unappreciative and attempts to sabotage his health.
Someone in this situation needs to stop the negative spiralling that keeps happening. Is it possible for you to refrain from further arguments? The Tarot shows me a situation where both parties won't win in any fight against each other – you're engaging in pointless everyday battles, and you're being drained for no good reason.
There's a card indicating that you've given your power away by not setting boundaries, and not allowing yourself time to rest and recharge. There are no cards showing you leaving this marriage, which means you don't see it as a viable option.
But, choosing not to leave your husband isn't an excuse to neglect or abandon yourself – which is what you're doing. My dear, I know you're exhausted beyond belief. But you are your own best friend and ally; take good care of yourself so you can be strong enough to continue. There's a card suggesting that you reach out and speak with a trusted person – this can help you sort out the complicated thoughts and feelings you're struggling with.
The cards indicate that this situation will gradually improve. You'll begin to see opportunities for a new start in about one to two years. This can coincide with a house move or some positive developments with regard to housing.
Meanwhile, hang in there. Brighter days are coming, but first, it starts with you making yourself a priority. Be kind to yourself, and the Universe will come through for you.
I wish you all the very best.
Kelly xoxo
Hi Kelly! I've been working in the same company for 10 years. The last few have been stagnant. I was passed on for promotion and told I didn't have relevant leadership experience. They hired an external candidate who didn't have the experience and my new boss has made no effort to understand my work, leaving me to deal with issues. 
I'm disappointed with how it's managed. Nobody on the team seems to know what's happening and my new boss often and easily gets the credit. Sometimes it feels like no matter how hard I work, there's no appreciation or recognition. It's expected of me since I've been around for so long. I'm tired of fighting fires at work. I feel lost because I don't know what to do next. When I think of changing roles, I don't know what interests me and where to start. I don't have the courage to step out of my comfort zone and take a break either. Please advise, thank you.
My dear FS,
I'm so sorry to hear about this. You've given your time and loyalty to a company that isn't reciprocating – it's completely understandable that you're disappointed at being taken for granted.
The Tarot says that part of why you're feeling stuck is because you assumed you'd retire at this company, or at least stay a long time. But your employers have indicated that you won't get your happy ever after here, and they've let you down with the whole promotion incident, making you feel unsupported and isolated.
Pause and step back, FS. This tight spot can become an opportunity to clarify your vision for your career moving forward. Take a weekend to release yourself gently from earlier assumptions of where you thought your career was going. Breathe, meditate, rest – start revisioning your career, but on a clean slate.
The Tarot isn't saying you'll leave this company – yet. However, you're advised to speak with people you trust to give you sound advice about navigating your career. You've lost your mojo and your self-confidence has taken a battering; you'll benefit from the objective wisdom of people who can help.
When or if you're ready, speak with the people in this company who can help you with your career progression. It's good to get their opinions about how you can flourish here; it also gives them a heads-up that you want to take your career to another level and you're ready to take action.
Communicating with decision-makers in your company will also give you important clues as to how best you can move forward. The Tarot indicates a possibility that you'll eventually leave, and when you do, it can be a very healing choice to make.
The decision to create your best career starts with clearing the brain fog and setting yourself free from the assumptions and expectations of your company. Other people may let you down and you can't control that – but you'll never let yourself down if you do what's right for you.
Give yourself permission to live your best life. I'm cheering you on!
Kelly xoxo
---
Ask the Oracle: August edition
I feel lost in life. My pet dog just left me and I felt even more lost with no one to turn to. I realised I don't have real friends and my work isn't smooth. I feel so messy and everything's going upside down. I'm always overthinking and thinking of others before I consider myself. I don't have confidence and I think negatively. I wish to have someone to guide me to the right choice in my life.
My dear MX,
First of all: I'm very sorry for your loss and for all you're going through. It's completely natural for you to feel lost and alone. I feel your pain, I see you, I hear what you're saying. You're not alone.
Your cards indicate that the first and most important thing you need to do is engage in self-care. You have multiple cards indicating poor quality of sleep, constant overthinking, and struggling with mental distress.
Dear one, it can sometimes be hard to make the best decisions and move forward. It's even harder when your body is also weak, exhausted and undernourished. Remember that you're a spiritual being residing in a physical vehicle. You must care for your physical body before you can feel strong and well enough to bear the weight of life's responsibilities.
Please consider these suggestions: If your muscles are tense, get a massage, stretch, or go for yoga classes. If your spirits feel low and drained, spend time in your nearest nature reserve or take a long walk by the beach. If you feel like your emotions are about to burst, watch a movie that touches your heart and have a good cry. If you need to talk to someone, find a counsellor and unburden your mind.
MX, you deserve to be happy. You deserve to be free of suffering. You deserve love and healing. There's nothing selfish in prioritising your needs and taking good care of yourself! That is the right thing to do. I'm confident that you'll find greater clarity within yourself once you allow your own body, mind and spirit to be cared for and to heal. Take this journey one step at a time. Be patient and kind with yourself. You're going to be okay.
I'm rooting for you to feel better. You are loved, MX. Be well.
K xoxo
I'm feeling burnt out at work but unable to quit as I'll be giving birth in October. Colleagues have been commenting that my boss is "bullying" me as I'm always the one to remain quiet. I feel like tendering during my maternity leave but it might "burn the bridge" and I'm unsure if I can get another job after giving birth. Help, please.
My dear Michelle,
Congratulations on your impending delivery. Blessings to you and your family – what joy!
Now, as for your work woes, your energies are clouded by confusion and burnout, which is causing you to feel pessimistic and trapped in your work issues. It appears that you feel other solutions (such as a flexi-work schedule) aren't viable in your situation.
Your boss is represented by a card that indicates someone who's strong-willed and can be domineering. Discussing options and solutions with such a personality will be tricky. Overall, the cards show that you're very tempted to just cut your losses and walk away, except you're also concerned about the financial impact of such a move.
However, the cards also indicate that if you don't take action and move on, your health and well-being as a mother are at stake. Either a health issue will arise, or an existing health issue will worsen if you stay on. Neither does it look like your boss will be kind, understanding or compassionate towards you while you're on leave.
Let's call a spade a spade: the Tarot says your boss is a cold and manipulative person. The question is: are you sure you want to maintain work connections with such a person? Is it worth the suffering to sacrifice the health, happiness and well-being of yourself and your child for the sake of a pay cheque?
I'm not saying your concerns aren't valid. They are! You're a strong and responsible mama who wants to ensure her family is provided for. My concern is that you may not be fully aware of how much you're sacrificing and suffering unnecessarily to care for your family.
Not everything is black and white. Believe that there are creative solutions for every problem. Most of life's challenges can be resolved with a willingness to shift your perspective and consider new possibilities. Your cards recommend that you speak with your family and loved ones to gain a more balanced perspective of the issue. Also, take time out for yourself and re-centre your focus.
You're in this dilemma because you love your family and you want to care for them. This is what matters. Now, it's time to create possibilities and solutions to welcome a new chapter of your life. You're not stuck. You're given an opportunity to consider new possibilities.
Imagine. Create. Research. Explore. Dare to discover solutions. Dare to believe.
Beautiful mama, you're going to be just fine.
K xoxo
Hi Kelly, I'm feeling lost in life. My career is stagnant and there won't be a breakthrough if my current team doesn't rebuild new members. I've attempted to find one more job but I haven't received an answer about being selected for the second interview. I feel anxious about my finances and I don't know if I can handle what's coming for me. Can you kindly advise what the tarot reading is for me in terms of my current career and whether I'll be able to manage one more job if I get it? Thank you.
My dear MQ,
Darling, let's cut to the chase first: there are NO cards in your reading that indicate your finances are in danger. I don't see poverty. What I see is impatience, disappointment and a loss of confidence – and they're giving you anxiety.
Your cards suggest that you take a deep breath and be patient. Stay optimistic and be open-minded to possible alternatives or solutions. You might have to wait before things turn around for the better with your current team. The cards indicate that leadership is either lacking, or decision-makers are in denial about certain things that need to be done.
However, there's still a good chance that the situation will eventually improve, although your cards aren't offering me a timeline (usually, when that's absent, it means certain elements are still in flux so it's not beneficial to give you a timeline now). It looks possible that you'll receive another job offer, possibly within about two months (the cards show you meeting up with people and someone making a proposal, so it's positive if you're proactive in meeting up with prospective employers).
You asked a really good question about being able to manage one more job. Your cards indicate that you'll likely be pretty tired and stressed by all the tasks and priorities unless you're willing to roll with the punches, adapt to the changes around you, and remain resilient in the face of challenges.
My dear MQ, I love your grit and your honesty. I love how you dare to strike out of your comfort zone and push yourself. The months ahead will not be easy. But in the thousands of readings I've given over the years, I've always noticed this: fortune truly favours the bold. The Universe will support wise, well-informed and courageous leaps of faith.
Do not be afraid, brave one. Keep stepping forward in faith – out of your comfort zone and into unknown possibilities. The Universe will meet you there.
I am rooting for you to win!
K xoxo

---
Ask the Oracle: July edition
Hi, I've been married for eight years with three kids. Of late, my husband feels distant. I suspect it has something to do with him being burnt out at work, and he's mentally checked out. I don't know what to make of his lack of affection, but I feel like he's changed so much that I sometimes wonder if we're still compatible. It's come across my mind a few times if we should call it quits. But I don't know how to work things out when we can't and don't even have time to communicate.
My dear CJ,
I sense your exhaustion and sadness. You've been a strong, loving wife and mother all these years, and it breaks your heart to see your husband drifting from you even after all the sacrifices you've made – on your own and together as a couple. CJ, wonderful lady – I need you to be strong. Can you be strong for a while longer?
The cards have tuned into your husband's energies. He's someone who shows love through practical action, and you're spot on about him having issues at work. He's hit in the area where he shows the family how much he loves you all – his career – and his self-confidence is badly shaken. Multiple cards indicating burnout also appeared as you intuited. He feels profoundly and painfully disconnected from everyone. He's so deeply lonely, stressed and sick of it all that he's gone into shutdown mode.
If you still have any love for this man – and would like to save this marriage – you can't leave him now. Your husband is deeply wounded in his soul and he doesn't even realise it. Neither does he realise the impact of his withdrawal on his beautiful wife and children. There's a level of denial in the way he deals with his work pressures. His apparent blindness to this whole situation is his way of self-preservation.
Right now, you're the stronger person in this marriage. You're seeing things with clarity, whilst your husband is self-blinded and lost, drifting away from all he knows and loves. It's your love that will call him home.
The cards assure you that the communication breakdown you fear isn't as severe as you think. Don't be afraid: move forward with courage. This won't be a situation where time and willingness to talk will flow easily – you must initiate the conversations. Schedule a time to talk. Make it happen. Even if he snaps at you, stay calm and try again after a while.
Don't take his low moods personally; the Tarot says it's not about you. Refrain from explicitly blaming him. Remind him of your commitment to this marriage. Speak the truth, lay out the consequences of his current actions, and don't pull any punches. Your husband needs to know that if this continues, your marriage will end.
Both of you need to come up with solutions to address the issue of drifting apart. Be creative, be open to change and compromise, and be vulnerable. The card depicting your final outcome indicates you may require external assistance: it can be a wise friend, father figure, mentor, community leader, or marriage therapist. You're encouraged to reach out for help and be assured you'll receive it. Don't be afraid or shy – the stakes are too high and too precious.
A gentle reminder from the Tarot: this won't be a straightforward or smooth process. There are cards indicating the emergence of obstacles and an erratic, stop-start quality to your impending journey of marital healing. Expect good days and bad days, but be brave and ride through them all.
However, if at any point you feel you've done all you can for this marriage and can't continue, at least you can end the marriage knowing you tried your best. The Tarot recommends a timeline of one year to give this your best shot before you call it quits.
The final decision is yours to make. I trust you'll make the choice that aligns both heart and mind.
My heart is with you, brave warrior.
Fight for love and you'll never lose.
xoxo, Kelly
In 2020, I met L on a dating app and we chatted. I didn't put much hope in an online relationship but things changed. Our first meet-up was in Oct and the second in Nov. He gave me expensive earphones and that surprised me 'cos he remembered and kept his promise. (There was also another Swarovski crystal present.) So I guess this relationship was for real.
But things changed quickly: lesser messages in Dec. In Mar, he messaged me about how busy he was with his day job and new businesses, and he still hadn't gotten over his past. We've parted ways. But I have unanswered questions. Is this the end? Why give me all the expensive stuff? Was all that real? I'm still lost now.
C, darling lady,
You're asking for clarity and closure to a deeply confusing situation. I never want to be the bringer of difficult news, but the truth will set you free. Is this really the end? Yes.
Even if he reappears in your life (and the Tarot says this is unlikely) – it's still over between the both of you. Or rather – it never really started. L was never in love with you. He was in love with the superficial elements of being in love. He enjoyed the idea of being seen as someone reliable, trustworthy, and a good provider.
L didn't do all this for you. He did it for himself. This isn't to say he wasn't attracted to you on some level – he was – but not enough to have a genuine, committed relationship. L wasn't lying when he said he wasn't over his past. The Tarot indicates he had two women in his heart: you and another lady from before. What he did for you was a reflection of what he wished he could've done for the other lady if things were different. He hoped that if he did the same things for you, he'd eventually forget her and love you. But no one fools the heart.
L took and lost a gamble with himself. He incurred collateral damage – he misled and hurt you. And when he realised the truth of his emotions, he walked away. I give credit to L for trying to let you down gently instead of ghosting you entirely. However, the feelings of confusion and heartache you must've felt at his mixed messages are completely valid. Never be ashamed of how you feel. Be kind to yourself and understand you need to heal from this to receive the right love in the future.
The Tarot is gently pointing out that you have a deep desire to love and to be loved. You're a person who values reliability and stability. The card that represents you in this reading indicates one of your love languages could be receiving gifts and possibly acts of service (like fulfilling promises).
L spoke your love languages – the ways you understand and interpret love – and you naturally fell for him when he fulfilled promises and gave you generous gifts. This happened despite the red flags in the situation: the fact that much of this relationship was conducted via text messaging, and the signs that he was losing interest by the end of 2020.
As you heal and move forward, consider how you can strengthen your heart so you won't fall for an emotionally unavailable person again. Here are some tips to help:
Love yourself unconditionally. Know that you're perfect in your imperfections and wonderful in every way. You deserve true love. Build your self-esteem and self-confidence so you'll discern someone's true intentions and let them prove themselves before giving your heart.
Set standards and boundaries for healthy, authentic love. The cards indicate you gave L the benefit of the doubt many times – often ignoring red flags and pushing aside your own intuition that something wasn't right because you hoped L could be The One. Be clear about what you're okay with and what you won't accept. When you're firm about what you want, you'll be amazed at how the Universe will make it happen.
Always trust your gut. The voice of your intuition is a quiet knowing in your inner being. Listen to that still, small voice of wisdom that speaks with the calm authority of complete clarity. Trust her. She'll guide you well.
C, my sweet, you'll heal and move on.
Love yourself first, and trust that love will find its way to you.
xoxo, Kelly
Hello, I'm 32 and at a loss. I've been focusing on work but I don't have a clear view of what to do with my future. Which direction should I take? Competition for promotion is heightening. Am I good enough to beat them? I feel like I'm constantly behind my peers and when I finally inch up, the rest catch up really quickly. Please, Oracle, let me know what I should do. I want to shake the feeling of uselessness. Thank you, I'd really appreciate your advice!
Hello, S,
Dear one, aren't you in a pickle! Multiple cards in your reading point to the possibility that a lot of your anxiety is in your head. You're highly capable and intelligent, but also a worrier and over-thinker. You've allowed your natural gift of intellectual brilliance to run wild. Now your imagination is looping you around a nauseating rollercoaster of self-doubt and constant comparisons with your perceived competition.
The Tarot indicates that your mental distress is creating a lot of painful issues, ranging from mental exhaustion and emotional imbalance to increasing struggles with stress management and a vague sense of impending doom.
Here's where I have good news: the Tarot indicates that a vast majority of what you're feeling and thinking is self-inflicted. It's suffering based on perception, not objective reality. This means your suffering is well within your control to change. (And if you're worried about your career, the Tarot card I pulled to represent that was the best. You can't get any better than The Sun. There's nothing to worry about – you're doing well!)
The Tarot advises you to be more flexible with your perceptions. Learn to manage your expectations and adapt to changing realities, rather than cling to rigid ideals that can hurt your career and peace of mind.
Reframe your perspectives: strive for objectivity, not self-condemnation. Look for the good in every situation. Do your best in every challenge. Remind yourself of what you've done and how far you've come whenever your inner critic forgets and starts berating you again.
Be kind to yourself. When was the last time you were good to your mind and body? Get some healthy food, fresh air, exercise and ample sleep. Watch comedies on Netflix and laugh out loud! It's much easier to think clearly and objectively about ourselves (as well as plan for our futures) when we're happy, well-nourished and well-rested.
The Tarot indicates you might have some issues connecting with your intuition because you have a tendency to second-guess yourself, and possibly also because trauma responses may be interfering with your inner connections.
Make no mistake: our minds and bodies interpret unrelieved long-term anxiety as trauma and tend to respond accordingly. Understand that your mind and body may have been conditioned to respond to life's challenges in less than optimal ways (intrusive thoughts of feeling 'useless' are certainly an indication of this). Be open to working with a transformation coach or counsellor to equip yourself with the right tools for stress management.
You're deserving of self-love and self-acceptance.
Do what's right for you, my darling.
xoxo, Kelly
---
Ask the Oracle: June edition
Hi! I'm a parent of two, and my oldest is going to be four. He's getting violent, beating his sister, me, and his father whenever he doesn't get the things he wants. I know I should control myself but I just can't. I've slapped, pinched and beaten him back on several occasions. Each time, the mum guilt is real and I feel I don't know how to teach my son and myself. Please advise me. Thank you.
Hi my dear,
First of all, I ask that you be very clear about this in your heart: what's happening is unfortunate, but you are a good mother, and you're doing the best you can under the circumstances. Don't let the mum guilt tell you otherwise. No one is perfect. The important thing is you're willing to seek out solutions. Be kind and fair to yourself.
My cards are showing that this situation is going to require some time to resolve, and possibly some external assistance. This will be an uphill battle, especially in the beginning, but it's still looking positive overall. You have several cards assuring you of a good outcome if you persevere.
One card, in particular, advises you to manage your expectations, both of the situation and of yourself. You say that know you should control yourself, but you just can't – which is understandable, given that people can and do react in the heat of the moment.
Instead of (figuratively) beating yourself up further, it's time to consider the following options:
There's one card advising that mum and dad need to team up and present a united, loving front. You'll both need to sit down and come up with a consistent plan of action for your son's behaviour that you both can commit to.
There's also one card that speaks of behaviour management for your son: rewarding good behaviour with positive reinforcement, and not giving him what he wants when he demonstrates undesirable behaviour (instead of reacting physically, which in a way is a form of reinforcement – at least he gets your attention!). Children learn quickly what works for them and what doesn't. There are many excellent parenting articles you can refer to on Honeykids Asia.
There's one card that points at a disrupted relationship in the family. It could be that your son is also reacting to certain tensions at home. Consider the possibility of a sibling rivalry between your children, and take steps to make them both feel loved and secure.
Create an action plan for yourself: what alternative actions can you implement when you're stressed and feel the urge to retaliate physically? Write out a list, stick it somewhere you can easily read and memorise it, and follow through when the going gets rough. Having a plan lowers the risk of losing control. It'll need practice but you'll get there.
Finally, reach out for help when you need it. Your final outcome speaks of the need to seek wise counsel. This could be a family elder, a community leader, and possibly a family counsellor. Remember you're not alone; if you require assistance, all you have to do is ask.
The hardest battles are those we fight for love, but mothers are the best and bravest warriors I know.
You've got this. You can do it.
Be strong, beautiful mama.
xoxo, Kelly
Hi, I'm Marilyn. I'm 40 this year and facing a mid-life career crisis. I have another job offer which I'm looking forward to and the flexibility allows me to hold on to my main job. I'm worried and unsure if I can handle two jobs well. I wish to get advice on what's in for me. Thank you.
Hello, Marilyn!
I love your work ethic and willingness to try new things – well done, courageous soul! Fortune favours the brave. I'm very happy you're open to this new opportunity despite feeling unsure.
My Tarot and I can't lie – you'll be facing some challenges, but the cards also indicate you'll achieve your goals in career and finance. You can turn what you call a "mid-life career crisis" into a life-enhancing opportunity.
This will be a hard-won victory for you. The first 10 weeks will be crucial. Understand that you're going to be feeling emotionally off-kilter for a while during this initial adjustment period, and this can be reflected in a sense of physical tiredness. Do ensure your own work-life balance is in order and you get all the rest you need. There are a couple of cards indicating that you might struggle with an excessive workload, so it's best you exercise self-assertion when necessary, and don't let anything or anyone overstep your boundaries.
The cards indicate that you're a deep thinker and sometimes have a tendency to fixate on how to solve problems and/or improve existing circumstances. There's no doubt you're great at your work, Marilyn. Just be careful that you don't fall into the trap of over-thinking, analysis paralysis, and/or undue self-criticism.
You can be very hard on yourself. Don't worry about your limitations – we all have them! Focus on your strengths and what you desire to achieve. Know that you're able to manifest what you desire when you trust yourself and when you trust that the Universe is kind.
The fact that this opportunity has come your way is a sign from the Universe that you have what it takes to achieve your goals if this is what you want.
Your final card speaks to the wisdom of radical acceptance and transformation. Sometimes, the best way to enter a new cycle in life is to step into it with no expectations whatsoever. Bruce Lee, referring to Taoist principles, once famously gave the advice to "Be like water". This is the approach that your reading is encouraging you to take. Over-thinking won't do you any favours, but flexibility will.
Darling, be like water.
I'm rooting for you!
xoxo, Kelly
Hi Kelly, I'm turning 23 this year and I've never had a serious relationship before. I get close to guys but I've never approached them wanting to be lovers. I do want to be in a relationship. Can you tell me if it's more of an internal problem? Or is there anything the cards are telling you that may explain why I'm not meeting potential partners ever?
E, darling girl – what internal problem?
There's no problem at all. None, nada, zilch. My Tarot says you're someone who's approachable, helpful, big-hearted, kind… What's not to love? You simply haven't found the right person yet, and you're not willing to settle. That's a huge win in my book: it's far better to be single and happy, than attached and miserable.
I'm looking to your future, and your cards look just fine. You'll eventually be receiving love proposals from eligible young suitors. To expedite this process, you're advised to socialise more, with the intention of finding potential romance.
There's no clear timeline given in this reading (the Tarot doesn't always offer a timeline, and when it doesn't, it could mean your potential energies for future love are still in flux). But, the vibe I'm getting is this could possibly happen for you within the next 1.5 to 2 years.
There's a card indicating you'll know when Mr Right is here: the right person for you will feel like home. He'll make you feel safe. Even if he's very new in your life, you'll find him familiar somehow, and you'll both give each other a lot of happiness. This card I'm referring to tends to be associated with soulmates, so you do have a lover to look forward to in the future.
Do bear in mind though – the Tarot mentions multiple suitors, meaning you'll certainly have options! Herein lies a gentle warning: do not, under any circumstance, decide to get yourself a boyfriend for the wrong reasons (because you're getting impatient, because everyone you know is attached, etc). There are some cards here indicating that doing so is likely to end badly for you.
The Tarot encourages you to focus on living your best life right now. Get your ducks in a row, build a future so bright you gotta wear shades, be your absolute best and brilliant self, and your inner light will draw the right one to you like a moth to a flame.
In this life, you're the only person who's 100% capable of making you happy. Not a boyfriend, not a lover, not a husband. This is how powerful you are – this is why the Tarot asks that you focus on yourself instead. Trust that whoever is meant for you will surely not go past you.
Love is coming for you, E.
Live your best life. And let your light shine.
xoxo, Kelly
---
Ask the Oracle: May edition
Hello! A little background about myself: my name is C, I'm 24. I just started a new career so I'm quite excited about it.
It hasn't been easy and I want to know if this is the right path for me, even though I feel like it is. I want to know what's in store and whether the sun will start shining on me. Thanks!
Hey C,
You're going to be just fine! Your cards are very promising: they indicate you've made good plans that will bring you positive results soon. Your intuition is spot on as usual, and the Tarot agrees that you're on the right path. Sometimes you waver a little and wonder if you should move elsewhere, but stick to this path you've chosen and you'll be very happy you did. Try to get more good quality sleep, and don't allow anxiety to get a hold of you. Reach out for help and a listening ear if you need to vent, and you'll find shoulders you can lean on.
Looking ahead, I see your career taking flight. There's momentum and a good sense of direction coming in. You tend to be hard on yourself, which is why the first year can feel a bit foggy. But, once you empower yourself with embodied self-confidence, you'll be shining like a star. Here's where you'll need to take care: your cards show some jealousy around you in the future, and a possibility that you'll be given a pretty heavy workload because your abilities are so greatly appreciated. Know when to say no for your own wellbeing, be mindful of the people around you, and you'll be fine.
Your guardian angel has a message for you: "It's never over until you decide to give up! Keep moving forward. When you look ahead to see how far you have to go, think back on how far you've already come."
Go get 'em, darling.
xoxo, K
Hello, Oracle! I've been seeing the number 1111 a lot lately (almost freakishly) and I know it ties in with the concept of angel numbers.
Something that's been weighing on my mind is entering a relationship. As happy as I am flying solo, I wonder if it's time to settle down with someone. I'd appreciate some of your insights! Thank you.
Hello,
Whoa, you're definitely on to a good thing here. In numerology, the number 1 vibrates with the energy of new beginnings. Add up all the digits in 1111 and you get 4, which resonates with the energy of strength, stability, and a focused direction. It looks like you're entering a season in your life where you could be trying new things that give you the boost you need to take things to another level. Well done, you!
Now, will you navigate this new season on your own, or will you have a special someone to accompany you? The Tarot is giving you a huge YES, but only if you really want it. Your cards all indicate the potential to find a suitable partner. But the card that stands out is one that emphasises the wisdom of considering all your possible options and opportunities.
The only important thing you need to answer is whether you're happy. There are several cards in your reading that encourage you to find happiness on your own and let your joy shine through. When conditions are right, your inner light will draw The One to you. Notably, there isn't any card indicating the actual appearance of this person yet. It's looking like you're currently in a cycle where you're getting ready to meet this special soul, but right now the focus seems to be on building the beautiful you.
Love – and life – are coming for you, asking you to take the next step.
Get ready, darling.
xoxo, K
Hello there! I'm a female turning 28 and I feel like I shouldn't be "whining", but is it true nice girls finish last? I've had 2 failed relationships – both lasted less than a year. Guys say they're not compatible with me, but all I want is to be in a loving, lasting relationship. Am I too nice?
My career is good but not where I want it to be because Covid hit and I was in the hospitality industry. I'm probably earning lesser than most of my friends. It may be a trivial situation to others but not to me. I'd love any help! Thank you, C
Dear C,
You seem to be in a situation that's distressing you – and that's never a trivial thing. Your happiness is paramount. Thankfully, you have the power to do something about this.
The Tarot cards encourage you to look past your perceived weaknesses. If your career and income level are causing you distress, perhaps look at how you can improve. Is it time to ask for a raise, look for another position in this industry, or move on to another career? You have a very powerful card in your reading that suggests you can benefit from a move of sorts.
Also, you have a couple of cards encouraging you to take a step back, think carefully about the sort of gentleman you're attracted to, and be very honest with yourself about whether they're truly compatible with you. If you're a homebody, for instance, you might want to avoid dating party animals.
What do you truly desire in a relationship? How do you want to feel, dating the love of your life? What kind of person would you date – and what qualities will you need to have to be compatible? Break out the lists and write everything down from your heart. I trust you'll start seeing a picture of what you truly desire in love. This will be helpful in guiding your steps to finding a suitable life partner.
One more thing the Tarot wants you to know. You're a very nice and helpful young lady, but not nice enough to the most important person: yourself. There's one card that indicates you sometimes give the wrong people the benefit of the doubt, and they end up walking all over you. You're often drained by the demands of others, but choose not to assert yourself or confront them for their bad behaviour.
Dear one, you don't have to suffer like this. The first step to finding true love is to love yourself. Know what you want in life, work for it, and don't let anyone step on your toes – ever.
You are precious. Be kind to yourself, love.
xoxo, K
I've gone through a difficult time in my relationship these last 4 months. My partner and I were looking to get married, and we went from that stage to a breakup. We're both anxious individuals, and he's avoidant when it comes to communication.
I want to know what's coming in my love life and whether we'll reconcile. I saw our relationship going much further and I still wish things between us will work out.
Hello there,
I'm going to be honest and loving – your reading basically says you both have a strong chance at reconciliation. But at what cost?
There are cards here that speak of a reunion and a happy ever after, meaning that marriage is likely to follow after the reconciliation. This process can take a while, though – possibly up to five months before you get back together again, and up to a year before marriage is back on the table.
Your Tarot cards indicate there's an unequal push-and-pull dynamic. One partner is giving in way too much, and the other is being unreasonably stubborn. The Tarot asks if you're sure you want to commit to such a rollercoaster relationship; the Tarot also wants you to know if you do reconcile, this won't be the last time you both endure volatile fights and huge heartaches.
The advice from the Tarot is to take things very slowly and patiently. Think carefully about whether you really want this dynamic to continue. If you truly wish to be with this partner, and you do reconcile, it's important that you both work out more effective ways of communicating during tough times. If your communication issues aren't resolved, there's one card in particular that warns of a second – and final – breakup.
Love shouldn't hurt. Do what's right, my dear.
xoxo, K
Want to ask the Oracle for advice? Fill out this simple form for a chance to be featured next month!