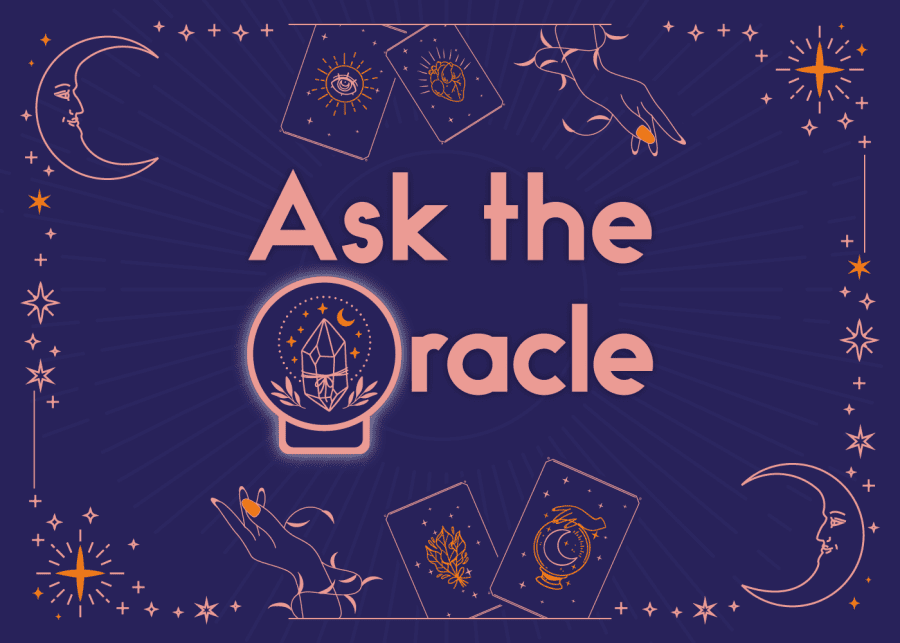 Illustration: Emily Rosadi
Welcome to our monthly advice column: Ask and you shall receive answers from our tarot Agony Aunt.
Navigating life, love, career and everything else is hard. Sometimes you just need a listening ear and a little guidance. Enter: Ask the Oracle, where cosmic guide and life coach Kelly Lightworker helps you get answers to love, luck, money, success, and living your best life. Simply fill out this form and our tarot Agony Aunt will pick three questions to answer at the start of each month (don't worry, you can use pseudonyms for privacy and choose to be anonymous). We look forward to hearing from you!
Card of the month: Six of Pentacles
We're starting off the new year with a new offering: a one-card reading of the month's energies!
Our card for January 2023 is the Six of Pentacles: it's a positive card that indicates equal give-and-take in a situation, fairness and compassion. You're being appreciated for what you bring to the table; alternatively, show some love to the folks who make a difference. A spirit of generosity will go a long way – if you're the one who needs a helping hand, reach out and you'll find what you need. This is also a card symbolising employment: if you've been looking for new opportunities, you could be receiving good news this month.
This month's affirmation from the Six of Pentacles: I am blessed to be a blessing.
Ask the Oracle: January edition
Hi Kelly, I'd like to enquire about love. I recently met a guy and, to my surprise, he's like my kindred spirit although we're different in age. I feel comfortable and at home with him. Could he be the one? If not, what should I do? Thank you!
Dear J,
I'm happy to know you've met someone who feels like home to you – it's a source of comfort and affinity. It's not easy to meet someone on the same wavelength, so this is a precious find.
Your cards are encouraging, but they also advise you to err on the side of caution. You have multiple cards reminding you not to rush things. This is a great time to maintain and strengthen your friendship with this new person in your life. Take your time to observe how this gentleman settles in as a part of your life (the Tarot asks you to give it up to a year if you can). There's nothing like the passage of time to reveal the truth of any situation.
Is this guy The One? Oh, my darling. The truth is this: in this universe, there are multiple people who have the potential to be The One for you. What matters is how you choose. So, might this person be one of them? Interestingly, one of the cards indicates the possibility of a soulmate connection – however, due to the weak position of the card, I don't feel that the connection is all that strong.
This, my dear, is great news. Soulmate or not, it means your destiny lies in your hands. Go ahead and explore your possibilities with this person, and know that you're free to do (or not do) whatever you wish to create your best life!
Meanwhile, the cards also encourage you to socialise. Get out there. Meet eligible people and explore your possibilities with every one of them. This empowers you to make good choices for yourself, knowing you have options. A mindset of abundance gives you the confidence to do what's right for yourself.
Happy 2023, and may love find you!
K xoxo
Dear Kelly, I've been a reader for years and it took a lot of courage to submit this. My mind and soul feel like a tangled mess. I've taken steps to set boundaries and protect my sanity. I'm trying to love myself more but I don't know if I am.
I've cut down on contact with my biological family. I spent so much love, time and effort on them, yet I was gaslighted and villainised. My own parent even told me no one likes me. Reducing interaction gave me more peace but I hope to move out to a safe space I can call home, although part of me feels guilt and fear to make that next step.
It also took me years to realise that someone who told me I was like her 'daughter' – who I saw as my 'mother' figure – saw me as her trauma dumping platform and financial backup more than anything familial. 
I love and appreciate my friends and I have a decent job with progressive, open-minded people around me. However, I feel an immense sense of grief and loneliness – sometimes I wonder why I exist. Any advice on how I can navigate this and love myself better? Thank you.
Hello my dear M,
Thank you for your courage in coming forward to share what's on your heart. That indication of inner strength alone is a good sign that you can, and will, heal from what ails you.
Your cards reveal a troubled past, that is true. However, your cards for the present and future indicate that these troubles will stay in the past so long as you make the right decisions. A lot of your current and future happiness relies on what you choose to do now. There's definitely a card that speaks of moving out, and another that points towards focusing on your career.
You've been sitting on a Pandora's box of suppressed emotions, memories and traumas. The Tarot gently urges you to consider releasing these trapped energies as a means of moving forward with your own life. The cards strongly recommend therapy. The sooner you start, the better.
I wish you all the best in your healing this new year.
K xoxo
I'm in a no-contact situation with my long-distance boyfriend of three years. No arguments occurred but he suddenly didn't respond to my messages and calls. What's causing the lack of communication on his part? Are there possibilities of reconciliation between us?
Dear LS,
Long-distance relationships can be challenging to navigate even in the best of times, and I'm sorry to hear about this sudden silence.
The cards indicate that someone has appeared (or possibly reappeared) in your boyfriend's life, and her presence is causing him to take a step back from his relationship with you. He doesn't want to make this situation unnecessarily complicated, and he's decided to take time out to evaluate things.
The cards indicate he'll eventually make a decision, but again – you're not privy to it. This person you're in a relationship with isn't making you a part of his decision-making processes, and this makes me question how he really views you and the relationship you have.
The cards indicate there's a possibility of him reconnecting with you, but the timeline is frankly bizarre – it's anywhere from one month to one year. When the cards are this vague, bear in mind they're only reflecting his own lack of motivation to keep you updated about his life. I frankly wouldn't bother with this timeline. This person is basically thinking, "Well, maybe I'll let you know my decision when I'm feeling ready, but I don't know when I'll be ready."
Who has the time for that? If this person isn't keeping you informed about his life, you're not obliged to wait on him. Go about your own life and be happy.
May the new year bring you beautiful new beginnings.
K xoxo
Want to ask the Oracle for advice? Fill out this simple form for a chance to be featured next month!