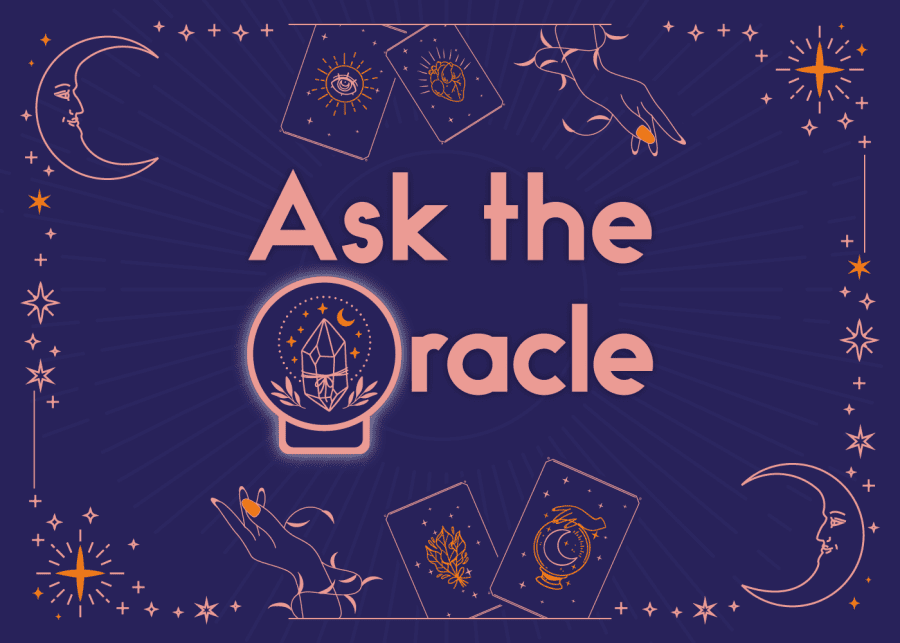 Illustration: Emily Rosadi
Welcome to our new monthly advice column: Ask and you shall receive answers from our tarot Agony Aunt.
Navigating life, love, career and everything else is hard. Sometimes you just need a listening ear and a little guidance. Enter: Ask the Oracle, where cosmic guide and life coach Kelly Lightworker helps you get answers to love, luck, money, success, and living your best life. Simply fill out this form and our tarot Agony Aunt will pick three questions to answer each month (don't worry, you can use pseudonyms for privacy and we'll keep it anonymous). We look forward to hearing from you!
Ask the Oracle: Cosmic advice from the Tarot
Hello! A little background about myself: my name is C, I'm 24. I just started a new career so I'm quite excited about it.
It hasn't been easy and I want to know if this is the right path for me, even though I feel like it is. I want to know what's in store and whether the sun will start shining on me. Thanks!
Hey C,
You're going to be just fine! Your cards are very promising: they indicate you've made good plans that will bring you positive results soon. Your intuition is spot on as usual, and the Tarot agrees that you're on the right path. Sometimes you waver a little and wonder if you should move elsewhere, but stick to this path you've chosen and you'll be very happy you did. Try to get more good quality sleep, and don't allow anxiety to get a hold of you. Reach out for help and a listening ear if you need to vent, and you'll find shoulders you can lean on.
Looking ahead, I see your career taking flight. There's momentum and a good sense of direction coming in. You tend to be hard on yourself, which is why the first year can feel a bit foggy. But, once you empower yourself with embodied self-confidence, you'll be shining like a star. Here's where you'll need to take care: your cards show some jealousy around you in the future, and a possibility that you'll be given a pretty heavy workload because your abilities are so greatly appreciated. Know when to say no for your own wellbeing, be mindful of the people around you, and you'll be fine.
Your guardian angel has a message for you: "It's never over until you decide to give up! Keep moving forward. When you look ahead to see how far you have to go, think back on how far you've already come."
Go get 'em, darling.
xoxo, K
Hello, Oracle! I've been seeing the number 1111 a lot lately (almost freakishly) and I know it ties in with the concept of angel numbers.
Something that's been weighing on my mind is entering a relationship. As happy as I am flying solo, I wonder if it's time to settle down with someone. I'd appreciate some of your insights! Thank you.
Hello,
Whoa, you're definitely on to a good thing here. In numerology, the number 1 vibrates with the energy of new beginnings. Add up all the digits in 1111 and you get 4, which resonates with the energy of strength, stability, and a focused direction. It looks like you're entering a season in your life where you could be trying new things that give you the boost you need to take things to another level. Well done, you!
Now, will you navigate this new season on your own, or will you have a special someone to accompany you? The Tarot is giving you a huge YES, but only if you really want it. Your cards all indicate the potential to find a suitable partner. But the card that stands out is one that emphasises the wisdom of considering all your possible options and opportunities.
The only important thing you need to answer is whether you're happy. There are several cards in your reading that encourage you to find happiness on your own and let your joy shine through. When conditions are right, your inner light will draw The One to you. Notably, there isn't any card indicating the actual appearance of this person yet. It's looking like you're currently in a cycle where you're getting ready to meet this special soul, but right now the focus seems to be on building the beautiful you.
Love – and life – are coming for you, asking you to take the next step.
Get ready, darling.
xoxo, K

Hello there! I'm a female turning 28 and I feel like I shouldn't be "whining", but is it true nice girls finish last? I've had 2 failed relationships – both lasted less than a year. Guys say they're not compatible with me, but all I want is to be in a loving, lasting relationship. Am I too nice?
My career is good but not where I want it to be because Covid hit and I was in the hospitality industry. I'm probably earning lesser than most of my friends. It may be a trivial situation to others but not to me. I'd love any help! Thank you, C
Dear C,
You seem to be in a situation that's distressing you – and that's never a trivial thing. Your happiness is paramount. Thankfully, you have the power to do something about this.
The Tarot cards encourage you to look past your perceived weaknesses. If your career and income level are causing you distress, perhaps look at how you can improve. Is it time to ask for a raise, look for another position in this industry, or move on to another career? You have a very powerful card in your reading that suggests you can benefit from a move of sorts.
Also, you have a couple of cards encouraging you to take a step back, think carefully about the sort of gentleman you're attracted to, and be very honest with yourself about whether they're truly compatible with you. If you're a homebody, for instance, you might want to avoid dating party animals.
What do you truly desire in a relationship? How do you want to feel, dating the love of your life? What kind of person would you date – and what qualities will you need to have to be compatible? Break out the lists and write everything down from your heart. I trust you'll start seeing a picture of what you truly desire in love. This will be helpful in guiding your steps to finding a suitable life partner.
One more thing the Tarot wants you to know. You're a very nice and helpful young lady, but not nice enough to the most important person: yourself. There's one card that indicates you sometimes give the wrong people the benefit of the doubt, and they end up walking all over you. You're often drained by the demands of others, but choose not to assert yourself or confront them for their bad behaviour.
Dear one, you don't have to suffer like this. The first step to finding true love is to love yourself. Know what you want in life, work for it, and don't let anyone step on your toes – ever.
You are precious. Be kind to yourself, love.
xoxo, K
I've gone through a difficult time in my relationship these last 4 months. My partner and I were looking to get married, and we went from that stage to a breakup. We're both anxious individuals, and he's avoidant when it comes to communication.
I want to know what's coming in my love life and whether we'll reconcile. I saw our relationship going much further and I still wish things between us will work out.
Hello there,
I'm going to be honest and loving – your reading basically says you both have a strong chance at reconciliation. But at what cost?
There are cards here that speak of a reunion and a happy ever after, meaning that marriage is likely to follow after the reconciliation. This process can take a while, though – possibly up to five months before you get back together again, and up to a year before marriage is back on the table.
Your Tarot cards indicate there's an unequal push-and-pull dynamic. One partner is giving in way too much, and the other is being unreasonably stubborn. The Tarot asks if you're sure you want to commit to such a rollercoaster relationship; the Tarot also wants you to know if you do reconcile, this won't be the last time you both endure volatile fights and huge heartaches.
The advice from the Tarot is to take things very slowly and patiently. Think carefully about whether you really want this dynamic to continue. If you truly wish to be with this partner, and you do reconcile, it's important that you both work out more effective ways of communicating during tough times. If your communication issues aren't resolved, there's one card in particular that warns of a second – and final – breakup.
Love shouldn't hurt. Do what's right, my dear.
xoxo, K
Want to ask the Oracle for advice? Fill out this simple form for a chance to be featured next month!