Taylor Swift on top of Marina Bay Sands. What more can you ask for?
Pop by every week as we give you the buzz on what's new and cool in Singapore.
We get it. Life moves so fast and furiously that sometimes it's impossible to stay updated on things to do in the city. That's where we come in: we're here to bring you the latest and greatest, covering everything new and cool from food and drinks to entertainment and viral trends – all in easy-to-read, bite-sized doses, of course! So go ahead and bookmark this page for your weekly hit of what's happening in Singapore.
The buzz on what's happening in Singapore this week
1. Marina Bay Sands launches Taylor Swift packages
If you didn't manage to get tickets to T-Swizzle's concert, we know something that'll set things right with you. The catch? You need at least $10,000 to spare. Oof. Marina Bay Sands has released three exclusive packages, which include VIP concert tickets, stays at the hotel, and credits to spend within The Shoppes. The period of stay is between 1 and 11 March 2024; prices are subject to a service charge and GST. Anyone feeling generous?
2. The collaboration we never knew we needed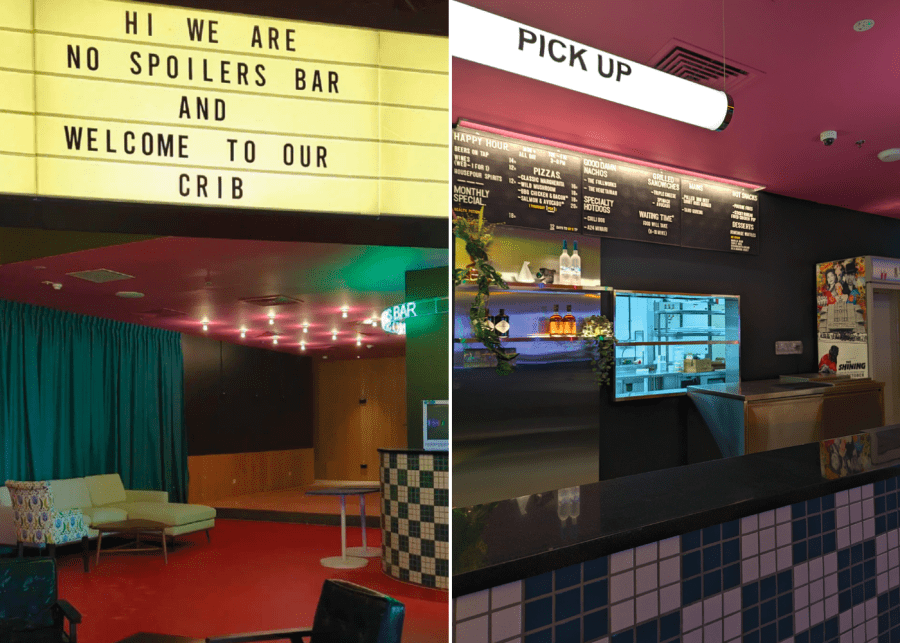 Even though Cathay Cineleisure looks like it's on life support right now, there's still something to look forward to. Golden Village x The Projector at Cineleisure will be soft launching next Tuesday, 28 November. Film buffs can look forward to six cinema halls that'll screen both cinematic blockbusters and independent movies, event spaces, and a dine-in restaurant, on top of the existing No Spoilers Bar.
3. Another feather to the East Coast cap
Here's another new thing that's launching next Tuesday. The Feather Blade is opening a second outlet at East Coast Road, and to celebrate its launch, the restaurant is giving out free steaks from 6pm onwards to every customer. If you miss the promotion, fret not. From 28 November to 31 December, enjoy 15% off lunch when you order from the a la carte menu. On top of that, oysters will be going for $2.50 per piece (maximum six pieces, with every drink ordered) before 7pm.
4. 12 restaurants rank in another world's best list for 2024
It's always heartening to see our fine dining establishments making it to the world's best lists. This time around, La Liste, a French ranking guide for restaurants, has released its list for 2024. Spoiler alert: 12 of our finest food spots have made the cut! Congratulations to Odette, Les Amis, Zen, Saint Pierre, Waku Ghin, Jaan by Kirk Westaway, Cut by Wolfgang Puck, Iggy's, Burnt Ends, Crystal Jade Golden Palace, Shisen Hanten, and Shoukouwa.
5. Another one two bite the dust
Another day, another cafe saying goodbye. Lucid, which opened in the Jalan Besar 'hood just before the pandemic, will be closing its doors after this weekend. But that's not the only food place that's shuttering. The Fabulous Baker Boy at Aliwal Arts Centre will be hanging up its hat and calling it a day next month. Have your cake and eat it before this stalwart closes!
6. Free bicycle rides for those with layovers at Changi Airport
This is strictly for the tourists. If you're transiting through Changi Airport for at least 5.5 hours, why not hop on a bicycle and explore our great city? Psst: it's free and available for two hours! Ride down the Changi Airport Connector, feel the wind in your hair as you pass the beaches, and check out downtown Marina Bay.
---
What's happening in Singapore: What you missed last week…
7. Immerse yourself in a BTS pop-up extravaganza
Even though the boys are on a group hiatus, that doesn't mean the fans can't keep the K-pop icon's name alive! Fans, head to Orchard Cineleisure between 25 November 2023 and 21 January 2024 and be transported into the enchanting BTS Pop-Up: Space of BTS. Look forward to exciting programmes and activities, IG-worthy photo spots, limited edition and solo members' merchandise, and more. No need to ask for permission to dance – just bring the fire and set the night alight in this immersive experience.
8. Canada's favourite coffee shop lands in Singapore
Smell that fresh brew the minute you step into Vivocity? Follow the scent and you'll end up at Tim Hortons. The iconic Canadian brand has set up shop at our favourite Harbourfront haunt, and we can't wait to sample everything on the menu. Coffee connoisseurs can sip on signature blends and flavoured lattes made from premium Arabica beans. Pair your drink with sourdough melts, freshly dipped doughnuts, and the fan favourite Timbits. Psst: look out for exciting promotions that are running this weekend only.
9. Of fond farewells and hearty hellos
Speaking of doughnuts, we're sad to hear that Korio will be shuttering its doors at the end of the year. Where are we going to get our sweet tooth fix now? And that's not the only food spot that's closing down in Singapore. Pomme at South Bridge Road is closing; Italian restaurant Ristorante Da Valentino will be evacuating its premises by year-end; and Timbre+'s Singapore Expo outlet will wrap up soon. Plus, Bukit Timah Hawker Centre will be moving to an interim location to make way for redevelopment. But this is not goodbye – it's merely a break.
But as they say, when one door closes, another one opens. We're making space in our stomachs for popular Japanese restaurant Sushi Takahashi, which has opened its first overseas outpost on Mohamed Sultan Road; the brains behind Marcy's and Parliament Bar have launched Hevel, a contemporary European restaurant, at Keong Saik Road; and Jurong West Hawker Centre reopens after a three-year closure. Hello, new (and returning) food spots!
10. Dance the night away at a luxe pop-up party concept
If you're bored of the typical nightclubs and parties, here's one that'll blow your mind away. Throne Lounge Singapore is back on our sunny island, taking over Wave Party K in Grid Mall for a period of six months. Revellers are invited to let loose in this opulent space, which spans 33,000 square feet and boasts 23 private party rooms. Some spaces are equipped with deejay consoles, a billiards table, and a dedicated dining table. You can celebrate birthdays, organise team building events, and even do date nights here.
And… that's a wrap on what's happening in Singapore this week (and beyond).