We've found 15 fun things to do in Hong Kong when it rains to keep you happy
We love the great outdoors in the city. From hiking trails to the best beaches to outlying islands around Hong Kong, there's so much to explore. However, when the rain hits (and it often does!), other plans need to be made swiftly to avoid disappointment, so here are some great things to do in Hong Kong when it rains.
Find fun things to do in Hong Kong when it rains
1. Go bowling
No matter the weather, a good bowling sesh is always fun! One, you'll be in an entirely covered bowling alley and two, you can show your friends your competitive side, one of which they may have been blissfully unaware of. Two, how satisfying is it to get a strike, or even better, a spare despite a split?!
Check out all the awesome bowling alleys in Hong Kong.
2. Enjoy an exciting group hang at an escape room
Love solving puzzles? LOST HK offers a great range of reality escape rooms for curious players to live out their thriller fantasy in a variety of themed rooms. Find clues and work out the puzzles with your teammates, and when you get out of that locked room, it's the most satisfying feeling ever.
LOST HK, 8/F Oriental House 24-26 Argyle Street, Mong Kok, Hong Kong, p. 2390 0093, 亞皆老街24-26號東方大廈8樓
3. Ryze Hong Kong Trampoline Park
As Hong Kong's first trampoline park, Ryze Hong Kong has over 7000 sq-ft of trampolines available for kids and adults to bounce on. Whether you're into something more extreme or less challenging, there is something for you, including their ninja obstacle course, foam pits and more.
Ryze Hong Kong, 3/F Kodak House 1, 321 Java Road, Quarry Bay, Hong Kong, p. 2337 8191, 香港鰂魚涌渣華道321號柯達大廈一期3樓
4. Murder mystery parties by Harbour Secrets
Want an unconventional dinner party? Harbour Secrets organises interesting murder mystery dinners for private and corporate clients. Groups of twelve to twenty players will be assigned roles, in which one of them will be secretly playing the murderer and the rest will have to figure out who the criminal is. If you're looking for things to do in Hong Kong when it rains, or even when it's sunny, this is a great way to have some fun with your friends.
Harbour Secrets, e. [email protected]
5. Check out a unique Live Jazz & Latin session on a weekday
Located in the heart of Central, restaurant and bar Salon 10 hosts a live music session Live Jazz & Latin every Wednesday and Thursday from 9pm till late. Not only does their retro interior design bring a unique flair to the bar, Salon 10 has got the most comfortable booth chair that makes the night ten times better.
Salon 10, 10 Arbuthnot Road, Central, Hong Kong, p. 2801 6768, 中環亞畢諾道10號
6. Sing karaoke
If you're loud and proud, sing a selection of cheesy (but amazing) canto-pop and English songs at Red MR, one of the most beloved local karaoke bars. They also serve an array of good food for when you and your friends get hungry.
Read more about karaoke bars in Hong Kong.
Red MR, 8/F, Windsor House, 311 Gloucester Road, Causeway Bay, Hong Kong, p. 3125 3111, 銅鑼灣告士打道311號皇室堡8樓
7. Play board games at Sweet & Fun Cafe
Not only does Sweet & Fun Cafe make delicious coffee and food, they also provide an amazing range of board games for their customers to play, including card games like UNO and mystery and deduction board games. Definitely one of the easiest things to do in Hong Kong when it rains.
Sweet & Fun Cafe, 11/F Dundas Square, 43 H Dundas Street , Mong Kok, Hong Kong, p. 3482 3992, 旺角登打士街43H登打士廣場11樓
8. Play some pool
Rally the troops and head to one of the best places to play pool in Hong Kong the next time it's nasty outside. Grab a beer, nibble on some snacks and make sure that everyone is on the same page about the rules before you break it down.

9. Battle zombies and skeletons at Sandbox VR
Located in Tsim Sha Tsui, Sandbox VR brings the fun with two different missions for you and your friends to complete. Fight zombies and toxic rats in a rundown castle or battle it out with mutants and skeletons on the high seas, whichever you choose, make sure you choose your weapon wisely.
Read our full story on Sandbox VR.
Sandbox VR, 4/F, Tern Plaza, Cameron Road, Tsim Sha Tsui, Hong Kong, p. 2311 9995, 尖沙咀金馬倫道5號太興廣場4樓
10. Play laser tag at a spaceship-themed arena (Temporarily closed)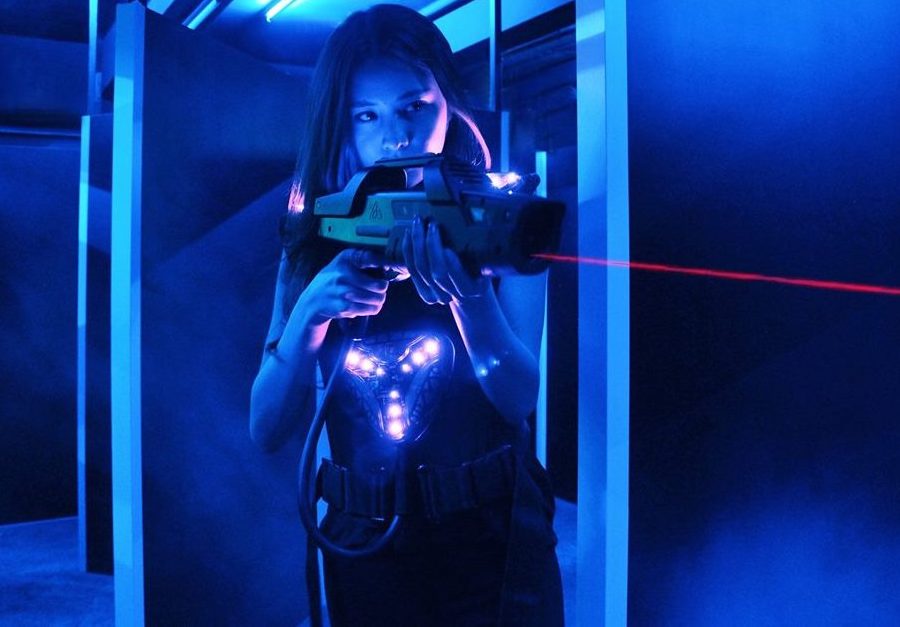 Spooky and mysterious, Lasermads is the one and only spaceship-themed laser tag venue in Hong Kong with top-notch equipment and a system from New Zealand. Offering a postmodern arena that mimics science fiction, you and your friends are guaranteed an exciting match at Lasermads.
Lasermads, 11/F Ying Fong Mansion, 2-6 Yee Wo Street, Causeway Bay, Hong Kong, p. 2343 3033, 銅鑼灣東角怡和街2-6號英光大廈11樓
11. Cafe-hopping time!
Time to dramatically look out the window at rainy Hong Kong whilst sipping on some good coffee (we've all been there) Hong Kong has new cafes popping around every corner each month and it's no longer only about coffee and cakes, the stunning themed decor always gets us.
12. Posh fingers up for high tea
Gather round your best pals for some indulgent afternoon tea with the cutest sets of pastries, cakes, scones, and more! We all love a good treat, here are the best high teas around Hong Kong.
13. Shop til you drop
Why not check out one of Hong Kong's many malls? Tsk tsk, there could be a crazy sale going on somewhere and malls always have the sweetest deals in store. Plus, malls always have some cute restos to check out, one of which you may not have tried out before.
14. Get a spa treatment
You know the full-body massage you've been wanting to go to for some time now? Yeah, now's the time for that much needed zen time in one of the amazing spas in Hong Kong. If you're in the mood to splurge, hotel spas are totes worth the buck but there are defo some good affordable spas in Hong Kong too.
15. Netflix and chill
Alright, we're with you if you think the best activity on a rainy day is to snuggle up on your couch and watch the latest true crime documentary. Grab and snacks and binge binge binge!
Check out our list of fave TV shows and movies if you don't want to endlessly scroll on Netflix.
Play a round of mini golf at Strokes HK (NOW CLOSED)
When speaking of things to do in Hong Kong when it rains, indoor mini golf is our favourite. Offering a set of two, 9-hole mini golf courses, multi-purpose event space, speciality restaurant and more all in one, Strokes HK is the one and only premium golf and lifestyle club in Hong Kong.
Strokes HK, G2-3, Fashion Walk, 9 Kingston Street, Causeway Bay, Hong Kong, p. 2877 1800, 銅鑼灣京士頓街Fashion Walk G2-3號鋪