Try the coffee and keto foods at Liffee (Photography: @linggholic_ via Instagram)
Fancy a strong espresso or a creamy latte? You can't miss out on the best new cafes in Hong Kong opening in 2022.
We know you're all ears for the best new restaurants, sweetest deals and most delicious cakes in Hong Kong. If you are looking for the latest cafes with great drinks and vibe, make sure to check out the best new cafes in Hong Kong for 2022. Time to get caffeinated!
Best new cafes in Hong Kong: January 2022 edition
Liffee
If pursuing a healthier diet is one of your resolutions for the new year, Liffee has got to be at the top of your to-go list. This cafe is known for its extensive keto food menu, which is low in carbs and contains no added sugar. Highlights include the Keto Lasagna made with bean curd sheets, fresh eggplant, and grass-fed beef; Keto Sandwich, which features bread entirely made from egg white; Keto Chocolate Scone, drizzled with valrhona chocolate; and more.
For those on a cheat day, Liffee has got your back, too. Indulge in their series of Devil Drinks, such as the Rose Latte and Marshmallow Hot Chocolate. Don't forget to go back from time to time for new daily and seasonal items, as well.
Liffee, G/F, 1A Kennedy Street, Wan Chai, Hong Kong
Rim Coffee
Over on the Kowloon side near the harbour is Rim Coffee. The concept of this cafe really stands out to us: the founder sees the rim of the coffee cup as the point of connection between coffee, the barista, and the customer; it also represents the interactions we have and the stories we tell as individuals. With Japanese wooden furniture and beautifully crafted decorations around the store, Rim Coffee offers a tranquil and comfortable atmosphere for its guests. You can try the cafe's signature 'Rim', an extension of the typical 1+1 combo. It allows you to enjoy a more complete coffee-drinking experience, from soda water and espresso, to piccolo and cascara. In addition, look out for the impeccable latte art at Rim Coffee, and have a go at their pastas and all day breakfast, too.
If you're planning to spend the day in the area, feel free to explore with our neighbourhood guide to Hung Hom.
Rim Coffee, Shop 4, 1/F, The Vantage, 63 Ma Tau Wai Road, Hung Hom, Hong Kong
Coffeecchiato
Love all things vintage? With European old-school décor and only half a dozen seats in store, Coffeecchiato is your perfect place for a quick and quiet pick-me-up. The house blend is medium roasted, using coffee beans from Colombia, Brazil, and El Salvador. Pair your drink with Coffeecchiato's range of sweet treats, such as the warm brownie, scones, and roll cakes. Want something more filling? From 11.30am to 2.30pm on weekdays, you can enjoy your drinks at half price upon ordering any of the cafe's sourdoughs. Various toppings are available, including smoked salmon and avocado; parma ham and grapes; or tomato and mozzarella as a vegetarian option.
Coffeechiato, Shop G08, Emperor Group Centre, 288 Hennessy Road, Wan Chai, Hong Kong
From Seed to Wish
Calling all green thumbs! From Seed to Wish features a minimalist design, with clean white walls decorated by pots and pots of house plants (which are for sale, too, in case you'd like to bring these lovelies home). Relax in this urban sanctuary while digging into the cafe's selection of sourdough, salads, pastas, and light bites. Popular items include the salted egg yolk chicken wings; FSTW avocado burger with OmniPork patty; Southeast Asian-style all day breakfast with pandan cakes; and more. Complement these with a flower fruit tea, mocha, or matcha latte.
From Seed to Wish, G/F, Phase III, Amoy Plaza, Kowloon Bay, Hong Kong
April Coffee Lab
Stay warm this winter with the heartwarming drinks at April Coffee Lab. The cosy cafe features a long, wide window for you to grab and go, sit outside, or you can choose to dine in, too. The house blend carries strong nutty flavours, with hints of sweet dates in the aftertaste. In addition to hand-poured coffee, there are a range of special drinks and treats available, as well. These include the Frizzyfruit, which is a refreshing beverage consisting of a shot of espresso, pineapple purée, and tonic water; and the April Sweet Toast, which is made with rye bread, pineapple jam, dried pineapple, pomegranate seeds, and vanilla ice cream.
April Coffee Lab, Shop 22, G/F, Ho Wang Building, 11 Yu Wing Path, Yuen Long, Hong Kong, p. 6856 8866
G'Day Cafe and Restaurant
Have a good day out with your four-legged pals at G'Day Cafe and Restaurant! This pet-friendly cafe not only offers an outdoor area for your furry friends to frolic, but it's also created its own house-made dog treats, so that no one gets left out. In addition to coffee, G'Day has a variety of food items. Signatures include Crunchy Blue, which consists of sourdough bread, house-made blueberry jam, double brie cheese, and toasted pumpkin seeds; and the Just Beet It, which uses French toast, beetroot chutney, mascarpone cheese, and beetroot chips. G'Day has just launched its dinner menu, too. Rotating bi-weekly, you can drop by from time to time in the evening to try its seasonal offerings.
First time in the neighbourhood? Check out our complete guide to Shek Tong Tsui.
G'Day Cafe and Restaurant, Shop A, G/F, Nam Cheong Building, 48-52 Hill Road, Shek Tong Tsui, Hong Kong
Blue Bottle Coffee opens in Wan Chai
Good news to those working in the Star Street Precinct (that's us!) – Blue Bottle Coffee has arrived in the neighbourhood. The cafe spans across three stories, with ribbon windows around the corner to enable plenty of natural light and expansive views of the street, perfect for a laid back afternoon of people-watching. Whether you'd like to grab and go from the ground floor, or sit upstairs for a light lunch and linger a little longer, Blue Bottle Coffee in Wan Chai might just become one of your new favourite spots in the area.
Blue Bottle Coffee, 15 St Francis Street, Wan Chai⁠, Hong Kong
APT opens in Sai Ying Pun
Following its popularity in Wan Chai and Central, APT is opening its third branch in Sai Ying Pun. What's special about this branch is that it offers a new pasta- and tacos-tailoring service, exclusive to APT Sai Ying Pun. Available between 11.30am and 8.30pm, you can design your own brunch or dinner pasta dish, from the pasta base and sauce, to toppings and more. Popular combinations include the eggplant and shrimp strozzapreti with tom yum goong sauce; and the saffron cream rigatoni with asparagus and cherry tomatoes, and served with focaccia on the side.
Looking for more restaurants in the area? Here are our favourite places to go for lunch in Sai Ying Pun.
APT, Shop 3-5, G/F, Artisan House, Sai Ying Pun, Hong Kong
Best new cafes in Hong Kong: December 2021 edition
Be Leaf
This pet-friendly and keto-friendly cafe is like a mini-getaway to Bali – with rattan chairs, plenty of greenery (including artificial palm trees), and warm lighting. You don't have to worry about not finding a spot, there are seats all around the cafe, which is also a great spot to get some work done. Once you're done snapping the photogenic interior, get comfortable and order some souffle pancakes, thin cut roast beef with bagel, or all day breakfast. For healthy drink alternatives, Be Leaf serves freshly blended smoothies (we can't pick between papaya mango and strawberry avocado!). The cafe is open every day and closes at 10pm (hooray!).
Be Leaf, Shop 2, King Palace Plaza, No. 55, King Yip Street, Kwun Tong, Hong Kong, p. 2152 2893
Le Galet
One of the most talked-about cafes recently is this vintage, rustic cafe added to the list of homey spaces at Sheung Wan. Enter a time capsule set in the 19th century, with quill and ink, old photographs and paintings, and plenty of wooden cupboards and cabinets that got us thinking about our grandma's! Head over for lunch for a two/three course menu featuring burrata, homemade pasta, prime sirloin, and more. Don't forget to grab a seat by the tall windows draped with long curtains (best lighting for Insta!), allowing plenty of natural light on both sunny days and gloomy days. Plus you can look out the window and let the thoughts wander!
Le Galet, 25 Lok Ku Road, Sheung Wan, Hong Kong, p. 9866 1464 (the cafe is closed on Sundays)
Coffee o/r Tea
With a fun play on words in the logo, Coffee o/r Tea (the o/r resembles "%") has an inviting ambiance, including a pet-friendly space by the entrance. You need to try the signature beef and egg toast and, as for your beverage order, to answer the question of "Coffee or tea?", the cafe says both! Their Oolong Ying Yang is a mix of the West and the East – charcoal roasted oolong tea blended with espresso and presented in an elegant tall glass. Other drinks that are photogenic include pink lemonade and coconut dirty (dairy replaced with coconut milk). Another perk, the cafe stays open until 9pm (how rare is that?)!
Coffee o/r Tea, Shop 101, 1/F, Yue Man Square, 33 Hip Wo Street, Kwun Tong, Hong Kong
Coffeelin Espresso
While many cafes are adopting the minimalist, all-white facade, Coffeelin Espresso stands out on this street filled with industrial buildings. The all-green interior makes a great backdrop for photos and matches the industrial atmosphere of the cafe. For nibbles, we recommend the original Basque burnt cheesecake and lemon cake. Pair them with some espresso tonic and cold brew tea tonic and you're sorted!
Coffeelin Espresso, 104 Jaffe Road, Wan Chai, Hong Kong
Flash Coffee opens in Causeway Bay
Following their successful launch a couple months ago, the grab and go spot is opening its fifth spot in town! Flash Coffee's trademark yellow and "flashy" logo can be spotted blocks away (sometimes you don't need Google Maps!). The comprehensive menu features all-time favourite pick-me-ups like dirty, cappuccino, and espresso. Don't forget to try their signatures including Flash Yuen Yeung (mixture of coffee and earl grey milk tea), Macadamia Nut Latte, and Lemon Espresso Soda (yupe, they're unconventional!). And it goes without saying that the muffins, cookies, and cinnamon buns are delish!
Flash Coffee, Shop G03, G/F, Causeway Bay Plaza 2, 463-483 Lockhart Road, Causeway Bay, Hong Kong
Best new cafes in Hong Kong: November 2021 edition
Goof
Located near the Austin MTR Station, Goof is a new hangout for you to goof around with your furry pals. This pet-friendly cafe offers some savoury items and a variety of sweet treats, such as Canelès (available in Vanilla Rum or Hojicha flavours); Croffle Pops, a waffle that encases croissant layers and is infused with figs, blueberries, and honey to give the perfect balance between sweetness and butteriness; and the signature Lemon Curd Pound Cake produced by The Flop bakery – a soft, moist lava cake filled with zingy lemon sauce. You can pair these desserts with special drinks like Vienna coffee, Matchaccino, and the rich Italian hot chocolate. Or, try Goof's signature honey combo: the Duo Cheese Honey Garlic Panini paired with a Honeycomb Macchiato.
Goof, G/F, Man King Building, 32 Man Wui Street, Jordan, Hong Kong, 佐敦文匯街32號文景樓地舖
Half & Half
A cafe that specialises in chocolate and coffee, Half & Half is a must-go for cocoa lovers as it offers single origin bean-to-bar chocolates. Feeling peckish? This cafe also sells unique dacquoise made by Heijau Patisserie. If you want to try something more exotic, go for the "1009 n a bit of olive oil" lemon dacquoise, which consists of pickled lemon, olive oil lemon curd, and paprika meringue. For those who prefer nuttier flavours, try the "Kennedier than Kennedy Town" caramel chocolate dacquoise. This is made with mixed caramelised nuts, dark and milk chocolate ganache, and a dark malt dacquoise.
In search of more coffee shops in the area? Check out our favourite cafes in Sai Ying Pun.
Half & Half, 20 Pok Fu Lam Road, Sai Ying Pun, Hong Kong, 西營盤薄扶林道20號
B'hood
Can't choose between coffee and alcohol? Why not both – when you can get the best of both worlds at B'hood? On those days when you need an extra shot of "everything" in your system, head to this cafe-bar to try its range of caffeinated alcoholic drinks, such as the rum-infused cold brew, topped with a refreshing scoop of ice cream. Alternatively, you can take your pick from B'hood's coffee menu. Items include white coffees, hand-drips, and syphon coffees made with locally roasted beans and blends.
B'hood, Shops 32-35, G/F, South Seas Centre, 75 Mody Road, Tsim Sha Tsui East, Hong Kong, p. 2380 2168, 尖東麼地道75號南洋中心地下32-25號舖
Hidden Figures
Previously Owls Coffee in Lai Chi Kok, the team behind the cafe is embarking on a new journey in Sheung Wan, under the name Hidden Figures. Going beyond the typical coffees and snacks, Hidden Figures offers a variety of innovative and Instagrammable items. An example would be the chocolate tonic – a spin on the espresso tonic – served with a "tube" of chocolate that you can squeeze into your drink. The blue Tropical Yoghurt Bowl is also a photogenic (and healthy) choice with its blue spirulina powder, tropical fruits, granola, and honey. Want even more fruit in your meal? Order the Belgium mini pancakes served with figs, blueberries, and a scoop of passion fruit ice cream. And while you're there in the building, don't forget to check out the rooftop garden on the sixth floor for some stunning views of the sunset.
Hidden Figures, Shop 1 & 2, G/F, Connaught Marina, 48 Connaught Road West, Sheung Wan, Hong Kong, p. 9738 1922, 上環干諾道西48號干諾中心地下1&2號舖
Gwai3 Jyut6
Specialising in coffee and craft beer, Gwai3 Jyut6 is a new cafe in the funky neighbourhood of Sham Shui Po. For the non-drinkers amongst you, try Gwai3 Jyut6's special creation Lemon Co., which is a refreshing coffee drink with aromas of lemon and citrus; or, go for the classic latte, as it's presented with beautiful latte art. If you're a fan of beer, choose from the dozen local craft beers available, and pair it with the range of savoury snacks and mains on the menu. One of the items that caught our eye was the house-baked croissant, which is sliced open from the side and stuffed with fillings like smoked salmon, black truffle, or creamy spinach and bacon.
Gwai3 Jyut6, G/F, 75 Yu Chau Street, Sham Shui Po, Hong Kong, p. 6030 4361, 深水埗汝州街75號地舖桂月
Tera Pancake House
Calling all pancake lovers! Tera is the expert when it comes to soft, fluffy souffle pancakes. In addition to the signature Strawberry Vanilla Cream Souffle Pancakes and the limited-edition Yuzu Matcha Souffle Pancakes, the other items on the sweets menu are worth trying, as well. These include the Lemon Tart, Blueberry Tart, and Yuzu Madeleines, which are freshly made everyday. You can also try the Mango Coconut Pandan Parfait, which is made with fresh mango, coconut pandan chia pudding, mango puree, and coconut jelly. Furthermore, Tera will be introducing savoury items after its soft opening phase, so stay tuned!
Tera Pancake House, Shop 4, G/F, Po Fat Building, 273-285 Temple Street, Jordan, Hong Kong, p. 2323 6655, 佐敦廟街273-285號寶發大廈地下4號舖寺
Preface Coffee & Wine flagship opens in Causeway Bay
What do coffee and coding have in common? Well, Preface is here to tell you all about it. Opening its flagship store in Causeway Bay this November, Preface Coffee & Wine is offering a comprehensive coffee, wine, technology, and lifestyle experience – all under one roof. Inspired by Silicon Valley culture, Preface aims to be a hub for companies and start-ups, with a focus on tech firms, to build connections over a drink or two. Like its other branches, this store features sleek and minimalistic interiors with white walls, floor-to-ceiling glass windows, and wooden trim. In addition to the sophisticated environment, the flagship will be hosting coffee- or coding-related workshops to encourage self-learning and promote tech education.
Preface Coffee & Wine, G/F, 11 Sharp Street East, Causeway Bay, Hong Kong, 銅鑼灣霎東街11號地舖
Flash Coffee opens in Mong Kok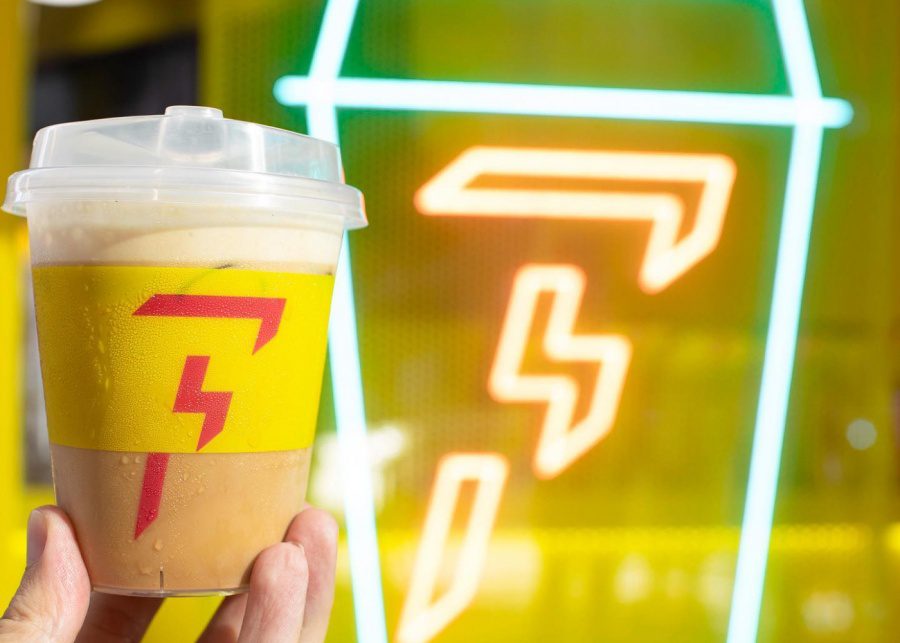 More techy coffee coming up! Having landed in Hong Kong just a month or two ago, Flash Coffee is already opening another branch in a flash (pun intended), this time on the Kowloon side. Featuring the signature bright yellow storefront, this tech-enabled chain is unmissable, even in the midst of the bustling Yau Tsim Mong district. Presenting a range of quality coffees formulated by award-winning baristas, Flash Coffee offers the perfect pick-me-up with its affordable prices and convenient methods of purchase, i.e. grab-and-go or via its app.
Flash Coffee, Shop 1, G/F, Tat Lee Commercial Building, 43G Dundas Street, Mong Kok, Hong Kong, 旺角登打士街43G號達利商業大廈地下1號舖
Crew opens in Central
Homegrown brand Crew has arrived in BaseHall! From sparkling blacks and flat whites to the signature The Crew, the cafe and bar has lots to offer for coffee aficionados. Moreover, there are mochi, macarons, and other snacks to complement your brew. You can also drop by Crew after work as it transforms into a bar with its Crew-tails, fine wines, champagnes, and premium Scotches.
Crew, BaseHall, LG9, Jardine House, 1 Connaught Place, Central, Hong Kong, p. 3643 0865, 中環康樂廣場一號怡和大廈地庫 LG9 BaseHall
Best new cafes in Hong Kong: October 2021 edition
Peloton Coffee
A spacious, hybrid cafe, Peloton Coffee was created by a group of passionate cyclists wanting to bring together like-minded people in the community. Spotting this cafe is easy, just find the bikes parked at the entrance! Gearheads will enjoy perusing Peloton's biking apparel, camping necessities, and bike tools near the entrance to the cafe. The cafe takes its theme up a notch with some stools replaced by bike seats! For drinks, we recommend their refreshing espresso sunrise or dirty coconut, not to mention their all day breakfast plate!
Peloton Coffee, Shop G14, G/F, Regency Bay, 23 Hoi Wong Road, Tuen Mun, Hong Kong, p. 9682 6565
Chokohood
Calling all chocolate lovers in the hood! Disappointed by finding just one drink on the menu dedicated to chocolate? At Chokohood, you can choose from four single origin chocolate-based drinks—the must-try is the Classic Italian. Other cacao drinks include chocolate tea latte and cacao fruit soda with cacao syrup. Pair your drink with baked goodies like banana bread, choux, or chocolate cake (of course!), or if you like it savoury, you'll love the two pasta dishes on the menu.
Chokohood, Shop 92(E), G/F, 90-96 Tung Lo Wan Road, Tai Hang, Hong Kong, p. 9190 5992
La Cafeteria
Nevermind that your travel plans are on hold at the moment, La Cafeteria brings Mediterranean-style dining to Kam Tin. This pet-friendly cafe offers both indoor and outdoor seating—just in time for cooler autumnal weather! It's the small rustic details and stone elements that make this cafe pop – and the four cheese pizza! Also, if you're a sweet tooth, don't miss out on the brownie covered in caramel chocolate sauce, topped with hazelnut gelato – just divine!
La Cafeteria, 390-400, Red Brick House, Kam Sheung Road, Kam Tin, Hong Kong
Humain Coffee
The name of this cafe comes from a play on the words of "human" and "umai" (meaning good in Japanese). This cosy cafe has plenty of wood and rattan elements with ample seating. For drinks, the hand drip coffee is a must (served in the cutest little jug!), and we also recommend their salted caramel latte (YOLO)! For dessert, you can't leave Humain Coffee without trying the lemon tart and handmade tiramisu with fresh coffee.
Note that the cafe is closed on Tuesdays.
Humain Coffee, Shop B, 57 Fuk Wing Street, Sham Shui Po, Hong Kong
Nobis
No biz is complete without making a pit stop at this sleek new cafe! First thing's first, you have to try their bottled earl grey milk tea which is a great drink to have on the go. If you're dining in, we recommend the espresso tonic and the specialist's pour over. Alcohol is also served – so if you want whisky on the rocks, it's sorted! For non-alcoholic options, the handmade teas like orange rooibos are refreshing and Insta-worthy! It gets tricky when it comes to dessert as EVERYTHING looks delish! Replace your usual basque burnt cheesecake for some vanilla flan, and their strawberry tart and chocolate tigre get all the hearts too. Oh there's more – their tiramisu is served with a ladyfinger and the espresso comes in a separate glass so you can adjust how much coffee you want in your dessert!
Note that the cafe is closed on Mondays.
Nobis, G/F, Nam Fung Mansion, No. 10G Boundary Street, Prince Edward, Hong Kong
Messina
A new Black Sheep concept is now open on Pottinger Street, the new gelateria, Messina, serving an assortment of freshly churned gelatos. Whether you're looking for a leisurely afternoon guilty pleasure, a sweet way (literally!) to start a date, or the after-dinner scoop to end the night, one cannot resist the silky texture of Messina's gelato! Contrary to most gelato joints, Messina also offers dine-in options as well as takeaway.
Follow @gelatomessinahk on Instagram for the most up-to-date information.
Best new cafes in Hong Kong: September 2021 edition
Curator Creative Café at M+
West Kowloon may be the ideal spot for a picnic, but did you know that the area has a multitude of cafes, too? Its newest addition is Curator Creative Café at M+, located next to The Other Shop, M+'s retail space. After strolling through the bookstore, florist shop, and gift shop, take a seat in Curator Creative Café at M+ to enjoy a range of savoury snacks – all of which are an elevated take on street food. These include the Glutinous Chicken with Mushroom and Black Truffle Sauce (our personal fave), Pork Siu Mai with Thai Pomelo Salad, Sakayaki Fish Balls, and more. Pair these with the Curator's signature Artsy Print Coffee, for which you can customise the design. Or, opt for the Rose Strawberry Cappuccino and Raw Coconut Latte.
Curator Creative Café at M+, Unit C, B1/F, Museum Plus (M+), West Kowloon Cultural District, 38 Museum Drive, Kowloon, Hong Kong, p. 6999 2008, 博物館道38號西九文化區M+ B1樓C號舖
Zizizi
A cafe slash… tattoo parlour?! That's right, Zizizi is a private tattoo studio in the heart of Hong Kong with its own coffee corner (also known as Zi Corner). The name Zizizi is inspired by the buzzing sound of a tattoo machine in operation; and while some people may associate tattoos with pain and discomfort, the sound is actually quite therapeutic for others, hence the concept of Zizizi. Also in contrast to the 'dingy' impression of tattoo parlours, Zizizi is bright, neat, and spacious – even the stairs leading up to the cafe are nicely decorated (so don't forget to take pics!) Popular items on the menu include the Lotus Biscoff Latte and Matcha Roll Cake.
Zizizi, 1/F, 22 Kimberley Street, Tsim Sha Tsui, Hong Kong, p. 9238 3173, 尖沙咀金巴利街22號1樓滋滋滋
Duet Cups
Through using matte stone and polished stainless steel in its interior design, Duet Cups expresses its focus on detail and the theme of duality. The cool tones, beautiful stone ornaments, and industrial chic vibes are all reasons for you to pop by Duet Cups. Moreover, there are a variety of brunch items, including ciabatta (with Thai pork neck or rendang beef), sourdoughs, and waffles. Complete your experience with the range of coffees, or give the special drinks a try, such as the espresso tonic and shakerato.
Duet Cups, Shop G28, G/F, Pebbles World (Site 3), The Whampoa, Hung Hom, Hong Kong, p. 3425 4945, 紅磡黃埔天地百寶坊(第3期)地下G28號舖
F1rst Crack Coffee
Cosy and zen, F1rst Crack Coffee is a space for you to recharge and find serenity in the SoHo neighbourhood. The name F1rst Crack was inspired by the exothermic reaction of the coffee bean-roasting process. Aside from hand drips (which are served in traditional sake cups), the cafe has signature drinks such as Yuzu Espresso Tonic, Honey Jasmine Latte, and the unique Sugarcane Cold Brew – perfect for humid, stuffy summer days. As for the food, F1rst Crack Coffee has partnered with The Vege Lab to offer delectable vegan cakes and tarts. On top of that, there are waffles with a selection of toppings for you to choose from.
F1rst Crack Coffee, G/F, 55 Graham Street, Central, Hong Kong, 中環嘉咸道55號地舖
Purple Cafe
Calling fans of all things purple (and BTS? IYKYK!) Purple Cafe is decorated top to bottom with purple lights, purple furniture, purple flowers… You get the gist. Not only is this cafe Instagram-worthy, but it's got a great range of food and beverages too. If you find it hard to choose (as always), order the dessert set so that you can try five desserts at once, whether it's the Pink Rose Cake, Golden Passion Fruit Cake, Blue Butterfly Cake, or others. In addition, savoury bites such as chicken wings and soft shell crab pizza are available. To wash it all down, have the coffee with gum tragacanth (a type of tree sap), which is somewhat similar to bird's nest – it's mildly sweet and apparently healthy, too!
Purple Cafe, G/F, 254 Tung Choi Street, Prince Edward, Hong Kong, p. 6992 5996, 太子通菜街254號地舖
Everyday Coffee
Black and yellow, black and yellow, black and yellow… Even Wiz Khalifa's been singing about this funky colour combo, so if you're not a fan of purple, head to Everyday Coffee instead. Opened at 8am on weekdays (and 10am during weekends), Everyday Coffee strives to provide quality coffee for those of you who grab-and-go on the way to work. We recommend the 1+1=3 – a brilliant combo of a macchiato or cappuccino, a shot of espresso, plus an extra glass of soda water to cleanse your palate. As for the food, the Sunny Mango Yoghurt is both yummy and creative due to its resemblance to a sunny side-up. Since the shop is still in its soft opening phase, we're looking forward to it expanding its menu soon – we hear there may be house-baked desserts in the future!
Everyday Coffee, Shop 2, G/F, 308 Des Voeux Road Central, Sheung Wan, Hong Kong, 上環德輔道中308號地下2號舖
Bestow
Dundas Street may be best known for its street food and huge crowds, but there's now a cute cafe added to the mix. Hoping to 'bestow' a tranquil space for guests to take a breather in the midst of the busy Yau Tsim Mong district, Bestow is a Japanese-inspired cafe with simplistic light-blue-and-white interiors. It makes and serves all its items with stunning apparatus and kitchenware imported from Japan; if you'd like to own any of them yourself, see if The Tabibito, the retail store attached to Bestow, has them in stock. Be sure to check out the cafe's house-made desserts, such as the blood orange mousse cake and yuzu matcha tart. Also, there are bagels, sourdoughs, and Japanese snacks on offer.
Bestow, 5/F, Dundas Square, 43H Dundas Street, Mong Kok, Hong Kong, 旺角登打士街43H號登打士廣場5樓
Sulwhasoo Amber House pop-up at Stain+
The Tai Ping Shan favourite, Stain+, has been renovated into a pop-up cafe, Amber House, for Sulwhasoo. This is to celebrate the Korean skincare brand's release of the summer edition of its bestselling item, the First Care Activating Serum. Designed by local design brand Bikuta Malamia, the bold and lively Amber House is your perfect Instagram hotspot for the month. Don't forget to try the time-limited Orange Latte, created by Stain+, inside the cafe.
In addition, there's an Instagram event happening too – simply upload a photo of yourself and a friend in front of the Amber House mural onto your Instagram on or before September 12; add the hashtags #SulwhasooHK, #FirstCareActivatingSerum, and #swsorangelatte. Then, you can redeem a First Care Activating Mask at any of the official stores and counters of Sulwhasoo (before September 30). Coffee and skincare – what's not to love?
Stain+, Shop A, G/F, Tai Cheung Building, 2-4 Tai Ping Shan Street, Sheung Wan, Hong Kong, p. 9557 5055, 上環太平山街2-4號太昌樓地下A號舖
Blue Bottle Coffee pop-up in Sha Tin
Blue Bottle Coffee is venturing into the New Territories! The cafe is popping up at New Town Plaza, presenting a myriad of pet- and kid-friendly activities in collaboration with multiple local brands. Expect to be camping with your furry friends, taking part in hand drip coffee workshops, learning to dye fabrics with natural coffee grounds (yay to sustainable art!), and even cycling your way around the Sha Tin neighbourhood on an exciting bike tour. Aside from premier Blue Bottle coffees, you'll be able to enjoy Blue Bottle mooncakes, as well as the pop-up-exclusive Waffle Parfait. Your doggos won't be left out either, as there'll be dog-friendly snacks at the venue.
The Blue Bottle Coffee Sha Tin pop-up is running from August 25 to November 21. Visit our event page for more details!
Blue Bottle Coffee, Food Kiosk, 3/F, New Town Plaza, Sha Tin, Hong Kong, 沙田新城市廣場3樓小食亭
Venchi revamped in Harbour City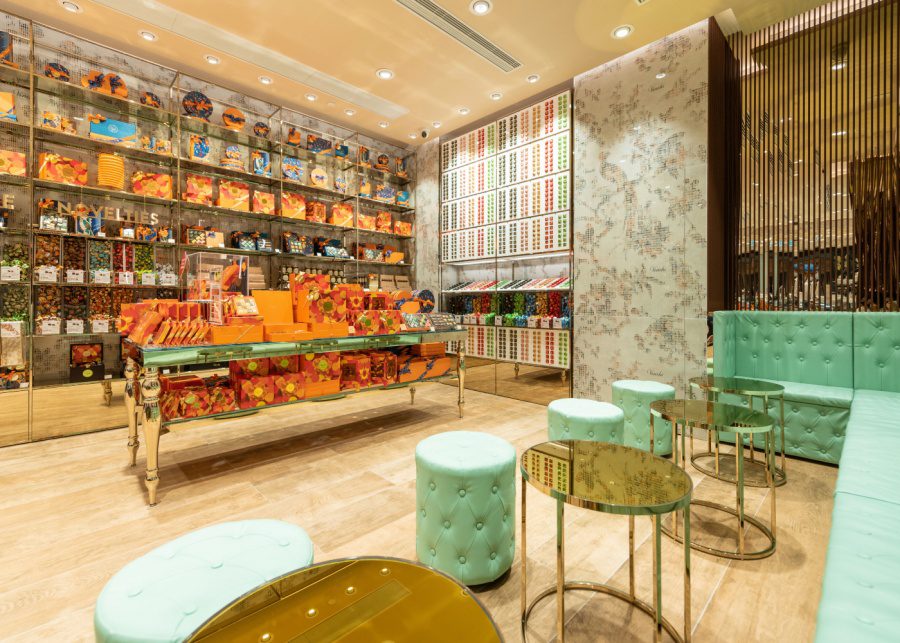 Marking the tenth anniversary of its first Hong Kong store in Harbour City, Venchi has relocated its Harbour City branch (within the same mall) to showcase more products and services. Now revamped to include a cafe space, guests can sit down and enjoy freshly made gelato desserts in the store. While ravishing Venchi's latest Gelato Pralines, your eyes can feast on the boutique's exclusive Chocoviar wall installation – a huge floor-to-ceiling collection of Venchi's Chocoviar – for the ultimate chocolate galore.
Venchi, Shop OT G09, G/F, Ocean Terminal, Harbour City, 3-27 Canton Road, Tsim Sha Tsui, Hong Kong, p. 3101 9981, 尖沙咀廣東道3-27號海港城海運大廈地下OT G09號舖
Best new cafes in Hong Kong: August 2021 edition
KEFI
We can't quite decide what we love more, the interior or the presentation of the coffee and food! The cafe's mantra is written in bold letters on the wall: You don't have to eat less, you just have to eat right. A welcome reminder that lowering your sugar and calories intake is healthier than cutting down the yummies altogether. We love pairing our coffee with KEFI's granola yoghurt tart that's topped with fresh fruit. Other picks include the avocado shrimp sourdough toast, homemade kimchi cauliflower rice with scallops, and the keto brownie chaffle. (Yes, it's a cheese waffle that's healthy!)
KEFI, 165-175 Belcher's Street, Kennedy Town, Hong Kong
Yukkuri
Enter a Japanese time capsule at this new cafe in Kowloon City. Yuk-ku-ri translates to do something in a relaxed and leisurely manner, always an apt description for cafes, as they often provide a respite from the urban jungle. Yukkuri elevates the experience with its precise attention to detail in decor – from the rustic entrance door, moon-shaped lamps, display of traditional pottery, and more. It's reminiscent of entering a collector's haven of vintage treasure. The comfort of the cafe paired with their cakes, puffs, and colourful and fragrant tea makes for a perfect place to spend a rainy day.
Yukkuri, No.424, Prince Edward Road West, Kowloon City, Hong Kong
TGIF
Three cheers for a new pet-friendly cafe! This new cafe is spacious and radiant with natural sunlight – just the way to welcome the weekend. Sip on your favourite blends as the mugs slowly reveal the words Thank God it's Friday, and check out other Insta-worthy items on the menu, including the acai bowl, bagel, and vegan, and gluten-free green salad.
Check out our guide to Shek Tong Tsui to explore the neighbourhood.
TGIF, Shop 4-6, G/F, Wo Fat Building, Shek Tong Tsui, Hong Kong
Kremaro
Quench your thirst during this scorching season with Kremaro's colourful drinks and chewy cookies. Don't be fooled by the design of this takeaway cafe, which looks like a pop-up food truck. Their Cascara Soda is made of coffee berries, it's lower in caffeine compared to coffee, and higher in antioxidants! Pair it with the featured pastries of the day or one of the chunky cookies filled with cream cheese (yum!).
Kremaro, 2 Cannon Street, Causeway Bay, Hong Kong
SOUL
Located on the ground floor of The L. Place, Soul is a coffee shop you can't miss. The open kitchen lets you marvel at the siphon method used to brew coffee. Can't get enough of your coffee and want to gobble down the mug, too? That's technically possible at Soul where The Crispy Mocha comes in a biscuit cup you can devour after you're done with your drink!
SOUL, UG, The L. Place, 139 Queen's Road Central, Central, Hong Kong
Lazzy Project
Another cafe that uses the siphon method for brewing, but this one is further away in Shau Kei Wan. Lazzy Project leans towards a more homey and cosy vibe, so yes, this will be one of those cafes where you're unwinding, unaware of the time just ticking by. Pair your coffee with some banana bread and you're sorted!
Lazzy Project, Shop No. 3, G/F, 2 Shau Kei Wan Main Street East, Hong Kong
Best new cafes in Hong Kong: July 2021 edition
Pane e Latte
Here's a new sweet spot for you to hang out at in Stanley. Pane e Latte is an Italian panificio on the Stanley coast. Bask in stunning views of the sea while digging into the cafe's artisanal baked goods, with its signature being the bomboloni – soft Italian doughnuts, filled with some rich crema pasticceria. While there isn't a date for the official opening as of yet, stay tuned to our Instagram as we'll be popping by for a sneak peek soon! 😉
Pane e Latte, G/F, U-C Court, 25 Stanley Market Road, Stanley, Hong Kong, 赤柱赤柱市場道25號啟厚閣地舖
Hjem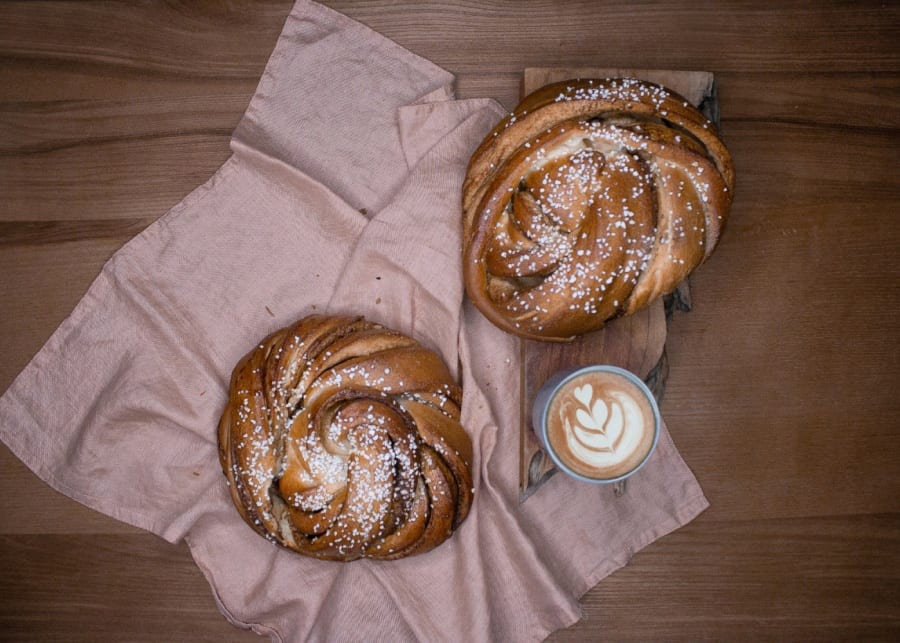 Aside from Mixo, a new Nordic cafe is also joining the Sheung Wan neighbourhood – Hjem. The latest concept by Common Abode, Hjem (meaning 'home' in Norwegian) is a serene and spacious location for you to enjoy light bites and beverages, as well as Scandinavian cuisine. The farm-to-table food menu has an array of hearty Smørrebrød (open-faced sandwiches) for you to choose from. Opt between fresh Arctic prawns, Baltic herrings, asparagus and baby spinach, among other toppings. If you're craving something sweet, go for the Giant Cinnamon & Cardamom Bun Rolls. Pair that with the Honey Milk Golden Latte, or Hjem's wonderful cocktails for a satisfying meal.
Hjem, 161 Hollywood Road, Tai Ping Shan, Hong Kong, p. 2362 9193
From Scratch
While From Scratch may be located on a slope, it's cosy interiors and excellent foods will make your hike worthwhile. An urban oasis with a hint of industrial chic, the cafe is decorated by a careful curation of house plants both inside and outside. The space is bathed in a warm light, balancing out the coolness of the grey, concrete walls. If you're feeling peckish, From Scratch is an ideal place to drop by for pasta, coffee, and desserts, such as the signature Butterscotch Mochi and the freshly made Chocolate Nutty Cookie.
From Scratch, G/F, 21 Western Street, Sai Ying Pun, Hong Kong, p. 9220 5717, 西營盤西邊街21號地舖
Mixo
Looking for a pet-friendly space to chill with your pooch? Trek up to Mixo, a new cafe that's slightly off the beaten path in Sheung Wan – a perfect ten-minute walk away from the hustle and bustle near the main roads. Mixo has several items on its lunch menu as of now (we hear it's still expanding!) Take your pick from the Classic Carbonara, Sourdough Toast Combo with eggs, prawns, and black truffle, Squid Ink Risotto, Truffle Mushroom Orecchiette, and more. As a cafe, of course Mixo is also serious with its coffee. There are four single origin espresso coffees available at the moment, including Colombia Natural, Colombia Washed, Uganda Natural, and Mexico Anaerobic Honey Roll.
Mixo, G/F, 26 Tai Ping Shan Street, Sheung Wan, Hong Kong, 上環太平山街26號地舖
Latter Cafe
Yet another pet-friendly venue on our list – yay! With its white and cream yellow interiors, Latter Cafe is a warm, playful, but also elegant new space in the heart of the city. Aside from common coffees, you can expect unique creations, like the thirst-quenching yuzu mojito espresso, and the super Insta-worthy coconut espresso with its layering effect. That said, the food menu is even more impressive. You'll find various bagels, with the matcha lava bagel being a crowd favourite, as well as mango sticky rice chiffon, Thai milk tea scone, cookie sandwiches, and other special items.
Latter Cafe, Shop E, G/F, Kam Sing Mansion, 151-153 Jaffe Road, Wan Chai, Hong Kong, 灣仔謝斐道151-153號金聲大廈地下E號舖
Posh Coffee Club
Posh Coffee Club is beyond your typical coffee shop. It aims to be the hub for local coffee enthusiasts, and to provide a unique experience for all its guests. Situated right next to the Lai Chi Kok MTR Station, Posh is easily accessible. Also, its minimalist industrial design stands out from the older buildings around it. As both the coffee and food menus change seasonally, you'll be sure to enjoy something different every time you visit.
Posh Coffee Club, Unit 2B, G/F, Cheung Lung Industrial Building, 10 Cheung Yee Street, Lai Chi Kok, Hong Kong, p. 6374 9293, 荔枝角長義街10號昌隆工業大廈地下2B號舖
Kaffee Jen
Escape the urban hustle by heading to Kaffee Jen in Tuen Mun. This new cafe revolves around the theme of zen, and is heavily influenced by Japanese temple aesthetics. Surrounded by sleek wooden furniture and plants, you'll be able to seek solace at once in this charming tea house and coffee shop.
Kaffee Jen, Workshop 3, 4 Kin Fat Lane, Tuen Mun, Hong Kong, p. 6013 3100, 屯門建發里4號(3號舖)
Coffeelin opens in Happy Valley
Coffeelin in Sai Ying Pun now has a twin in Happy Valley! A cafe by day and a bar by night, Coffeelin is the latest hotspot for those in search of a casual, all-day place to relax. As the sole distributor of the coveted Italian Griso coffee beans on the continent, the cafe strives to bring the best and most authentic Milanese-style coffee to The 852. With Milanese design elements around the cafe-bar, including dark green tiles and antique Memphis-style mirrors, you'll find yourself transported to 20th-century Italy as you take a seat in this friendly shop. Oh, and did we mention it's pet-friendly too?
Coffeelin, G/F, 8 Cheong Ming Street, Happy Valley, Hong Kong, p. 6012 6241, 跑馬地昌明街8號地舖
Mad Coffee Co. opens in Sham Shui Po
Mad Coffee Co., a neighbourhood favourite in Ap Lei Chau, has opened its first branch in the SSP neighbourhood. With a mini storefront that holds only a bench and little room for standing, Mad Coffee Co. makes up for its small space with premium coffee and hospitality. If you'd like to try the cafe's popular food menu, however, make sure to head over to its main store instead.
Mad Coffee Co., 208 Tai Nan Street, Sham Shui Po, Hong Kong, p. 6773 4386, 深水埗大南街208號叁瘋
The Salfee Bar opens in Quarry Bay
Nothing beats a fresh salad and ice-cold beverages in the summer. You'll get the best of both worlds at The Salfee Bar in Quarry Bay, where you can choose between a range of plant-based dishes to go along with a refreshing drink. Cool yourself down with The Salfee Bar's signature Minlimo, a mojito-inspired ade with espresso, lime juice, mint, and soda. Also, don't forget to pick up a QB-exclusive vegetarian frittata as a healthy and energising snack.
The Salfee Bar, G/F, 34 Hoi Kwong Street, Quarry Bay, Hong Kong, 鰂魚涌海光街34號地舖
The Coffee Academics opens in Discovery Bay
You know you can pretty much always rely on The Coffee Academics, as it often has a location somewhere near you. This month, TCA is bringing DB residents a dose of caffeine and its quality foods with its new branch in Lantau. Located in the heart of South Plaza, it's the perfect spot to fix those coffee cravings.
The Coffee Academics, Shop G65, G/F, Block C, DB Plaza, Discovery Bay, Hong Kong, 愉景廣場C座地下G65號舖