The views while climbing Mount Fuji are simply stunning
Do you think you can nail climbing Mount Fuji? Hong Kong climber Melanie Cox shares some great tips on how and when to get your climb on
Whether you're a physically-fit adventurer or simply a homebody trying to get out of your comfort zone, there are plenty of fitness options for you to challenge yourself: hiking trails, water sports and climbing gyms in Hong Kong! But if you want to take it to take it up a notch, then scaling the highest peak in Japan may be more up your alley – and Hong Kong climber Melanie Cox is here to share her story and tips to help you on climbing Mount Fuji.
Climbing Mount Fuji: it's closer to Hong Kong than you think
Mount Fuji is an active volcano, sacred space for Shinto and Buddhist pilgrims and Japan's tallest mountain standing tall at 3,776 metres. But, believe it or not, it's also one of the few mountains (thanks to a four-hour flight from Hong Kong) that you can easily pop over to for a weekend getaway and return to your office by Monday. In fact, you can actually summit and descend within a day, but it would be a real shame to miss the sunrise and the outlook that Japan's most sacred mountain has to offer on the right morning.
Arguably dubbed "the most perfect volcano cone in existence" by many local and foreigners, Mount Fuji acts as an iconic sacred symbol for the nation. According to myths, the first climber to summit Fuji was a wizard-sage named "En no Gyoja" in approximately 663 AD. Since then, many have attempted to summit and descend, seeing the climb as a pilgrimage representing a journey from the world of the living to the world of the dead and back. But for your average hiker, it's simply a beautiful mountain that is achievable to most offering huge rewards for those who summit successfully.  
Climbing Mount Fuji (almost)
You can imagine how disappointed I was when I arrived in Tokyo at the end of June (the start of the climbing season) only to see a typhoon nearby causing all trails to close as the summit was windswept with several avalanches recently. Luckily, we had the UNESCO World Heritage "Ogasawara" (or Bonin Islands) awaiting us with an archipelago isolated 1,000 kilometres south of Tokyo. I was so grateful my friend had organised this as our "post- Fuji" recovery destination since, like a lot of Japan, all websites for accommodation and ferries were in Japanese making the island virtually unknown to foreigners. However. like all great memorable holidays, our trip had more drama waiting around the corner…
My best friend is one of the smartest people I know. Naturally, when going through all ferry details (with her reading them to me, as it was all in Japanese – her 4th language) and finalising our bags for an early departure the next morning… we missed the ferry! My friend had read the wrong ferry time, so there I was, having skipped Fuji and then my tropical oasis was a mirage! Determined to turn this trip back round, we got a Hokkaido milk cream soft serve each to console ourselves and noticed that the sun was shining! Was this a sign?
It turned out that the typhoon was quickly disappearing, so we began mapping our trail to trek Fuji the next day, followed by a two-night stint in the Izu Peninsula, known for its surfer vibe, stunning beaches, and onsens infused with Fuji's volcanic rock.
Heading up the mountain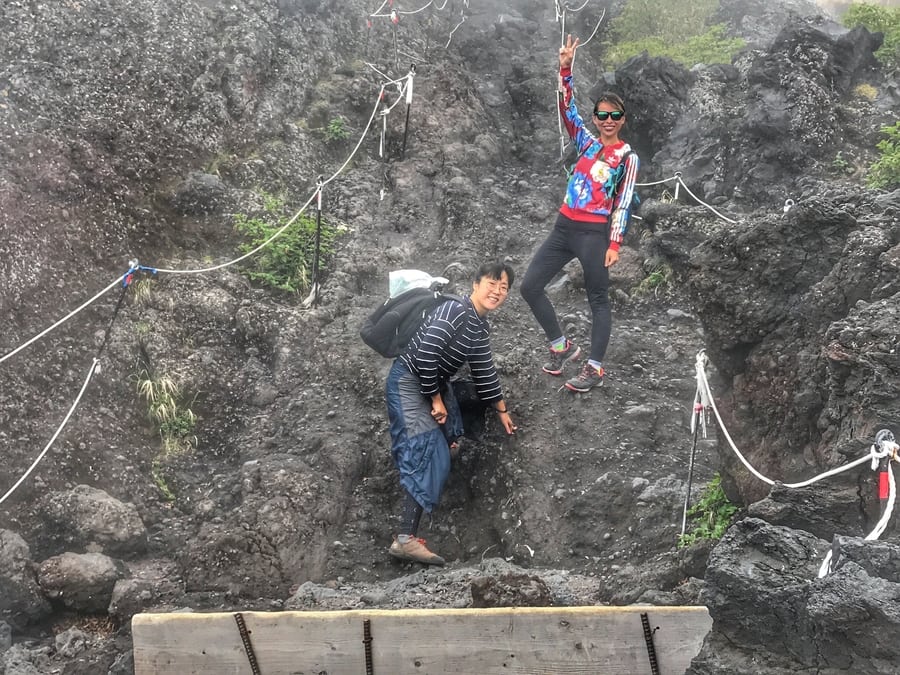 The next day, we set off by bus and despite the sunshine, arrived at a misty entrance of the Fuji Subaru Line 5th Station. Climbing Mount Fuji is free but a 1,000 yen per person donation to the Mt Fuji Preservation Association Fund is highly recommended.
I could barely see two-metres in front of me at the start. The trek itself is relatively simple compared to other renowned mountains, and the path is rocky but comprised of soft rock, meaning it can be a bit tougher on the legs but less strenuous on the joints. I recommend sticks and proper hiking boots (ankle tall) for more beginner hikers. It's also easy to roll ankles when you're climbing Mount Fuji, so ankle support can go a long way.
It was a lot cooler than I expected, and I had already given most of my warm clothes to a friend who had returned to Hong Kong, thinking I had missed climbing Fuji. So I was left with a bomber jacket, a windbreaker from Patagonia (my only hope), a bucket cap, and two pairs of 2XU pants having given away my gloves, buff, beanie, light thermals and headlamp. I had done my research and knew the average temperature at summit was between 5-8 C. I know from experience that depending on wind conditions, one can feel the temperature dropping to near freezing point noting the average summit point.
Accommodation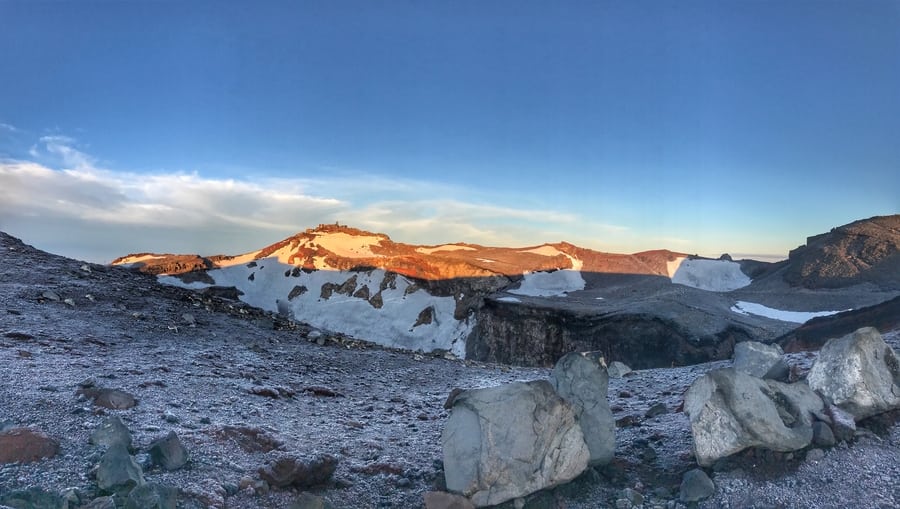 Lots of mountain huts line the trail around the 7th and 8th station, so accommodation is plentiful, but the good ones can be booked out fast. There are enough tourists climbing Mount Fuji for you to go online and find recommendations with links to book. We had pre-booked a hut at the 7th station called Toriiso which was located 2900m up.
Our hut was a pleasant surprise having trekked in other countries such as Nepal, Burma, Laos and India. Comparatively, it was lush! They had designated the space into dorms and a main area with an open fireplace for hikers to get their stamps (you can buy a wooden stick and "check in" to every station you pass ascending, also a useful hiking stick). I have never seen a menu this high up offering Katsu Curries or Udon noodles alongside various teas and Japanese sodas. Our rooms had sleeping quarters set as a large dormitory style room with bunk bed futons and blankets provided.  The biggest surprise of all was that walk only took three hours to Toriiso! Our first lesson here was perhaps to book a higher hut. Looking back, it was smarter to ascend higher on the first day, so there is less distance to summit overnight in the cold.
Be sure to hang outside after your meal upon arrival. You may want to stay in to rest or chill but near sunset on a good day, you can catch a stunning glimpse of the clouds opening up to reveal the world below you, amidst the sun setting within the cloud line.
In our hut we had gone "to bed" at around 7:00pm and woke up to change, eat a snack to power up before leaving Toriiso hut around 12:30am.  I had been awake since 10:00pm thanks to noisy hikers who were excited having begun their hike. Take special note as etiquette is extremely important when hiking and also in a country like Japan. These conditions can be tough and there is no reason to make it harder for other climbers. In fact, the mountain and summit is the perfect opportunity for one to be find time to be mindful, conscious and present of their every step whether it's resting or climbing.
Overnight
I don't think I have ever been so cold in my life as on that night. Every layer of my body and into my bones felt chills as we ascended. The faster the temperature dropped, the more I would slow down, cautiously noting not to summit too quickly at risk of freezing before sunrise. My friend had a warmer getup, and so I spent most of above 3000m spooning her at every rest station.
Beginners can try climbing Mount Fuji, but be warned of a 10pm – 12am wakeup call mainly due to other people moving around and note attempt to summit is required. At points, the terrain can be rather steep and rocky. However don't worry about getting lost or lack of signage – you're in Japan! There are plenty of signs along the trail warning hikers of other minor problems such as sudden wind gusts and falling rocks. Also, there are literally hundreds of people with you trying to summit. It may not feel that blissful and peaceful at 3000m high, but it's a blessing in disguise with people around you sharing their snacks, drinks and encouraging one another to summit. The main challenge for most people is the rather strenuous ascents at points, across awkward hours of the night and as the air gets notably thinner as you gain altitude.
Having been at higher altitudes helps short-but-steep ascent climbs such as Fuji. Many people struggle with this, as the air is noticeably thinner 3000m and above. Coming from sea level, you will notice the difference, and it takes approximately 48-72 hours to acclimatise; therefore several people we passed were struggling with headaches, and minor altitude sickness. It's absolutely critical to walk slowly and mindfully, following your breath and being conscious of your heartbeat if it gets too fast in which case you should not panic but instead take deep breaths to calm the mind. Diamox works if needed, but I highly recommend Ginseng or Ginko Balboa supplements prior to your trek as they increase circulation which in turn will increase the oxygen pumped around your body.
For most of the night you are walking in an almost trance like state; mesmerised by the stars above. You find your rhythm moving one foot forward at a time with hundreds of people in front of you, and a sea of people and headlamps behind. When we saw the last torii (traditional Japanese gate as the entrance of a Shinto shrine to symbolically mark the transition of the mundane to sacred), we knew we were close. I was frozen and had been shaking for close to four hours at this point. Being near summit and seeing break of dawn meant heat, and that was all I needed to keep me moving!
Summit
We arrived just before the sun was coming up. In the summer, the sun rises around 4:30-5:00am. There's no way to describe summiting a mountain, but you can say that one experiences a climb inside and out, even amid tens of thousands of other climbers.
We sat in silence, not even fussed that the people next to us had a mini stove and hot coffee, taking in the perfect sunset with the clouds below us with people still ascending up to us. Behind us, the volcanic crater of the most iconic mountain and symbol of Japan. We had a chat with some people around us and shared some snacks before deciding it was time to leave. I felt better and better as I descended with the sun coming up to shower us with some warmth. You really don't need to look up or down, you're really at heaven on earth.
Going down can be tough for many people who struggle with balance or are a bit more heavy boned as soft rock can throw you off balance easily. This can feel extremely defeating across a 2-4 hour descent. Here, sticks are important as your feet will submerge making it easy to lose balance. As the sun comes up it starts to get very hot, and as you are just below 4000m the sun can be very strong. A hat or some sunblock is useful, a spare new shirt when you arrive the park entrance is blissful. The hike was gorgeous going down watching the change in landscape as the morning began. We met an 80-year-old man who was climbing for the sixth time, apparently this was fairly common.  With the sun coming up and burning a lot of cloud, I didn't even notice the path near the 5th station was the same path we had ascended showcasing a beautiful rich leafy landscape.
We reached back to Fuji-Subaru Line 5th Station just before 8:00am ready for breakfast, and a huge nap on the same bus ride back to Shinjuku Station. Being in Japan, it was stress free, efficient and I had plenty of delicious food options while waiting for my ride back.
Climbing Mount Fuji: How and when
Mount Fuji is only open to hikers from 1 July to early September, and the four main trails leading to the summit are swamped with over 300,000 people a year during this period. The best time for climbing Mount Fuji is from late July to late August when the weather conditions are more stable. Always remember; what you see at the point you set off at is most likely not the case of what you see above the cloud line.
We really lucked out on our summit morning, catching what one climber told us was "the best sunrise he had seen" having summated four times previously. It's also important to take note to avoid the period between August 13th and 17th, which is the long holiday week in Japan when the already busy trails may start to feel like the Shibuya crossing.
Apparently, you can actually climb "off-season", but with less transport, no open huts for overnight stays and winter looming, it's unwise and at your own risk as appropriate mountaineering equipment and experience may be required.
What gear to take
Some gear that's important to note:
Rubbish bags: there are no bins in the entire park
Headlamp: you are walking overnight!
Hot water bottle that can keep for at least 8-10 hours and some tea/ coffee to treat yourself at summit
Buff to protect your lip and face from harsh winds
Gloves: you may hold onto rocks at steeper ascents and in case you fall on rocks
Hiking shoes with ankle support
Snack and protein bars to keep body temperatures up and for boosts of energy
Spare T-shirt from reaching 5th station to change
Extra cash. Whatever you have – take extra.
It's important to note that, being in Japan, all of the above can be purchased very easily.
Getting there
We took a bus from Shinjuku costing around 2,700 yen per person each way. We booked these tickets online thanks to my friend, but the site is available in English and you can go to the station and buy the ticket (subject to availability). The ride itself is approx. 2.5 hours with 7-12 round trips per day during the climbing season. There are buses from a few other stations such as Kawaguchiko Station. Like all of Japan the buses are impeccably on time for arrival and departure, clean and everyone is polite. The ride itself was so pleasant with great views of the Japanese countryside and area surrounding Mt Fuji. Seeing it from a distance, parting earth and sky with remarkable symmetry, it is no wonder it is seen as a stairway to heaven and a portal to an ascetic otherworld.
How I trained
Climbing Mount Fuji requires some level of fitness. I think training in Hong Kong with long walks is adequate for a trek like Fuji. Cardio is important as there is approximately 8-14 hours of walking for most hikers to go up and down. Mental acuity is critical on walks like this. No one likes waking up at 11:00pm, but the excitement to climb usually kicks in pretty fast once you're changed and finalising your gear! A calm mind is one that can do anything, whether it's pushing you to reach the top, or keeping calm and utilising limited oxygen.
After/Recovery
After climbing Mount Fuji, Izu was perfect, and everything I could ask for post-mountain. We went to Shimoda by taking the Super View Odoriko train that costs around 6,500 yen. It's a special train offering great scenic views. We stayed in the Shimoda View Hotel where we treated ourselves to a stunning two-bedroom ryokan overlooking the gorgeous beach (pricey but worth it!) This included a beautiful Japanese breakfast and Dinner banquet offering "Washoku" aka the best Japan has to offer – chefs selection. And it was so good. Coming from an F&B background, I really appreciated how fresh everything was, and the varieties of seafood in front of me that I had never tasted before.
The area surrounding offered several beaches, all pristine with sparkling blue water that was absolutely freezing! But going between this ice cold salt water and then to our outdoor balcony onsen overlooking this beach was incredible. A perfect ending to a perfect trip with my best friend.