Not only is Tai Kwun (the former Central Police Station) now a cultural hub for heritage and arts, it also features an array of restaurants and bars that showcase Hong Kong's beautiful colonial past
It's no surprise that there is a thriving food and nightlife scene in bustling Central, from the best lunch spots and best happy hours to the hottest Hong Kong clubs. Tai Kwun, formerly known as the Central Police Station, has recently been transformed into a newly-beloved spot for heritage and arts, as well as the city's newest culinary destination. Time to experience Hong Kong's colourful colonial past at Tai Kwun!
From the Central Police Station to Tai Kwun
Led by The Hong Kong Jockey Club in partnership with the Government of the Hong Kong SAR, the revitalisation project at Tai Kwun aims to serve as a place of inspiration, stimulation and enjoyment for all the folks in Hong Kong (especially lovers of contemporary art and history). Much like PMQ before it, it's exciting to see a heritage building transformed into a new public space that brings art and culture to the masses, but will it actually achieve what it sets out to do? We'll just have to wait and see.
Comprising three declared monuments – the former Central Police Station, Central Magistracy and Victoria Prison – the transformed Tai Kwun features sixteen heritage buildings, two new buildings and outdoor spaces for organisations and artists to host collaborative programmes, exhibitions, events and performances – including film, photography, music, design and more.
The structure is overwhelmingly stunning and was completed by Swiss-based/international architecture wonder firm Herzog & de Meuron, but we think it's really important to note that local Hong Kong practice Rocco Design Architects were the Executive Architects on the project to help maintain the local intricacies and sensitivity of the project. Go, team!
Eat, drink and shop in Tai Kwun
Fancy a unique culinary experience? Other than exhibitions and programmes, there are also an array of boutiques, gift shops and restaurants in Tai Kwun for visitors to check out.
Eat
The Chinese Library
Part of the iconic trilogy from Aqua group at Tai Kwun, alongside Statement and The Dispensary, is The Chinese Library. Showcasing Hong Kong's favourite Chinese dishes with a contemporary twist, The Chinese Library allows visitors to taste the city's unique culinary heritage. Some of most delicious regional items on the menu include Shanghai Dragon Well tea smoked crystal river shrimp, Sichuan garoupa in chilli broth with glass noodles and endless options for dim sum like har gao and siu mai with black garlic. There's also an excellent selection for vegetarians, so everyone will be happy here.
Read our full review on The Chinese Library here.
The Chinese Library, 1/F Headquarters Block, East Wing, Tai Kwun, 10 Hollywood Road, Central, Hong Kong, p. 2848 3088, 中環荷里活道10號大館1座1樓
Statement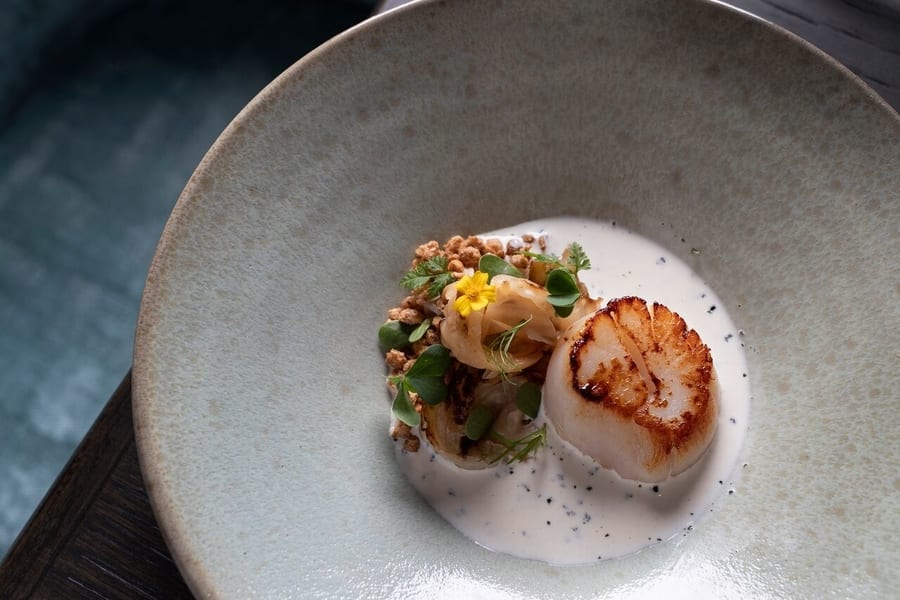 If you're looking for modern British fare at Tai Kwun, British restaurant Statement is painted with Hong Kong's colonial history and unique East-West flavours. The restaurant serves a number of signature British dishes, such as pan-fried scallops, heirloom beetroot ravioli and slow-cooked Gressingham duck, all of which incorporate cooking methods like roasting, braising, stewing and slow-cooking. The reimagined century-old space has definitely made Statement a great place to dine in the evening, and is guaranteed to set the scene for a glorious event.
Statement, 1/F Police Headquarters, Tai Kwun, 10 Hollywood Road, Central, Hong Kong, p. 2848 3000, 中環荷李活道10號大館1樓1號舖
Aaharn
Aaharn showcases a world-class exploration of the best of Thai cuisine by using fresh seasonal ingredients and refined techniques. Featuring both non-vegetarian and vegetarian tasting menus – with signature dishes like minced quail curry with Thai eggplants, smoked fish with chillies and wild mushroom stir-fry – you can now enjoy the best of Thai food at Tai Kwun.
Aaharn, 1/F Armoury Building 02, Tai Kwun, 10 Hollywood Road, Central, Hong Kong, p. 2703 9111, 中環荷李活道10號大館02座槍房1樓
Madame Fu
Madame Fu specialises in creating Cantonese cuisine from the Northern provinces, dim sum, as well as afternoon teas and Western desserts. Featuring lounges, bars and private dining, the restaurant is situated on the top floor of Tai Kwun, hoping to recreate the atmosphere of Hong Kong's colonial past and the European Grand Cafes in Paris.
Madame Fu, 3/F, Block Three, Tai Kwun, No. 10 Hollywood Road, Central, Hong Kong, p. 2114 2118, 中環荷李活道10號大館3座3樓
Café Claudel
If you want to know how it feels to be in a Parisian café in 1930s, Café Claudel is not to be missed. As a social and culinary hub in Tai Kwun, visitors will get to have a taste of classic French food while sitting by the quintessential terrance. Such cosy ambience makes it hard to leave, so take your favourite Hemingway novel and settle in.
Café Claudel, Shop 1, G08, Tai Kwun, 10 Hollywood Road, Central, Hong Kong, p. 2411 1310, 中環荷李活道10號大館地下1-G08號鋪
Old Bailey
Old Bailey at Tai Kwun showcases Jiangnan cuisine and traditions, providing visitors with a completely new elevated dining experience. Expect authentic Jiangnan favourites, such as Longjing Tea Smoked Pigeon, Mala Iberico Pork Xiao Long Bao, Ten Treasure Duck and more. Coming from the stable behind faves such as 208 Duecento Otto, Duddell's and Mak Mak, you know we're excited about it.
Old Bailey, Shop 20, 2/F Tai Kwun, 10 Hollywood Road, Central, Hong Kong, 中環荷李活道10號大館2樓20號鋪
Drink
The Dispensary
Aiming to bridge East and West, The Dispensary is an exotic lounge bar that sits between British restaurant Statement and its Chinese counterpart The Chinese Library at Tai Kwun. Offering an extensive list of wines, spirits and specially concocted signature creations, including The Crown, Her Majesty, the Mango Tree and Opium Old Fashioned which remind guests of Hong Kong's time as a British colony and its Chinese heritage.
The Dispensary, 1/F Police Headquarters, Tai Kwun, 10 Hollywood Road, Central, Hong Kong, p. 2848 3000, 中環荷李活道10號大館1樓1號舖
Dragonfly
Inspired by late 19th century Art Nouveau style, Bohemian-style cocktail lounge Dragonfly presents a wide array of innovative cocktails and tasty small dishes to guests at Tai Kwun. Crafted by internationally experienced bar manager Brent Flowers, we're most excited about its Thai-inspired Golden Serpent (coconut-infused Jamaican rum mixed with lemongrass palm sugar and pineapple juice) and its bubble-tea-reinvented Dragon's Pearls (Jasmine milk tea mixed with mandarin, gin and cognac). Other popular dishes include short ribs bun and black truffle polenta bites, which are perfect as a night-time drinking snack.
Dragonfly, Shop 10, G1, Tai Kwun, 10 Hollywood Road, Central, Hong Kong, p. 2777 2633, 中環荷李活道10號大館01座地下01-G03號鋪
Behind Bars
Found within a series of former conjoined jail cells within E-Hall, Behind Bars serves as a place for people to connect. It offers a great selection of classic cocktails and a lively environment organised by "The Roster" – a calendar designed to appeal to all drink, audio design and mindfulness fans. Being more than just an evening hang-out spot, it opens from 4pm with an artisan coffee program operated by Redback for people to sit down and relax.
Behind Bars, Shop 15, G/F, Barrack Block, Tai Kwun, 10 Hollywood Road, Central, Hong Kong, 中環荷李活道10號大館營房大樓地下15號舖
Shop
Taschen
Global art book publisher Taschen is now bringing books and publications created by world-famous artists and designers to Tai Kwun. Whether you're looking for top quality photo books, art books, architecture books and history books, Taschen is just the place for you to explore.
Find out more about Hong Kong bookstores here
Taschen, Shop 01-G02, G/F, Headquarters Block, Tai Kwun, 10 Hollywood Road, Central, Hong Kong, p. 2544 8018, 中環荷李活道10號大館地下
Touch Ceramics
We're huge fans of art in all mediums, and Touch Ceramics is dedicated to promoting local talented ceramists and bringing the joy of ceramic making to Hong Kong. Through hosting different exhibitions and workshops, visitors will learn to appreciate ceramics art and the beauty of the traditional craftsmanship.
Touch Ceramics, Shop 203, Block 3 Barrack Block, Tai Kwun, 10 Hollywood Road, Central, Hong Kong, p. 2562 9000, 中環荷李活道10號大館第三座203號鋪
Bonart
Aiming to integrate green plants into an aesthetic lifestyle, Bonart is a terrarium concept store in Tai Kwun that makes lovely and sustainable plants in sealed bottles for indoor decoration. Customers are also able to craft their own art-piece to take home at Bonart, this definitely will be a hit with kids and adults alike at Tai Kwun, for sure.
Bonart, Shop 03-204A, 2/F Tai Kwun, 10 Hollywood Road, Central, Hong Kong, p. 2789 2782, 中環荷李活道10號大館2樓03-204A號鋪
Van Gogh SENSES Gifts

Apart from being a lovely place to shop, customers will also be able to experience the art of gifting at Van Gogh SENSES Gifts by choosing the perfect surprise for family and friends. Offering a great selection of products, including confectionery, delicacies, tea and coffee, flowers, all gifts are created by artists who have been inspired by the creative works of Van Gogh, just another reason why Tai Kwun is such a special little haven in Central.
Van Gogh SENSES Gifts, Shop 01-G03, G/F, Block 01, Tai Kwun, 10 Hollywood Road, Central, Hong Kong, p. 2884 0224, 中環荷李活道10號大館01座地下01-G03號鋪