Photography: Joo Chiat Oyster House
Whether you're keen to explore the gamut of oyster flavours or a connoisseur of a particular variety, you'll love these oyster bars in Singapore.
From chilli crabs to lobster plates to fish and chips, we Singaporeans love our seafood – and the list includes fresh raw oysters. How else can you explain the number of restaurants and bars specialising in this humble bivalve? So when you're in the mood to slurp up the plump, briny, oceanic delicacy, our guide will put you on the right track to slaking your cravings – bubbly and vino included!
Best oyster bars in Singapore
1. Joo Chiat Oyster House
Everyone knows that Joo Chiat is the hub for hip cafes, and this might be the hippest of all. When the sun sets, King's Cart Coffee transforms itself into Joo Chiat Oyster House. Keep a look out for the red neon sign that'll lead you there. This establishment serves up plump oysters from the Hyogo prefecture in Japan. You can take your pick from naked, flavoured, and baked versions of this salty delight. Toppings come in the form of chimichurri, red wine mignonette, salsa, or yuzu foam. And you can't miss out on the other fusion dishes like har cheong gai chicken lolis and roasted cauliflower.
Joo Chiat Oyster House, #01-05, 328 Joo Chiat Road, Singapore 427585
2. Perle Noire Oyster & Grill Bar
Nestled within Holland Village is Perle Noire, and it's regarded as one of the best steakhouses in Singapore. It's got premium cuts air flown from America, Australia, Argentina, Uruguay, and New Zealand. But swing by on Tuesdays and Wednesdays, and you'll forget about the juicy steak. Instead, opt for Canadian Pacific oysters that come in half dozens.
Perle Noire Oyster & Grill Bar, 40 Lorong Mambong, Singapore 277695
3. Luke's Oyster Bar & Chop House
Founded by Boston's culinary genius Travis Masiero, this New York-style restaurant is your go-to for a top-notch selection of oysters. Sourced directly from Travis' personal contacts along the eastern seaboard of America, these oysters are some of the best you'll find in Singapore. Expect to slurp on varieties like Powder Point, Pleasant Bay, Beau Soleil and Barnstable.
Luke's Oyster Bar & Chop House, 22 Gemmill Lane, Singapore 069257
4. Angie's Oyster Bar
This French-inspired spot offers a seasonal selection of some of the freshest oysters from around the world. That includes the Fine de Claire variety from France, which has a briny and nutty flavour profile. For something more meaty and sweet, the Sunseeker oysters from Canada will fit the bill. Come during happy hour to enjoy them at $1.50 a pop!
Angie's Oyster Bar, #02-01, Tan Boon Liat Building, 313 Outram Road, Singapore 169073
5. Culina at Como Dempsey
Dempsey Hill boasts a plethora of gourmet food offerings, but Culina stands out as the bistro for oyster lovers visiting this foodie enclave. Serving up a weekly selection of air-flown oysters, the menu is ever-changing and varied. But if it's available, spring for the plump French Gillardeau oyster. It's beloved for its almost crunchy texture and subtle hazelnut taste. This variety is consistently ranked one of France's top three premium oysters.
Culina at Como Dempsey, 15 Dempsey Road, Singapore 249675
6. Humpback
Inspired by a trip to the Hama Hama oyster farm in Washington, the owners of Humpback have taken it upon themselves to share the experience with Singaporean diners. This bastion of raw seafood serves a variety of oysters including hama hama, blue pool, sun seeker and pickering passage oysters. Wash it all down with a selection of tipples. Oh, and come by during happy hour to enjoy the oysters for $3 each.
Humpback, 20 Bukit Pasoh Road, Singapore 089834
7. Greenwood Fish Market
This seafood restaurant offers an affordable selection of fresh oysters from Canada, Australia, France, America and Ireland. But before diving into the seafood mains, start your meal with rarities like the Coffin Bay oyster (crisp and briny), Golden Mantle oyster (buttery and sweet with a melon finish) and Pink Moon oyster (a perfect mix of creaminess and salt).
Greenwood Fish Market, multiple locations including Quayside Isle and Bukit Timah 
8. Db Bistro & Oyster Bar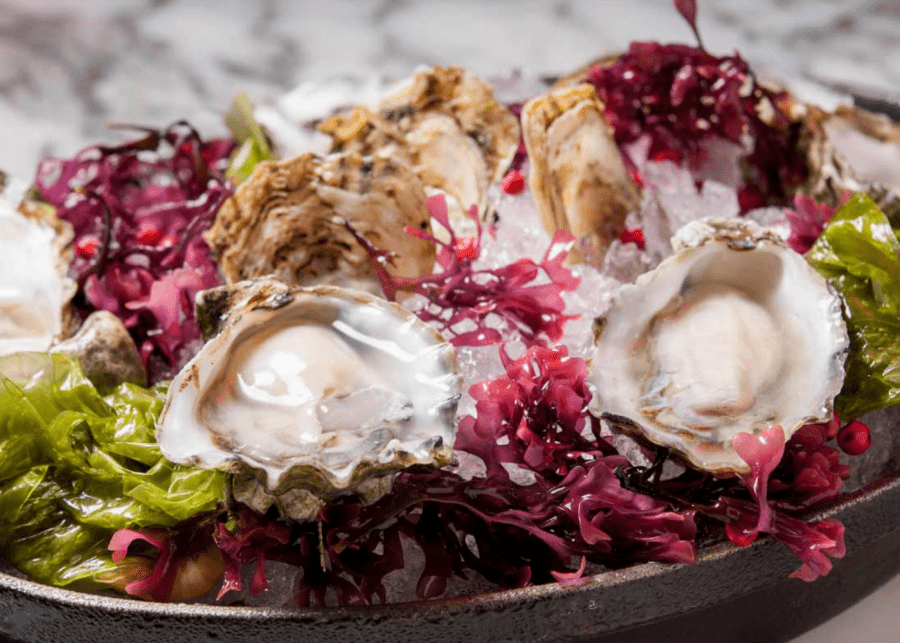 At Daniel Boulud's renowned restaurant, a dazzling oyster bar takes centre stage. It showcases a smorgasbord of the ocean's freshest bounties, including fresh seasonal oysters and the chef's signature Oysters Vanderbilt —oyster gratinée with hazelnut and a seaweed crust. While you're at it, enjoy other oceanic delights like blue crab salad, tuna tartare and the luxurious Kaluga caviar.
Db Bistro & Oyster Bar, #B1-48, Galleria Level, The Shoppes at Marina Bay Sands, 2 Bayfront Avenue, Singapore 018956
9. Tanuki Raw
Savour the taste of French, Canadian and Japanese oysters at Tanuki Raw. Popular with the after-work crowd, the bar attracts droves of shellfish lovers during its daily happy hour. Oysters start at just $2! While we're suckers for the OG raw oyster, you can get it with a splash of flavour. Options include truffle oyster drizzled with the restaurant's signature truffle soy sauce; mentai oyster, which features torched mentaiko mayo; and ikura oyster topped with salmon roe.
Tanuki Raw, multiple locations including Orchard Central and National Design Centre
10. Southbridge
The world is your oyster and that saying rings true at Southbridge. Overlooking the picturesque Singapore River, the rooftop bar offers undisrupted views of the vicinity. These oysters are served four ways in half a dozen: Umami (ponzu and yuzu sauce), Nikkei (bulldog sauce with togarashi), Mignonette (banana shallot and sherry vinegar), and Natural (fresh lemon and Tobasco). While you're there, try a couple of G&Ts from the extensive gin menu.
Southbridge, 80 Boat Quay, Singapore 049868
11. The Secret Mermaid
This is a hidden gem right in the heart of the CBD. A Japanese eatery by day turned bar and liquor store by night, The Secret Mermaid boasts over 45 spirits in its booze library. While you're on an alcoholic adventure of discovery, fuel up on freshly shucked oysters topped with the likes of ikura and mentaiko. Of course, purists can have them in all their natural glory sans extras.
The Secret Mermaid, #B1-08, Ocean Financial Centre, 10 Collyer Quay, Singapore 049315
12. The Oyster Bank
The moniker says it all, doesn't it? Look forward to a trove of oysters in flavours like serrano lime, classic mignonette, grapefruit ponzu, yuzu foam and ikura, and horseradish dill. Get the Oysters and a Pop set to try all the flavours in pairs alongside a bottle of wine. You can also have them baked with choices like mentaiko, basil cream, garlic miso and blue cheese.
The Oyster Bank, multiple locations including Funan and Great World
Got that craving? These oyster bars in Singapore are calling out for you!
[This article was originally published in 2015 and updated in 2023 by Ashe Liao.]