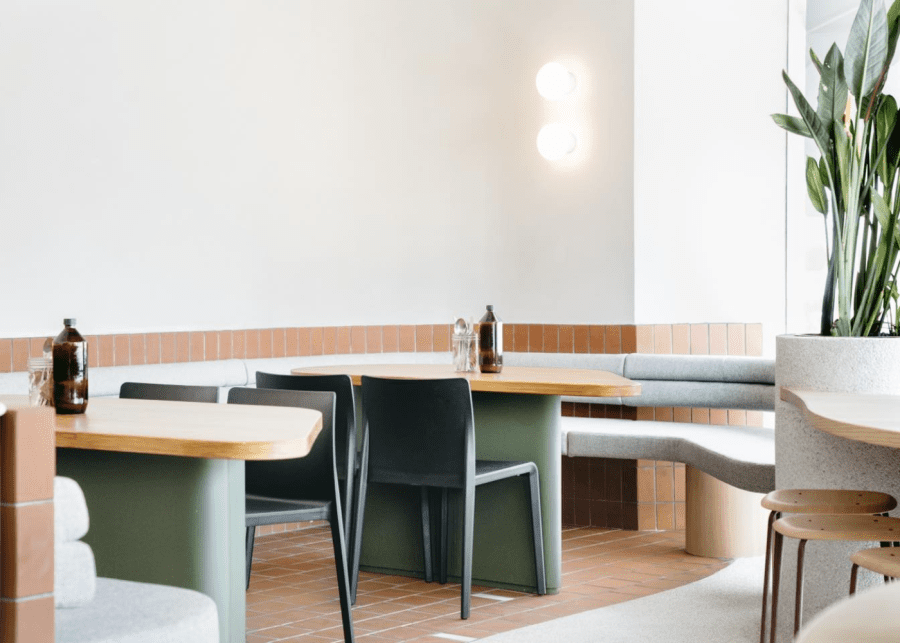 Photography: Lola's Cafe via Facebook
Whether you're looking for good food or a day of shopping and pampering, sort it all out in Holland Village.
We love Holland Village for its plethora of food, shopping and lifestyle hotspots. If you've ever taken a walk around this 'hood, the sheer number of bars, cafes and restaurants might just overwhelm you. That's why we've put together this comprehensive guide on all the best digs in the area. Read on for our top picks!
Where to eat and drink in Holland Village: Best food spots
1. Tai Cheong Bakery
There are lots of things to love about Hong Kong food, and Tai Cheong Bakery brings a little piece of Hong Kong to Singapore. As one of the few cha chaan tengs (Hong Kong-styled cafes) here, it's a hotspot for anyone missing the taste of Hong Kong. Get fresh buttery bolo buns with scrambled eggs or classic macaroni soup with shredded chicken. And you can't walk away without taking a few egg tarts home to share!
Tai Cheong Bakery, 31 Lor Liput, Singapore 277742
2. Lola's
For those of you familiar with this quaint little cafe in Kovan, we're happy to report that it's opened another outlet! Savour the same smells of freshly ground coffee, baked goods and buttery eggs at the Holland Village location. Brunch options include a crab cake benedict with creamy hollandaise and a shakshuka made with fresh tomatoes and poached eggs.
Lola's Cafe, 48 Lorong Mambong, Singapore 277699
3. La Nonna
For an authentic Italian fix, head to La Nonna and indulge in scrumptious lasagna, calzone and bruschetta dishes. Let its rustic charm transport you into Italy. Psst: don't leave without trying the traditional Venetian tiramisu. Buon appetito!
La Nonna, 26/26B Lorong Mambong, Singapore 277685
4. Sunday Folks
Celebrate the weekend with a bang at this ice cream parlour and enjoy its wonderful selection of delicious desserts. They're lovingly crafted using raw natural ingredients and homemade toppings. We'd recommend you order a waffle with your choice of soft serve. Our fave flavour? It's gotta be Earl Grey Lavender. Sunday Folks also brews seriously good coffee that'll pair perfectly with the treat of your choice.
Sunday Folks, #01-52, Chip Bee Gardens, 44 Jalan Merah Saga, Singapore 278116 
5. 2am:dessertbar
If you've got a late-night craving for something sweet, ditch the convenience store candy and treat yourself to avant-garde plates of quirky dessert creations. Chef Janice Wong takes the Singaporean dessert scene by storm with goodies like sticky date pudding, an amalgamation of toffee sauce, vanilla almond ice cream, vanilla custard and biscoff crumble.  Sweet tooths who are tired of their favourite course being an afterthought will find themselves at home here.
2am:dessertbar, 21A Lorong Liput, Singapore 277733
6. Craftsmen Specialty Coffee
Coffee and brunch connoisseurs, this is the cafe for you. Craftsmen offers a wide selection of specialty brews made with quality coffee beans. The delish brunches will have you coming back for more. Some of our faves include the croissant sandwiches, and the big breakfast for a plate loaded with breakfast goodies. With its industrial vibes and loads of natural lighting, this is the perfect IG-worthy spot to explore while you indulge in good grub.
Craftsmen Specialty Coffee, 275 Holland Avenue, Singapore 278993
7. Project Acai
The only thing harder than pronouncing acai correctly is finding restaurants specialising in healthy superfoods like the eponymous berry. Project Acai will whip up takeaway-friendly super bowls and smoothies that are big on taste and low on guilt.
Project Acai, 27 Lorong Liput, Singapore 277738
8. Crystal Jade La Mian Xiao Long Bao
Crystal Jade is a household name, and the consistent hordes of hungry patrons stand testament to the franchise's crowd-pleasing xiao long baos. Filled with hearty, rich broth and tender pork, Crystal Jade is the standard that xiao long baos are judged by.
Crystal Jade La Mian Xiao Long Bao, 241 Holland Avenue, Singapore 278976
9. The Daily Scoop
Nothing beats the heat like ice cream. The Daily Scoop takes pride in its sweet treats, which are made from local ingredients and seasonal fresh fruits. Choices like lychee martini, chocolate and Mao Shan Wang are must-haves! But heads up: its menu rotates regularly for fresh updates. If you want to go ahead and really treat yourself, have your ice cream with a fluffy waffle or a brownie. You won't regret it.
The Daily Scoop, #01-78, Chip Bee Gardens, 43 Jalan Merah Saga, Singapore 278115
10. Black Marble by Otto
Taking over the space of chef Otto Weibel's first restaurant, Otto's Deli Fresh, Black Marble spotlights tasty meats that are grilled to perfection. Get dry-aged ribeye or grilled lamb rack served with garlic confit, seasonal vegetables, and your choice of sauce. For the best of both worlds, get the chef's signature surf and turf. You get an array of seafood goodness with wagyu striploin, wagyu hanging tender, and a side of mashed potatoes.
Black Marble by Otto, #02-01, Raffles Holland V Mall, 118 Holland Avenue, Singapore 278997
11. Original Sin
One for the herbivores, Original Sin serves some of the best vegetarian Mediterranean plates in the city. You won't even miss the meat. Don't leave without trying the cheesy baked portobello mushroom with tomato basil sauce (aka the Magic Mushroom), or the principessa salad with roasted pumpkin, avocado, asparagus, mushroom and tomato tossed in a balsamic dressing.
Original Sin, #01-62, Chip Bee Gardens, 43 Jalan Merah Saga, Singapore 278115
12. Da Paolo Pizza Bar
Da Paolo's pizzas are thin, crispy and – best of all – loaded with heaps of your favourite toppings like parma ham, salami and burrata. White-based or tomato-based, we love 'em all. Feel like sharing with a friend? Opt for the "Tuesday 1-for-1 pizza" offer and indulge in the perfect blend of friendship and food.
Da Paolo Pizza Bar, #01-46, 44 Jalan Merah Saga, Singapore 278116
13. Sanpoutei Ramen
Fans of ramen swear by Sanpoutei's shoyu ramen and its rich umami-packed vegetable, chicken and pork bone broth. But if the spice seeker in you wants sizzling, not soothing, opt for the rendition with a lick of heat: Nikumori spicy rich miso ramen.
Sanpoutei Ramen, 253 Holland Avenue, Singapore 278982
14. Cha Cha Cha
Good Mexican food isn't easy to find, but we've sussed out Cha Cha Cha at Holland Village. This restaurant is over 30 years old, making it one of Singapore's oldest Mexican restaurants. It dishes out authentic grub like burritos, enchiladas and chimichangas. Oh, and for dessert, pick the churros – you won't regret it.
Cha Cha Cha, 32 Lorong Mambong, Singapore 277690
15. % Arabica Coffee
Joining the ranks of the cool cafes in Chip Bee Gardens is this popular Japanese coffee joint. The beans are sourced from all over the world in countries such as Ethiopia, Brazil and Japan, depending on the season. A popular choice? Spanish latte. Mixed with condensed milk, it balances out the acidity with a mellow sweetness.
% Arabica Coffee, #01-58, 44 Jalan Merah Saga, Singapore 278116
16. 363 Katong Laksa
Like the prata at Jalan Kayu, there are throngs of laksa specialists claiming to be the original Katong Laksa. Us, we're just here for good food. 363 Katong Laksa checks all the boxes with chewy rice noodles (short enough to eat with just a spoon), rich spicy broth, and a generous portion of prawns. It's also one of the cheapest places to grab lunch in the area.
363 Katong Laksa, #01-15, 1 Lorong Mambong, Singapore 277700
17. Haakon Superfoods
A firm believer of the Danish wellness philosophy hygge, this Nordic-inspired cafe is known for nosh that's good for the body and soul. We especially love the tasty acai offerings, but save that for dessert and dive right into the bowls first. From grain to poke and even specialty bowls featuring salmon and ponzu steak, you'll find something to satisfy your empty tummy.
Haakon Superfoods, #01-03, Raffles Holland V Mall, 118 Holland Avenue, Singapore 278997
18. Wala Wala
Bar bites and beer? If those are the things you look for when you're out for a good time, head to Wala Wala and let your hair down with good company and great vibes. Brews on tap include Heineken, Guinness, and Asahi, while the drinks menu features classic cocktails galore. When you're feeling hungry after all that booze, fill up with bar bites like chicken wings and pizzas.
Wala Wala, 31 Lorong Mambong, Singapore 277689
19. Baden
Who needs posh when you've got good German nosh like pork knuckle and currywurst? The former is tender on the inside, crispy on the outside – proof that pub grub doesn't always mean cheap and fried frozen food. Of course, like any self-respecting German pub, Baden offers a variety of classic German brews like Erdinger Weissbier.
Baden, 42 Lorong Mambong, Singapore 277698
20. The Pit Restaurant & Bar
The Pit Restaurant and Bar offers a range of Archipelago brews in a casual, laid-back space. You'll find yourself right at home in the midst of the chatter. Bring your friends and get your catchups done over ice cold beers and munch on bar bites. It's worth noting the chicken wings are delish if you're looking for something to pair with your beers.
The Pit Restaurant & Bar, 21 Lorong Liput, Singapore 277733
---
Things to do in Holland Village: Shop, explore and more
21. Om Shiva Yoga
Make full use of Chip Bee Garden's lush greenery to feel zen with Om Shiva Yoga. Hosting all kinds of yoga sessions like hatha, power, therapy, ashtanga to prenatal and postnatal for mums, there's a class for everyone here. So bring your most comfortable mat and immerse in a good session before you head for a hearty brunch!
Om Shiva Yoga, 45 Jalan Rumia, Singapore 278000
22.  Toy Station
Whether you're an avid toy collector or you're just picking up a gift for the kids, stop by this station. Bringing you an array of the latest toys and collectables, the shop is known for spotlighting the most unique products. Check out cool table top games as well as art and craft items. You'll be spoilt for choice in this fun-packed store!
Toy Station, Jelita Shopping Centre, 293 Holland Road, Singapore 278628
23. Cecilia Westberry
Got your pool party invite in the mail but don't have time to get rid of your body hair? Cecilia's the one to look for. Known for being the fastest waxing specialist in town, Cecilia Westberry Salon at Holland Village is great if you need a quick sprucing up in your nether regions. Bonus: she also provides home waxing services at your convenience, just make an appointment with her. Sweet! Quick, efficient and no-nonsense – you'll be ready to hit the beach in under 30 minutes.
Cecilia Westberry, #01-02, 6 Holland Close, Singapore 271006
24. Ling Wu
Mention the name Ling Wu and images of luxury handbags immediately come to mind. The label's collection of luxe bags and accessories is absolutely to die for. We're talking cool clutches, stunning shoulder bags and très chic hobo bags in butter-soft leather and exotic skins. Want understated luxury? This is it.
Ling Wu, #02-78, 43 Jalan Merah Saga, Singapore 278115
25. Strip
Strip has become a household name for waxing in the years since it opened. In addition to the standard bikini wax, Strip also does boyzillians, so there's no excuse for the men out there not to keep your hardware nice and neat.
Strip, 34C Lorong Mambong, Singapore 277691
26. Virgin Active
The team of personal trainers at Virgin Active are ace at guiding you through sets of workouts for a killer bod. Keen on lunchtime exercise? Opt for the quick 45-minute sessions, which range from pilates and yoga to spinning and strength training.
Virgin Active, #03-05, Raffles Holland V, 118 Holland Avenue, Singapore 278997
27. Chip Bee Gardens
After eating your heart out, walk it off by gallivanting around this charming 'hood. Chip Bee Gardens gives major throwback vibes with its old school bungalows. A stroll down Jalan Kelabu Asap to daydream about living in this little artsy community is the perfect way to cap off your weekend.
There you have it – all the reasons why we love Holland Village, from food to shopping. Check it out for yourself!