Photography: Parliament Bar via Instagram
Drink up, imbibers! Presenting 2023's best new bars in Singapore.
We're seeing a theme this month. The new bars in Singapore seem to have moved on from luxurious pads to dive bars/taverns. But don't you for a second think that the tipples are going to be an after thought. Presenting February's hottest new bars in Singapore!
Hot new bars in Singapore: February 2023
Parliament Bar
Nah, we're not getting political here. It's actually quite the opposite: raunchy, rowdy goodness. Follow the red neon light towards the second level, walk through the velvet curtains and be transported to an 80s American-style dive bar. Walls are plastered with a mishmash of retro posters, and the space is bathed in red hues and disco lights. And we can't forget the music. The bar aims to bridge genres and generations, so expect synth pop, classic rock, neo soul, and hip hop beats. Now that your senses have experienced an overdrive, it's time for drinks!
There's a fine mix of beers, classic cocktails, spirits, wines and mocktails, but we're keen to try the signatures. Go for Salty Salty ($19), with Peddlers salted plum gin, lemon and egg white, or Loose Lucy ($19) made of Widges gin mixed with Bruno Americano, Cinzano 1757 Rosso and rosemary.
Parliament Bar, #02-01, 18 Teck Lim Road, Singapore 088390
GRLA at Ghostwriter
The team behind Sago House, Low Tide, and Underdog Inn presents a cool new concept for budding F&B operators. Say hello to Ghostwriter, an incubation space for future restauranteurs to test-run their concepts. Located at the bustling Club Street, the space of 10 will play host to various concepts from three weeks to a month. The first pop-up of 2023 opens its doors to Guerilla (or GRLA for short). Founded by Son Pham (Sonny's Pizza fame) and June Baek (Mo Bar Singapore), the multi-concept space rolls out mod-Asian bar bites, a six-course tasting menu, and cocktails.
For the drinks, June charms us with a range to suit every palette. Campari lovers, go for O-mericano with omija-cooked Campari, cinzano bianco, perilla leaf and soda. If you're ordering the grilled ssam, get Ssook Sour, an Asian iteration with toasted sesame, ginger, Bombay gin, egg white and lemon. Finally, Do Pumpkin Ma Heart left us on a high with sweet pumpkin, ma, mango, Sailor Jerry spiced rum, and coconut milk served warm, with a dollop of cold cinnamon cream. Call it a boozy pumpkin spice latte if you will.
GRLA at Ghostwriter, until 29 January, 98 Club Street, Singapore 069467
Fizzy Dayz
Feel the buzz and the fizz at this new dive bar in Singapore. Located within the lively Purvis Street, Fizzy Dayz serves up high balls, boozy slushies, beers and cocktails from just $15 ($9.90 during happy hour). It's pretty much a steal in this climate. Hungry? Fuel up with bar bites like duck fat fries, jalapeño poppers, and spicy buffalo wings. For something heftier, there's waffle-pressed cheeseburger, seafood stew and the Fizzy big breakfast.
Fizzy Dayz, 24 Purvis Street, Singapore 188601
Underdog Inn
Fresh off his cool incubation space at Ghostwriter, founder Jay Gray of Sago House and Low Tide paves way for yet another fab bar in Singapore. Taking over Burger Bar New York's space at Amoy Street, Underdog is an elevated Irish tavern of sorts. For starters, the bar has 12 draught cocktails ($25 each) and six beers on rotation with a heavy focus on whiskey and agave.
The cocktails are categorised under fresh and bright or strong and slow, but don't let this generalisation fool you. Each cocktail is trickled with a variety of flavour palates. From the nutty and fizzy Pez Dispenser with peanut butter rum, tequila blanco, lemon myrtle and melon, to the herbaceous The Memory (whiskey, citrus, homemade mead, peppermint tea and green apples).
Underdog Inn, #01-03, 115 Amoy Street, Singapore 069935
Sir Fancy Pants
A quick look at the bar and one word comes to mind – kooky. Contrary to its moniker, these cocktails aren't your fancy-schmancy drinks. But we'll have the delicious experimentations any day. Tap into the curious mind of bartender (read: alchemist) Dee Atan as he takes you on a ride filled with whimsical cocktails creations. Best to plant yourself at the bar counter for the finest seats in the house. Your camera will love picks like Pretty Fancy and Smoke My Pants Up.
Sir Fancy Pants, 45A Craig Road Singapore 089683
Origin Bar's new menu
We love a good revamp, and Origin Bar doesn't disappoint. Riding into its fifth year, the classy hangout – inspired by the glamour of train travel – takes you through various eras with its new menu of 18 boozy concoctions. They're categorised into fresh and zesty, intense and heavy, round and complex, or light and clean – so you can easily go for the flavour profile of your choice. Get comfy in one of the plush chairs, 'cos you're in for an adventure.
Influenced by the 1800s, Chicle takes inspiration from chewing gum – and the fact that it was first developed in the late 1840s. Of course, you can't get gum in Singapore, but the cocktail offers you a taste with its mix of mint, raspberry and mezcal. It's even served with a little "gum" treat for you to chew on (don't worry, it's just fondant). For something unique, try the Star Was P*rn, a floral drink made of passion fruit and vanilla distilled vodka, blanc de blanc verjus cordial, and champagne. The 1960s-inspired drink is served with edible "lipstick" (aka white chocolate) and totally 'gram-worthy.
Want some cornflakes to go with your bev? Order Fancy Like A Sunday Morning for sips of darjeeling tea, milk wash, amaretto disaronno and Sailor Jerry rum. End your night with a bang, thanks to the atomic bomb-inspired Atomico, a potent, citrusy concoction of yuzu, wasabi, sake and Havana Club 2 años rum.
Origin Bar, Shangri-La Singapore, 22 Orange Grove Road, Singapore 258350
Tippling Club launches A Guide to Modern Drinking, Volume III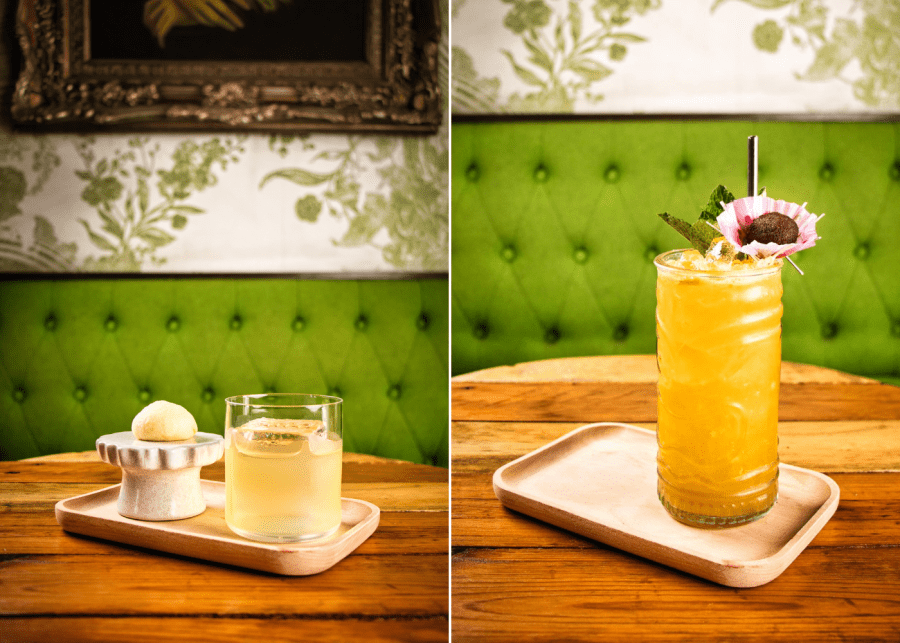 Tippling Club's A Guide to Modern Drinking Volume III is head bartender Arathorn Grey's love letter to music. Travel across six decades of music: swing jazz and blues from the 40s, rock n' roll 50s, 60s swing, innovative 70s, the 80s' MTV era and finally, the 90s era of pop, rap and alternative music. The menu has a whopping 31 drinks, each attached to a song brilliantly crafted with uncommon ingredients related to the song or artist and contemporary techniques.
We dive into the dreamy 40s with Moonlight ($26), a refreshing gin cocktail with floral notes from geranium, apple, elderflower and mangifera. It's served with a soft Japanese brioche with Chantilly cream. If you're looking for a low-ABV drink, King Creole ($22) is a fun take on a tropical cocktail with homemade banana liqueur, creole bitters and absinthe mist. Next, the 60s brings us the rich and earthy tiki-style Savoy Truffle ($26) with a blend of butternut squash, cognac, truffle-infused gin and rum. The magic continues in the indulgent chocolate truffle garnish.
Captain Fantastic and The Brown Dirt Cowboy ($26) was Arathorn's toughest to conceptualise and we can see why. Elton John's tribute has an earthy combination of butter-washed mezcal with sunflower seeds, Montenegro, bitters and wildflower honey, topped with a bubbly mix of dry ice and apple juice. Then give it up for the first hip hop artist to be featured on the menu – Get Up Everybody by Salt N Pepa ($26).
The dirty martini brings the flavour of – you guessed it – salt and pepper with vermouth and vodka, distilled and brined with green kampot peppercorns and garnished with caper berries. One of our favourites of the night, Funky Monks by Red Hot Chilli Peppers ($24) gave us just the zing we needed. We couldn't stop drinking the fiery blend of sugarcane-distilled rum with ginger, blackcurrant and soda. Spicy lovers, go ahead and take a bite of the Togarashi-coated lime wedge garnish.
Tippling Club, 38 Tanjong Pagar Road, Singapore 088461
New menu at 1864, Sofitel Singapore City Centre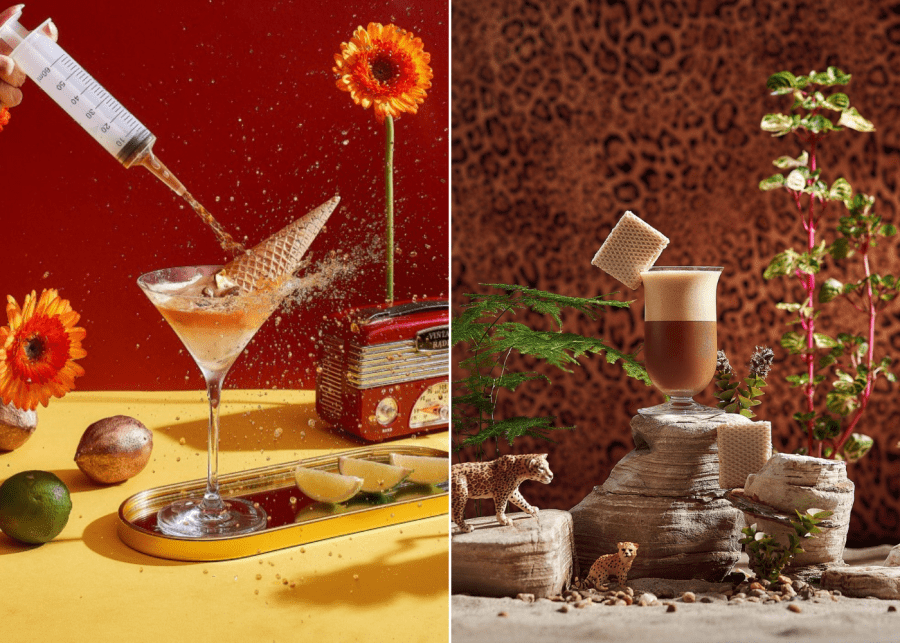 Fancy a trip along the maritime Silk Road? 1864 takes us on a journey across Italy, Kenya, India, Singapore and China with its new menu. All 15 cocktails pay tribute to the heritage and culture of the ports in centuries past. Kickstart your voyage in Italy with Inoculation, a bourbon-infused cocktail with cherry syrup and chocolate bitters. The martini glass is topped with a cone of sorbet. We turn to some boozy coffee in Kenya with Caffe Noir. The rich, velvety goodness is concocted with mezcal tequila, kahlúa, amarula, agave sugar and espresso. Tipsy Curry from India has just the spicy-tart kick you need thanks to Bacardi Carta Blanca, Malibu, lime juice, pineapple juice and curry powder.
A nod to Opium, one of the oldest recreational drugs in China, Yā Piàn is a gin-based drink with Mancino Rosso, Fernet-Branca and orange bitters. It's then infused with smoke at the table for an earthy, woody fragrance. We end the experience in Singapore with a classic Ondeh Ondeh. The brown sugar-infused vodka drink perfectly embodies the Peranakan dessert with Malibu, gula melaka, pandan syrup and coconut juice. It's even served in a gorgeous porcelain cup. All cocktails are priced at $25.
1864, 5th Floor, 9 Wallich Street, Sofitel Singapore City Centre, Singapore 078885
What are you waiting for? Go ahead and have a drink or three (we promise we won't tell) at these hot new bars in Singapore!
---
Hot new bars in Singapore: January 2023
Tenuta by Park90
Vinophiles, a swanky new wine bar at Intercontinental Singapore has arrived. Book a table at Tenuta by Park90, and explore the old and new world of over 400 Italian wine labels. Tenuta, which means 'estate' in Italian, pays tribute to its roots by offering only wines and spirits made in Italy. Sip on wine from popular regions such as Veneto, Tuscany and Piedmont, or explore lesser-known areas like Calabria or Molise. You don't have to be overwhelmed by the hefty range. Each month, the menu spotlights various themes and producers with prices from $16 per glass. Or simply reach out to the sommelier team led by Aleksandra Arzhakova for tips.
Pair your wines with a curated bites menu featuring dishes such as brushettine ($16) with tomato tartare, basil, taggiasche olive and parmigiano-reggiano cheese on toasty sourdough bread. Or order the carpaccio di ricciola alla mediterranea ($24) with amberjack carpaccio, liliput capers, cherry tomatoes and herb salad.
Tenuta by Park90, The Lobby Lounge, InterContinental Singapore, 80 Middle Road, Singapore 188966
Republic Bar Launches Volume Two Menu
After a successful cocktail programme, Republic Bar is back to satiate our palates with its volume two menu. The team amps up by centring it around pop culture themes of the 1960s. The result? Sixteen new cocktails based on what's revolutionised music, art, fashion and cinema. We're keen to try Glass in Bloom ($26), a sazerac-style cocktail with sous beetroot with cognac, and rye whiskey with feta cheese. The cocktail is topped with stained glass candy, paying tribute to glass-blowing maestro, Dale Chihuly. Meanwhile, Mondrian ($26) pays tribute to Yves Saint Laurent's iconic haute couture dress.
You can also savour vintage cocktails – how does Queen Elizabeth II's favourite drink sound? Have the queen's Dubonnet cocktail ($175) made with 1960s James Burrough Beefeater London dry gin and 1960s Dubonnet.
Republic Bar, Ritz-Carlton, Millenia Singapore, 7 Raffles Avenue, Singapore 039799
Try a salted plum gin by Peddlers Gin Company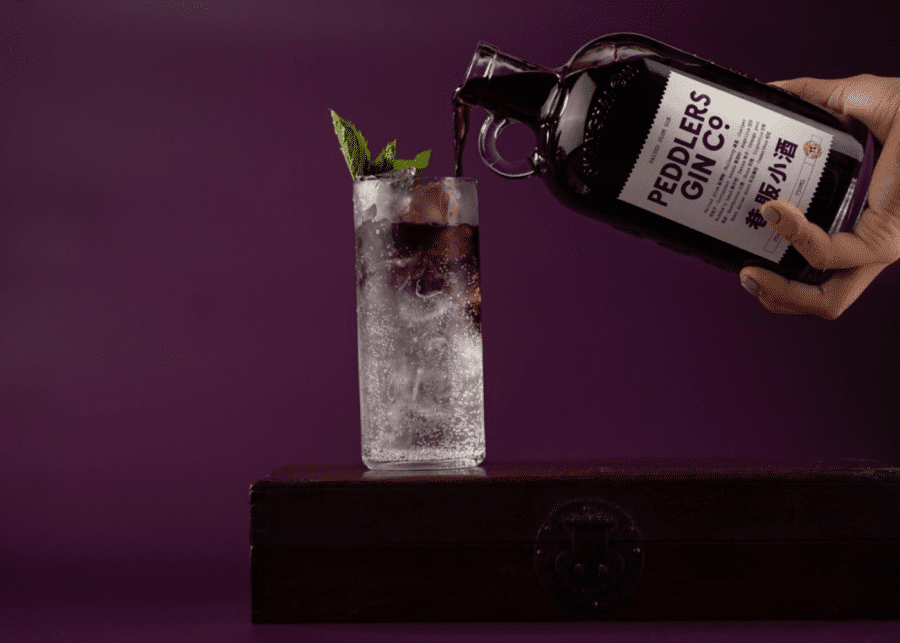 If you enjoy the salty and sugary sweet taste of sour plum, you'll love this boozy iteration by Shanghai Gin. The Peddlers Salted Plum Gin ($69) is infused with salted plum, mulberry, hawthorne and osmanthus for three months, then aged in Spanish Oloroso sherry casks for one month for a complex depth. Have it in highballs or in spritzes and even negronis.
Peddlers Salted Plum Gin, available online
Aperol Spritz pop-up at Osteria BBR
Toast to good times with Aperol and Campari at the new Aperol Spritz Garden. The pop-up takes over the alfresco area at the swanky Osteria BBR by Alain Ducasse. With a vertical garden of hanging oranges and fairy lights, orange seats, and a dedicated outdoor bar with an Aperol trolly, it's hard not to miss the bar! Go for the classic Aperol and Campari spritz or sip on low-ABV tipples like Bianco Highball and Cordino Bianco. You can also bring the experience home with easy-to-assemble cocktail packs (from $60).
Aperol Spritz Garden, Osteria BBR by Alain Ducasse, 1 Beach Road, Singapore 189673