Ramen-styled wanton mee from A Noodle Story
Singapore food doesn't get more unique than these extraordinary mod-Sin renditions; think laksa, prawn noodles, chilli crab, satay, bak kut teh and more with a twist!
Chicken rice, chilli crab and laksa have all been reigning national dishes for decades, but Singapore's culinary identity is really much more than that, what with the slew of great mod-Sin plates created by the city's top local chefs. Here are some extraordinary dishes that are shaking up the Singapore food scene, with twists on hawker recipes and fine dining fare you'd least expect.

A Noodle Story: Ramen-styled wanton mee
Ramen – Japanese in this case – is (still) big in Singapore, and this hot bowl, served with sous vide char siew, lava egg, potato-wrapped prawn and tossed in an special dressing, pretty much encapsulates our love for the springy Japanese strands and wanton mee, all in a single dish for just $5.50. No surprises why this humble hawker stall caught the attention of the Michelin Bib Gourmand awards this year!

A Noodle Story, #01-39 Amoy Street Food Centre, 7 Maxwell Road, Singapore 069111, p. 9027 6289. 
Xiao Ya Tou: Otak rolls, XYT char kway teow
Here's another modern Asian restaurant that turns local cuisine on its head. Highlights include the crispy, wrapped otak rolls filled with spicy fish paste, and the XYT ayam percik, where grilled spring chicken is cooked with coconut cream and lime. And as it turns out, if you bring your own eggs (no, really) , you even get $1 off their signature XYT char kway teow!
Xiao Ya Tou, 6 Duxton Hill, Singapore 089592, p. 6226 1965.
Redpan: Angus beef satay, char siew chilli fries
Design and food go hand-in-hand at DP Architects and The Food Explorer Group's new concept, Redpan. The restaurant's design focus is immediately apparent in its modern interior, designer furniture and its hand-drawn menu illustrations. But of course, what is style without substance? Must-try innovations that local foodies will dig into are the angus beef and natural pork satay ($14 for six sticks, three each), and the addictive char siew chilli fries ($7) served with sweet char siew ragout, sour cream and jalapeno salsa. Not to mention, a 'satay beehoon' pasta ($17) that's sweet, thick, nutty and served with fresh seafood, and a 'bak chor' foie gras pasta ($18) where tagliatelle is served with minced pork stew.
Redpan, #02-03/04 Marina Square, 6 Raffles Boulevard, Singapore 039594, p. 6255 5850.
Baba Chews: Beef shorts ribs rendang
Being part-Peranakan, this writer was naturally chuffed to hear about this Hot New Table that opened in the foodie-friendly 'hood of Katong back in June (check out the full review). And one stand-out Malay dish you should indulge in here is Chef Alvin Leong's version of beef rendang ($25) – using succulent, very fatty, melt-in-your-mouth beef short ribs, this is stewed in a rich, mildly-sweet gravy of coconut cream, spices, gula Melaka and turmeric leaf.
Baba Chews, #01-01 Katong Square, 86 East Coast Road, Singapore 428788, p. 6723 2025.
Po: Gourmet popiah
Run by Chef Willin Low (whose Wild Rocket has also made this list) at the restored Warehouse Hotel, this mod-Sin restaurant is especially known for its signature popiah. The homely classic comes with all that you'd expect from it's hawker origins, but the filling displays a savoury kick thanks to uncommon additions like pork, shrimp, bamboo shoots, and Holland peas. The luxe twist here also comes in the form of the optional addition of fresh, plump tigers prawns or handpicked flower crab. Read our Hot 50 Tables feature for the full scoop.
Po, The Warehouse Hotel, 320 Havelock Road, Singapore 169628. Open daily 12pm-2.30pm, 6pm-10pm.
The Naked Finn: Hae mee tng, fish soup
Another rule-breaking restaurant that bends the traditional recipe used for prawn noodles, The Naked Finn at Gillman Barracks takes pride in its hae mee tng ($25) – using a complex, piquant prawn stock derived from three varieties of prawns and shrimps. Its rich fish soup ($28) is another soupy delight that you won't stop slurping, prepared with wild-caught Indian threadfin, and flavoured with cherry tomatoes, deep-fried yam, Chinese cabbage and beancurd.
The Naked Finn, Gillman Barracks, 39 Malan Road, Singapore 109442, p. 6694 0807.
Ding Dong: Scallop kuih pie tee
With Ding Dong's reputation for whimsically toying with Southeast Asian recipes, you shouldn't be surprised to find it on this list! Its mod-Sin contribution? Its spruced up rendition of the Nyonya kuih pie tee pastry tart; coloured black using charred bamboo shoots, the crispy shell holds together Hokkaido scallop tartare with coconut, pickled ginger and sea grapes. Pop the whole thing into your mouth!
Ding Dong, #01-02, 115 Amoy Street, Singapore 069935, p. 6557 0189.
Loof: Bak chor mee grilled cheese
Two comfort foods clash and mash in this dream dish ($18) recently conceptualised by Artichoke's Bjorn Shen, who's revamped Loof's menu with his "dude-Sin" philosophy. One novel addition that's come out of this collaboration is this mod-Sin marvel, combining the American grilled cheese sandwich with minced pork and mushrooms commonly found in the local noodle dish, bak chor mee.
Loof, #03-07 Odeon Towers, 331 North Bridge Road, Singapore 188720, p. 6337 9416.
Beast & Butterflies: Mee tai mak laksa
While it's the hawker legends that usually come to mind when laksa is mentioned, this resto has entered the fray with its own slightly upmarket version of the dish. Enter Beast & Butterflies' Mee Tai Mak Laksa ($16) – a hefty hot stone bowl filled with a satisfying spicy, savoury broth. But this isn't your average laksa; the dish is chock-full of seafood like fresh, plump cherry stone clams, prawns and fishcake. And instead of the usual soggy tau pok, the dish is topped with crispy, brittle fried beancurd.
Beast & Butterflies, 90 Robertson Quay, Level 1, Singapore 238259. p. 6206 1888.
The Quarters: Satay burger
Hawker food staples get a facelift in this bold brainchild of Chef-Owner, Chung Deming. Start your meal with a spicy, coconut milk-infused laksa bomb for just $4.80 a pop (onsen egg in laksa broth and served with mantous), and top it off with a tender, nutty satay burger ($17) that uses spiced chicken thigh marinated for 24 hours. And what's Singaporean cuisine without durian, right? Try its Duriancanboleh (a durian crème brulee for $8.50) if you dare!
The Quarters, #01-09 Icon Village, 16 Enggor Street, Singapore 079717, p. 6834 4164.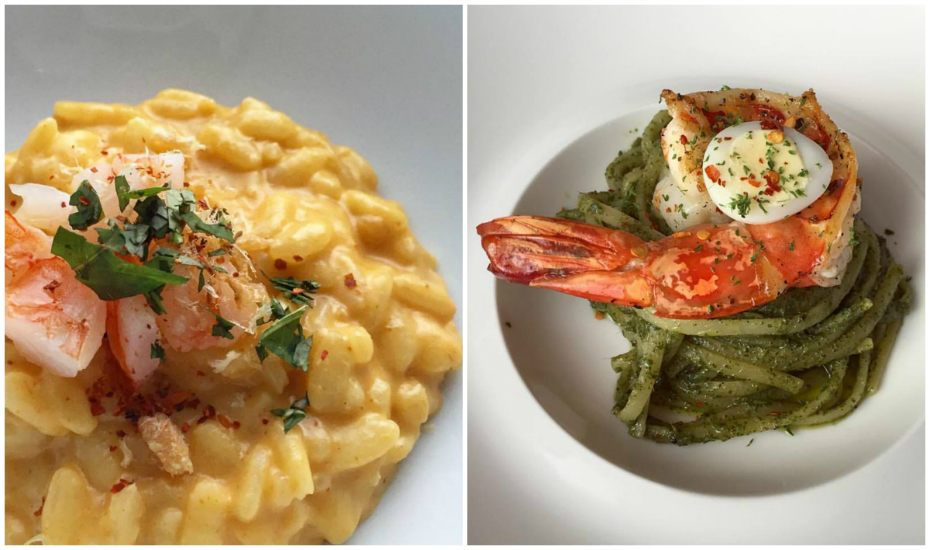 Wild Rocket: Mod-Sin omakase
One of the originators behind the mod-Sin movement, lawyer-turned-chef, Willin Low, has a stash of culinary surprises up his sleeve. Order his omakase menu – priced between $120 and $160 – and you might just get anything from laksa risotto and crab tortellini with mee siam broth, to topsy-turvy variations of Hokkien mee or char kway teow. Do come with an open mind!
Wild Rocket, 10A Upper Wilkie Road, Singapore 228119, p. 6339 9448.
Food Anatomy
The folks behind this new restaurant at Timbre+, Food Anatomy, aim to bring their design sensibilities into the kitchen with their colourful, artfully-crafted cuboid renditions of Asian and international dishes. On the menu, you'll find dishes like nasi lemak, beef rendang, teriyaki, chicken, and Thai pork basil formed into perfectly cut and colourfully-layered 7cm cubes.
Food Anatomy, Timbre+, 73A Ayer Rajah Crescent. Unit 31, Open Mon-Sat 11am-11pm. Closed on Sun.
Froth: Duck kut teh, sio bak aglio
Smack in the heart of the CBD is this fusion restaurant where corporate folks can adjourn to for an unorthodox post-work perk-up. Bak kut teh? Nah, how about duck kut teh ($10.90) that serves as 12-hour superior duck broth with melons and radishes. And while its chilli crab pasta ($26.90) using soft shell crab is one salivating treat, it's Froth's siobak aglio ($25.90) – siobak is the crispy, fatty pork belly commonly served with char siew rice – that's caught our attention and appetites.
Froth, Ascott Raffles Place, 2 Finlayson Green, Singapore 049247.
Restaurant Labyrinth: Chilli crab

Part of the restaurant's signature menu, this progressive hot-cold starter has a deep-fried soft shell crab sitting atop a "beach" of mantou crumbs and crab bisque foam, with a dollop of frozen and spicy chilli crab ice cream on the side.
Restaurant Labyrinth, 5 Neil Road, Singapore 088806, p. 6223 4098.
2am: dessert bar: Shades of Green (kaya and pandan dessert)
The household kaya, gula Melaka and pandan come together in this stunning plate of pandan gula Melaka ice cream, coconut foam, meringue, pistachio crumble, cake and pandan yoghurt by – who else – one of Asia's best pastry chefs, Janice Wong.

2am: dessert bar, 21a Lorong Liput, Holland Village, Singapore 277733, p. 6291 9727. 
Candlenut Kitchen: Buah keluak ice cream 
The earthy-tasting Peranakan black nut gets paired up with dark Valhrona chocolate, and served with salted caramel, chocolate crumble and crackling chilli specks – trust us, one spoonful is enough to start a riot in your mouth. 

Candlenut Kitchen, 17A Dempsey Road, Singapore 249676, p. 1800 304 2288. 
Violet Oon Singapore: Buah keluak noodle
Still can't get enough of the exotic Nyonya dish? You can expect a real treat from the doyenne of Singaporean Peranakan food herself, Violet Oon, who has ingeniously come up with a spaghetti dish ($24) mixed with nutty buah keluak paste, spices, minced prawns, chilli padi and coconut milk. And if that doesn't fill you up, keep the mod-Son momentum going with her firm and springy dry laska ($22).
Violet Oon Singapore, 881 Bukit Timah Road, Singapore 279893, p. 9781 3144.
Hopscotch: Mod-Sin cocktails
Here's a bonus for you: we've talked about mod-Sin food, so why not mod-Sin cocktails, right? Hopscotch is one city bar (read our full review) that whips up bespoke creations like the ondeh-ondeh shot – Hopscotch's boozy rendition of the sweet Malay kueh. It tastes exactly like liquid ondeh-ondeh, and comes served in a shot glass lined with coconut shavings, just like the real rice cake. Prefer another local sweet treat? Opt for the bright pink bandung shots instead.
Hopscotch, 28 Maxwell Road, #01-04 Red Dot Traffic Building, Singapore 069120. p. 6327 4820.