Shop Singapore goods from Naiise. Photography: courtesy of Naiise
Show some love for Singapore brands – whether you're looking for home furnishings, clothes or accessories, these amazing local stores have got you covered.
Here's a PSA in case you're all about the big shopping streets and malls: it's a big world out here of cool indie boutiques. This is your ticket to a dream shopping trip; hop off the mainstream train, and hit up these cool, local shops for quirky memorabilia, cool decor and kitschy wares curates from Southeast Asia.
Naiise
We've got major #localpride for Naiise. Now with six stores under its belt, the store is a culmination of Singapore's best makers and designers. Its huge array of products cater to everyone – the range includes everything from scents and skincare, to home decor and even local snacks.
Naiise, various locations.
BooksActually
Considered the pioneer of independent bookstores in Singapore, BooksActually also publishes books under Math Paper Press. You'll find a wide range of literature from classics to emerging local writers, but we especially enjoy its knick-knacks and stationery that are made in-house.
BooksActually, No. 9 Yong Siak Street, Tiong Bahru, Singapore 168645
Nana & Bird
Set up by two fashion-loving best friends, this humble little local shop tucked in a quiet corner of the hip Tiong Bahru estate offers charming little trinkets and edgy, up-to-date fashion pieces for the ladies. Look out for fab local labels Aijek and Yumumu.
Nana & Bird, 1M Yong Siak Street Street, Singapore 168641, p. 9792 9205
Supermama
A store, an artist residency studio, a gallery and a space for people to escape, this tranquil spot is inspired by local experiences and has a loyal local patronage. It stocks an array of wittily and handsomely designed souvenirs as well as being a cool space just to hang out.
Supermama, Beach Road and Jewel Changi Airport.
SUPERSPACE
There's no missing SUPERSPACE, the wild child boutique of Orchard Gateway mall. Ranging from minimalistic to outré, find an eclectic mix of ladies' and men's apparel and fashion accessories from local cult labels like RÊVASSEUR, Yesah, and evenodd. Definitely not one for shrinking violets.
SUPERSPACE, Orchard Gateway,#02-18, 277 Orchard Road, Singapore 238858
KEEPERS: Singapore Designer Collective
Where do 50 of Singapore's most talented designers and artisans come together? At KEEPERS, that's where. Showcasing a curated mix of fashion and home accessories from the likes of Carrie K. and Dzojchen – it also hosts regular hands-on workshops if you fancy getting crafty.
KEEPERS: Singapore Designer Collective, National Design Centre, #02-03, 111 Middle Road, Singapore 188969
The Farm Store
If you love your souvenirs with a sense of humour, The Farm Store will definitely charm your socks off. Brimming with all things fun, quirky, and unique, the multi-label online store stocks delightful curios with a distinctly local twist!
The Farm Store, National Design Centre, #01-01, 111 Middle Rd, Singapore 188969
When I was Four
That's how you'd feel when you step into this hipster store – like a four-year-old. Everything here has a local slant to it, from the familiar jotter book-designed pouches and the curry puff cushion covers to the leopard balm socks (a cheeky spoof of the iconic Tiger Balm brand) and the Singaporean motif-inspired tees.
When I was Four, #02-18, 261 Waterloo Street, Singapore 180261
In Good Company
This local fashion label forgoes the typical seasonal dictates of fashion, and focuses instead on creating capsule collections of wardrobe essentials. And judging by In Good Company's aesthetic of sophisticated and classic silhouettes – which are tailored to Singapore's weather – no man, woman or child would be able to resist snagging an IGC creation, or two, for themselves.
In Good Company, various locations.
Actually
A shopaholic's dream come true; this cutting-edge, multi-label concept store carries an eclectic mix of premium streetwear brands such as Freitag, Fjallraven Kanken and Lazy Oaf. With a playful shop interior (you'll find the place littered with toys), the store constantly switches up and rotates the items on the shelf, so you'll always find something new to covet.
Actually, #03-18, Orchardgateway, 277 Orchard Road, Singapore 238858
Cat Socrates
There's so much to love about Cat Socrates, and no we're not just talking about its feline inhabitants. In between its cat-themed stationery, books and bags, you'll find everything from succulents and whimsical tin robots, to analogue cameras and handmade journals. It's truly a treasure to behold, so take your time to sift through the shelves of kitschy treasures. We're particularly fond of the Joo Chiat branch, with its vintage tricycle out front.
Cat Socrates, Tiong Bahru and Joo Chiat.
Design Orchard
A one-stop-shop for local designer fashion and home decor, this sleek store on Orchard Road has a good mix of emerging and established brands such as The Paper Bunny, Ginlee, Anothersole and Matter. It is also home to an incubation centre for design start-ups and a rooftop amphitheatre that's open to the public.
Design Orchard, 250 Orchard Rd, Singapore 238905
The General Company
Find a well-curated selection of artisanal wares – accessories, jewellery, totes and backpacks, even tech accessories and the cutest cushion covers – made by young, emerging crafters and makers at this quaint store above coffee house and roaster Chye Seng Huat Hardware.
The General Company, 115 King George's Ave, Singapore 208561
Gallery & Co.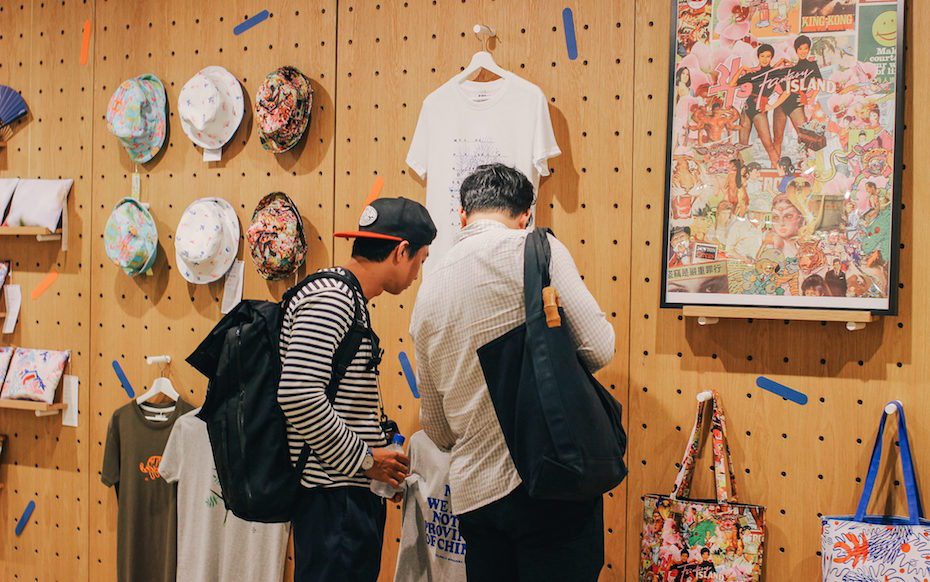 Unlike your typical museum shop, this hip retail-art-F&B space curates Singaporean and Southeast Asian products – think cool prints, artisanal crafts, homewares and design collectibles. Spanning the entire frontage of the City Hall Wing on the ground floor, the space is often themed after its blockbuster exhibitions, like the Yayoi Kusama exhibit.
Gallery & Co., #01-05 National Gallery Singapore, Singapore 178957
Wandeewoo
Relatively new to the scene is Wandewoo: a new bricks-and-mortar store in Marina Square offering beautiful items by talented artisans around the world, including decorative sculptures made from fibreglass resin, handmade ceramics and eco-friendly diffusers.
Wandeewoo, 6 Raffles Boulevard, #02-42, Marina Square, Singapore 039594