Photography: Atout via Facebook
Looking for the perfect French restaurant in Singapore? Here's our guide to the best tables for Francophiles.
For a long time, French has been the cuisine of fine dining in Singapore. It still is, but thankfully for our wallets, there are now more French restaurants (and bistros) in Singapore serving pates, oyster mignonettes, foie gras, croque monsieurs and other classics that are kind on your wallet. Ahead, we've put together a big list of places to indulge in glorious Gallic fare – from fancy restos for a special occasion to casual and breezy spots.
Best French restaurants in Singapore
Odette
Housed at the prestigious National Gallery, the three Michelin-starred Odette is a dreamy fine dining restaurant famed for its innovative French cuisine. Each dish tells a story, through well thought out seasonal ingredients and artful presentation. Oh, and you can't look past the gorgeous interior, which is clad in alluring pastels – a fine job by Singaporean artist Dawn Ng.
Odette, #01-04, National Gallery, 1 St Andrew's Road, Singapore 178957
Bistro du Vin
French onion soup, duck confit and coq au vin are just some of the rustic French offerings you'll find at Bistro du Vin. Part of the Les Amis Group, this casual eatery offers comforting fare and a homely dining experience that promises an authentic taste of France, all at a reasonable price to boot. Its popularity with the French population in Singapore is testimony enough for us!
Bistro du Vin, #01-14, Shaw Centre, 1 Scotts Road, Singapore 228208
Meta
Another Michelin-starred French restaurant in Singapore, Meta takes French classics and gives them an Asian (mostly Korean) spin, using fresh and seasonal ingredients in its creations. Service is warm, and diners can choose from an ever-changing menu of four courses at lunch or seven courses at dinner. Once you're all settled in, sit back, relax and enjoy the culinary ride.
Meta, 1 Keong Saik Road, Singapore 089109
L'Entrecote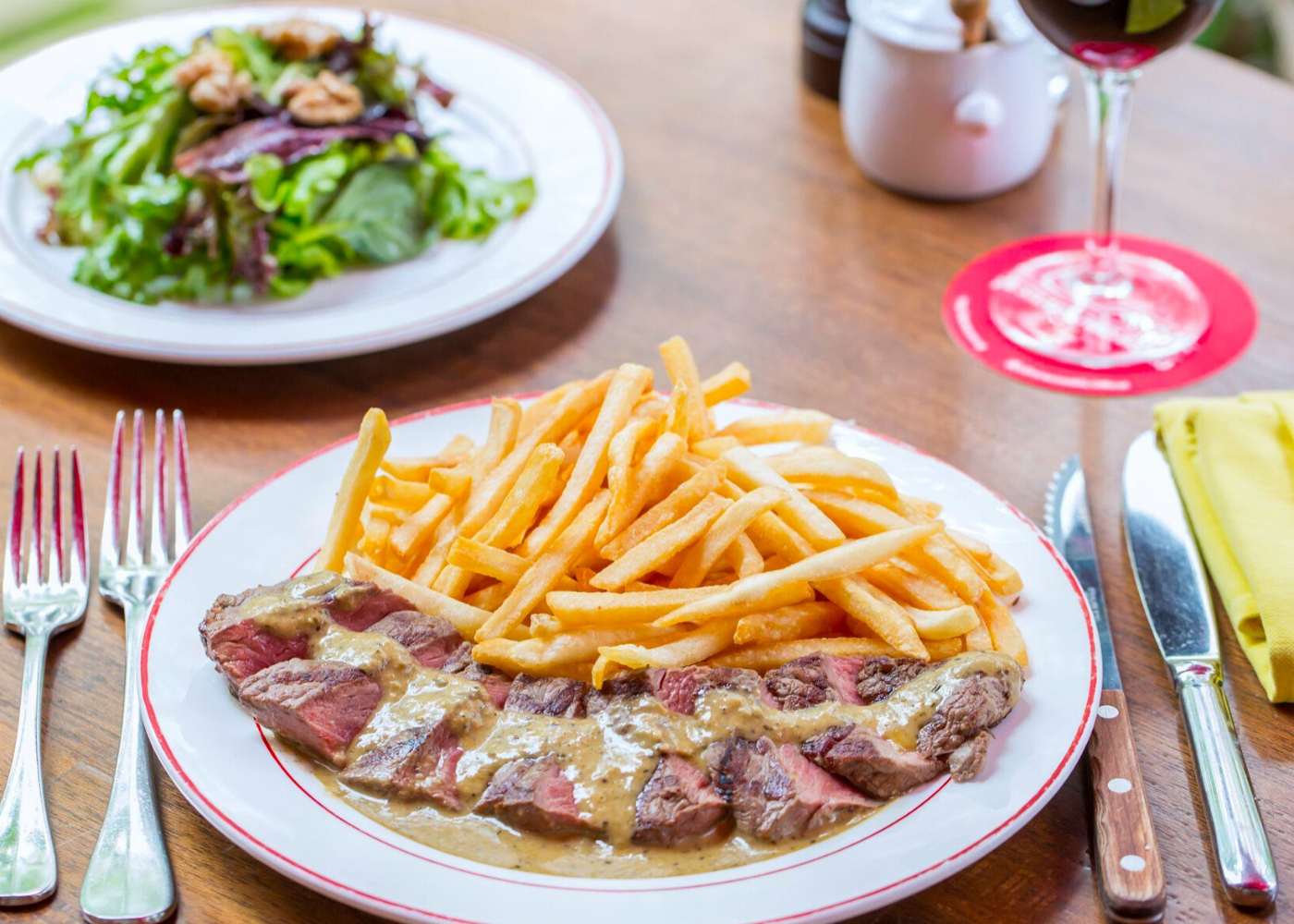 This Parisian Bistro on Duxton Hill has only one main course on its menu, and it's damn good (pardon our French). Its Plat du Jour is the signature steak frites, smothered in a secret sauce and paired with deliciously seasoned fries and fresh salad. The decadent coulant caramel au beurre salé, a salted caramel lava cake, is great for afters.
L'Entrecote, multiple locations including Customs House and Duxton Hill.
Gunther's Modern French Cuisine
Gunther's is more than a restaurant to chef Gunther Hubrechsen. It's a second home for him to devise and visualise his culinary creations. The restaurant's luxurious art nouveau-styled interior incorporates panel art pieces and features natural, flowing patterns. But more importantly, the meticulously designed dining room sets the stage for chef Gunther's unique creations like côte de bœuf flambéed in au Cognac and roasted suckling pig with hibiscus sauce. If you're up for unconventional French fare, try the warm angel hair pasta with sakura prawns.
Gunther's Modern French Cuisine, #01-03, 36 Purvis Street, Singapore 188613
Atout
Taking over the space of the now-defunct Au Petit Salut, French classics are served at Atout. Plus, the locale – the sequestered enclave of Dempsey – and the breezy alfresco area make this a perfect spot for date nights. While soaking in the beautiful starry skies, look forward to an array of cheeses and dishes like roasted deboned French quail, beef tartare and sautéed beef tenderloin with mushroom cream sauce.
Atout, 40C Harding Road, Singapore 249548
Gaston
A cosy bistro and wine bar located in the buzzy Keong Saik 'hood, Gastro brings you on a culinary journey through Burgundy with French comfort food complimented by quality wines from France and beyond. Start with escargots in garlic and parsley butter or oeufs en meurette (poached eggs in red wine sauce) before moving on to hearty plates like beouf bourguignon (beef stew) and pan seared Kurobuta pork tenderloin.
Gaston, 25 Keong Saik Road, Singapore 089132
Brasserie Les Saveurs
Enjoy a contemporary French dining experience anchored by Parisian class at Brasserie Les Saveurs. While you take in the hand-cut glass chandeliers and floor to ceiling windows, tuck into a curated selection of epicurean delights ranging from brunchy bites to afternoon tea nibbles. For savoury meals, relish the joue de bœuf braisée (braised beef cheeks) or savour the classic steak frites.
Brasserie Les Saveurs, The St Regis Singapore, 29 Tanglin Road, Singapore 247911
Saint Pierre
This two Michelin-starred restaurant knows a thing or two about fine dining, with its modern French fare and Asian-inspired elements. Taking up an elegant space at One Fullerton, with spectacular views of the Marina Bay waterfront, Saint Pierre offers a beautiful dining experience combining quality ingredients and amazing flavours.
Saint Pierre, #02-02B, One Fullerton, 1 Fullerton Road, Singapore 049213
Les Amis
A three Michelin-starred concept that indulges all visitors in a discerning fine dining experience, Les Amis is polished in that classic French way. With its accolades, you can bet the prices here are on the higher end, but for dishes like cold angel hair pasta with kombu, caviar and black truffle, beef tenderloin with béarnaise sauce and oven-roasted challans duck breast, it's well worth the splurge.
Les Amis, #01-16, Shaw Centre, 1 Scotts Road, Singapore 228208
Saveur
Looking for a French restaurant in Singapore that doesn't burn a hole in your wallet? Challenge accepted! Enter Saveur: This no-frills restaurant serves hearty French standards like duck confit, lobster bisque and pan-fried foie gras. Best of all, most dishes on the menu are well below $30.
Saveur, #01-04, 5 Purvis Street, Singapore 188584​
Les Bouchons
Go back to basics at Les Bouchons, which proudly claims to be "The King of Steak and Fries". The beef cuts are mainly priced below $40, and they come with free-flow (yes, really!) duck fat fries. The latter's certainly not for the faint-hearted (or health-conscious).
Les Bouchons, multiple locations including Ann Siang Road and Robertson Quay.
Taratata Brasserie
For a dose of authentic French fare – and some of the most value-for-money set lunches in Keong Saik – Taratata Brasserie is your best bet. Chef-owner Bertrand Raguin works hard at dishing out classic French dishes complemented with top-class hospitality. Find your Gallic favourites like pan-fried duck foie gras with dark cherries, beef bourguignon and escargots baked in garlic butter on the menu.
Taratata Brasserie, 35A Keong Saik Road, Singapore 089142
Brasserie Gavroche
Tucked away in an unassuming little shophouse is this homely Parisian bistro. French fare is made using recipes passed down to chef Frédéric Colin from his grandfather Henri. Fish quenelles, burgundy snails with parsley and garlic butter, and traditional French onion soup are just some of the many authentic dishes you can look forward to on your visit here.
Brasserie Gavroche, 66 Tras Street, Singapore 079005
Fleur de Sel
Fleur De Sel offers a laidback setting for diners to enjoy refined French dishes. Among its set lunches and dinners, you will see familiar favourites making an appearance from time to time. Think creamy, melt-in-your-mouth seared duck liver and heavenly Boston lobster bisque. If you're lucky, the chef is known to make his rounds across the restaurant to chat with diners, adding to the homely atmosphere.
Fleur de Sel, #01-01, 64 Tras Street, Singapore 079003
Rhubarb Le Restaurant
Gallic cuisine runs the gamut of classy to cosy, and this restaurant is no doubt the latter. The one Michelin-starred spot houses just seven tables where diners can watch the chef in action as he personally prepares his contemporary French dishes with finesse. Go for the four-course omakase menu and you will see what we're talking about.
Rhubarb Le Restaurant, 3 Duxton Hill, Singapore 089589