Want to join the green team? Get inspired by these Singapore eco-warriors who are leading the charge towards a more sustainable future.
Here at Honeycombers, we're inspired by many people, such as women making their mark on our sunny island and icons of Singapore. Another group that we look up to is Singapore's sustainable superheroes. They're walking the talk when it comes to living sustainably, and honestly? We're motivated to go green too! Here are the eco-warriors you should follow.
Eco-warriors in Singapore that we adore
1. Jasmine Tuan
Jasmine Tuan's story is one all of us can relate to. She used to own a room full of clothes but always thought she had nothing to wear. Sound familiar? After several unfortunate events and a stint in Malaysia, Jasmine returned to Singapore and co-founded Cloop, a circular fashion enterprise. Cloop aims to reduce fashion waste by collecting pre-loved items and circulating them within the community.
When asked if she's made an impact in Singapore, Jasmine remains modest. "To be honest, I don't think I have made an impact except by radically changing my wasteful lifestyle habits and inspiring others to rethink theirs," she says. And that's why we stan this eco-warrior.
2. Alya Annabi
For the longest time, Alya Annabi has been making small sustainable changes in her life while also sharing them with others. That eventually led her to start GreenPush, an initiative that inspires, educates, and engages businesses to join the sustainable movement. "I'm committed to the idea that small changes can make a big impact, especially when people are brought together," she tells us. So if you ever need that push towards going green, you know who to reach out to.
3. Bjorn Low
Edible Garden City started because Bjorn Low had always dreamed of combining his farming knowledge with business training. Today, the social enterprise has contributed to discussions about urban farming and raised awareness about Singapore's food issues among the younger generation.
As the executive director, Bjorn has been busy giving public talks and workshops to folks in countries such as South Korea, Italy, the UK, and Australia. He's also been researching food sovereignty and what that means to Singapore. We're very excited to learn more about that and how it can help our island live sustainably.
4. Stephanie Dickson
Stephanie Dickson is a force to be reckoned with. There, we said it. This eco-warrior's journey started after she realised the fashion industry is the most polluting and socially corrupt in the world. This led her to launch Green Is The New Black, a lifestyle platform that aims to make conscious living mainstream, accessible, and sexy.
We asked Steph about her top tip for saving the planet, and here's what she recommended: "If you're looking for quick wins, think about the decision you make on your plate. Adopting more of a flexitarian diet (more plants, less meat) is a great place to start."
5. Melissa Lam
Plastic straws? We don't know them anymore. And that's because of Melissa Lam, the founder of Bamboo Straw Girl. She's a strong green advocate who has engaged schools, organisations, and community groups in eco-conversations about single-use plastics. To date, the social enterprise has replaced over three million plastic items with its humble bamboo straw. That's an amazing feat, if you ask us. Through this venture, Melissa wants people to look beyond straws when they're considering ditching plastic.
6. Travin Singh
"I grew up with the mentality of not wasting food. If we didn't finish the food, [my mum would] incorporate it into something new the next day," Travin Singh shares with us. And that's what inspired him to establish Crust Group. The idea is to use excess food like bread and fruit peels and turn it into artisanal beers and non-alcoholic beverages.
To date, the group has helped to reduce close to 1,500kg of food waste and loss. Plus, it has reduced more than 2,100kg of carbon dioxide emissions. Colour us impressed!
7. Susannah Jaffer
Sustainable fashion is making waves in Singapore, and one person we have to thank is Susannah Jaffer. She made the leap from fashion editor to the founder of Zerrin, a curated eco-fashion platform that showcases fashion brands doing business sustainably. Psst: did you know that Zerrin means "golden" or "the golden one" in Turkish? She chose that name specifically because she wanted something that wasn't too "eco-sounding".
As for her advice on what we can all do to protect our planet, she tells us, "As citizens there are steps we can take that are under our control. From being more mindful of what you choose to buy and the companies you choose to support, to raising more awareness of the issues that matter to you within your own community." Susannah hopes Zerrin can encourage more women to shop, live, and connect more consciously.
8. Laure Guilbaud
The idea for Teorra came about when Laure Guilbaud realised she struggled with ensuring that all parts of her other business supply chain were green. Today, the global B2B platform empowers companies to source sustainable products from verified suppliers. Teorra aims to make sustainability accessible, transparent, and measurable for businesses through its marketplace.
According to Laure, one easy thing that everyone can do to become an eco-warrior is to spice up meals with plant-based options. "Meat production is responsible for a significant amount of greenhouse gas emissions and deforestation. Even if you can't commit to a vegan diet, go meat-free one day a week."
9. Paul Foster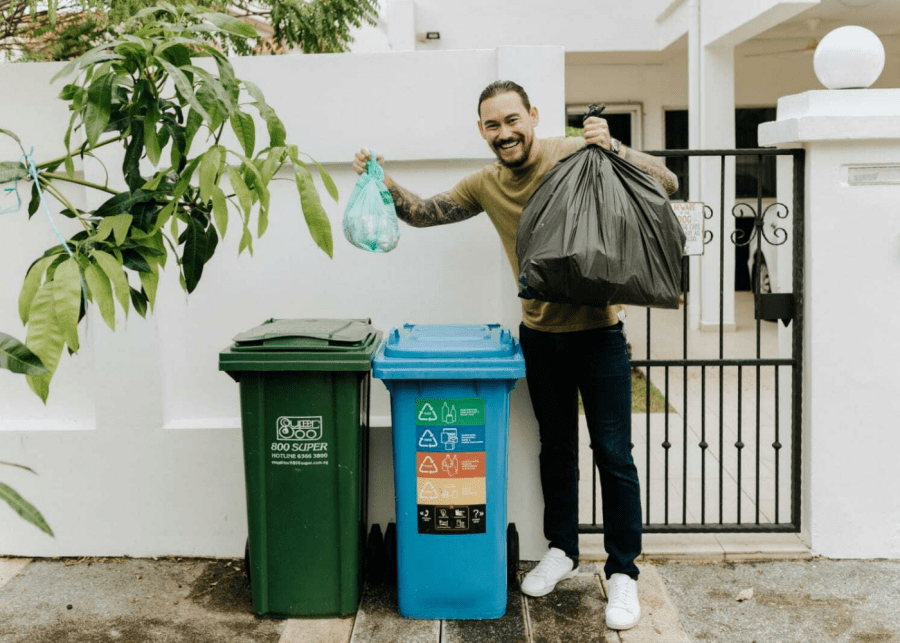 This eco-warrior needs no introduction! While Paul Foster may be better known for his acting, hosting, and modelling credentials in Singapore, he's also very vocal about environmental issues on social media. Plus, the multi-hyphenate has gone one step further by setting up various personal initiatives to help the environment. Paul's using his social platforms for good, and we're definitely here for it.
Are you considering adopting sustainable habits? Paul suggests starting at home. "Step by step, with little improvements, you'll realise you're living in a better way for yourself and the planet," he tells us.
10. Raye Padit
Here's another eco-icon who's continuing to make a mark in the sustainability sphere through fashion. Raye Padit started The Fashion Pulpit as an easy alternative for those who want to be part of the sustainable fashion movement. Since its inception, the clothes swapping boutique has attracted a strong following motivated to create positive change. Who knew swapping could be serious business in Singapore?
As someone who's passionate about blending style with an eco-friendly lifestyle, Raye says, "We aim to provide convenience and flexibility – however and whenever you want – to create a purpose-driven economy around sustainable fashion and conscious consumerism. The Fashion Pulpit is also the very first of its kind in Singapore."
11. Qiyun Woo
Complex climate science, but make it visual and easy to understand? No problem – that's Qiyun Woo's forte. The climate activist, who has diverse experience in sustainability, breaks down climate issues into creative illustrations on The Weird and Wild. Through the platform, she takes followers on a learning journey to understand environmental issues affecting Singapore and the world. Qiyun believes that once people care more about the environment, others will become sensitive to climate change.
12. Daniel Tay
What's a "freegan"? They're folks who actively seek to reduce waste by collecting and reusing discarded items. Freeganism is thriving in Singapore, and it's all thanks to Daniel Tay. He co-founded the Freegan in Singapore Facebook group in 2017, which has since grown to over 11,000 members.
While many may perceive freegans as scavengers, Daniel begs to differ. He's managed to find plenty of stuff in the dumpsters that can still be consumed or used. Plus, his expenditure has gone down significantly since becoming a freegan. We all can learn a thing or two from Daniel and the freegans, don't you think?
Kudos to these eco-warriors who are making Singapore (and the world) a better place!