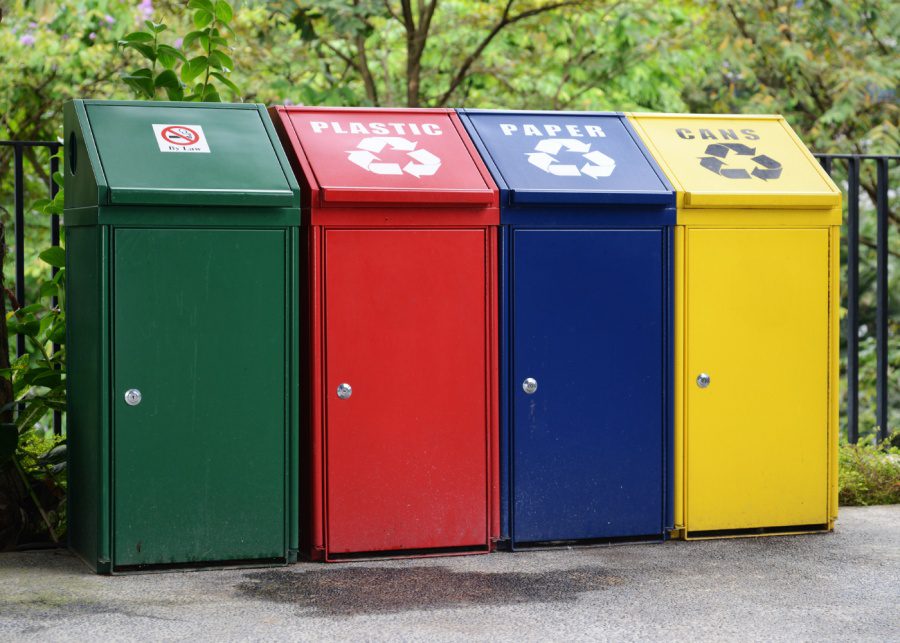 Always wanted to recycle but don't know where to start? Reading this is step one! Just bookmark our helpful guide for recycling in Singapore.
Yup, the dream is to go zero-waste one day… soon. Sounds impossible and overwhelming? It isn't and you shouldn't be. It all boils down to each of us doing our bit. Like recycling rubbish, quitting single-use plastic, reducing food wastage and making small but impactful changes every day. That includes carrying our own damn reusable water bottle and shopping bag. So you want to recycle at home? We're psyched you're taking the initiative. *fist bump*
Everything you need to know about recycling in Singapore
Singapore's National Recycling Programme ensures every public housing complex has a recycling bin in its vicinity. The large blue ones are for recycling, and the big green ones are for regular household garbage. So take a walk around the block or ask around for the big blue bin – we bet it's nearby. You can also collect your own blue recycling box and start recycling at home.
Apart from everyday waste such as plastics that are marked with the recyclable symbol, glass and paper, appliances, e-waste and batteries need to be dealt with responsibly, too. Don't worry, we'll let you in on how to handle these.
Let's be clear about the difference between recycling waste and giving a second life to goods you no longer need. Got unwanted outfits, furniture and stuff in good condition? Do the sustainable thing and give them away or donate to charity. Trust us, it's better to pass things on to someone in need than treat them as waste. Now, back to our recycling mission…
8 ways to recycle in Singapore
1. Purge your house of plastics
Shampoo bottles, milk jugs, ready-to-cook spices, pre-packed produce… it's hard not to notice all the plastic we bring home. Think you can toss 'em into the recycling bin? Nope <insert dramatic plot twist music>. These disposable plates and straws, plastic film food packets, and styrofoam takeaway containers can't be recycled.
But, detergent bottles, plastic bags, body wash bottles and the like are blue bin-worthy if they're marked with the famous triangle symbol that indicates they're recyclable plastic. So take a second to check first! Be sure to give them a nice rinse before the toss. Perfectly good recyclable things are often discarded if they're contaminated with food and liquids. If you wear contact lenses, you can collect the plastic blisters and pass them to Two of A Kind.
Now that you know how much plastic you accumulate, it might be a good time to switch to Earth-friendly alternatives. The eco-movement of recycling in Singapore has us mighty excited – zero-waste grocery stores like Unpackt encourage you to bring your own containers. Plus, ethical concept stores like The Social Space offer refill stations for cleaning products.
2. Get rid of glass bottles and cans
Almost all kinds of glass bottles and metal can be saved up and left in the blue recycling bin. Just make sure to give 'em a good wash. From kaya jam jars to tuna tins, they're all recyclable. Ceramics (like teacups and mugs), mirrors and windows should be disposed of in regular green bins in your complex. And light bulbs? They're e-waste. They don't belong in the blue recycling bins. Oh, and if your beauty regime is turning wastefully ugly, sort it out with plastic-free beauty swaps.
3. What to do with appliances, e-waste and batteries
Confession: we love our tech. If you're anything like us, you too might have a drawer filled with old broken gizmos and other e-waste. We're talking about first-gen iPod relics, dusty PS2 consoles, old rechargeable batteries and frayed cables. Want to contribute to the tech side of recycling in Singapore? Drop off your broken gadgets and phones with StarHub's Renew (Recycling Nation's Electronic Waste) Programme. Or bring small household appliances to City Square Mall's E-Waste Recycling Programme. You can also leave used light bulbs at the lighting department of any Ikea store.
What about batteries? Singapore doesn't have a facility to recycle alkaline batteries. But in 1992, restrictions were imposed on batteries that exceeded the stipulated mercury content. So those bought in Singapore can be discarded with regular household waste to be treated at the waste-to-energy incineration plants. Keep the National Environment Agency's map handy when you're planning to recycle e-waste.
4. Toss that paper
Magazines, flyers, old study books, cereal cartons, cardboard boxes and toilet paper rolls – save these for a bi-weekly trip to the blue bin in your block. But like plastic, some paper waste may not belong there. Tissue paper, paper towels (swap them for washable cloths) and disposable plates and cups can go into the regular green bin.
5. Heard of the rag-and-bone man?
Ask around for the karang guni aka the rag-and-bone guys. If you hear their distinctive horns on the street, flag them down. They'll come over to buy paper, cans, e-waste and other junk from your house. These will be resold to waste recycling companies or secondhand dealers.
6. Give your furniture and home goods a second life
Got furniture and large appliances in good condition but no longer need 'em? Don't leave them in the void deck or designated disposal area. That means you're sending them straight to the incinerator.
The first step? Give away goods. Chances are, someone who needs it will snap it up. Facebook group for clean living, Journey to Zero Waste Life in Singapore, has pulled together a comprehensive list to give away (and buy) pre-loved things. For larger, more cumbersome stuff, enlist waste removal and recycling services like Junk to Clear.
7. Chuck those clothes
Holding on to a closet full of outfits you never wear? All aboard the minimalist life! Or just spring clean (trust us, you'll feel better). You can bag and drop 'em into the textile recycling bin. Find them at H&M stores, or Green Square has collection points scattered across the island.
Otherwise, go the sustainable way if they're gently used. Donate to charities like The Salvation Army or New2U Thrift Store. Alternatively, post on Carousell or pay-it-forward on Facebook groups like Give Away Singapore.
8. Recycle your jewellery
Did you know that you can recycle jewellery? Yup, you heard right. ThreeOneTwoFive is a homegrown jewellery brand that runs a recycling programme. All you have to do is drop off your used trinkets at its store (remember to clean them first!) or mail them. In return, you'll get a 10% discount code. Win-win!
All together now, let's embark on this journey of recycling in Singapore together.