Photography: Lulu's Lounge via Facebook
Get spooky with these Halloween-themed events that will promise you a bone-chilling night.
TBH Halloween in the Lion City is not about going door to door for cavity-causing candies, it's about scary blowouts and hair-raising revelries. This October, put on your best spooky outfit and get ready to hit the dance floor alongside some terrifying tipples at these Halloween-themed events.  Foodies, join in the spooky fun as we have thrown in a few hair-raising dining spots to check out.
PARTY
Get Juiced
25 – 27 October
The first cashless bar will turn its space to the Island of the Dolls. The actual island is located in Mexico where it's home to hundreds of dolls and we're not talking about cookie-cutter Barbie dolls. The dolls are battered – headless, armless and eyeless! Spooky right? So expect an army of creepy dolls hanging around as Get Juiced resident DJs spin sick beats all night.
Get Juiced, #02-01 Clarke Quay, 3E River Valley Road, Singapore 179024
Zouk
25 – 27 October
Nightlife behemoth, Zouk is going all out this Halloween with a horror story that will have you thinking Hawkins National Laboratory (yes, we made a Stranger Things reference). Step into Zouk and Phuture as it transforms itself into an abandoned lab from the 1960s due to some ominous radiation leak. Party the night away alongside wacky scientists, strange creatures and evil park rangers.
Zouk, 3C River Valley Road, The Cannery Singapore 179022
Bar Rouge
25 – 26 October
Ditching the glamour and opting for gross this Halloween, Bar Rouge is turning its chic space into a human meat market – Rouge Grossery Store. Step into the 'cold room' and party amongst hanging limbs and The Abominable Monster. Dress your best as one of the prizes include a one-night stay at Swissôtel The Stamford with breakfast (we can assure you there won't be any human body parts in there).
Bar Rouge Singapore, Swissôtel The Stamford, #71-01, Singapore 178882
The Riverhouse
25 – 31 October
The grand two-storey Chinese heritage building will turn into a haunted house this Halloween. Pregame at Yin Bar & Lounge with a deadly cocktail called The Killah, a concoction of tequila, triple sec, spicy mango, strawberry puree and pineapple juice, then continue the revelry at Yang International Nightclub. You'll be enthralled (or spooked) as you come across stilt walkers, contortionists and scarily-dressed dancers on the dancefloor.
The Riverhouse, 3A River Valley Road, Clarke Quay, #01-02, Singapore 179020
Cé La Vi
26 & 31 October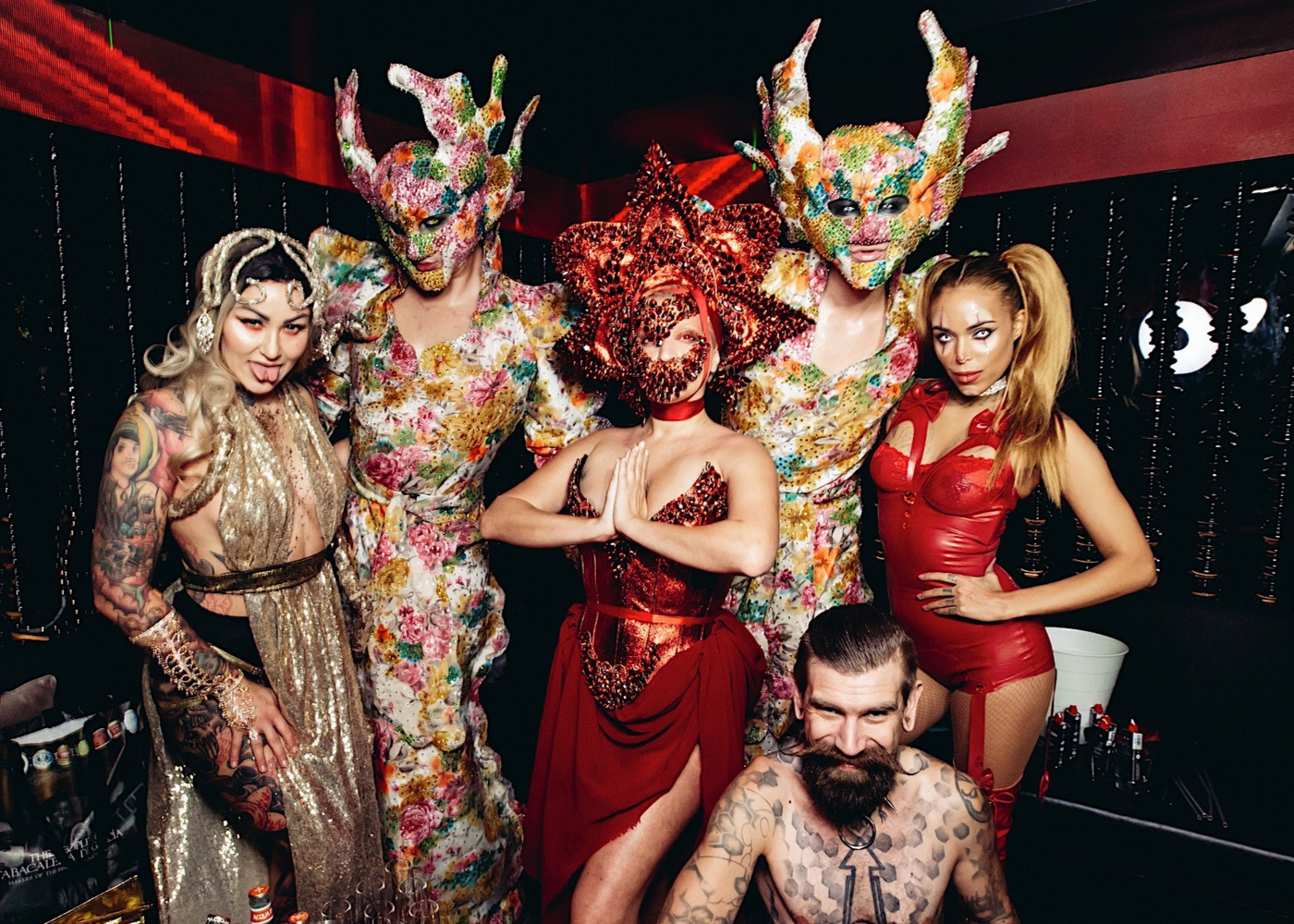 Did Bill Skarsgård's portrayal of the iconic bloodthirsty clown Pennywise scare the brave out of you in the cinemas? If you're in for a similar thrill, Cé La Vi has something creepy in store. The spectacular rooftop nightclub is bringing back London's Cirque Le Soir on 26 October, to dazzle us with magicians, sword swallowers, acrobats, exotic dancers and freaky clowns (the worst!). On Halloween day itself, the lounge will bring you glow-in-the-dark fun with its Neon Jungle theme. Smear some neon paint and party the night away with hip hop beats.
Cé La Vi, SkyPark, Marina Bay Sands Tower 3, 1 Bayfront Avenue, Singapore 018971
Pinball Wizard
26 October
The retro bar's iconic Dracula pinball machine will be coming to life this Halloween. With the space transforming into Transylvania aka Dracula's hometown, expect a fangtastic night. Just make sure you don't get bitten!
Pinball Wizard, 1 Rochor Canal Rd, #B1-29 Sim Lim Square, Singapore 188504
Lulu's Lounge
26 October
Carnival of the Absurd is back for its third run. Expect nothing less from Pan Pacific's resident retro bar – from out-of-the-world stage performances to the usual, offbeat shenanigans, be prepared to party it up till 5 am!
Lulu's Lounge, Pan Pacific Hotel, Singapore, 7 Raffles Boulevard, Singapore 039595
Nineteen80
26 – 27 October
The retro pub will turn into a funhouse, Halloween style of course. Don on your wackiest outfit and stand a chance to win tricks or treats (only one way to find out). A horror party wouldn't be complete without some sick music, DJ Ollie'des, Andrew Chow and Fadille will be spinning throughout the night.
Nineteen80, 21 Tanjong Pagar Road, #01-05, Singapore 088446
Empire
26 October
The full moon is out at Empire. Perched on the 45th floor, the stylish penthouse lounge will be turned into a creepy forest with werewolves roaming around. Get your claws out and expect some murder on the dancefloor. Don't forget to dress your best to enjoy complimentary entry and a chance to win a bottle of Hendrick's.
Empire, Level 45, Singapore Land Tower, Singapore 048623
Lucha Loco
26 October

Our favourite Mexican joint is throwing a Day of the Dead fiesta! Honouring and celebrating iconic Mexicans, there will be an altar to welcome the spirit of the dead back to the living world. Get your face done a la Die de los Muertos and dance the night away as DJ Justo will be helming the decks with Latino beats.
Lucha Loco, 15 Duxton Hill, Singapore 089598
Little Creatures
31 October
The Aussie brewery is concocting a special brew just for Halloween, a black potion that is dark as night, aptly named Black IPA. So dress to scare and head to Little Creatures for some pregame fun amidst live music.
Little Creatures, 36 Club Street Singapore 069469
Heart of Darkness
31 October – 2 November
Ho Chi Minh City's most prolific craft brewery is going full swing for its inaugural Halloween shindig. With a bloc party of sorts hosted in the vicinity, Heart of Darkness will be transformed into a haunted house and take over Tanjong Pagar with popular bars such as Nineteen80, Monarchy, Junior and Freehouse. Word of caution: Be prepared to swig dark beers all night!
Heart of Darkness, 55 Tras Street, Singapore 078994
Royal Albatross Superyacht
31 October
Hop aboard a sailing ship this spooky season. This year, the Royal Albatross is retracing the steps of a storied past – members of a royal sailing party went missing in 1930 after crossing paths with a doomy crow. Come along in your best Halloween outfits for an outrageous party replete with an all-you-can-eat barbecue fare and a live DJ set.
Royal Albatross Superyacht, Resorts World Sentosa, 8 Sentosa Gateway, Singapore 098269
---
EAT
Lime
25 – 27 October
Lime's Sub-Lime Buffet is back for its fourth run and there will be a smorgasbord of Halloween-themed dishes to gorge on. We are talking about Graveyard Cheese Platter, Roadkill Roasted Baby Lamb and Eyeball Salad with Roasted Tomato and Sweet Pepper Gazpacho. Experience the fiery pits of hell at their mala station and cool off at their dessert station – Witches Brew aka chendol, anyone?
Lime, Parkroyal on Pickering, 3 Upper Pickering Street, Singapore 058289
The Alkaff Mansion
26 – 27 October
A fan of pirates and good curse? Come and experience this nautical folklore at The Alkaff Mansion. In the night, step into a shipwreck at TXA Pintxo Bar and feast on a spread of seafood including the likes of octopus, tiger prawns and Boston lobster. Wash it all down with creepy cocktails such as the Wrecked Pirate, a heady mixture of Cruzan rum, cranberry juice, passion fruit and soda. Come dressed in your most nightmarish threads and you'll get a free potent shot of Pirate's Treasure Shooter.
The Alkaff Mansion, 10 Telok Blangah Green, Singapore 109178
Melt Cafe
1 – 2 November
Sink your fangs into Melt's horrific fare. Expect everything from a Mysterious Dead Sea station replete with fresh oysters and crustaceans to a Slaughter House counter which offers the likes of prime ribs and tandoori whole lamb. End your feast on a sweet note with their finger-shaped pistachio madeleines and red berry pudding that comes in the form of brain and worms.
Melt Cafe, Mandarin Oriental, 5 Raffles Avenue, Singapore 039797
Edge
2 November
A ghoulish feast awaits as Edge transforms itself into a cemetery. There will a selection of haunting fare such as Demonic Nun (beef tartare), Corpse on Stretcher (House-made sausages and pork ribs), Dead Body (suckling pig) and 18 Levels of Burning Hell (assorted pizza selection). The scare factor is raised as the folks from Edge will be dressed up in iconic horror characters.
Edge, Pan Pacific Singapore, 7 Raffles Boulevard, Singapore 039595
---
EVENTS
Halloween Horror Nights 9
27 Sep – 31 Oct (select nights)
Bring on the screams and scares! Halloween Horror Nights is back to rock your evenings this month. The ninth edition has five haunted houses, two scare zones and two live killer shows – including a haunted house (Curse of the Naga) conceptualised by the directors of the terrorising Thai horror films, Shutter and 4bia. Sidetrack: Shutter's climax scene still gives us the chills. A little closer to home is The Chalet Hauntings featuring the most extensive collection of Southeast Asian ghosts in #HHN history.
Halloween Horror Nights 9, Universal Studios Singapore, 8 Sentosa Gateway, Singapore 098269
Ice Cream Sundays x Shi Fu Miz: Haw Par Thrilla 2
12 Oct
Okay so it's not technically a Halloween party but it is hosted at one of Singapore's kookiest and spookiest spots. Spend October 12 partying up at Ice Cream Sundays x Shi Fu Miz's next Haw Par Villa shindig that promises a whole lotta quirk and plenty of disco, house, funk and soul.
Ice Cream Sundays x Shi Fu Miz: Haw Par Thrilla 2, 262 Pasir Panjang Rd, Singapore 118628
Zedtown Asia: Battle for Singapore
26 October

Walking Dead fans, if you ever wanted to be in the thick of things then you are in for a treat. Brace yourself as you would be fighting for your life against the zombies. If you end up getting infected, you will join the zombie hoard and spread the "infection". Continue the party at Zouk as the first 100 ticket holders will get complimentary access to Zouk's Halloween party.
Zedtown, National Stadium, 1 Stadium Dr, Singapore 397629