Party it up like it's Halloween.
Whether you want to party with the undead or mingle with creatures of the night, here's what to do for Halloween in Singapore.
There's something strange in the neighbourhood… Halloween (31 October 2023) is just around the corner and we've got the scoop on the best events and parties to celebrate it in Singapore! We've compiled a list of costume shops, themed events and fun activities so you can creep it real – horror movie marathon, anyone?
Your epic guide to Halloween 2023 in Singapore
1. Dance till you're dead
Dress in your Halloween best for a murder mystery party at Zouk. At the main room, the Prom Queen's been murdered and the Prom King has slipped off into the night. Whose secrets will be spilled? Meanwhile, aboard the Capital Express, a lady in a red kimono is on the run as chaos erupts when a gunshot goes off. Will the detective connect the dots in time? Finally, at the Deadly Inherited Diner at RedTail, dishes conceal enigmatic clues.
Choose your adventure wisely, crack the code and you just might win a fab prize. Plus, dance the night away to tunes by DJs Blink, Hong, Ghetto and Caden.
Zouk Presents: A Night to Die For, 27 & 28 October 2023, 10pm – 4am; 01-05 to #02-06, 3C River Valley Road, Singapore 179022
2. The ultimate theme park from hell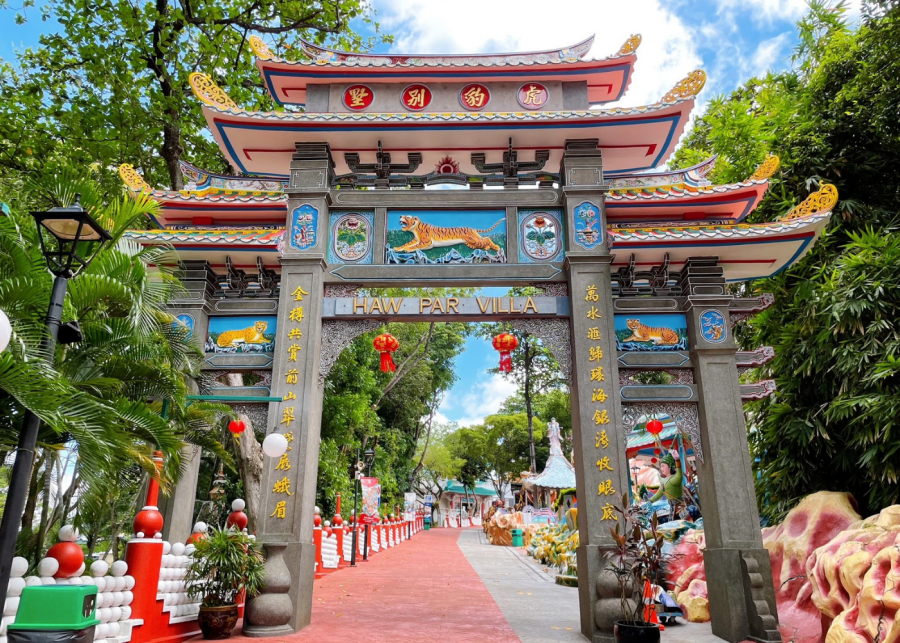 Of course, we expect nothing less than epic from Haw Par Villa during Halloween in Singapore. As Hell's Museum turns two this year, it's welcoming one and all to enter its gates after hours on 28 and 29 October. Step in for a haunted experience from 7pm till midnight. Even better, you can explore the park afterwards – it'll be lit up with ambient lighting and projections.
There'll also be a Shaman's Market at The Sixth Milestone in the park. Admission is free, so stop by to check out wares from Dirt and Wonder, Poppy Crafts, Tribetant, Jiraffe and Good Noming. More activities include the launch of Art Journey (a cafe and art jamming studio) with workshops and tarot readings, as well as a Halloween-themed puzzle hunt, a silent disco dance party called Secret Sunset Full Moon Halloween, and a Blackout V9.0 party for those who want to groove till dawn.
Haw-Ror Villa 2, 27 – 29 October 2023; Haw Par Villa, 262 Pasir Panjang Rd, Singapore 118628
3. Chills and thrills
There's a haunted house set in 1960s Singapore at Orchard Road this spooky season. Step in to check out a virtual reality gaming experience, a photo booth to snap pics, and grab a goodie bag on your way out. It's open in the evenings on weekdays and from noon onwards on weekends, with extended hours on Halloween weekend.
Psst: On 20, 21 and 22 October, don't forget to watch your back as you walk through the mall 'cos scare actors will be roaming about. Plus, pop by on 27 and 28 October for late-night shopping and exclusive deals up to 50% off too!
Gateway to Hell: Reliving the Gruesome 60s, now till 31 October 2023; Orchardgateway, 277 Orchard Road, Singapore 238858
4. A tropical throwback
Breezy rooftop bar Las Palmas celebrates its first anniversary with a chic Halloween party in Singapore. Shimmy into your best 50s or 60s 'fit and go back in time to 1960s Palm Springs. DJ Matty Wainwright will get you grooving on the dance floor, and the best-dressed merrymaker will win up to $200 worth of F&B vouchers for Las Palmas or Sky22. Don't forget to consult the tarot card reader for a peek into your future!
Oh, and the bar will also be debuting new cocktails on the menu: Go Nude (gin, raspberry liqueur), Sultan of Swing (a tropical Old Fashioned), Peggy (Herradura Blanco, mezcal, osmanthus honey), and Donn Beach (rum, passion fruit puree, hazelnut liqueur, calpis). If you're feeling adventurous, ask the bartenders for a mystery cocktail: you can choose between 'treat' or 'trick'.
Viva Las Palmas: A Spooktacular Anniversary, 27 October 2023, 7.30pm – 1am; Las Palmas Rooftop Bar, Level 33, Courtyard by Marriott Singapore Novena, 99 Irrawaddy Road, Singapore 329568
5. Get your freak on high in the sky
Epic parties are coming your way as Ce La Vi goes all out for Halloween. Mingle with mysterious and magnificent creatures of the night at the sky-high club lounge's two parties over the weekend. On Friday, you'll be treated to spectacular acts and fabulous performances by local drag queens while you dance to the backdrop of funk, jazz and disco tunes by DJ act The Illustrious Blacks. Come Saturday, theatrical troupe Cirque Le Soir takes the spotlight with eccentric acts like freakish fire-eaters and curious contortionists.
Slassy x The Illustrious Blacks, 27 October 2023, 10pm – 4am; Cirque Le Soir, 28 October, 10pm – 4am; tickets from $48; Ce La Vi, Marina Bay Sands Hotel, Tower 3, 1 Bayfront Avenue, Singapore 018971
6. Brunch but make it Halloween
Make your way to Lion Brewery Co with the fam for a Halloween-themed brunch this month. There'll be trick-or-treating activities, cookie decorating sessions, craft workshops, face-painting fun and a screening of Frankenweenie for the little ones. Parents can stroll through the space to explore the mini flea market of lifestyle brands like Curate & Co and Eclectic Room. Oh, and for $45++, you'll enjoy free-flow Aperol spritz drinks for three hours.
Halloween Brunch Extravaganza, 29 October 2023, 11.30am onwards; Lion Brewery Co, 36 Club Street, Singapore 069469
7. Silence is the scariest sound
In the mood for a silent disco party this Halloween? Grab your buddies and head up high to the Marina Bay Sands SkyPark Observation Deck. You'll be jiving to 3 DJs spinning dance, pop and rock beats under the full moon.
Halloween Silent Disco, 28 October 2023, 10pm – 2am, tickets from $38; Marina Bay Sands SkyPark Observation Deck, Level 56, Tower 3, 10 Bayfront Avenue, Singapore 018956
8. Dress to kill
Shimmy into your best murderous misfit threads and hit up OverEasy for a Halloween party by the waterfront. We're talking about Serial Killer Barbie or Lady Gaga with a disco stick – go all out and you might win awesome prizes for best (or worst) dressed. The grisly night will feature pop, rock and electronica beats by weelikeme and KiDG to get you throwing shapes on the dance floor. Entry is free, but you can pre-book alcohol bundles to secure table reservations.
OverEasy x Eatmepoptart: Redrum on the Dancefloor, 28 October 2023, 8pm to late, free entry; OverEasy Fullerton, #01-06, One Fullerton, 1 Fullerton Road, Singapore 049213
9. Discover harrowing thrills
Whisk yourself back to your school days at Harrowing Halloween, which revolves around a haunted school this year. Slink through creepy corridors, peek around corners for eerie characters, and check out holographic experiences at this spine-chilling event. It features a haunted house, labyrinth, carnival, interactive scare zone and even a freaky escape room. Oh, and if after-dark scares are too petrifying for you, swing by on 21, 28 and 29 October during the day for Area510, a puzzle-mystery investigation with fun fringe activities.
Harrowing Halloween, 7pm to 11pm, selected dates from now till 29 October 2023; Singapore Discovery Centre, 510 Upper Jurong Road, Singapore 638365
10. Set sail on a ghostly party ship
Asia's largest music festival at sea takes a spine-chilling turn for Halloween. Expect hair-raising themed parties and exciting activities to get you in the mood to slay. Plus, headliners like Flosstradamus, Infected Mushroom, Knife Party and Marlo will bring the beats and ensure you'll always have a spectacular time. All aboard? Set sail on this chilling cruise!
It's The Ship, 1 – 3 November 2023, cabins from $959
11. Scream your lungs out
Can't resist a good haunted house? Immerse yourself in this nightmarish interactive experience for a heart-pounding time. Round up your squad and tread carefully into the unknown, where the undead roam. There'll be Instagram-worthy scenes, retail stalls and dining booths to round out the event.
Halloween Scream Fest, 10.30am – 10pm, 26 – 29 October 2023; D'Marquee Downtown East, 1 Pasir Ris Close, Singapore 519599
12. Are you afraid of the dark?
Enter the Horror Maze at Tampines 1 where nightmarish creatures await at every corner. You'll have to spend $50 to redeem a free pass, or buy one at $10 each. Plus, look out for roving monsters on weekends, a spooky art workshop on 29 October at 2pm, and more rewards at the mall.
Halloween Scaretacular: Wax Museum Edition, 20 – 22 & 27 – 29 October 2023, 7pm – 11pm; Tampines 1, 10 Tampines Central 1, Singapore 529536
13. Freak out at the horrors of Halloween
Get psyched, 'cos Halloween Horror Nights returns to Universal Studios Singapore for its terrifying 11th edition. Brace yourself for the event's five haunted houses, three scare zones, two live shows and a devilishly good dining experience. Step into the All of Us Are Dead haunted house, done up in collaboration with Netflix, followed by Rebirth of the Matriarch, DIYU: Descent into Hell, and Grimm Encounters.
Think you're safe walking the streets? Macabre creatures wander around scare zones, from Madame Dragon at Dead Man's Wharf to a hellish AI being at The Hacker to tormented villagers at The Cursed Kiramam. Finally, end the night with screams of terror at live shows Judgement Day and The Hacker: Game Over.
For an immersive dining experience, take a seat at King Yama's Feast in Die-ning in Hell. The three-course meal ($148) at the Hollywood China Arcade comes with a side of entertainment that'll make your blood run cold.
Halloween Horror Nights 11, selected nights from now till 4 November 2023, tickets from $89; Universal Studios Singapore, Resorts World Sentosa, 8 Sentosa Gateway, Singapore 098269
14. Trick or treat!
Grab the fam and head to Downtown East for kid-friendly thrills and spills. The annual Yokai Festival (1 – 31 October) features a cool parade and an exhilarating shootout on 28 October, as well as colouring contests on weekends, Yokai-inspired installations and fab prizes to be won.
Yokai Halloween 2023 at Downtown East, various dates and times in October
15. Asians do horror best
Put on your best bold front and enter this haunted experience at your own risk. It's exclusive to Cathay Rewards Members, so you'll have to download the Cathay Malls app, spend at least $20 in a single receipt at Cineleisure, and submit it on the app to earn Cathaycoins. When you have 200 of those coins, you can redeem entry for two people into the horror house.
A Feast of Fears: Asian House of Horrors, 21 – 22 & 28 – 29 October 2023, 2pm – 1pm; #02-11, Cineleisure, 8 Grange Road, Singapore 239695
16. Halloween, but make it family-friendly
From trick or treating experiences to meet and greets, it's all about fun for the fam at Universal Studios Singapore's Trick or Thrills. Say hi to characters dressed in Halloween costumes: the Minion Monsters, Oscar the Grouch, Autobots Bumblebee and Megatron, the Scorpion King, as well as Dracula, Frankenstein and the Bride of Frankenstein. Don't miss out on the new meet and greet with The Sorceress too!
Plus, there'll be a new live dance and percussion show featuring The Candy Crooks and The Lolly Bandits battling it out for sweet treats. Oh, and fuel up on Halloween goodies all over the theme park – it'll be love at first bite!
Trick or Thrills, selected dates from now till 5 November 2023; Universal Studios Singapore, Resorts World Sentosa, 8 Sentosa Gateway, Singapore 098269
17. Set off on a magical candy quest
Party it up with Polliwogs mascots this Halloween, featuring giggly monsters in the play area, spooky puzzles to complete, and lucky draw prizes worth up to $1,000. Each ticket gives you access to the live adventure, Halloween show, goodie bag, and more. Plus, put on your best hunter hat for a spine-tingling scavenger hunt on 7, 14 and 21 October, 3pm at VivoCity or 5pm at Clarke Quay Central.
The Polliwogs' Halloween Party, 28 October 2023, 7.30pm – 9.45pm, tickets at $68 for one child and one adult, early bird tickets $58 till 21 October; #03-12, VivoCity, 1 HarbourFront Walk, Singapore 098585
18. Tim Burton = Halloween
Take your boo to a magical concert and gaze at them under the glow of candlelight as the mysterious tunes of Tim Burton play on stage. Expect to hear tracks from productions like Addams Family, The Nightmare Before Christmas, Sweeney Todd, Beetlejuice, Alice in Wonderland, and loads more.
Candlelight Halloween: Best Soundtracks of Tim Burton, 31 October 2023, 7pm or 9pm, tickets from $39; Chijmes Hall, #01-28, 30 Victoria Street, Singapore 187996
19. Dress to impress
Whether you're going for spooky or sexy, hilarious or heroic, Halloween is that one time of the year when you can don a wig and play dress-up – no judgment! For a top-to-toe transformation, here are some of the best shops in Singapore to rent or buy costumes so you can copy your favourite celeb, superhero, ghoul, or cuddly mascot. Go crazy with meme-worthy costume ideas!
20. Scare yourself silly
Everyone knows Singapore has a rep for being haunted – we've all heard too many stories, reports and urban legends. That's why we compiled a list of ghost tours and haunted places in Singapore, so you can mingle with things that go bump in the night. If you love all things freaky but you're too chicken to check them out, get acquainted with our killer Halloween playlist or horror movie binge-watch list. You know Asians do horror films best!
Now, who's ready to conjure up some freaky fun for Halloween in Singapore at these parties and events?