Photography: Daizu Cafe via Facebook
Exploring Farrer Park? We've got plenty of hip cafes, under-the-radar eateries and even durian stalls to recommend!
Farrer Park isn't the most well-known of neighbourhoods in Singapore. It's not quite like the trendy Tiong Bahru or buzzing Robertson Quay. But we love its amazing variety of hip cafes and great local eats all the same. Surrounded by the vibrance of Little India, the heritage shophouses of Jalan Besar, and the old and new contrast of Novena and Balestier, it's a real gem of its own. You'll never run out of good food at Farrer Park!
Farrer Park food guide: Where to eat and drink
1. Syip
Pop into Syip to admire the cafe's white minimalistic decor. Serving all-day brunch and coffee, its popular menu items include mentaiko scallop linguine and ikura kombuta capellini. A must-have? The Instagram-worthy floral and peach tea that blooms beautifully into a flower.
Syip, 79 Owen Road, Singapore 218895
2. Mirage The Parlour
A craft beer oasis, this joint serves drinks that are perfect for any time of the day, with 12 brews on tap in constant rotation. Try its Japanese and Mediterranean-inspired cuisine to pair with your beverage of choice. We're eyeing the yakitori and donburi selections!
Mirage The Parlour, 140 Owen Road, Singapore 218940
3. Noon
Calling all brunch and dessert lovers: we've scouted out a late-night minimalist food spot in Farrer Park for you. Open from noon until 11pm, this Farrer Park cafe features brunch delights like eggs benedict with parma ham alongside ice cream in flavours such as Earl Grey lavender, yuzu sorbet and Thai milk tea. You've gotta try 'em with buttermilk and caramelised banana waffles!
Noon, 152 Rangoon Road, Singapore 218429
4. Gather The Misfits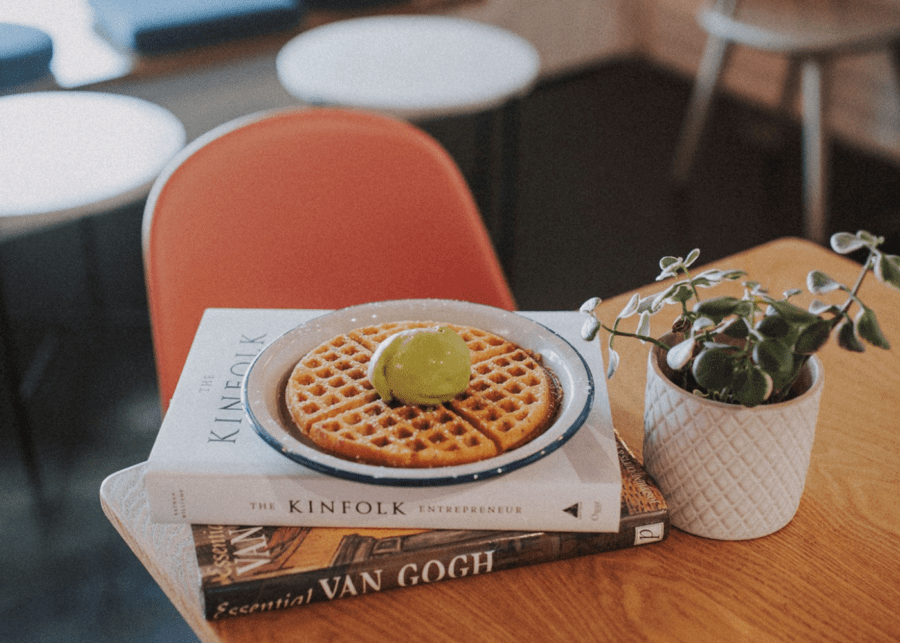 Stock up on bottled brews made fresh from single-origin beans at Gather The Misfits, a chill hangout concealed from view at the end of Rangoon Road. If you're not into coffee, the cafe also serves matcha, hojicha and genmaicha drinks. To complete your quiet afternoon, nosh on toasties, truffle fries, waffles and ice cream, then pick up a book to read or challenge your friends to a round of board games.
Gather The Misfits, 217 Rangoon Road, Singapore 218457
5. Daizu Cafe
A minimalist two-storey space with an alfresco deck, Daizu is one of our fave food spots in Farrer Park. With a focus on soy, it blends Japanese and Western flavours in its kitchen for a menu that'll give the neighbourhood's veteran cafes a run for their money. The place is perfect for brunch, thanks to its abundance of natural light, complemented by dishes like lemon miso eggs benny and petite breakfast (eggs, toast and sausages). For dessert, don't miss out on the lime meringue tart to go with your coffee of choice.
Daizu Cafe, 129 Rangoon Road, Singapore 218407
6. Old Hen Coffee Bar & Kitchen
With two locations situated just a street apart, you'd be forgiven for doing a double take every time you walk past Old Hen. Both are pretty similar, though Old Hen Kitchen is the newer and bigger (but more hidden) outlet. These folks specialise in coffee, with black, white and cold brew varieties alongside Japanese teas, craft beers and kombucha on the drinks menu. As for the food, expect to see cafe brunch dishes like avo toast, pancake stacks, toasted muesli bowl, and maple bacon mac and cheese on the line-up.
Old Hen Coffee Bar & Kitchen, #01-03, 88 Rangoon Road, Singapore 218374 and 127 Owen Road, Singapore 218931
7. The Bakehaus
Looking for freshly baked sourdough bread and pastries in the 'hood? Make this blink-and-you'll-miss-it artisanal bakery your go-to. From croissants and brownies to bread in all glorious forms, it supplies your every carb need. Each visit offers new and unique flavours to discover, including sourdough loaves in variations like dragon fruit crumb and avocado with toasted pine nuts and black sesame seeds.
The Bakehaus, 130 Owen Road, Singapore 218934
8. Ordinary Burgers
A humble stall tucked away in the basement of City Square Mall, this burger joint is anything but ordinary. Just look out for its bright neon signage! These burgs can rival any fancy big brand, and prices are oh-so-affordable. You'll find fish, ebi prawn, portobello, Impossible, beef and buttermilk chicken options on the menu. But if you're starving, the double beef burger is pretty value-for-money – it'll set you back no more than $15.
Ordinary Burgers, #B1-K11/K13, City Square Mall, 180 Kitchener Road, Singapore 208539
9. Enchanted Cafe
A lush space that'll transport you straight to fairyland, this Farrer Park cafe is warm and welcoming. Its leafy decor, mismatched furniture and mirror hangings add a dash of quirk to the experience, but the menu is a familiar one. Think all-day brunch offerings like almond butter on toast and stuffed croissants, plus beef pies, smoothie bowls, cakes, coffees and cold brews.
Enchanted Cafe, #01-04, 88 Rangoon Road, Singapore 218374

10. Sushi Jin
A concept by the Les Amis Group, Sushi Jin lies in a quiet corner of Farrer Park, tucked out of sight in an air-conditioned walkway next to One Farrer Hotel. The elegant, warmly-lit dining destination regularly imports ingredients from Tokyo's famous Toyosu Fish Market for optimal freshness. To try a bit of everything, opt for any of the omakase menus.
Sushi Jin, #01-11/12, Owen Link, 1 Farrer Park Station Road, Singapore 217562
11. Fleurette
From the folks that brought you popular pop-up resto Division Supper Club comes a new brand. Fleurette is a cosy and unpretentious concept by childhood friends chef Tariq Helou and Aidan Wee. The tasting menu, which changes every month (and gets a little revamp almost daily) goes for creativity in its dishes. Intrigued? Experience it for yourself!
Fleurette, 204 Rangoon Road, Singapore 218451
12. Brunches Cafe
If the combination of vintage goods and brunch sounds like your dream come true, add this to your list of weekend hangouts. The eclectic cafe serves all-day brekkie, waffles, coffee and tea, and it's filled with old school furniture and collectables… that you can purchase! Everything with a price tag is for sale, so retro shoppers, you know what to do.
Brunches Cafe, 96 Rangoon Road, Singapore 218381
13. Ng Ah Sio Bak Kut Teh
This area is home to countless bak kut teh shops, but Ng Ah Sio is one of the OGs, having been here since 1988. The old school eatery serves Teochew-style pork ribs soup that's perfectly peppery, using a family recipe that dates back to the 1950s. Now with multiple outlets in the city, it's come a long way from its humble beginnings. But the Rangoon Road one still has a special place in our hearts for its comfort food and retro vibes.
Ng Ah Sio Bak Kut Teh, 208 Rangoon Road, Hong Building, Singapore 218453
14. Legendary Bak Kut Teh
With a name like this, it's almost impossible not to be curious about the brand's confidence in its food. This bak kut teh eatery keeps it in the family, generation after generation, serving its signature peppery pork rib soup paired with dishes like braised pig's trotter, tau pok and abalone. Don't forget to order the Chinese-style steamed fish!
Legendary Bak Kut Teh, 154 Rangoon Road, Singapore 218431
15. Mrs Pho House
It's all about authentic, traditional Vietnamese food – pho real. Hidden at the end of Rangoon Road, the pocket-friendly casual joint serves classics like beef pho, banh xeo (crispy crepes) stuffed with your choice of meat, spring rolls and lemongrass beef noodles. Just like how your mum (or friend's mum) makes it.
Mrs Pho House, 221 Rangoon Road, Singapore 218549
16. Fruit Monkeys
A little shop powered by its love for the King of Fruits, this no-frills store brings in an assortment of durians whenever they're in season. Varieties include hilltop sultan and red prawn. Don't worry if you don't know your durians – these friendly folks will tell you what you need to know and give you a taste of what to expect.
Fruit Monkeys, #01-07, Rangoon 88, 88 Rangoon Road, Singapore 218374
17. Tingkat PeraMakan
For authentic Peranakan cuisine in a casual setting, Tingkat PeraMakan will make you feel right at home. The Nonya flavours are impeccable, and it's a great place for fuss-free lunches or dinners with the entire fam. Best of all, the menu features affordable sets that spotlight crowd favourites such as sambal satong (squids cooked in satong), ayam buah keluak (braised chicken) and beef rendang (beef in coconut gravy). These all come with your choice of two sides, a drink and a dessert. Totally worth it for $16 or less!
Tingkat PeraMakan, 119 Owen Road, Singapore 218924
18. Suk's Thai Kitchen
Keep an eye out for the modern resto's neon sign that'll grab your attention at the cross junction. Suk's Thai Kitchen is brand spanking new and it's all about authentic Thai grub whipped up from the chef's family recipes. You'll find all kinds of classics on the extensive menu, which means you can easily satisfy your cravings for phad Thai, minced pork basil rice, green curry chicken and tom yum prawn soup here.
Suk's Thai Kitchen, 136 Tessensohn Road, Singapore 217699
19. Pek Kio Market & Food Centre
A bustling hawker centre with its own unique charm, Pek Kio isn't as famous as other places in town. But it still has its share of popular stalls and their own loyal followings. Dreaming of prawn noodles? You'll find two well-known names here: Lai Hiang Pork Rib Prawn Noodles and Wah Kee Big Prawn Noodles (also infamous for its irritable owner). If you have the patience to join the queue, look out for Pin Wei Hong Kong Style Chee Cheong Fun. This beloved stall sells its freshly made signature dish in plain, char siew, prawn and scallop varieties.
Pek Kio Market & Food Centre, 41 Cambridge Road, Singapore 210041
Bookmark our handy food guide for the next time you're hungry and at Farrer Park!