Wondering where to kickstart your yoga journey? These yoga studios offer fun and engaging classes
Wellness and health have really been on people's radar in the past few years, hence the growing demand for pilates studios, CrossFit gyms and boxing gyms in Hong Kong. As one of the most widely loved practices, yoga has withstood the test of time for people to relax and achieve optimal health. Therefore, we've put together a list of our favourite yoga studios in Hong Kong, so you can choose from the best.
Get stretched at the best yoga studios in Hong Kong
Lemon Drop Studio
Filled with lots of natural light and character, Lemon Drop Studio is an intimate little yoga studio in Sai Wan with excellent teachers and a friendly community. From HIIT and Hatha yoga to circuit classes, the teachers at Lemon Drop guarantee you a calming and fun learning experience, perfect for amateurs and beyond. Being just down the road from our office, we are big fans of their lunchtime stretch classes and their Back Care Yoga classes, making it one of our fave yoga studios in Hong Kong.
Lemon Drop Studio, Room 2515, Hong Kong Plaza, 188 Connaught Road West, Sai Wan, Hong Kong, p. 9176 5153
Infiniti Fit
Located in the heart of Central, modern yoga studio Infiniti Fit offers a number of courses for yoga practitioners of all-levels, as well as all sorts of equipment and tools for your working out and training. The term "infiniti" symbolises their wish to strive for constant self-improvement, and they will make sure your physical strength, mental will and psychological health are well taken care of.
Infiniti Fit, 11/F, Hong Kong House, 17-19 Wellington Street, Central, Hong Kong, p. 3955 1315, 中環威靈頓街17-19號香港工商大廈11樓
Mari Yoga
Offering classes in Wan Chai, Sheung Wan and Kennedy Town (inside co-working space The Hive), Mari Yoga is one of the most exciting yoga studios in Hong Kong. Though spots are limited to 5-8 people depending on location, you're guaranteed a great yoga class here. They also run a selection of qi gong and meditation classes, as well as unique workshops throughout the year.
Mari Yoga has locations across the city
EMS Fitness Studio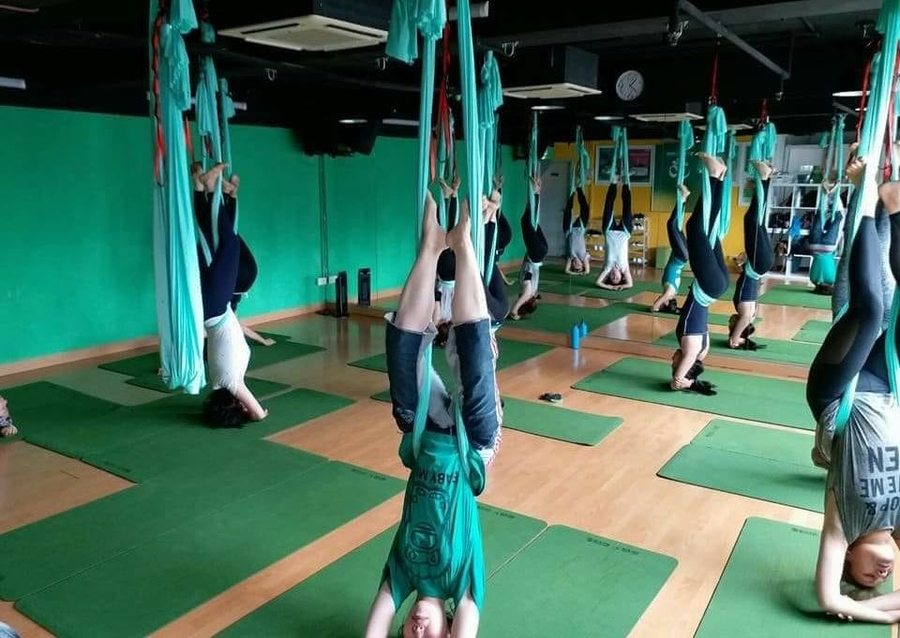 looking for yoga studios in Hong Kong in Yuen Long? EMS, meaning Enjoy My Space, is one of the most welcoming yoga studios in Hong Kong that aims to help everyone reach their full potential. They have a great selection of yoga courses available, including Hatha yoga, Yin Yang yoga, Slim yoga, Fly yoga, plus they have a selection of packages available so that everyone can afford their classes.
EMS Fitness Studio, 3/F, 23 Shou Fu Street, Yuen Long, Hong Kong, p. 2336 6005
The Yoga House
At the Yoga House, practitioners at all levels are welcome to come and extend their yoga journey. The goal of the studio is to allow people to practice at their own pace in a relaxed environment, and the space has been designed to feel somewhat like a second home. The team bases most classes on Hatha Vinyasa flow, and even mixes it up with special hike and yoga sessions, for all your wellness needs! Definitely one of the best yoga studios in Hong Kong for those living in Sai Kung.
The Yoga House, 31 Greenpeak Villa, Po Lo Che, Sai Kung, Hong Kong, p. 9268 9131, 西貢區黃竹山新村柳濤軒31號
Flex Studio
With a studio in both Central and Wong Chuk Hang, Flex Studio is one of the most well established yoga studios in Hong Kong. Offering classes in Vinyasa, Hatha, Aerial and even special programmes for children, we like the friendly atmosphere here and the helpful teachers who are great for beginners. Our favourite class is the Recharge & Restore Yoga, which combines the best of flow and restorative practice and is the perfect lunchtime class to calm the mind.
They also offer a 30 Day Yoga Journey (which we tried!) for people who want to push themselves.
Flex Studio, 3/F Man Cheung Building, 15-17 Wyndham Street, Central, Hong Kong, 2813 2399, 中環雲咸街15-17號萬祥大廈3樓
Amico Studio
At Amico Studio in Wan Chai, a number of yoga programmes are offered to help students find balance and inner peace. The studio is passionate about helping elevate quality of life through happiness and wholeness, and the team instructs in areas such as hot flow yoga, aerial and deep stretch.
Amico Studio, 2-4/F, 167-169 Hennessy Road, Wan Chai, Hong Kong, p. 2827 9233, 香港灣仔軒尼詩道167-169號2-4樓
Kita Yoga
At Kita Yoga, beginner to advanced yoga practitioners can get their flow on with a range of small classes taught by hands-on teachers. One of the studio's most popular classes is Kita Flow, which blends a vinyasa-based sequence with breath work and meditation. They even offer a Hangover Cure class on a Sunday at 11am – enough said…
Read our interview with Nikita Ramchandani from Kita Yoga here
Kita Yoga, Flat 1A, 1 U Lam Terrace, Sheung Wan, Hong Kong, p. 5323 1978, 上環裕林臺1號1樓A
Embody
Located in Discovery Bay, Embody offers yoga classes for kids, teens, adults and bumps. They also deliver pilates classes (both mat and reformer) and Zumba classes throughout the week. If you're looking for somewhere to entertain the little ones over the holidays, they also run a selection of holiday workshops for children, and we think that makes them one of the top yoga studios in Hong Kong.
Embody, Studio 225, Block D, Plaza Lane, Discovery Bay, Hong Kong, p. 6624 8712
The Yoga Room
Sitting in the heart of Sheung Wan, The Yoga Room is a boutique studio that focuses on small class sizes and personalised instruction. Delivering over 100 classes per week, the studio may have the most diverse range of options available in Hong Kong, including: pre-natal yoga, forrest yoga and specialty inversion classes.
The Yoga Room, 15/F, Xiu Ping Commercial Building, 104 Jervois Street, Sheung Wan, Hong Kong, p. 2544 8398, 上環蘇杭街104號秀平商業大廈15樓
Pure Yoga
Perhaps one of the biggest yoga studios in Hong Kong, with numerous locations across the region, Pure Yoga extends its reach to Shanghai, Singapore and Taipei. The studio runs classes in all popular forms of yoga, and also has specialised classes such as, chair yoga, yoga wheel and wall rope yoga. It also has a video platform called MyPureYoga.com; enabling anyone on the go to take their practice with them.
Pure Yoga, The Centrium, 16/F, 60 Wyndham St, Central, Hong Kong, p. 2971 0055, 中環雲咸街60號16樓中央廣場
Yoga Bambam
Yoga Bambam has two yoga studios in Hong Kong: Central and Sheung Wan. They work with a range of freelance teachers from around the world to offer a wide selection of yoga options. Class sizes are kept small to ensure individual attention, and the studio holds classes suitable for beginners right through to advanced students. If you are looking for something a little different, why not try the aerial or acroyoga classes? Yoga Bambam is definitely one of the most well-loved yoga studios in Hong Kong.
Yoga BamBam, 10 Shin Hing Street, Central, Hong Kong, p. 5500 3117, 中環善慶街10號地舖
Yoga Aloha
A boutique yoga studio located between Causeway Bay and Wan Chai, Yoga Aloha is all about one-to-one classes with no more than ten people. Classes cover a range of flow, stretch and restorative options, with specialties such as candlelit yin allowing you to take it up a notch. Have a health issue? These guys are happy to help modify poses for you.
Yoga Aloha, 1/F, Fu Tak Building, 367 Hennessy Road, Wan Chai, Hong Kong, p. 2565 7088, 灣仔軒尼詩道367號富德樓1樓
Prajna Yoga
Prajna Yoga is the go-to studio for those in Lai Chi Kok. In a relaxed atmosphere, students can partake in a number of classes, such as hatha, gentle stretch and yogalates, and it also offers a range of aerial and hot yoga classes for those who want to take their practice to the next level.
Prajna Yoga, Unit 03, 10/F, Yuen Shing Industrial Building, No. 1033 Yee Kuk West Street, Lai Chi Kok, Hong Kong, p. 2371 2515, 九龍茘枝角醫局西街1033號源盛工業大廈10字樓03室
Dickson Yoga
Dickson Yoga prides itself on keeping yoga fun thanks to its diverse range of themed classes, such as slimming yoga, kick-boxing yoga, meridian therapy yoga and more. What's more, it's the only yoga studio in Hong Kong that features a vegetarian kitchen for wellness, so after you have finished your downward dog, you can chow down on avocado toast and detox juices!
Dickson Yoga, Shop LG02A, LG/F, Tsim Sha Tsui Centre, 66 Mody Road, East Tsim Sha Tsui, Hong Kong, p. 2138 2999, 尖沙咀東麽地道66號尖沙咀中心地庫LG02A