Capture the essence of love in every petal (Photography: Floral Deco)
Bridal bouquets are one of the most important accents at a wedding. Not only does the bouquet accentuate the bridal gown, it's also what the bridesmaids look forward to catching!
When planning a wedding, picking the right venue, hiring a wedding photographer who captures the candid moments, and choosing the perfect jewellery to go with your gown are essential. But the most beautiful details to add are flowers – be it the bridal bouquet, corsage, or table centrepieces. These wedding florists in Hong Kong will deliver exactly what you want.
Best wedding florists in Hong Kong
1. M Florist
This online florist is efficient to work with and also provides speedy delivery. Catering to both day and night weddings, the florists at M Florist can keep it minimal with white, or go bold with dark-coloured hues. The various packages cover everything from bouquets, corsages, floral crowns, venue decoration, and more. M Florist curates its stunning pieces with fresh flowers, as well as preserved flowers or/and silk flowers, to create your perfect bouquet.
Find out more on M Florist.
2. Agnès b. Fleuriste
Agnès b. Fleuriste's clean and simple floral arrangements ensure that your big day is nothing short of breathtaking. Channelling the spirit of a summer in Provence, each bouquet is crafted using only the highest-quality flowers, showcasing their fresh collective beauty. Whether you're looking for corsages, ceremony decorations, or banquet centrepieces, Agnès b. Fleuriste offers a variety of wedding packages to suit different budgets. Also, don't stress about the details – this wedding florist in Hong Kong has you covered with gorgeous pre-designed bouquets that are ready to take a walk down the aisle.
Agnès b. Fleuriste has multiple locations across Hong Kong.
3. The Floristry
Incorporating an elegant mix of fresh flowers with dried foliage, The Floristry's ready-to-wear collection of wedding flowers makes choosing flowers for your dream day hassle-free. The bridal bouquets also have matching corsage and table decor to complete your wedding look. Don't miss out on dropping by at their store on Gough Street, it's a serene escape!
The Floristry, G/F, 18 Gough Street, Sheung Wan, Hong Kong, or shop online.
4. Blooms and Blossoms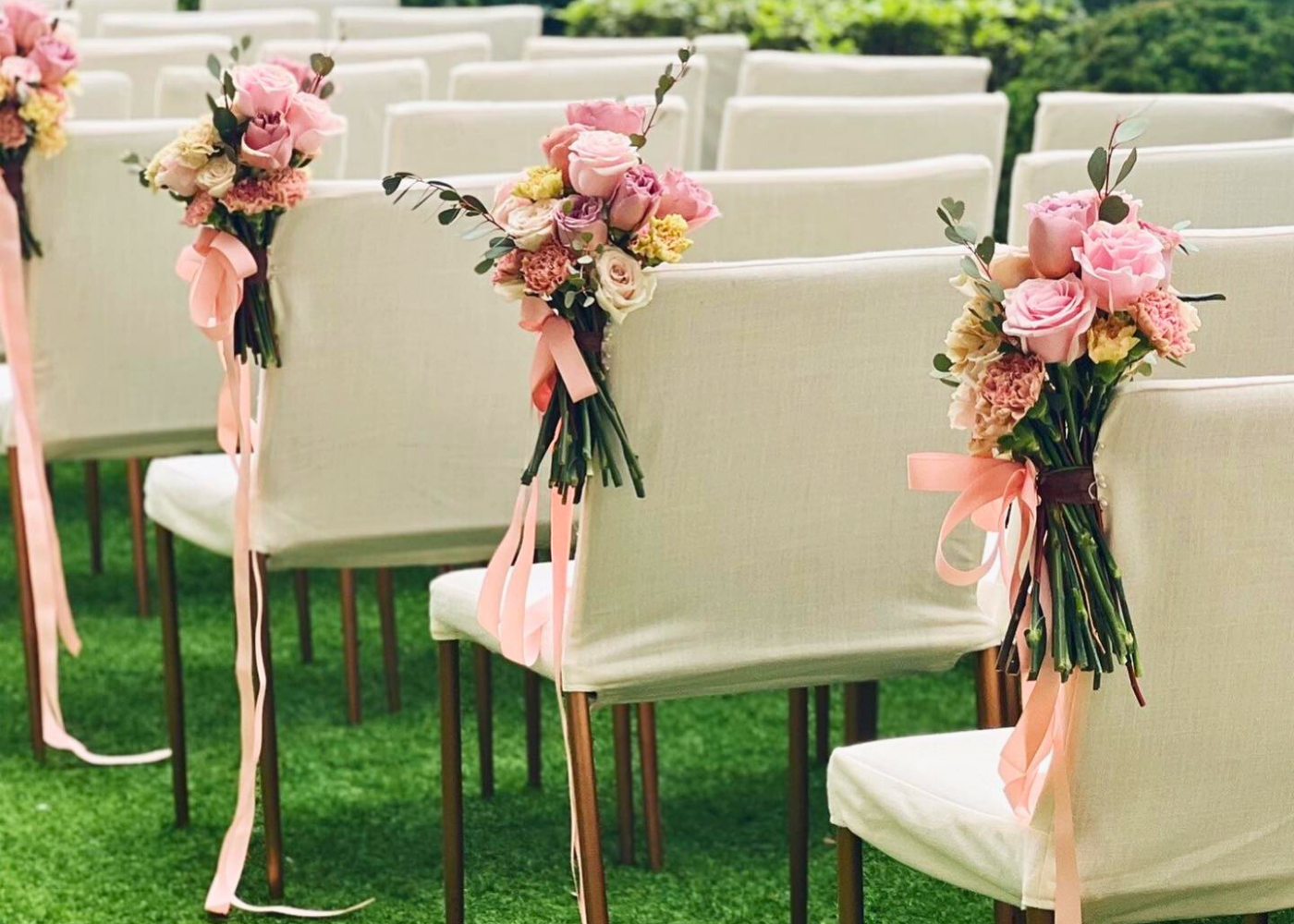 The team at Blooms and Blossoms are experts in bringing your love story to life—with flowers! The bespoke luxury florist will be your knight in shining armour to deliver the finest bridal bouquets, venue decorations, wedding accessories, and more! Simply get in touch with the event team and rest assured, your floral dreams will be blooming!
Blooms and Blossoms has locations in various hotels in Hong Kong.
5. Ellermann
Founded by the talented designer Diane Nittke, Ellermann is dedicated to crafting bespoke bouquets and decor that reflect your quirks, flair, and vision. With this in mind, its team collaborates with you at every step of the process, from mood boards to the final selection of flowers. Whether it's lavish centrepieces, bridal bouquets, or boutonnieres, Ellermann designs them all. Moreover, they even sprinkle floral magic into your ceremony and reception with enchanting garlands, chandeliers, and backdrops. Ultimately, every creation by Ellermann embodies a true reflection of you as a couple, making your special day even more memorable.
Ellermann has multiple locations across Hong Kong.
6. Bydeau
With more couples opting for intimate weddings, Bydeau's à la carte wedding collection makes ordering flowers free of fuss and stress. Their collection includes different types of centrepieces, bud vases, bridal and bridesmaid bouquets, aisle markers, and the classic boutonniere. There are four different colour schemes to choose from – all of which pay homage to classic bridal themes. You simply add your desired flowers to your cart and check out or make an appointment at the physical store – it's really that simple and easy for stress-free planning!
Bydeau, 1C, 235 Wing Lok Street, Sheung Wan, Hong Kong, p. 5525 0037
7. van der Bloom
Let love bloom with van der Bloom's intimate and personalised service that reflects every couple's personality. The florists go above and beyond to get to know their customers' preferences by discussing your preferences in colour, texture, and style. Plus, all deliveries are packed with sustainable material to arrive safe and sound. Get in touch with the team to plan out exactly what you want or make an appointment to visit their beautiful floral lab in Little Tai Hang.
van der Bloom has locations in Central and Tai Hang.
8. Boris & Matthew
If you're unsure of what you're looking for in your bridal bouquet, Boris & Matthew's luxurious wedding collection includes every hue and personality you can think of. Whether you like it classic or want something unconventional, the florists at Boris & Matthew execute dreamy bouquets, as well as customised venue and bridal car decorations. Deliveries are available everyday including public holidays.
Boris & Matthew, Unit B, G/F, E Wah Factory Building, 56-60 Wong Chuk Hang Road, Hong Kong, p. 2854 2834
9. Miluna Studio
Create your own vintage fairytale with Miluna Studio, offering custom-made floral designs that fit your wedding theme. With careful attention to detail, the Mikuna style bridal bouquet package comes with a classic fresh flower bouquet, cut flowers for hair-dressing, two groom boutonnières and a consultation with their florist. Delivery service is subject to additional charge (worth it!).
Miluna Studio, Kingsway Industrial Building, 167 Wo Yi Hop Road, Kwai Chung, Hong Kong, p. 9702 7391
10. FoliageStore Floral & Gift
Want flowers that are unique, elegant, and won't break the bank? The wedding bouquets at FoliageStore Floral & Gift are perfect for brightening up your big day. There are different sized bouquets artfully put together to create pieces that will complete the bride's dress and make her shine even more.
FoliageStore Floral & Gift, 62 Yu Chau Street, Mong Kok, Hong Kong, p. 6644 4643
11. Flourish Flowers
Imagine having breathtaking floral arrangements on your big day – that's where Flourish Flowers steps in! As an esteemed wedding florist in Hong Kong, Flourish Flowers transforms fresh imported blooms into stunning bouquets, boutonnieres, corsages, and decor. Using elegant and contemporary exotic blooms, the designs are tailored to align with any wedding style, be it classic or avant garde. Apart from custom bridal arrangements, Flourish Flowers extends its expertise to create coordinating pieces for the entire wedding party.
Flourish Flowers, Shop B30, B1/F, Lee Tung Avenue, 200 Queen's Road East, Wan Chai, Hong Kong, p. 2591 9391
[This article was originally published in September 2021 and updated in 2023 by Catherine Pun.]