A sophisticated cigar lounge, bar, and restaurant, Club C+ is a one-stop destination for discerning cigar lovers and gourmands (Photography: Club C+ via Facebook)
Exclusive but still relatively accessible, you can also get VIP treatment like the 'rich and famous' at these private members' clubs in Hong Kong.
Do you play golf and/or tennis? Are you an aspiring jet setter? Do you enjoy the finer things in life (and have the means to do so)? If your answer is yes to any of these questions, this article is for you. Hong Kong has a myriad of private members' clubs, and even though some of us aren't huge fans of their elitist history and sentiments (or maybe we're just jealous? LOL), we gotta admit these establishments provide some of the best facilities and services in town. And hey, who doesn't like being treated like a VIP? That said, some of these memberships come with a hefty price tag, along with status checks and waiting lists – they're meant to be exclusive after all. But, the good news is that there are several private members' clubs in Hong Kong you can actually afford to get access to if you're a young professional. Whether you're a budding entrepreneur looking for networking opportunities and a new 'home' to work from, or a sports fanatic who enjoys breaking a sweat on your days off, read on for our list of private members' clubs in Hong Kong you to join.
Private members' clubs in Hong Kong you should join as a young professional
1. Club C+
Set to open formally later this year, Club C+ is an up-and-coming private members' club in Hong Kong you need to keep an eye out on – especially if you're a fan of cigars, because premium cigars, whiskies, and other rare liquors are the biggest features here. In addition, C+ offers superb Cantonese cuisine created by Executive Chef Angus Chan, who used to work at Rùn, the esteemed Chinese restaurant in The St. Regis Hong Kong. In the club's intimate 2,000-square-feet space, you'll be able to enjoy a relaxing experience with like-minded individuals.
Tempted? The entry fee is $200,000, followed by a monthly fee of $2,000. Memberships are by referral only, and numbers are limited (at least for now).
Club C+, M1, Baskerville House, 13 Duddell Street, Central, Hong Kong, p. 2550 2022
2. Carlyle & Co.
One of the newest private members' clubs in the city, Carlyle & Co. spans three floors at the top of Rosewood Hong Kong. Inspired by the iconic hotel, The Carlyle, in NYC, this exclusive 25,000-square-feet space offers state-of-the-art facilities and services, including a library, a music room, even a barber and tailor. Moreover, members can chill out to some live jazz, cabaret, and Broadway hits at Café Carlyle. As for private events, there are luxurious themed spaces and dining rooms for members to book out for themselves. In addition, Carlyle & Co. also hosts its own Member Events. Expect to be able to attend over 100 experiences, workshops, and panels each year, with themes such as culture, current affairs, fashion and beauty, and more.
Tempted? The joining fee is $118,000 for a regular membership and $60,000 for the 33 & Under Membership, followed by monthly fees.
Carlyle & Co., Rosewood Hong Kong, Victoria Dockside, 18 Salisbury Road, Tsim Sha Tsui, Hong Kong
3. Soho House Hong Kong
The Soho House collective is a hub for 'creative thinkers' around the world, with over two dozen Houses in ten different countries as of September 2021. The Hong Kong House is located in a 28-storey building in the heart of Sheung Wan, offering a variety of options for food and beverage (there's dim sum!), fitness, and event spaces. Head to the Club Bar for live performances and karaoke nights, host a movie night at The Screen, or simply zone out on the comfy sofas in the Drawing Room.
Tempted? The registration fee is $4,940 for Soho House Hong Kong's Local House membership (which grants you access to Soho House Hong Kong only, as opposed to Every House), plus a monthly fee of about $1,420. You get a discount if you're under 27, with the registration fee being $2,470 and the monthly fee being just around $700.
Soho House Hong Kong, 33 Des Voeux Road West, Sheung Wan, Hong Kong, p. 5803 8888
4. Hong Kong Football Club (HKFC)
If you're a sports aficionado, Hong Kong Football Club is the perfect private members' club in Hong Kong for you. Established in 1886, this club is not exclusively about football. In fact, it aims to elevate sports as a whole in our city and beyond. While there are five core sports, including rugby, soccer, hockey, squash, and lawn bowls, the HKFC also runs a netball division, in addition to societies and interest groups for badminton, golf, tennis, swimming and triathlon, and tenpin bowling. We like how the HKFC is particularly family-friendly, with plenty of space and activities designed for children.
Tempted? The exclusivity of HKFC lies in the fact that it requires its members to have exceptional ability both in terms of sporting and commitment. The Full (Sports Preferred) Membership costs $25,000, on top of a monthly fee of $1,850; whereas a Junior Associate Membership (for those under 28 years old) costs $1,000, plus a monthly fee of just $620.
Hong Kong Football Club, 3 Sports Road, Happy Valley, Hong Kong, p. 2830 9500
5. The Hong Kong Jockey Club (HKJC)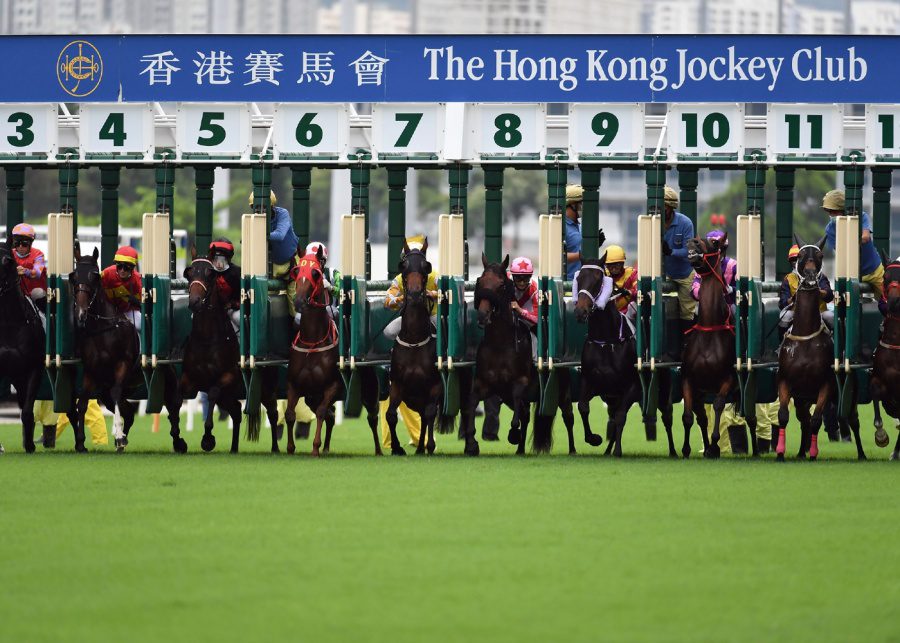 Go, horsey, go! Support your favourite racehorses at The Hong Kong Jockey Club, though as a member, you can say goodbye to watching the action from the public stands. Instead, you'll gain access to bars, restaurants, boxes, and even a lounge with its own private terrace. The different types of memberships at the HKJC each grants you different privileges and services. The main types of memberships include the Racing Membership, Full Membership, The Racing Club Membership, amongst others. Unless you're a Full Member, you'll only be able to use the facilities at the three clubhouses during specific times. Having said that, the clubhouses are all fully equipped with a range of dining options, sports complexes, swimming pools, play areas for kids, and more, so make good use of them when you can!
Tempted? The entrance fee for a Racing Membership is $150,000, with a monthly fee of $850. A Full Membership costs $800,000, on top of a monthly fee of $2,550. The Racing Club Membership costs $138,000, and $92,000 for those between 18 and 30 years old; both require a monthly fee of $1,400.
The Hong Kong Jockey Club has racecourses in Sha Tin and Happy Valley, as well as three clubhouses across Hong Kong.