Get your groove on well into the night with Sun Down Circle events at Potato Head
There's no shortage of brilliant things to do in Bali, so here's our Editor's List of the hottest events and new happenings to get into across the island from Sun Down Circle, Easter Weekend parties or trying out Night Fire Yoga!
There's never a shortage of hot, cool new things to do in Bali, so where does one start to make the most of your island getaway?  Right here, with our list of the hottest happening events – Sun Down Circle is upon us and the Easter long weekend has too many events that everyone is talking about, people!
PASAR MALAM #2, Saturday Night Market, R45
Following the success of R45 1st PASAR MALAM last month, R45 are very excited to host another night market event which will showcase the best of Indonesian traditional street-food, locally made creative handcrafted goods and quality music. Enjoy the festivities! You know the food is always epic there.
Pasar Malam #2 at Republik 45 this Saturday, 26 March 2016;
R45, Jalan Raya Kerobokan 86A, Seminyak, p. +62 87 888 66 1945, e. [email protected].  Open daily from 12noon-late.
Night Fire Yoga & the new Nirvana Shanti Yoga Bale, Four Seasons Jimbaran Bay
The hottest, new wellness and yoga destination – where to do Night Fire Yoga on the edge of the Indian Ocean – is of course brought to us by the Four Seasons gurus who brought us Full Moon Yoga.
Surrounded by the warm glow of tiki torches and kissed by the sea breeze, be led through dynamic Vinyasa postures influenced by the fire element Manipura Chakra, giving you calm and deep relaxation for the perfect pre-sleep ritual.  Pioneer this inspiring starlight yoga practice at its new Nirvana Shanti Yoga Bale (meaning 'peace of Heaven' in Sanskrit) – it's nestled in a secluded corner of the foreshore, offering divine views across Jimbaran Bay and the south-west coast.
The resort also collaborates with international yoga masters throughout the year to offer guests a variety of different styles. The full guest yoga schedule is available online.
All yoga classes are complimentary for in-house guests, except for Night Fire Yoga (every Tuesday from 7-8pm) which is R p650,000++ per person for group classes or Rp1,500,000++ per person for a private class, and AntiGravity Yoga (11am daily except Thursdays and Sundays) which is Rp300,000++ per person for a group class.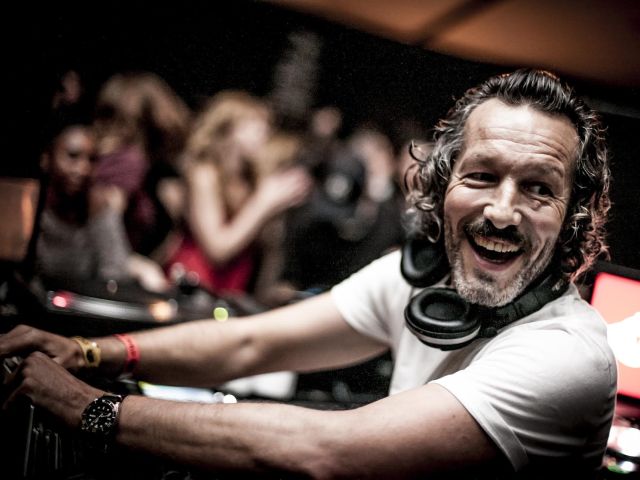 Sun Down Circle at Potato Head Beach Club
Get yourself down to Potato Head on Easter Thursday and get ready to hit the cocktails and the dancefloor at Sun Down Circle #016, where legend DJ Harvey will be smashing out a five hour set! To celebrate, Potato Head, DJ Harvey himself and The Katamama Hotel have put together a fab competition, check it out here.
THE MAIN PRIZE – WIN: an exclusive Potato Head beach club experience where, with up to 3 guests, you will be entitled to a daybed for the duration of the event with food & drinks to the value of 2 million IDR.  Merchandise from Harvey's Online General Store is also included. 
RUNNER UP PRIZE: Not bad at all, the recently opened Katamama Boutique Hotel (which sits adjacent to the beach club) is offering the the opportunity to spend an evening in one of its beautiful Garden Suites. Designed by Andra Matin, Katamama is a 58-suite hotel that champions the contemporary products of Indonesia's traditional artisans.  Check it out.
(Breakfast is included. Please note this prize is available for any date after May 1st 2016).
Weekend Chic Brunch at the Sofitel
Welcome to the first haute couture brunch, at the chic Sofitel Bali Nusa Dua (naturally – the French know how to do fashionable everything!)  Debuting on Easter, 26 & 27 March 2016, this Weekend Chic Brunch is available each Saturday and Sunday from 11am-3pm, from 499,000 IDR ++ at Cut Catch Cucina.  It includes free pool access and children under 12yo are free.
Karma Beach Babylon Party
Get ready for two days of soul, music, sunshine, stars and salty water beach-time at Karma Kandara.
The decadence of an era, Babylon Beach Festival is filled with the biggest line-up in the music industry including Silicone Soul, Jon Sa Trinxa, Rebecca Vasmant, Gus Till, Supercozi, Matty W and many more.  Soak up some of the finest contemporary tunes across the globe at one of the island's most beautiful and secluded beaches with good vibes, foods and friends.
Saturday – Sunday, March 19th – 20th 2016.  More details, online here.  500,000 IDR per day or get a special rate of IDR 750,000 for a two day pass! Villa package: Book a special two-night stay package starting from IDR 7,000,000++ and receive lots of benefits including discounts for all spa treatments, F&B and much more!