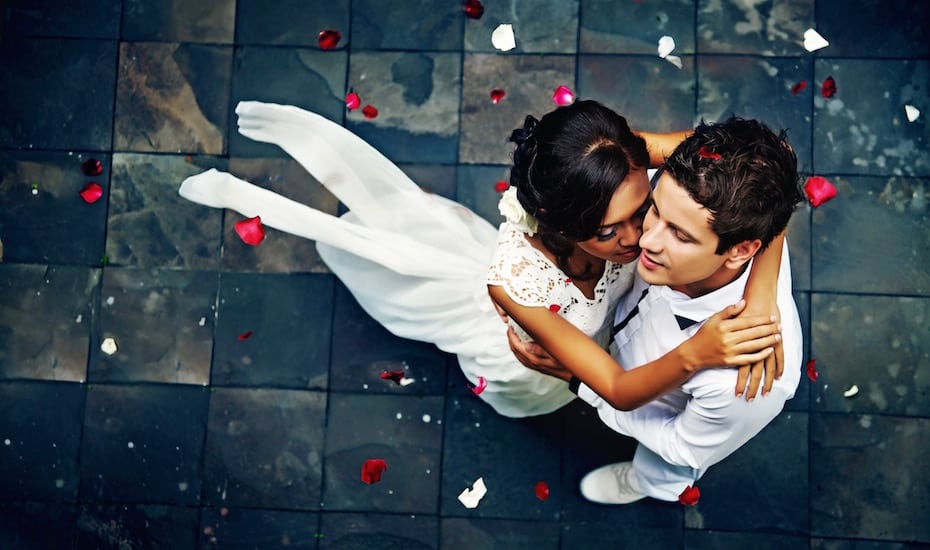 The countdown to your Bali wedding has begun. So make your journey down the aisle an easy one with these 7 tips from wedding experts
So, you've said "yes" to an island wedding in Bali. Now what?! Planning a big beautiful wedding is stressful enough, but make it a destination wedding in a foreign country and that pressure carries a weight heavier than that twenty-tiered cake you just spotted on Pinterest.
But don't hit the panic button just yet. Luckily for all island brides and grooms to-be, there are people out there who can help you every step of the way – people who've perfected the art of wedding planning and know the dos (and the absolute don'ts!) of getting it right before you walk down that aisle.
That's where The Seven Agency steps in – a team of Bali-based wedding professionals who, after successfully organising over 2000 weddings in Bali, know exactly what you need to consider (and what to avoid) when planning your wedding in paradise. You've got the ring, you've found the dress, now start ticking off these 7 tips and tricks from the wedding experts.
1. Get creative & go for a villa venue
This might seem obvious (and no doubt it's one of the first things you thought about after that all-important question was popped) but choosing the right venue in Bali is key. Whilst a typical wedding venue back home may be a chapel, a hotel or other monument, here in Bali a luxury villa is one of the most popular venue choices – and for good reason, too. The main benefit of a private villa is exactly that: privacy. You won't find any ogling hotel guests here trying to nab a canapé from the buffet, nor will you need to turn the music down by 10pm (unless you want to!). Instead, you'll have the whole place to yourselves, to fill as you please with as many family and friends as you can fit. The options for decor and entertainment are also endless – more than you can shake a bouquet at. With hectares of manicured gardens, seemingly endless infinity pools and a collection of different venues to choose from for the ceremony, the reception and the afterparty, a luxury villa couldn't be more perfect for a big Bali wedding.
And the best bit? A luxury villa costs much less than you might think. From saving money on your own accommodation, to the freedom of hiring your own budget-friendly vendors, the cost of a villa wedding in Bali is surprisingly affordable if you plan it right.
2. Choose a season & don't be afraid of rain
We've all heard the Alanis Morissette line about rain on your wedding day, but in Bali, it's not the end of the world. Dry season (between April and October) is of course one of the most popular times to get hitched because a rained-out wedding is much less likely, but even in the height of rainy season, weddings can be blessed with some of the most glorious and tropical weather you could imagine. Unlike Thailand or Sri Lanka, Bali's rainy season is rather short-lived in the sense that it could rain at night, but can be sunny by morning. Of course, this can't be guaranteed, so if you do choose to hold your wedding during rainy season, it's important to prepare for rain with a Plan B. Most wedding planners will have a tent or marquee on hand, whilst The Seven Agency offers couples a tent for free as part of its rain protection plans. And hey, at the end of the day, a warm tropical shower makes for some stunning photo opportunities…
3. Make it legal or settle for a symbolic ceremony
Yep you read that right – not all weddings in Bali are legally binding partnerships. For some couples, it's not an option to wed legally if religious beliefs don't match up, whilst some couples simply prefer to have all the paperwork settled at home, with just a symbolic celebration or ceremony taking place in Bali. It's relatively easy to legally marry in Bali for most nationalities, but you'll want to consult your trusted wedding planner if you're set on making it official the moment you say "I do". Each their own, we say. It's 2018 after all!
4. Call in the experts & find the right wedding planner
When it comes to planning a wedding in Bali, it can seem like an uphill task sifting through the endless picture-perfect venues and style-savvy vendors – all of which promise to make your big day the most memorable she-bang your guests have ever attended. So to help you separate the good from the bad, the best option is to call in the experts and find the right wedding planner – one that not only knows how to manage your big day, but also knows the ins and outs of the industry.
What you may not realise is, a really great wedding planner isn't necessarily a one woman show handling every detail. In fact, with so much to manage and organise, just one pair of hands could be catastrophic. So the best option is to find a team of professionals that have the resources to juggle the logistics, the vendors, the contingency plans, the schedule and the decor – leaving you to deal with the important things (like bubbles with your bridesmaids!).
The best way to find a qualified wedding planner? Read the reviews. A good wedding planner will have had plenty of practice, and a great wedding planner will have plenty of shining reviews to back it all up, not to mention a dreamy portfolio bursting with gorgeous images and videos of grinning newlyweds and bedazzled guests. And luckily for you, here in Bali all wedding planners must be legally registered and stand as a member of the Bali Wedding Association (the only government body in Bali) so you'll know you're in safe hands if your planner ticks off all of these credentials.
5. Begin with the basics & add as you go
Personally, we couldn't think of anything worse than a cookie-cutter wedding package, but sometimes, a basic wedding package can act as a good starting point. There will never be a one-size-fits-all package that suits every couple (especially for big weddings that need to be customised along the way) but there are definitely starter packages that can help you to get the ball rolling and the bouquets flying. Once you've got your basics, then you can begin to add on the must-have extras and the a la carte services later down the line if you choose. A five-piece live band? No problem. A clifftop fireworks display beneath the stars? Easy peasy. An underwater photo session with fish as your witnesses? You betcha!
6. Find your own vendors or leave it to the experts
This one all depends on your own preferences, your experience in party planning and the amount of time you have to spare. If you're a Bali regular and have a fave restaurant, hair salon or live musician in mind that you simply must have at your wedding, then go ahead and organise these vendors for your Big Day – after all, everything should be exactly how you've dreamed it. But if you're not sure on where to look or who to call, then you're probably better off leaving the logistics to the wedding planner. They'll have plenty of contacts and different options according to your budget and theme, allowing you to pick and choose as you go. Chances are, they'll even be able to secure better prices thanks to their already-established relationships, and they cam warn you of any hidden costs or cons along the way from their own experience. But most importantly, if your planner arranges the vendors for you, they'll also organise the setup, schedule, and service quality of each vendor to keep them all in line – that's one helluva weight off your shoulders!
7. Be real with your budget but don't count the pennies
With $2 Nasi Gorengs and budget accommodation on every corner of the island, surely a Bali wedding is going to be as cheap as that those poolside chips, right? Unfortunately not. While there are plenty of ways to keep the costs down on your Big Day, it's not going to be as budget-friendly at the bottles of Bintang beer. Just like back home, you can keep it cheap by condensing the guestlist, minimising the frills and cutting out any extravagances, but you'll still face plenty of the same costs that you'd normally encounter. While accommodation, stylists and entertainment might be cheaper in Bali, other things are much more expensive, like alcohol which is heavily taxed in Indonesia, not to mention the additional costs of flights. You'll certainly get more for your money in Bali, but you'll definitely want to keep in mind that where costs may be smaller in some areas, they are higher in others. Yup, a wedding in Bali might not be as cheap as you were expecting – but at the end of the day, it will be totally worth it!
To learn more about weddings in Bali, contact the wedding experts on +62 8 777 999 77 25 or email [email protected], or visit the website.
Sign up to get more Bali bucket list ideas straight to your inbox!