Wedding season is on the horizon! So for loved-up Honeys who have no idea where to start, we've handpicked the best wedding planners in Bali so you can sit back, relax, and let the experts do the rest.
A clifftop vista or a bohemian beachfront vibe? A sunset reception or a twilight banquet beneath the stars? When it comes to planning the most aaaah-mazing Bali wedding, the opportunities are at once endless, magical and totally daunting. From the infinite number of postcard-perfect wedding venues, to the countless five-star villas all fringed by limestone cliffs and teal seas – planning your big day in paradise is quite the task, and you're gunna need a Bali wedding planner.
Luckily for all island brides and grooms to-be, there's an abundance of expert wedding planners in Bali, on-the-ground and ready to make your Big Day a tropical island breeze. Whether you want to arrive via a helicopter into a 1000 guest wedding, or nestle amongst the rice fields with just a few close friends, be a clever couple and bring in the experts to help manage the big day for you. Here's our picks of the very best wedding planners in Bali.
22 BEST WEDDING PLANNERS IN BALI
1. Plan A Bali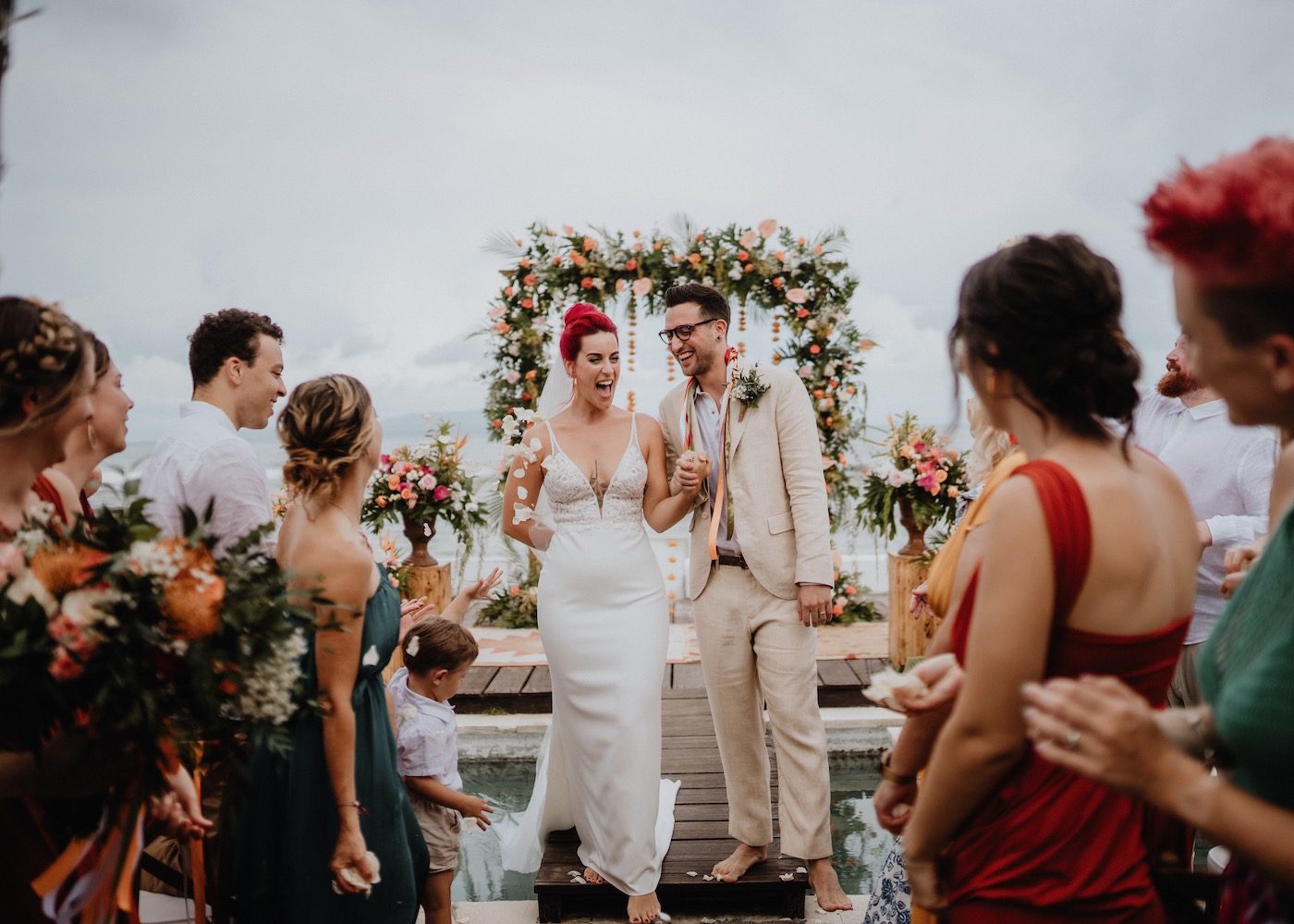 A boutique events company renowned for its expertise in customising special occasions, Plan A Bali is a long-time specialist in bespoke weddings, pre-wedding festivities, birthdays, elopements and so much more, meaning you'll want to keep these guys on speed-dial even after you've said "I Do". While it'd be easy to offer ready-made wedding packages, Founder Tash Heyder and the Plan A team ensure each event is a totally unique and customised creation drawn from your very own wishes, expertly paired with Tash's exceptional attention to detail and bubbly personality. You won't find any one-size-fits-all ideas here. Instead, you'll have your new BFF Tash on hand from start to finish to personalise every single element. She loves nothing more than chatting away about your dream day, helping you turn it into a reality, one bouquet or smoke fountain at a time…
2. Long Table Events
Dreaming of a destination wedding in Bali that packs a punch of personality? You've come to the right place. Long Table Events is a team of seriously organised planners, with a passion for customising special occasions with the wow-factor. Australian founder and creative director Emma is no stranger to Bali weddings, with 15+ years experience in event planning around the world, not to mention, she hosted her own wedding right here on the island! Emma and her team understand that it's all in the details, and that means, they know the importance of having people on the ground with all the right contacts, AKA trusted vendors and partners who understand how the nitty gritties, from the logistics to budget planning and even full-service bar packages. We'll raise a glass to that!
3. Bali Happy Events
Bali Happy Events was born in 2011 for one very selfish reason: they simply LOVE organising weddings! Some 700 weddings later and you can rest assured that these guys have got Bali wedding planning down pat, from beachfront bohemian "I dos" to six-star villas on the clifftops – and everything in between. Their philosophy? You dream it, they will make it happen. Their secret? They accept only a limited number of weddings each month to ensure you receive bespoke wedding planning services and the full, abiding attention that you deserve. They also promise to treat each wedding as an entirely unique event to truly reflect YOU. Sure, they love getting inspiration from other fabulous weddings, but the focus will always be on you and your preferred style. And that's not all. You'll be dealing directly with the owner, Grace, who'll be on hand to answer all of your questions whenever you need her. You can email Grace directly here to start planning your dream wedding in Bali!
4. Soirée Society
Whatever your dream wedding is – big or small, casual or elegant – the Soirée Society team has one mission: to make you feel like a guest at your own wedding. But what does that look like exactly? Well, for starters, it means zero fuss. You just have to turn up, say "I do", and enjoy the rest! Their secret is the fact that the team (helmed by Aussie owner Jessica, a hospitality expert with experience in luxury hotels and resorts) absolutely loves organising and planning weddings. Their main focus is bringing your unique and personal vision to life in a stress-free fashion, organising everything from floral arrangements and lighting, to coconut carts, live bands or even a full-on gastronomic feast!
5. Hitch'd Weddings
Getting hitched in Bali has never been easier thanks to Hitch'd Weddings, a family of creative minds led by Perth gal Kira since 2016. Picture this: not only will your Bali wedding be a beautiful, perfectly-styled day, you'll also get to bask in the sun, eat all the good eats, drink way too many cocktails and explore this beautiful island with your friends and family, Yep, it's all part of planning your once-in-a-lifetime Bali wedding with Hitch'd. So much more than just one day, they Pinkie Promise that they won't deliver just any wedding, they'll also weave in your personality and life stories for the entire thing. They're in it for the long haul, and a boogie on the d-floor too! And of course, the planning, styling, photography and stress-free details are all part of it. So if you say "Heck Yes!" to the Hitch'd fam, expect an all-out special occasion created by a team who loves celebrating love…
6. Mango Events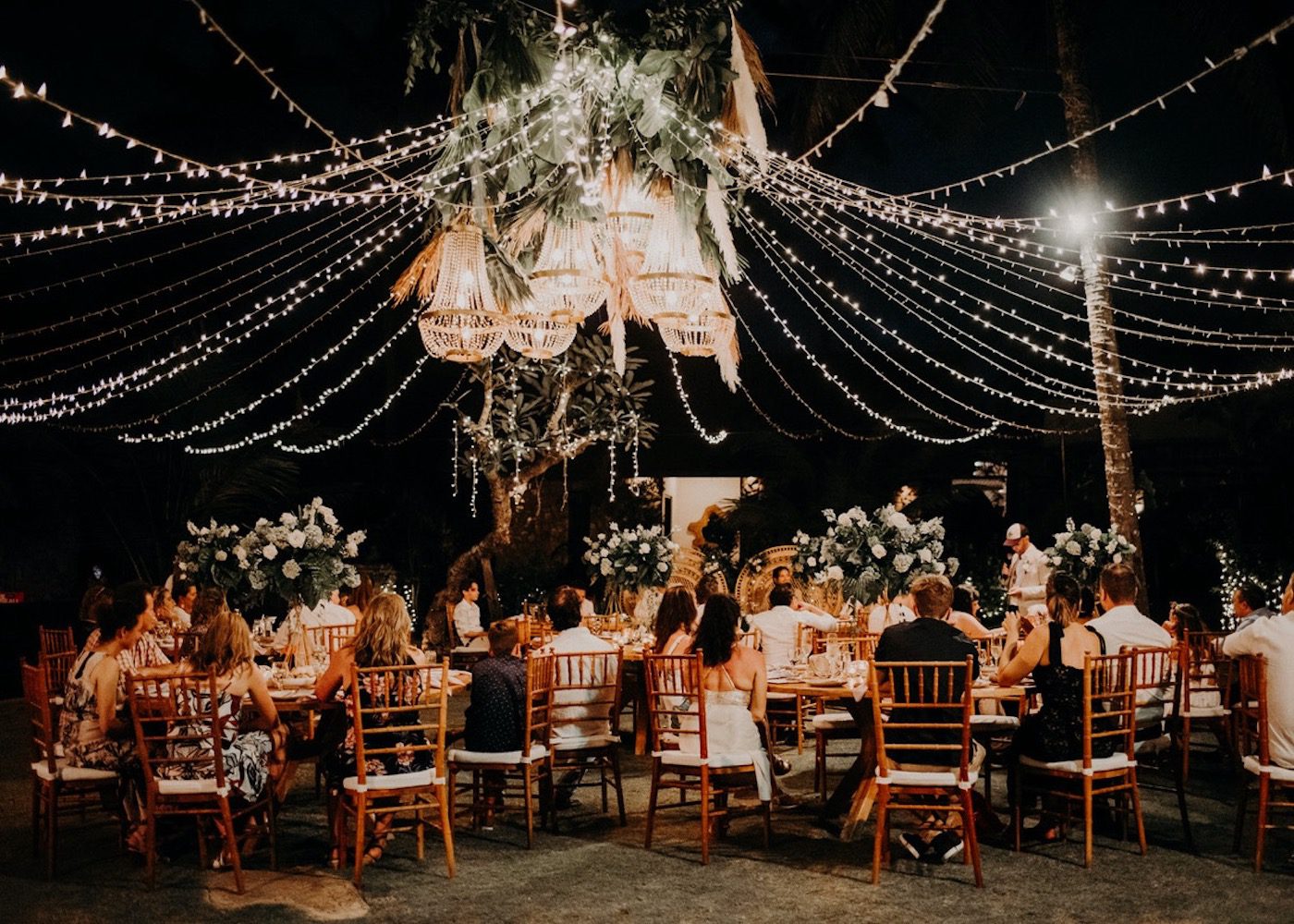 Mango Events is a close-knit family business that specialises in jaw-dropping weddings and celebrations of all numbers, sizes, religions and themes. And with its intimate team of coordinators (with a combined experience of 20 years in the event industry), they're able to approach each event with a fresh outlook, focusing on the individuality and uniqueness of the bride and groom. And it's this personalised touch that really matters, because they pride themselves on the relationships they build, nurturing a spectacularly high level of service when it comes to getting your Big Day just right. And to top it all off, they are truly passionate about what they do, which is everything from planning and coordination (and even finding and booking the venue!) to managing all the suppliers, caterers and the nitty gritties that you certainly don't want to worry about. All that's left for you to do? Sit back, approve the plans and watch your dream wedding come to life!
7. The Seven Agency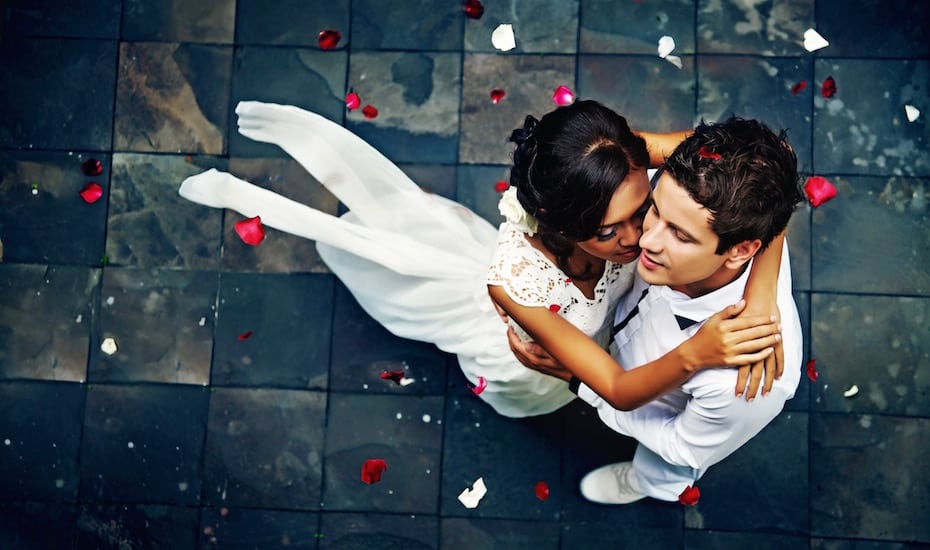 Planning a destination wedding is stressful. But don't hit the panic button just yet, because The Seven Agency has perfected the art of wedding planning and know the dos (and the absolute don'ts!) of getting it right. They're a team of Bali-based wedding professionals who, after successfully organising over 2000 weddings in Bali, know exactly what you need to consider (and what to avoid) when planning your wedding in paradise. Not a one-woman show handling absolutely everything, The Seven Agency is a team of professionals who have the resources to juggle the logistics, the vendors, the contingency plans, the schedules and the decor – leaving you to deal with the important things (like bubbles with your bridesmaids!). And with a dreamy portfolio bursting with gorgeous images and videos of grinning newlyweds and bedazzled guests, you know you're in the best hands with these wedding experts. Big or small, rain or shine, understated or elaborate – The Seven Agency has got you covered.
8. Lily Wedding Services
When it comes to planning your wedding in Bali, no doubt you'll want seasoned experts at the helm. You'll want a team of dedicated and hardworking individuals that have been involved in Bali's wedding industry for at least a decade, armed with a wealth of experience, and of course, a great reputation. Well, that's where Lily Wedding Services steps in. This well-respected, full-service wedding planning company can handle it all, from intimate "I dos" in the jungle, to large elegant weddings in a flower-lined chapel. They also take charge of the design and the logistics of your special day, and they certainly know how to impress your guests. They'll even make sure your wedding reflects your unique personality and style, all the way from your budget to your theme of choice. And because these guys are wedding veterans, they can even recommend vendors that they trust –  the ones who've consistently delivered amazing services. The secret to all of this? They simply love being a part of beautiful, love-filled weddings in Bali!
9. Global Weddings
Since 2003, the team at Global Weddings have been coordinating some of the most incredible destination weddings around the world from their offices in both Melbourne and Bali. However, this amazing island has definitely become their most popular location, and the team love any chance they get to shine a light on Bali as a world leader for destination weddings. From planning a secret wedding with Miss Universe Jennifer Hawkins, to the fairytale nuptials of superstar Instagram mum, Hannah Polites, they have destination weddings in Bali down pat. And when it comes to planning your own big day? Expect a personalised web page for guests with all the information needed about the wedding and the island, and they'll even take care of the legalities too. Yup, these guys know exactly what they're doing when it comes to Bali weddings, making sure your special day is a tropical island breeze…
10. Wonderland Bali Events
True to their name, Wonderland Bali Events are wonder-makers when it comes to real-life fairytale weddings. This bespoke, Bali-based wedding and events planner is inspired by everyone's all-time favourite tale, "Alice's Adventures in Wonderland", and just like Alice, they're obsessed with fantastical scenarios, they're mad about style and décor, and they'd do anything to turn an event into a day full of wonder. Dreamy, creative, and always thinking outside the box, Wonderland Bali Events is the wedding planner for you if you've got a fabulous and fantastical vision for your wedding, and you're after a team as bonkers about beauty and attention-to-detail as you are – a team who'll join in on the happy madness, while making some serious magic happen, too. And, being the full-blown events planning business that they are (and self-proclaimed flower junkies) they also have their very own stock of furniture and décor for you to choose from, meaning your Big Day will look exactly as it was planned – a fabulous, fantastical fairytale, from start to finish.
11. Bali VIP Wedding
Want to feel like Beyonce or Kim K on your Big Day? You'll want to call in Bali VIP Wedding. Founded in 2004 by Senior Bridal consultant, Veronika Ika Prawasti, these guys are self-proclaimed perfectionists that are all about the details and bringing your bridal dreams to life. Their dedicated team is on-the-ground in Bali, meaning they can stay up-to-date with the latest trends, new venues and the best vendors on the island. And yet, with partners in South Korea, China, Hong Kong and Australia, they specialise in creating weddings for couples flying in from all over the world for their magical Bali wedding. They're also a certified International Wedding Planner (so you know you're in good hands here) and they're the fastest growing wedding planning provider on the island, which says a lot about their rep. You can email Bali VIP Wedding here to start planning your dream day, no matter where you are in the world!
12. Paper Diamonds
Paper Diamonds is all about style. The website says it all, with design degrees and graphic skills thrown left, right and centre. Head honchos Natalie and her team pride themselves on taking on only a select number of weddings per year so they can pool their energy and passion into each wedding wholeheartedly. They create personal style boards based on the happy couples tastes and likes, and can even assist in creating a wedding website and personally designed wedding stationery. Their strong reputation has been featured on Harpers Bazaar, The Lane, Style Me Pretty, Cosmopolitan Bride, Polka Dot Bride, 100 Layer Cake, Magnolia Rouge, and Once Wed. A trustworthy bunch when, naturally, you're looking to put your wedding in safe hands.
13. Bali Brides
With a clear list of what you can buy in Bali and what you can hire (like suits and dresses, photobooths, babysitting services, additional day trips and tours) the Bali Brides website tells you they've thought of EVERYTHING. They have a great "Where to Start" section with many FAQs ready to go (essential reading for any Bali bride-to-be) and with an Australian team of Bali-based planners, stylists, and managers to take you the rest of the way toward the aisle, Bali Brides is known for its personalised services, affordable prices and every-step-of-the-way support.
14. Call Me Madame
Having a wedding in Bali doesn't always mean a casual affair with sand and coconuts. Instead, Call Me Madame is a boutique wedding planning agency that brings Parisian chic to wedding events on the island. They pride themselves on "approaching every wedding with a fresh outlook, and creating a close bond with clients to ensure that the wedding is the perfect reflection of the couple". They have no pre-defined packages, with everything tailored to suit the tastes, passions, culture, likes and dislikes of the bride and groom. The company was founded by Alice Dentan who was born and raised in France, where she became a senior wedding planner in one of the best French wedding planning agencies in Paris. Alice has worked with more than 80 couples, with weddings spanning from Paris to Vegas, and now – luckily for us – she is based here in Bali.
15. Bali Wedding For You
"Everyday in Bali, a love story unfolds: How will yours be told?" These compelling words from Bali Wedding For You quickly get you hooked on imagining the answer to this question. So to help you get your fairytale started, you can navigate easy-to-follow packages online, like the Frangipani set that even details the number of hours of photography you'll receive and personal services to the consulate in Bali. The whole business started through word of mouth, which speaks volumes for their reliability. Be sure to check out their Instagram account – it may have limited posts, but they're inspirational and all Bali wedding specific.
16. Your Bali Wedding
Your Bali Wedding is a no fuss, Australian-owned company that works on the ground in Bali and also in Australia, with a trusted network of villa partners and suppliers. They've coordinated hundreds of weddings on the island and supply fixed priced quotes that ensure no hidden extras or surprises. Browse the incredible list of Bali venues they trust on the Your Bali Wedding website, and start hand-picking your way to wedding perfection.
17. Vara Wedding
While most wedding-planners in Bali refrain from dishing up a dollar sign, Vara Wedding puts some clear context around pricing right from the get go – right down to the customised champagne flutes and hand-fans for guests. Heck, they've even priced up honeymoons and full wedding packages if you need them. Our personal favourite package is the Water Wedding, which includes the whole shebang. We're talking an altar that floats on the surface of a water pond, a blessing ceremony, specialised floral decorations, classical background music by a violinist during your ceremony, two singers and a keyboardist for the reception, two wedding flower girls, a wedding sign board with the Bride and Groom's name, welcome drinks, flower confetti, a flower bouquet, two nights accommodation with breakfast, and more! Now that's a wedding wrapped up…
18. Amora Bali Weddings
Making the dream wedding of every bride come true since 2017, Amore Bali Weddings is a licensed Bali wedding planning and event agency owned by a Canggu native. From intimate celebrations to elaborate parties, the agency helps plan the best day of your life at every stage – from pre-wedding to post-wedding parties and everything in between. Choose from a wide range of wedding packages based on venue and budget, or consult the experts for your preferences. Beginning with venue and wedding vendors, and ticking off all documentation requirements and guest lists, they cover it all. Then on the day, it's all hands on deck to ensure the celebration is just perfect. And psst… they also offers a honeymoon package for after your "I dos" too!
19. Love Bali Weddings
Committed to making wedding planning pleasurable, Love Bali Weddings is a team of pros with years of experience organising the most romantic and stress-free celebrations of love. This Bali-born planner and the stellar team offer a personalised approach to event organising, whether the dream is a private beach wedding at sunset or a large garden party beneath the stars. Planning your wedding according to your preferences and budget is their specialty, with a supportive team on-hand to give you bespoke guidance throughout, from wedding preparation to the actual day and the post-wedding too. From securing your dream venue to all the behind-the-scenes paperwork and vendor arrangements, these guys will make it smooth sailing all the way to the altar…
20. Amor Eternal Bali Wedding & Events
With over seven years of wedding planning experience, this passionate team has made it their mission to give you the wedding of your dreams. Amor Eternal Bali Wedding & Events takes the stress out of planning by organising absolutely everything, from selecting the most beautiful wedding venues in Bali, to any post-event necessities like honeymoon getaways. The team redefines luxurious events and blends them with nature – something that Bali can certainly offer when it comes to weddings. Consult with the experts to customise your Big Day, whether you're having a religious or civil wedding, a Balinese blessing, or even a wedding vow renewal.
21. Bali Wedding Paradise
Born in 2008 and organically grown by word-of-mouth only (that's a lot of happy couples!), the pro team at Bali Wedding Paradise understands the key to making each wedding a success. Their personalised approach lets your ideas develop into reality, without all the fuss of legalising the ceremony, booking vendors and everything in between. As a member of Bali Wedding Association, the Bali Wedding Paradise team takes care of everything, from giving you the most beautiful stationery for the invitations, to finding the best DJs and fire dancers to keep the party going.
22. Delapan Planner
Delapan Planner is no stranger when it comes to weddings and events in Bali. With a passion for destination weddings, the dedicated team has organised over 200 weddings, from conceptualisation to the Big Day itself. The team assists with curating the right vendors, helping you with budget allocation and all the nitty-grittys too, like rehearsals, run-sheet coordination, and so much more. They'll even help your guests find the best accommodation in Bali, as well as suitable transportation to and from your venue. All you've got to do is turn up and say "I do"!
P.S….
Wedding furniture & decoration hire
If you're having trouble visualising your big day on the island of Bali, jump onto the Bali Event Hire website. They have a showroom in Kerobokan and one in Canggu, where they can bring your wedding to life with props and stunning décor.
The Bali Wedding Association
Officially named "The Association of Professional Wedding Businesses in Bali" this is a great place to cross-check your wedding planner. Here in Bali, wedding planners can be legally registered and stand as a member of the Bali Wedding Association (the only governing body in Bali) so you'll know you're in safe hands if your planner ticks off all of these credentials.
And don't forget, search our Weddings section for more fabulous information on Bali weddings, with endless inspiration, tips, tricks, vendors and everything else you need for your special day. After all, you can never be too inspired or over prepared when it comes to your own wedding in Bali…
Happy wedding planning, Honeys!