Villa Tantangan
So much more than "just" luxurious island abodes, these 6 design villas in Bali come equipped with epic architecture & international credentials...
Bali does luxury villas so well that island vacay-ers can get a little spoilt. Private chef? No big deal. Infinity pool? We'd rather have two. Ocean views? Oh you betcha. But not all of Bali's villas are also blessed with award-winning interiors and epic architecture. So, we called upon The Luxe Nomad – Asia-Pacific's leading luxury villa booking portal – to curate a stellar list of island abodes that come with everything you expect, plus a tad bit more for the design aficionado in you. International design credentials, private art collections, bespoke furnishings, and incredible landscaping – these architectural marvels in Canggu and beyond are for all you interior addicts out there.
Villa Tantangan   –   Tanah Lot
Designed by acclaimed Italian architect, Valentina Audrito of Word of Mouth, the environmentally-friendly Villa Tantangan is a haven of natural light and wood accents, compete with front row seats to the best sunsets, black sand beaches, and chic holidaying north of Canggu in Tanah Lot. This 3-bedroom villa also breaks away from the electrical network of the island and is wholly powered by solar panels, designed to minimise energy consumption. It enjoys a prime position, elevated 15m above Pantai Nyanyi's isolated beachfront and provides a true off-the-grid experience beginning with the scenic ride through working rice fields en route to this exceptional island abode.

Villa Sin Sin   –   Kerobokan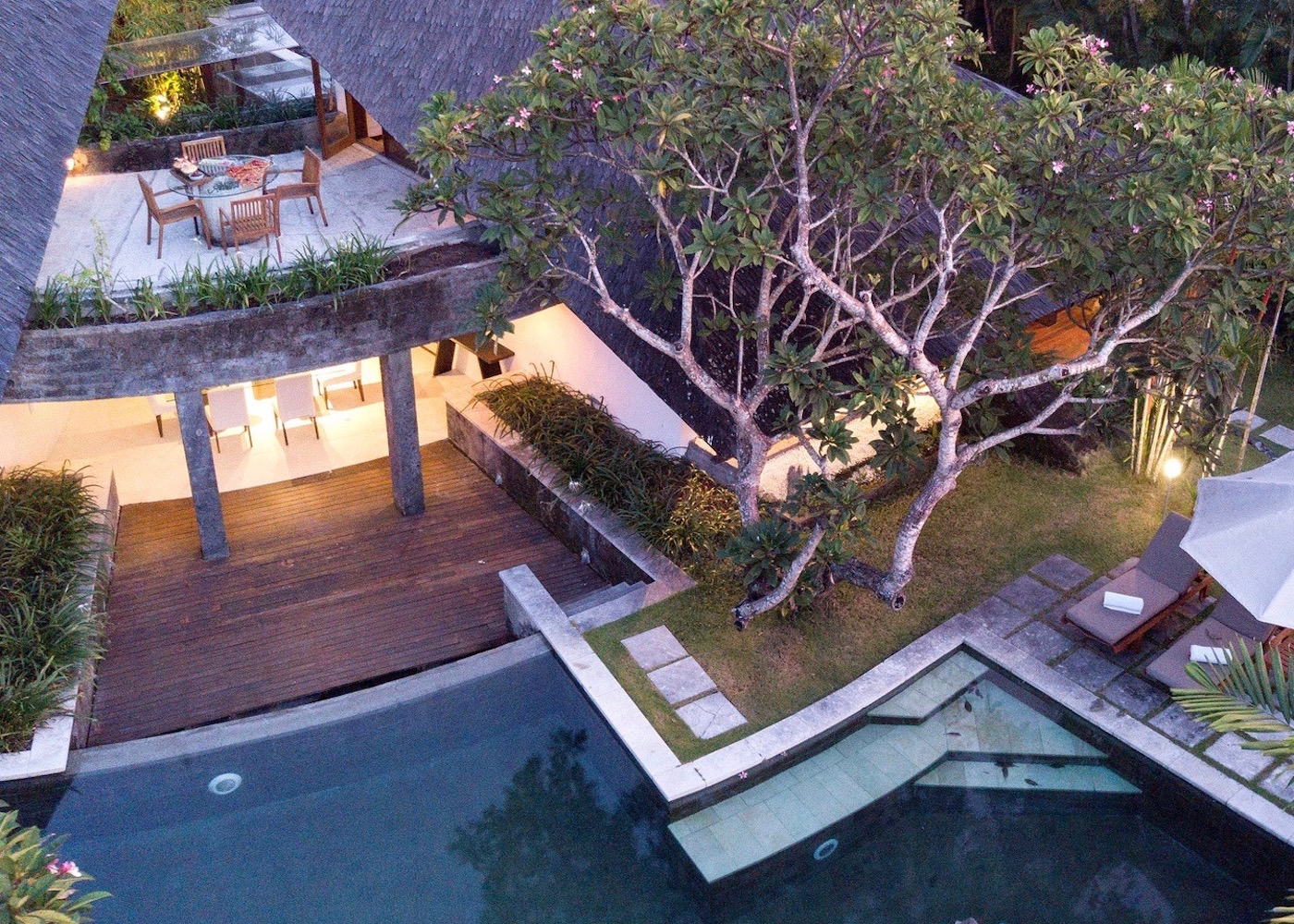 This villa is a dreamy enclave of private villas in a discreet local neighbourhood, surrounded by lush rice paddies in Kerobokan, Bali. Its three extraordinary two-bedroom villas were designed by Ms. Sin Sin Man, in collaboration with the celebrated Italian GM architect and author of 'Bali Modern: The Art of Tropical Living', Gianni Francione. The first villa features a semi-open bathroom, doors to the pool, as well as a mezzanine space that can be used as a meditation area. The second villa has a spacious living room, which opens up into a tropical garden, and an open terrace overlooking the garden, pool, and paddy fields. The third villa has an open-plan living room adjoined to the dining area and an outdoor pavilion providing a wonderful space to relax. This one is perfect for friends and families. 
Villa Nonnavana   –   Canggu
Villa Nonnavana is a stylish beach house, decked out in warm tones of wood and rustic rattan accents, contrasted with clean, modern lines and greenery all around. Chic en-suite bedrooms are set around a central pool, and the spacious open-plan dining and living areas make it the perfect space for entertaining or just relaxing. Unwind by the 7x4m pool in the lounge chairs and sandbags, or laze away the day in the hammock in the cosy cabana – all just a short stroll from Batu Bolong's hot spots and famous surf beaches. Take a short drive to hip Canggu for restaurants, cafes, boho boutiques, spas and bars.

Villa Florimar   –   Seseh
Villa Florimar is an impressive five-bedroom villa located in the beautiful and traditional Balinese village of Seseh. It was originally commissioned by world-famous fashion movie set designer Etienne Russo. With a rich and vast experience in the fashion industry, the Dutch owners also lent their unique touch and sense of style to the villa's ambiance – from the fabulous black and white interiors to the incredible array of Asian antiquities. The villa's three living pavilions are symmetrically arranged around the villa's 18-meter emerald swimming pool. The two master bedrooms boast spectacular views over the ocean whilst the suites and corner room are surrounded by verdant garden, fragrant with frangipani. It is also complete with trained staff, an experienced villa manager, and private chef – perfect for large groups and families.
Villa Nedine   –   Canggu
Villa Nedine was built 15 years ago by an Italian architect but was renovated recently by Mala Silviani, a freelance designer for a Bali-based firm, for the villa design to adapt modern architecture. It is an eco-luxury 4-bedroom villa with partial-ocean views of Canggu's Echo Beach from the 1st and 2nd floor, which also comes with a 12m child-friendly pool, lush gardens, a lounge for relaxing, and an expansive yard for outdoor activities. Elements such as big glass windows, straight lines and white tones throughout make it feel spacious and cosy at the same time. Contemporary pieces of furniture meet local craftsmanship to balance the modernities and warm up the space. Recycled wood with rustic cuts and texture were used for tables and consoles, natural rattan for chairs, and natural texture on rugs, curtains, and island decorative pieces. The villa is also proudly adorned by local designer pieces and bespoke items from Eva Natassa, Ong Cen Kuang, and AlvinT Studio.
Villa Ngomfi   –   Tanah Lot
Villa Ngomfi is the epitome of chic tropical luxury with its clean lines, open plan concept and al fresco spaces. It is a stunning minimalist villa edging onto a river slope with river & jungle views, best enjoyed from either the 180° living room overlooking the jungle slope or the semi-roofed pool deck creating an almost Ubud-feel. The villa is nestled in a serene environment with mature gardens, a full-time butler, and driver on request. The spacious living and outdoor areas, as well as its close vicinity to Canggu and Tanah Lot, make it perfect for family gatherings.
Happy villa-hopping Honeys!