Photography: Hmlet
These tasteful co-living spaces are just the thing for you if you're looking for independent living with a social network right at your doorstep.
Moving to Singapore or thinking about leaving your family home? Take the communal living route for an exciting change of pace. It's been hot on the trails of co-working spaces for some time now, and we're pleased to see numerous co-living options popping up. With various activities, amenities and aesthetically pleasing interiors, it'll take you just a weekend in these fully functional spaces before you're connected with a whole new social circle and a sweet new abode you don't wanna leave! Whether you're here for a work attachment or on a quest for independence (without all the necessary housekeeping involved), there's sure to be a co-living space in Singapore just for you.
Coolest co-living spaces in Singapore
1. Hmlet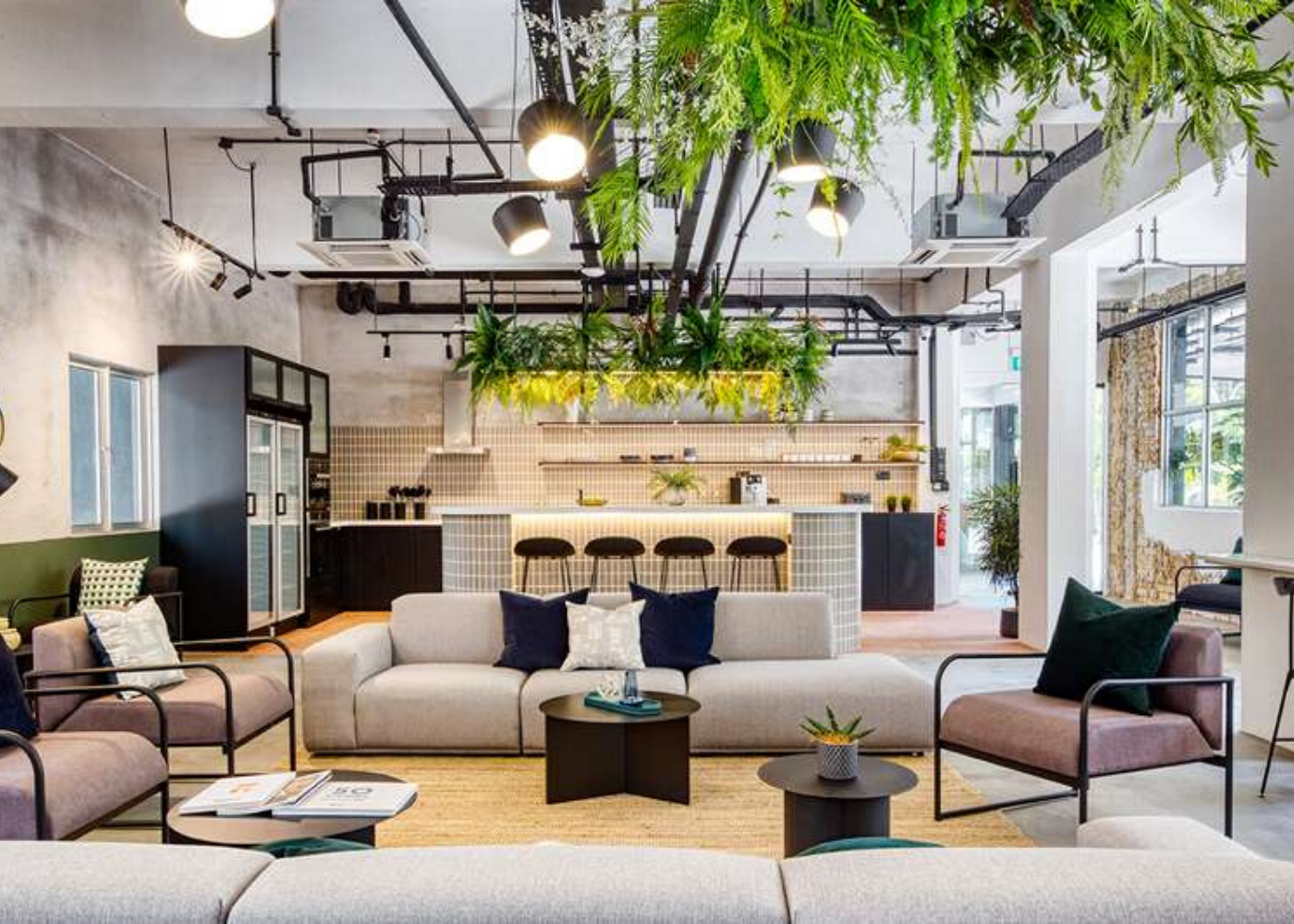 Hmlet brings together communal living with adequate privacy (you'll get your own personal bathrooms!) in gorgeous Scandinavian spaces. The brand's most recent development, Hmlet Cantonment, has captured our local-lovin' hearts with a revamped heritage space, injecting subtle elements of Singaporean culture into the distinctly minimal decor.
True to its namesake, Hmlet – short for 'Hamlet' – is all about fostering a community. Apart from community managers linking you up with like-minded peers based on your profile, members are also free to run their own events and programmes such as yoga, sketching or cooking at the common spaces, so jump right in if you wanna mingle! As one of the more established co-living providers in Singapore, Hmlet has over 1,000 rooms available for tenancy across the island. From rooms close to the breezy East Coast to the Cantonment facility right in the heart of the CBD, there's definitely a chic, modern suite you'll fancy.
Hmlet, multiple locations including Tiong Bahru, Orchard and Cantonment
2. MYPOSHPAD
Ever wanted to experience a luxury co-living space? The Garcha Group has launched Singapore's first and only five-star luxury co-living boutique hotel experience. Taking the usual co-living concept up an elegant notch, MYPOSHPAD allows you to stay at a collection of boutique hotels offering exquisite residences, including The Vagabond
Club, Duxton Reserve, Maxwell Reserve and Serangoon House. Starting from $3,600 per month (with a minimum stay of 30 nights), you can expect lavish rooms and suites with a mini bar, extensive in-house facilities, daily breakfast and housekeeping services. Plus, members get to enjoy special pricing across The Garcha Group's dining hot spots. Looking for entertainment? Pop by Anouska's during social hours for complimentary cocktails, swing by The Vagabond Club for Saturday movie sessions and more!
MYPOSHPAD, multiple locations including Tanjong Pagar and Serangoon
3. Lyf
Ever wondered what it'd be like to have a human-sized hamster wheel as a treadmill? Lyf Funan Singapore brings that joie de vivre right to its nine-storey facility, which is currently the largest co-living property in Southeast Asia. What really sets Lyf apart is this playful energy across all its community-hosted events and common areas – from a retro-styled laundromat to a massive ball pit to the undeniably photo-worthy interiors across its various lounges, game rooms and open kitchens.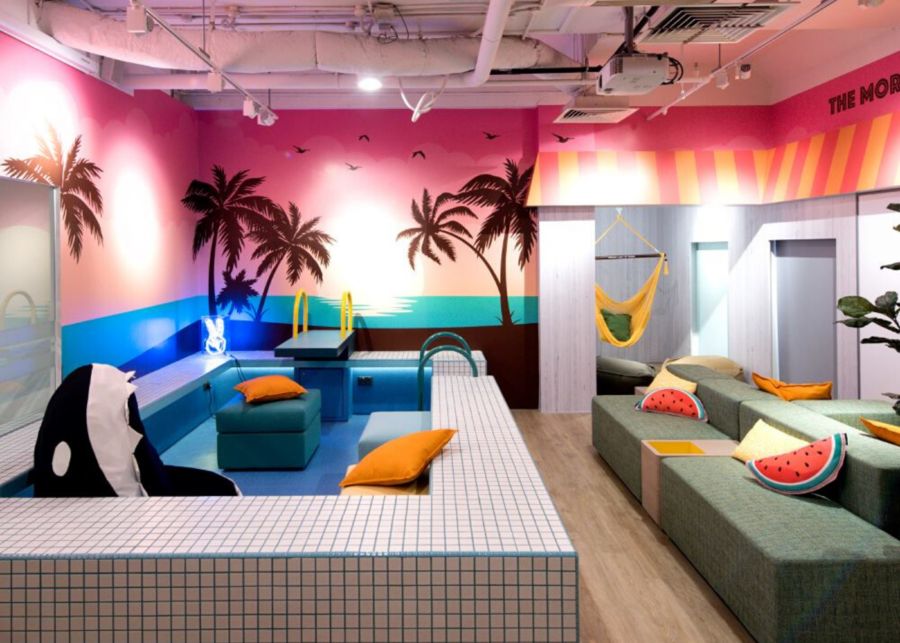 If you're all about flexible working arrangements, then the integrated working spaces will be just as much of a draw, especially since Lyf is just a short walk away from City Hall station. This one's definitely for those of you who work hard and play hard; plus, you can even find accommodation for big groups of up to nine with the larger apartment rental options.
Lyf Funan Singapore, 67 Hill St, Level 4 Funan Mall, Singapore 179370
4. Login Apartment
Login focuses on friendly, communal spaces that encourage spirited exchanges between its tenants from all walks of life. This translates into its characteristically minimalistic furnishings, providing a light, refreshing setting that's perfect for both socialising and a spot of peace and quiet. Airy rooms and peace-inducing aesthetics draw people in, as does the small, tight-knit community of welcoming tenants. You can opt in and out of the communal events whenever you want, simply by nature of Login's design and social approach.
Login Apartment, multiple locations including Queenstown, Novena and Orchard Road
5. ST Signature
ST Signature markets itself as a co-living hotel, with a greater focus on short-stay tenants compared to its counterparts. Its two facilities in Tanjong Pagar and Chinatown feature a range of communal spaces to mingle and uniquely offers a 'Signature Xperience' app that guides you through the check-in process digitally. The app also has a range of discounts on lifestyle and tourism activities by its partners, but the best part is that it serves as a chat platform for the ST community of guests and hosts – this means you can meet new friends and set up spontaneous trips to the bar.
ST Signature, multiple locations including Tanjong Pagar and Chinatown
6. Hei Homes
With well-designed rooms within the heart of Singapore, Hei Homes is a co-living agency that transforms spaces with functional, boutique-style decor for your stay. Its flexible lease terms start from as little as three months, making it a great option for expats on visits or work trips. What's even better? Hei Homes doesn't just provide co-living benefits, but also serviced apartment perks so you can enjoy hassle-free living.
Hei Homes, multiple locations including River Valley and Kerrisdale
7. CP Residences
Dream of living right in the middle of the shopping district? CP Residences has branched out to include multiple rooms across various high-profile buildings, but its flagship rooms are still the ones at Centrepoint Apartment on Orchard Road – these let you immerse yourself completely in the heart of the city. Its co-working space, 10 desks at Cuppage Plaza, is free for residents to access. Located opposite the apartments, it's just enough distance from the bed to really get some work done – who says you can't eat, shop, work and party all in one day?
CP Residences, multiple locations including The Centrepoint, Marina Bay Sands and Resorts World Sentosa
8. Figment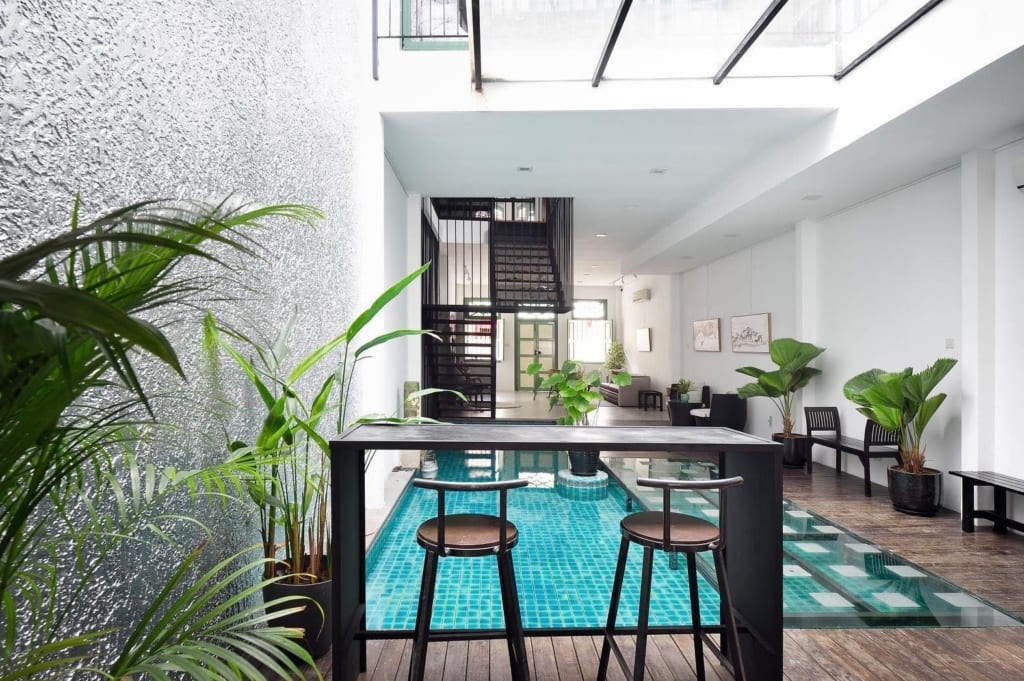 This locally-run serviced residence brand has launched luxury co-living spaces at its heritage shophouses in Singapore. If you love immersing yourself in local culture and you're one to photograph quaint architectural structures, this could be the perfect residence for you.
Figment, multiple locations including Joo Chiat and Little India
9. Easycity
For career-focused urbanites, Easycity offers the most practical choice. Its fuss-free management, unobtrusive furnishing and access to devices like scanners and printers means that you can focus completely on your upcoming presentation or report from the comfort of your room. A no-frills co-living space, it immerses you in the company of other ambitious working professionals and zealous entrepreneurs from various backgrounds. Who knows, they might be just the connection you need for the next step in your business!
Easycity, multiple locations including Farrer Park, Haw Par Villa and Aljunied
Words by Chris Lim