Photography: Love, Rosie via Facebook
Snuggle up with a romantic flick: here are our favourite Valentine's Day movies for a cosy night on 14 February!
Not all of us are up for a candlelight dinner at a fancy restaurant on Valentine's Day. Instead, getting cosy on the couch – with popcorn and wine (delivered to you), no less – and watching a feel-good marathon at home with your special someone sounds like a better plan. Romance movies for that lovey-dovey feeling, tear-jerkers that hit you right in the feels, rom-coms for a dose of laughter, and even anti-romance movies for a post-breakup watch – our list of Valentine's Day movies has something for everyone.
Valentine's Day movies to watch
1. Love, Rosie
This film follows the beloved troupe of best-friends to lovers – how can you not root for that? Starring the lovely Lily Collins and Sam Claflin, the plot begins at their friendship in middle school and follows their lives into adulthood. Based on the award-winning novel "Where Rainbows End" by Cecelia Ahern, this movie exemplifies the concept of "right person, wrong time". Get ready to have your heartstrings pulled with this flick and its iconic dialogues of romance.
Watch on Amazon Prime Video
2. Valentine's Day
What's more apt than a movie about Valentine's Day itself? Boasting a star-studded cast that includes Ashton Kutcher, Julia Roberts, Bradley Cooper, Taylor Swift and Anne Hathaway among many others, the film explores the events of – you guessed it – 14 February. Expect different stories occurring at the same time, each dealing with the theme of love in its own unique way. From high school romance to a cheating mistress, there's something for both the sceptic and the romantic.
Watch on Netflix
3. Titanic
How can we have a list of Valentine's Day movies without this mother ship? (Pun intended!) Swoon over 90s Leonardo Dicaprio and Kate Winslet in this epic romance movie. Paired with the classic tune of "My Heart Will Go On" by Celine Dion, you'll likely end up blubbering through it all and wondering whether you'll ever experience a love as iconic (although tragic) as theirs.
Watch on Amazon Prime Video
4. Away We Go
We don't know why this movie fell under the radar but we're secretly a little glad it did, just because it makes it feel that much more special. The story trails a pregnant, unmarried couple (John Krasinski and Maya Rudolph) and their hilarious journey across North America as they go in search of the perfect place to start their family.
Watch on Google Play or Amazon Prime Video
5. Crazy Rich Asians
The plot essentially centres around a Chinese-American professor who visits her boyfriend's home for the first time and gets the shock of her life when she discovers her down-to-earth partner comes from one of the richest families in Singapore. It's an easy, fluffy watch, and you can always make things more interesting by downing a shot whenever Marina Bay Sands or some other local tourist landmark appears.
Watch on Amazon Prime Video
6. Celeste And Jesse Forever
Who doesn't love Rashida Jones and Andy Samberg together? This slightly indie take on the classic romance storyline shows how a young married couple try their absolute hardest to stay best friends after their breakup.
Watch on Amazon Prime Video
7. Before Sunrise, Before Sunset and Before Midnight trilogy
If there's any trilogy worth your time on Valentine's Day, this is it. Starring Ethan Hawke and Julie Delpy, the three movies unveil an entire love story from the very beginning to its emotional present. You're guaranteed to feel the butterflies from when they first meet in Before Sunrise, get frustrated when they fight their obvious affections for each other nine years later in Before Sunset, and finally, see what becomes of their lives together after almost a decade in Before Midnight.
Watch on Amazon Prime Video 
8. Always Be My Maybe
Two childhood sweethearts (played by Ali Wong and Randall Park) reconnect 15 years after a fallout. Sparks fly between them, but their contrasting lifestyles keep them apart. Seems like any run-of-the-mill rom-com, but Wong and Park keep things fresh, wacky and super sweet. Oh, and that cameo of Keanu Reeves? Truly one of the funniest scenes we've seen in recent times.
Watch on Netflix
9. The Lunchbox
The way to the heart is through the stomach, and this story is no exception. Set in the chaotic city of Mumbai, it follows a wrongly delivered lunchbox that connects a housewife to a lonely man, and the letter exchanges between them that revive the hope they lost in life. It's beautifully shot and the story is completely unique, so you don't have to worry about any cliché storylines!
Watch on Amazon Prime Video
10. The Other Woman
This comedy kicks ass in the girl-power department and shows that Valentine's Day is about celebrating love for your friends too. Starring Cameron Diaz, Kate Upton and the always-hilarious Leslie Mann, it tells the story of how three women team up and plot their revenge against the man who deceived all of them.
Watch on Netflix
11. Her
Proving that romance can start in the strangest of ways, Her explores love in the digital age and how technology may not be as soulless as it's always made out to be.
Watch on Netflix
12. Mr. and Mrs. Smith
Get your action on (screen, we mean). Brad and Angelina were undoubtedly one of our favourite celebrity power couples (#RIP) and we just love re-watching the film that brought them together in real life!
Watch on Amazon Prime Video
13. The Notebook
This list would simply be incomplete without giving this classic a mention. The Notebook reminds us of how we fell in love with Ryan Gosling way before the days of Crazy Stupid Love (not that we don't love that film, too!). Innocent, pure and infinite, there's no other love story quite like it.
Watch on Amazon Prime Video

14. Crazy Stupid Love
When movie stars Ryan Gosling and Emma Stone appear on screen together, you don't ask questions – you just watch. Aside from their sizzling chemistry, the other highlight has to be Steve Carell's portrayal of a newly divorced man who's just trying to get his sh*t together. That twist at the climax still has us laughing out loud.
Watch on Netflix
15. The Fault In Our Stars
If you've already read the novel by John Green, we don't have to remind you to get the Kleenex ready, because this film is guaranteed to tear your heart to shreds… in a good way. Focusing on the young love between two cancer sufferers, the story puts a whole new meaning on the immortality of love.
Watch on Netflix
16. What If
We don't care what anyone says. The 'friendzone' is a total myth, especially when it comes to these characters who each realise their best friend just happens to be the love of their life. Starring our boy Harry P (aka Daniel Radcliffe) and Zoe Kazan.
Watch on Amazon Prime Video
17. About Time
There's a touch of science fiction in this plot as the leading man, Tim Lake (played by Domhnall Gleeson), discovers he can travel through time. He uses his ability to cunningly win the heart of the girl (played by Rachel McAdams) that steals his.
Watch on Netflix
18. Scott Pilgrim Vs. The World
Finding it hard to persuade the hubby to your movie choices? Well, he won't say no to this one. This uber hilarious film throws in a little bit of everything from comic books to pop art to video games in one of the quirkiest, awkward-but-cute movies ever.
Watch on Netflix
19. Date Night
This one's sure to have you both rolling on the floor in laughter. Tina Fey and Steve Carrell play a married couple who have lost a little bit of their romantic spark but rediscover it in the weirdest ways imaginable – trying to escape from the mob!
Watch on Google Play
20. Call Me By Your Name
This movie made waves in 2018, and in a way, we'd say it's this decade's Brokeback Mountain. Set in Northern Italy in the 1980s, it follows two boys, 17-year-old Elio and 24-year-old Oliver, who happen to fall in love with each other. More heartbreaking than heartwarming, the tale explores the nuances of first love with stunning cinematography and music.
Watch on Amazon Prime Video
21. Jerry Maguire
We're all guilty of loving a good cliché and what better way to show tribute than by watching the film that started it all? Watch as Tom Cruise and Renée Zellwegger show that sometimes it's not all about falling helplessly in love but learning to love even when things get tough. Jerry, you had us at hello.
Watch on Amazon Prime Video or Google Play
22. Ghost
This cult classic perfectly balances humour and drama with some iconic scenes thrown in. Who can forget that sensuous pottery scene? Or Whoopi Goldberg's character, who allows Patrick Swayze to possess her body so he can have one final dance with Demi Moore! Alexa, play "Unchained Melody" as we reach for tissues.
Watch on Netflix and Amazon Prime Video
23. Someone Great
This one's for all you anti-romantics. Gina Rodriguez breezes through this fairly real story of someone who's fresh off a long-term relationship. The film shows some raw post-breakup moments as Gina's character struggles to move on with the help of her girlfriends, played by Brittany Snow and DeWanda Wise. Not your typical Valentine's Day movie, but a great watch nonetheless. Oh, and prepare to ugly cry for this.
Watch on Netflix
24. The Big Sick
Comedian Kumail Nanjiani and his wife, Emily V. Gordon, take a page out of their own love story for this romantic flick. The plot gets interesting after the characters break up when Emily (played by Zoe Kazan) mysteriously falls ill and is placed in a medically-induced coma. Her parents fly in to take care of their daughter, and Kumail's character (who chooses to stay) soon develops a bond with them. Of course, things are exactly the same for Emily when she wakes up, but it is a rom-com after all, so you can probably guess the ending.
Watch on Amazon Prime Video
25. The Proposal
Pre-Deadpool Ryan Reynolds and comedy queen Sandra Bullock hit the mark in this hilarious rom-com. Yes, the situation is cringe-worthy: tyrant boss forces her ambitious assistant to marry her in a desperate attempt to avoid deportation. The show, however, turns into a complete "aww-fest" when Bullock's character cosies up to Reynold's family and *surprise, surprise* falls in love with him.
Watch on Amazon Prime Video
26. To All The Boys series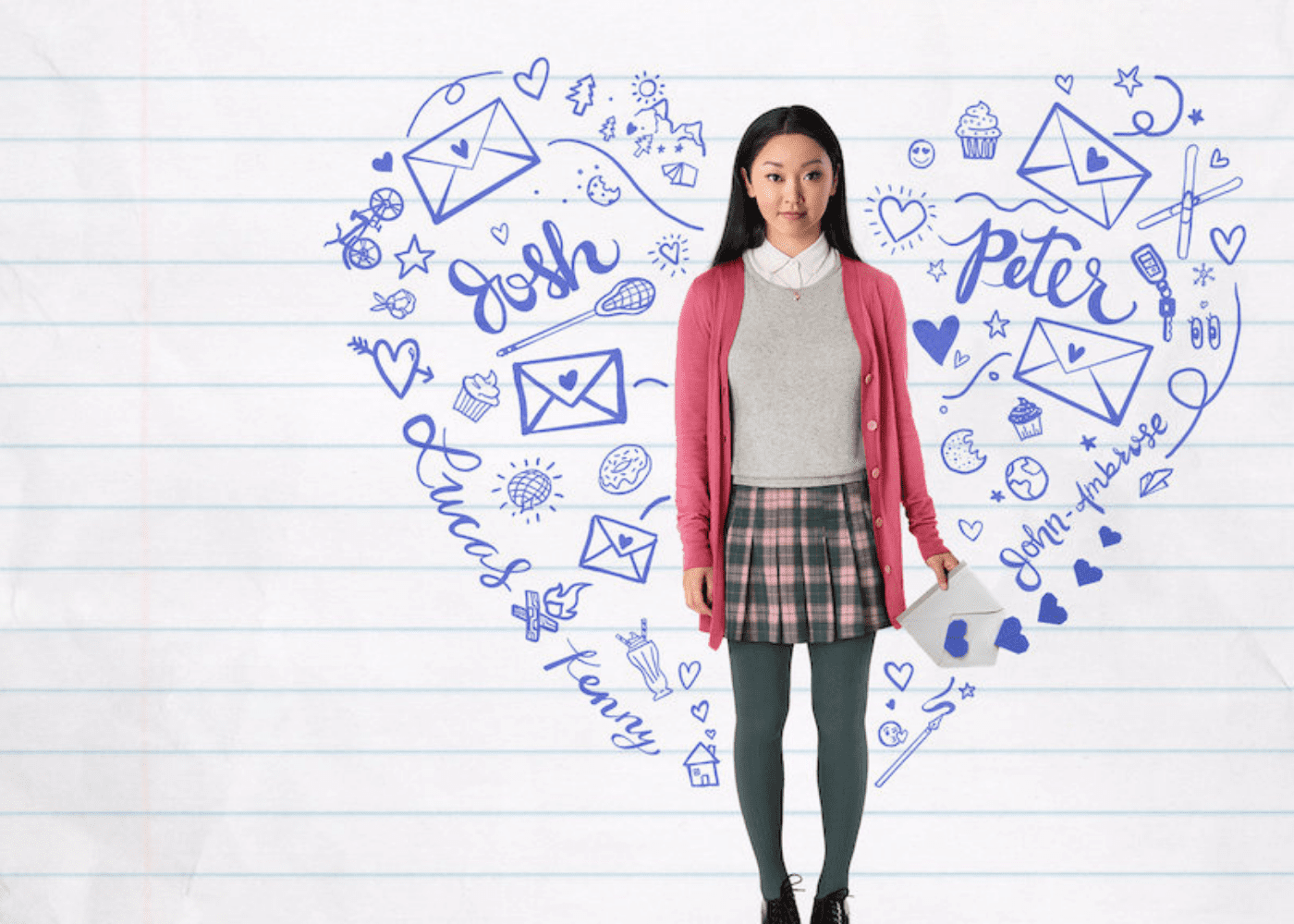 We can't get enough of the super adorbs duo: Lara Jean and Peter Kavinsky. The feel-good film sees wallflower Lara in a pickle when her secret love letters get mailed to her crushes. Best of all, you can binge-watch all three flicks for a heartwarming movie marathon.
Watch on Netflix
Which of these Valentine's Day movies are on your watch list this year?