Photography: Jonathan Borba via Unsplash
Keep your romance alive with our alternative guide to out-of-the-norm date night ideas in Singapore. Life's too short to stay within the box!
We're all for splurging on romantic meals and post-dinner drinks at fancy cocktail bars, but sometimes taking the road less travelled can be rewarding too. And we're not talking about jetting off to a cool destination or a spot of Netflix and chill – if you look hard enough, there are lots of things to do in Singapore that can be unconventional yet romantic. Scroll down for alternative date night ideas that are totally out of the box!
Alternative date night ideas in Singapore
1. Explore the islands
Get out of this island and enjoy an offshore adventure! This city is surrounded by scenic ones that are just a ferry ride away. From tortoise homes to haunted grounds, you've got loads to discover with an afternoon of island hopping. Plan a fun day out to explore natural beauties and step out of your comfort zone.
2. Show love to animals
Want to extend your love beyond the both of you? Spend quality time with some furry friends. Singapore houses a wide range of dog and cat cafes, as well as farms and animal shelters. It'll be a treat for animal lovers! Create special and wholesome memories with your partner while enjoying cuddle time with these adorable creatures.
3. Dine in a pitch-black room
This is a fun one: go on a culinary journey through taste, smell, touch and sound with your date at Nox. The catch? You'll be doing this in total darkness. Take in this unique multi-sensory dining experience with your other half (and have a laugh at what a klutz you were afterwards).
Nox – Dine in the Dark, 83 Club Street, Singapore 069451
4. LOL together
You know the saying: Couples that laugh together stay together. Well, if you're looking to tickle your funny bone and potentially get made fun of, check out belly-aching stand-up comedy shows or watch 'em on Netflix for a cuddly night in.
5. Let off some steam
Whoever said relationships are a walk in the park clearly hasn't been in one, and sometimes venting your frustration in a healthy way might just bring you a little closer. So for your next date, head to The Fragment Room where you and your boo can break, smash or destroy things like wine glasses, bottles, plates and bowls without any repercussions.
The Fragment Room, 490 Macpherson Road, Singapore 368198
6. The fault is in the stars
It's not every day we get to see a starry sky with our naked eye. But with the help of sophisticated telescopes, you can be treated to beautiful constellations in the Lion City. Head down to the Science Centre Observatory for a star-studded experience – plus, the fact that it's one of the few in the world to be located next to the Equator means you'll be marvelling at a greater number of vistas in the sky.
Science Centre Observatory, 21 Jurong Town Hall Road, Singapore 609433
7. Camp in comfort
Get in tune with nature without giving up any comfort by going glamping. You don't have to travel to an exotic island to try this one-of-a-kind camping experience, especially with many companies like GlampingCity, Wondrous Glamping and Glamping Society doing all the work for you. As you settle into chic tents by the seaside under the starry skies, you and your boo can just sit back and focus on what matters – your love for each other.
8. Any night owls in the house?
We'll admit, it's not really a novel or unusual date idea, but if you're all about getting into bed by 10pm fully moisturised, then it's time to live a little. Extend your date by heading out to a late-night joint for supper or let loose all your secrets when you get sloshed at after-hours bars that serve up tipples till early morning.
9. Something wicked this way comes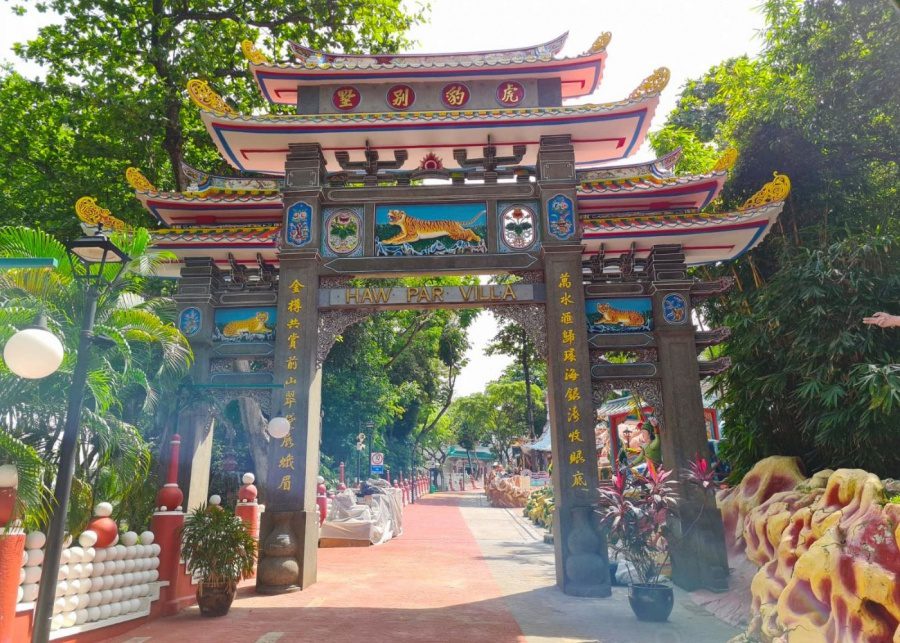 You don't have to wait till Halloween for a spine-chilling date. Forget about cheesy horror houses and go for the real deal. Yes, this Little Red Dot is riddled with urban legends, scary stories and even sightings of ghosts. Dare to stir the cauldron at Singapore's most haunted places with your boo? Check our list of spooky spots, but proceed with caution.
10. Paint me like one of your French girls
You don't have to be Picasso or Vincent van Gogh to wow your partner; it's all about spending time together with your bae and doing something out of the ordinary. Get artsy fartsy at art jamming studios to create a masterpiece that could even make a great gift.
11. Learn the art of body language
Turn up the passion by throwing some shapes. Whether you're looking to learn sultry salsa, racy pole dancing or sexy Bollywood dance, you'll be communicating with your partner through the wordless art of body language. Just scroll through our dance studio guide for some inspiration.
12. Three's a crowd
For the adventurous couple, perhaps you can add a little (vibrating) fun to your bedroom. Don't worry, we've already done the (dirty) work for you. From organic lubes to luxurious vibrators to bondage kits, our comprehensive guide on adult toys will have you and your partner exploring each other in a whole new way.
13. Let's get physical
When you're in love, there's a good chance you'll start to pack on the pounds, what with all the romantic bars and restaurants at your disposal. Here's our suggestion: ditch the white tablecloth affair for something more invigorating. Put on your trainers and hike your way through our rugged round-up of hiking trails or work up a sweat by trying out alternative workouts that involve trampolines and surfboards.
The next time you're fretting over how to plan date night, check out our list of alternative ideas!