Photography: George Milton via Pexels
Need a little bit of alone time? Stop by these restaurants and cafes for a spot of solo dining in Singapore.
We love a good group lunch. Nothing says team bonding like scouring the city for the newest restaurant with the coolest eats 'round town. But on days when you'd love a little quiet time to yourself, sitting at the corner of a cosy cafe sounds like a dream. So whether you're socially awkward or just want to take yourself out on a date, bookmark this list of solo dining spots for alone time in Singapore.
The best solo dining spots in Singapore
1. Surrey Hills Deli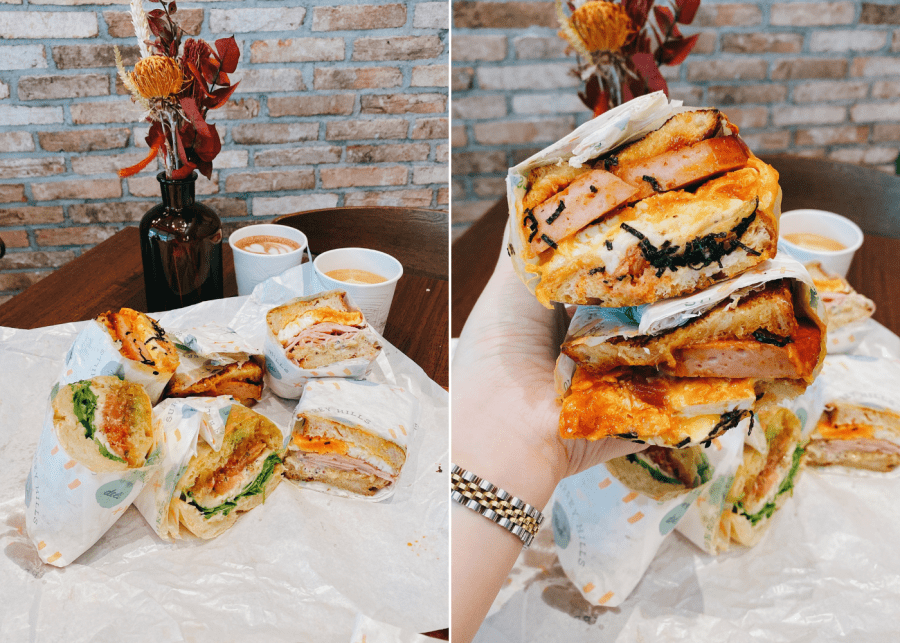 When we got word that our fave Australian grocer opened up a deli outlet in the CBD, you best believe we flocked straight to it. This Melbourne-inspired cafe is perfect if you're looking to pick up some lunch in a rush. You can swipe up a boxed salad and drink from the refrigerators. Or, if you have a bit of time on your hands, grab a seat by the windows and order yourself a coffee to go with one of the specialty sandwiches on the menu.
Trust us when we say the sandwiches here are like no other. Go with the Spam the Positivity that's stuffed with gochujang glazed spam, cheese, and a fried egg between two pieces of sourdough for a sweet and savoury bite. Or if you're looking to keep it light, the vegetarian Energise To-ma-toes is perfect. You get provolone cheese, burrata, and marinated tomatoes on ciabatta bread that's laced with basil pesto and caramelised onions. It's an absolutely indulgent but guilt-free delight.
Surrey Hills Deli, #01-02, 6 Battery Road, Singapore 049909
2. City Hot Pot
If you think hotpot's gotta be a group affair, think again. Pop by any of City Hot Pot's outlets and you'll be greeted with individual pots that you can cater to your own tastes. Pick between 14 different soup bases and a set menu with a variety of meats to choose from. Perfect to soothe your soul during a lonely rainy day. And don't worry about running out of soup because it'll be topped off for you upon request.
City Hot Pot, multiple locations including Guoco Tower and One Raffles Place
3. Dawn
This little hole-in-the-wall coffee spot seats just 12 people at a time, which makes it the perfect place for a bit of alone time. Don't underestimate the simplicity of a good cuppa and a pastry, because Dawn does it with quiet elegance. The menu is kept small so you won't be overwhelmed with choices. Get yourself a drink and settle in a corner for a quick respite from your long day at work.
Dawn, 78 South Bridge Road, Singapore 058708
4. Park Bench Deli
If you've been to this Telok Ayer icon, you know it gets pretty snug during lunchtime. But lucky for you solo diners – it's way easier to score a seat when it's just yourself. We love sitting at the tables outside to soak in a bit of sun while munching on Cubano or grilled cheese sandwiches. Wash it all down with a milkshake and a spot of people-watching before heading back to the office.
Park Bench Deli, 179 Telok Ayer Street, Singapore 068627
5. Aphrodite Waffles & Gelato
If you're craving a sugary treat, listen to yourself and satisfy that sweet tooth at Aphrodite! This dessert cafe is equal parts gorgeous as it is quirky. If you're having a hard time choosing which flavour to go for, just check in with the friendly staff who are more than happy to give recommendations. Or if you're feeling particularly adventurous, try your hand at guessing the mystery flavour. We hear if you guess it right, you get a free scoop of it!
Aphrodite Waffles & Gelato, 106 Desker Road, Singapore 209628
6. Cafe Natsu
If you did a double-take after seeing this cafe at the corner of Joo Chiat Road, you aren't the only one. We can't get over the look of Cafe Natsu during the day. Get a quiche or some mochi fried doughnuts and situate yourself near a window to maximise all that glorious natural light. As you take a sip of hot coffee or tea, get your journal out and make use of that peaceful atmosphere to pen your thoughts down for the day.
Cafe Natsu, multiple locations including Joo Chiat and Clemenceau Avenue
7. Native
There's no shame rocking up to a bar as a party of one if you're looking to have a drink by yourself. And we highly recommend Native. The much-raved cocktails scored this bar one of the top spots on the World's 50 Best Bars list. Head up to the loft for a quiet evening with friendly staff and quirky bar snacks like fish crackers, shoyu roasted nuts, and chapati chips with a yogurt dip. For gin lovers, we highly recommend giving its house spirits a taste. Between the coffee, chrysanthemum, and matcha flavoured gins, you're sure to find a unique spin on your classic G&T.
Native, 52A Amoy Street, Singapore 069878
8. Waga Waga Den
If the soft pastel look of cafes isn't quite your thing, why not drop by this industrial-themed one? Boasting a fully black interior (almost), Waga Waga Den serves up the two things it knows best – wagyu and wagashi (Japanese sweets). You'll find typical cafe bites with added Japanese flair. The signature Bifu Sandoitchi comes with thinly sliced beef, mushrooms, and cheddar, or you can opt for the Waga cheesecake with a speculoos base. And for drinks, we say get the dirty oat matcha that's made with ceremonial grade Kyoto uji matcha.
Waga Waga Den, #01-14, South Beach Tower, 38 Beach Road, Singapore 189767
9. Lazy Day Cafe & Bar
If you're looking for an afternoon of solo dining, pay this adorable cafe in Singapore a visit. Tucked away between Serangoon and Kovan, Lazy Day is a two-storey industrial cafe with a laid-back vibe. The menu is filled with East-meets-West dishes like chicken rendang croffles and mentaiko salmon toast. We hear the pulled pork toast is the stuff of dreams, marinated with housemade garlic cream and a sunny-side up egg. We're looking forward to the weekend already.
Lazy Day Cafe & Bar, 1G Yio Chu Kang Road, Singapore 545513
Preen and pamper yourself for a me-date at these solo dining spots in Singapore.