Try signature gin cocktails such as the Dr. Earl Potion and the Earlgroni at Cin Cin. Photography: Cin Cin
Keep your gin up by hitting these gin-centric bars in Singapore!
Everyone has a bevvy of choice, be it locally brewed craft beers, whiskey flights or good ol' bubbly for a good time with your gal pals. But here at The Honeycombers, gin has a special place in our hearts (and pantry). Tired of bars that tend to feature gin-only basic house pour varieties? Want to do a little better? Get a load of these gin bars in Singapore that'll take you to juniper-fuelled botanical bliss.
BeGin
Hidden upstairs the English pub Penny Black on Boat Quay is BeGin where you will welcomed by a pink neon light sign that says "gin this way" – a testament to a good speakeasy amirite? Expect exposed brick walls, concrete floor, retro high stools and old-school tools used as decor.
The drinks menu is filled with over 50+ gins from around the globe. House creations like the spice-heavy Jagmohan and the fragrant Lavender will take you on a multi-sensory ride. If you're feeling peckish, Samboo-sa pasties (tandoori chicken masala curry puffs) and the Nacho Del Goa (prawns and papadum bites) pack a punch.
BeGin, 27a Boat Quay, The Penny Black Upstairs, Singapore 049817
Gin Parlour by the Bay
Taking space of the al fresco area of Clifford by the Pier, Gin Parlour by the Bay is an innovative concept by Fullerton Bay Hotel. Gin enthusiasts will be pleased to know that they offer over 100 labels of gin from all over the world, including places you wouldn't necessarily think of when you are talking about gin, such as Sri Lanka, Colombia…and there is also a non-alcoholic gin when you're trying to "detox".
Dive into their cocktails such as the Sea Nomads, a refreshing mix of gin, lime juice, cinnamon, anise and pomegranate and the St John's Island, a heady combination of gin, pineapple juice, bitters, galangal, cinnamon and raspberry, while basking in the impressive skyline.
Gin by the Bay, 80 Collyer Quay, Singapore 049326
Tonic
If the moniker is anything to go by, gin takes centrestage at this bar. Tucked away in the lobby of the glamorous JW Marriott Southbeach, Tonic offers over 100 gins, so let the bartender spoil you with choices or if you are not feeling adventurous, you can always knock back a negroni (or two) while you sink in the plush chairs and soak in the mod-inspired interiors.
Tonic, 30 Beach Rd, Singapore 189763
Cin Cin
Located on the ground floor of Oasia Hotel Downtown, is this bar hideout that'll toss you in a time warp that Dr. Emmett Brown would approve thanks to its Prohibition Era-inspired decor. And its primary bevvie of choice? Good ol' gin. The eponymous Cin Cin cocktail ($20) – mixed using Bulldog Gin, togarashi-infused Lillet Blanc, Bittermens hopped grapefruit bitters and grapefruit peel – is a dry, potent concoction that does away with sweet or floral flavours. Another go-to for gin lovers is Cin Cin's take on the Negroni – the Earlgroni ($18) is a strong, spicy tipple that doesn't skim on the bitterness of the Bulldog-infused Earl Grey.
Cin Cin, Lvl 1 Oasia Hotel Downtown Singapore, 100 Peck Seah Street, Singapore 079333
Atlas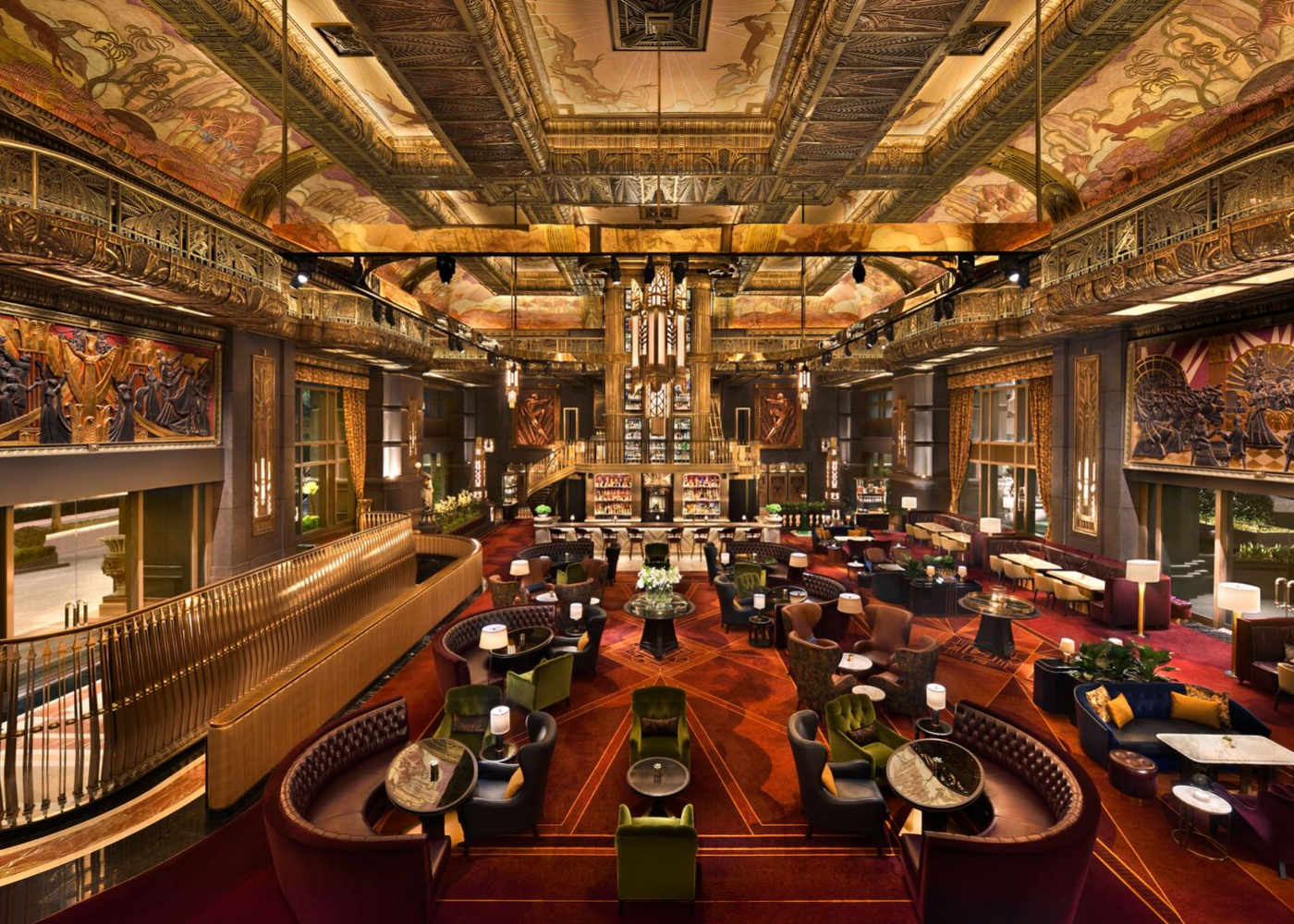 The Art Deco and almost Gotham City-esque exterior of Parkview Square make it one of Singapore's most spectacular buildings, and its new gin-focussed lobby bar is an extension of that theme. Taking inspiration from the Roaring Twenties, Atlas aims to be a luxurious interpretation of the grand European lobby bars of the Art Deco age. The open atrium-style bar offers masterfully crafted cocktails (by Head Bartender, Jesse Vida), as well as what is perhaps Singapore's largest gin collection – Atlas already features over 1,300 bottles of gin, and it's set to grow… in its magnificent gin tower, no less!
Atlas, Parkview Square, 600 North Bridge Road, Singapore 188778
The Spiffy Dapper
The Spiffy Dapper's countless offering of esoteric gin labels like Bluecoat American Dry and Cadenhead's Old Raj earns it a spot on our list. While inspired by 1920s speakeasy bars, the old-world charm here is completely unpretentious. Spiffy Dapper is situated on the second floor of a shophouse on Amoy Street – just make your way up the dingy staircase to a whole new world of gin.
The Spiffy Dapper, 73 Amoy Street, Second Floor, Singapore 069892
Oxwell & Co.
Monday Blues hitting you like a train on the track? Find a little comfort at the bottom of a glass of Oxwell & Co's signature Gin & Chronic – straight from the bar's selection of kegged cocktails. This homemade concoction incorporates ingredients from the bar's rooftop garden and features citrusy notes with a hint of nutmeg. Best part? This refreshing cocktail goes for just $8++ on its Mother's Ruin Mondays nights.
Oxwell & Co, 5 Ann Siang Road, Singapore 069688
Rabbit Hole
The Rabbit Hole is sure to thrill gin aficionados with its succinct menu of bespoke gin & tonics. Painstakingly curated, the menu is conveniently categorised into five separate flavour profiles ranging from traditional and dry to floral and elegant. The folks don't cut corners when it comes to gin – even the tonic is housemade! What's more, you won't find boring old ice and a slice. The pretty setting doubles up as a herb garden, keeping the bar stocked with botanical delights to complement your drink. Expect tipples to arrive pimped with home-grown herbal garnishes, including the likes of dehydrated orange, chamomile flowers, lemongrass, and even a twist of strawberry.
The Rabbit Hole, 39C Harding Road, Singapore 249541
Bonus: Level 33
Perched high above the city in the penthouse of the Marina Bay Financial Centre, this microbrewery, restaurant, and lounge is an impressive venue to add to Singapore's list of sky-dining. While it's known for their beers, Level 33 has just launched its first-ever gin and you know us, we always have a soft spot for gin and all things local. Collaborating with Lion Brass Distillery, the gin is infused with hops and gives off citrus and floral notes. Since it's only available at Level 33, we know where to head when need a quick, refreshing G&T fix in the CBD.
Level 33, 8 Marina Boulevard, #33-01, Marina Bay Financial Centre Tower 1, Singapore 018981