Photography: Cin Cin
Keep your gin up by checking out these gin-centric bars in Singapore!
Everyone has a bevvy of choice, be it locally brewed craft beers, whiskey flights or good ol' bubbly for a good time with your gal pals on ladies' night. But gin has a special place in our hearts. Tired of bars that tend to feature basic gin varieties? Want to do a little better? Get a load of these gin bars in Singapore that'll take you to juniper-fuelled botanical bliss.
Best gin bars in Singapore
1. Cin Cin
This bar hideout is a haven for gin lovers. Take your pick from over 10 gin-based cocktails including Majulah Singapore, which features local Brass Lion Distillery; and Marmeladi, a sweet and dry concoction of Kyro Gin, orange marmalade jam, Cointreau and fresh lime juice. Or take your love affair to the next level with The Gin Treasury. The menu opens the floodgates to a three-hour free-flow session of 50 different gins!
Cin Cin, #01-02, Oasia Hotel Downtown Singapore, 100 Peck Seah Street, Singapore 079333
2. Alleybar
Take a gin trip around the world in the heart of Orchard at none other than Alleybar. This longstanding institution boasts a fantastic selection of gin, from Australia and Spain to Venezuela and England. Psst: you'll also find bottles from Singapore's very own Brass Lion Distillery here! For gin connoisseurs, you can create glasses of gin and tonic to your taste preference with labels like The Botanist (sweet and floral), Four Pillars (citrusy), Gin Mare (juniper-forward), Canaima (tropical notes) and Never Never Triple Juniper (earthy).
Alleybar, Peranakan Place, 2 Emerald Hill Road, Singapore 229287
3. Gin Parlour
Taking up the alfresco area of The Clifford Pier, Gin Parlour is an innovative concept by The Fullerton Bay Hotel Singapore. Gin enthusiasts will be pleased to know that they offer over 200 labels of gin from all over the world. That includes places you won't necessarily think of when you're talking about gin, such as the Philippines, Colombia and Thailand.
Gin Parlour, The Fullerton Bay Hotel Singapore, 80 Collyer Quay, Singapore 049326
4. The Spiffy Dapper
The Spiffy Dapper's countless offering of esoteric gin labels like Bluecoat American Dry and Cadenhead's Old Raj earns it a spot on our list. While inspired by 1920s speakeasy bars, its old world charm is completely unpretentious. It's situated on the second floor of a shophouse on Amoy Street – just make your way up the dingy staircase to a whole new world of gin.
The Spiffy Dapper, Second Floor, 73A Amoy Street, Singapore 069892
5. BeGin
Tucked away on the second floor of English pub Penny Black, this speakeasy (thanks to its dim lighting and hidden location) is a haven for gin lovers. Don't know where to begin? (Sorry, we couldn't help ourselves.) Don't worry. The bartenders are more than willing to guide you through the dizzying world of gin. Before your drinking session, fill up on typical British grub food like scotch eggs and bacon sammies.
BeGin, 27A Boat Quay, The Penny Black Upstairs, Singapore 049817
6. Atlas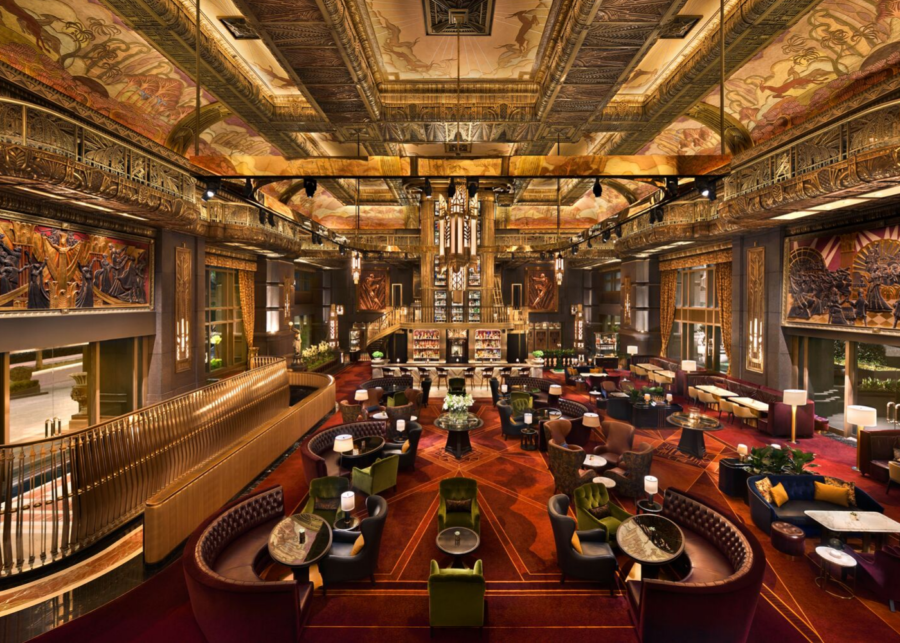 The Art Deco and almost Gotham City-esque exterior of Parkview Square make it one of Singapore's most spectacular buildings. And its gin-focused lobby bar is an extension of that theme. Taking inspiration from the Roaring Twenties, Atlas aims to be a luxurious interpretation of the grand European lobby bars of the Art Deco age. The open atrium-style bar offers masterfully crafted cocktails, as well as what's perhaps Singapore's largest gin collection. Atlas features over 1,300 bottles of gin, and it's set to grow… in its magnificent gin tower, no less!
Atlas, Parkview Square, 600 North Bridge Road, Singapore 188778
7. Jigger and Pony
This award-winning bar knows what's up when it comes to gin. Case in point: Crystal Ramos Gin Fizz. It's believed the classic variation takes a whopping 12-minute shake to create the creamy froth. But over, the gin is clarified and topped with a whole lot of bubbles. Other gin highlights include Cocoa Gin Sling, Genmaicha Bellini, Gin & Sonic and Madame President, which comes with a Campari-flavoured lollipop.
Jigger & Pony, Amara Hotel, 165 Tanjong Pagar Road, Singapore 088539
8. Tonic
Temporarily closed.
If the moniker is anything to go by, gin takes centre stage at this bar. Tucked away in the lobby of the glamorous JW Marriott Hotel Singapore South Beach, Tonic offers over 100 gin varieties. Let the bartender spoil you with choices! But if you're not feeling adventurous, knock back a negroni (or two) while you sink into the plush chairs and soak in the mod-inspired interiors.
Tonic, JW Marriott Hotel Singapore South Beach, 30 Beach Road, Singapore 189763
It's time to go on a boozy adventure at these gin bars in Singapore!