A visionary project, Pearl Bank Apartments acted as precedent to the subsequent high-density urban development in Singapore. Photography: Hubab Hood
From residential condominiums to hotels, and even untraditional mosques, Singapore's home to some great architecture.
Think the pinnacle of Singapore's architecture is the swanky, mammoth complex of Marina Bay Sands? Think again. The city's packed to the rafters with heritage buildings and award-winning architectural wonders – and we don't just mean the soaring skyscrapers of the CBD. From rare Brutalist buildings to futuristic mosques, we pick some of Singapore's most unique buildings.
Pearl Bank Apartments
At its time of completion in 1976, Pearl Bank Apartments was the tallest apartment block in all of Southeast Asia. Alas, it's been marked to give way to a new residential building. But once upon a time, it was easy to spot this building from afar – when its cylindrical, horseshoe shape and interlocking levels stood out in a sea of shophouses and uniform skyscrapers.
Pearl Bank Apartments, 1 Pearl Bank, Singapore 169016
Golden Mile Complex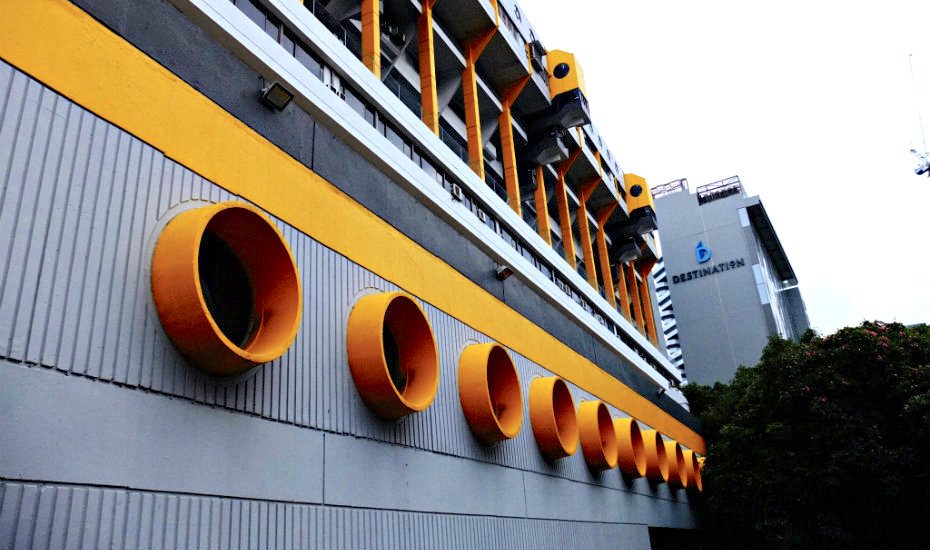 Also known as Singapore's "Little Thailand", Golden Mile Complex is a treasure trove of authentic Thai eateries, pubs and also occult stores – yep, we took the time to explore the place. Despite its rather nondescript interior, its exterior offers an arresting, slightly dystopian display. Built in 1960, the building was a pioneer for the Brutalist design. Its shallow, staggered profile was aimed at improving ventilation, and providing protective shading. Once considered avant-garde, the landmark remains prominent amongst a sea of generic-looking, monochromatic buildings thanks to its typewriter-esque appearance peppered by bright yellow hues.
Golden Mile Complex, 5001 Beach Road, Singapore 199588
The Interlace
Winner of World Building of the Year at 2015's World Architecture Festival, the 'vertical village' of The Interlace is a dazzling sight to behold, especially against the backdrop of staid HDB blocks. Designed by OMA and Ole Shereen, the upmarket condominium features 31 six-storey apartment blocks stacked hexagonally across each other. Gaps between each house make way for courtyards, swimming pools, tennis courts and leafy roof gardens, making it a highly detailed 'Rubik's cube' of living spaces.
The Interlace, 200 Depot Road, Singapore 109694
Reflections at Keppel Bay
Drive into Keppel Harbour and you'll be mesmerised by the sight of six, soaring curved towers. Regarded as the epitome of luxe waterfront living, Reflections at Keppel Bay is a residential masterpiece. Stretching along 1.2km of shoreline, the condominium comprises six curved towers, between 24 to 41 stories high, and 11 fan-shaped villa apartments. The luminous surfaces of the towers, coupled with their alternating heights, create a dazzling perspective of shifting light planes and airy, light filled spaces – quite unlike most high-rise buildings in Singapore.
Reflections at Keppel Bay, 1, 33 Keppel Bay View, Singapore 098419
Hill Street Building
Home to the Ministry of Information, Communications and the Arts, the six-storey Hill Street Building was once a police station and barracks. Built in the neo-classical style of 1930s England, the colonial landmark boasts a symmetrically-designed facade with balconies, arcades, columns and vast courtyards. Since its paint job in 1999, the building is best known (design-wise) for its over 900, rainbow coloured, double-leafed louvred windows.
Hill Street Building, 140 Hill Street, Singapore 179369
PARKROYAL on Pickering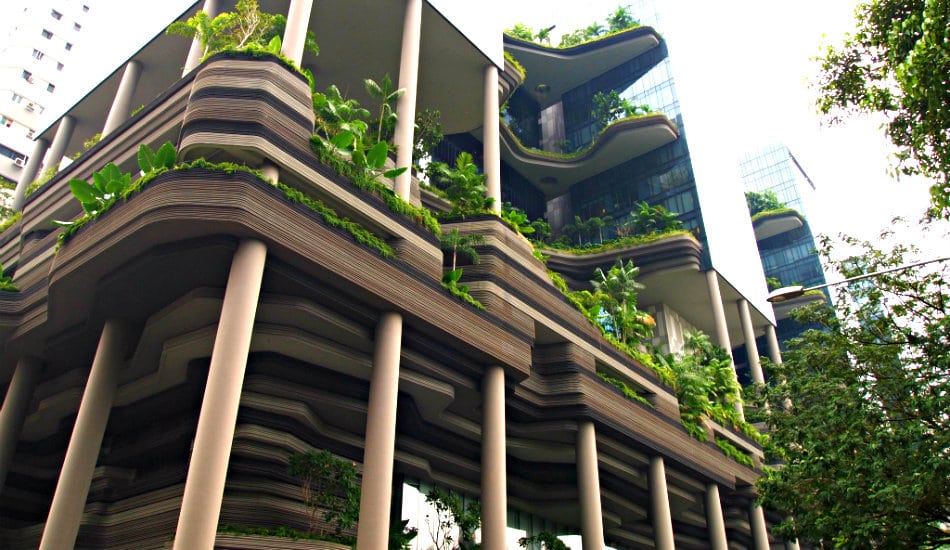 Amidst the concrete jungle of the CBD, PARKROYAL on Pickering stands out like a sore (albeit gorgeous green) thumb with its hotel-in-a-garden concept. Designed by Singapore-based WOHA Architects, the hotel is a gorgeous urban enclave of lush sky gardens, cascading waterfalls, plant-covered terraces, and massive contoured surfaces that make up the dramatic-looking podium.
Park Royal on Pickering, 3 Upper Pickering Street, Singapore 058289
Parkview Square
Batman fans, here's your chance to live out your superhero fantasies. Resembling a skyscraper from Gotham City, Parkview Square is an otherworldly experience. Clad in granite, bronze, lacquer and glass, the majestic office building located near Bugis MRT station is decked out in a flamboyant Art Deco style, similar to New York's Chanin Building. Its opulent facade boasts details you'd be hardpressed to find on the local streetscape, with sculptures of gargoyles, effigies of famous icons and elaborate fountains reminiscent of Piazza San Marco in Venice.
Parkview Square, 600 North Bridge Road, Singapore 188778
The Colonnade
Away from the glitzy glare of Ion Orchard is the iconic The Colonnade, an eye-catching condominium tucked into a quiet corner of Grange Road. Its unusual columnar architecture is the brainchild of the late Paul Rudolph, who was inspired by the unbuilt Graphic Center of Arts of Manhattan. Divided into four rectangular quadrants, the base of the building is lifted off the ground through two rows of closely-spaced columns. These place the quadrants at differing heights, creating varied floor planes and the renowned, quirky zigzag appearance.
The Colonnade, 82 Grange Road, Singapore 249587
Assyafaah Mosque
Winner of The Chicago Athenaeum International Architecture Award, the Assyafaah mosque breaks tradition with its futuristic design. New-age architectural elements were paramount, as the designer, Tan Hock Hiang of Forum Architects, envisioned the mosque as a welcoming place of worship for non-Malay Muslims and a landmark that would sit comfortably in a multi-racial city. On its exterior are aluminium facade panels for solar shading to keep the mosque and its worshippers cool. Adorned with eye-catching Arabesque screens, the panels allow for plenty of air ventilation and delicate shadowplay. While the mosque eschews tradition with its lack of a dome, it features a 10-storey minaret (a tower in which a muezzin who calls Muslims to prayer stands) covered in rusted, metal plates for an industrial feel that blends in with the neighbourhood's surroundings.
Assyafaah Mosque, 1 Admiralty Lane, Singapore 757620
The Gateway
Completed in 1990, The Gateway was seen by I.M Pei, acclaimed architect, as a welcoming entrance into the heart of Singapore. Made up of twin crystalline 37 storey towers, the shapes of both are trapezoidal, and are so finely angled that they appear as a single, one dimensional plane from certain perspectives.
The Gateway, 152 Beach Road, Singapore 189721