Photography: Rogan Yeoh via Unsplash
Safe to say, National Day will be a tad different this year. Hit up this guide for what to expect on 9 August.
Cue the red and white, patriotic theme songs and all things local. National Day is here. As with every other Covid-affected event, this year's edition will be totally different from others. With 2020's theme being "Together, A Stronger Singapore" and the unofficial buzzword 'virtual' popping up everywhere, there's still plenty to look forward to on Singapore's 55th birthday. Read on for the NDP line-up, special events, exclusive promos and everything #SGPride. Can we get a Majulah Singapura?
Guide to National Day in Singapore
What to expect on 9 August
Unfortunately, you won't be able to do the Kallang Wave with tens of thousands of others this year. Instead, the parade will be split into two main events – a morning parade at The Padang reviewed by the President, followed by an evening show at Star Performing Arts Centre.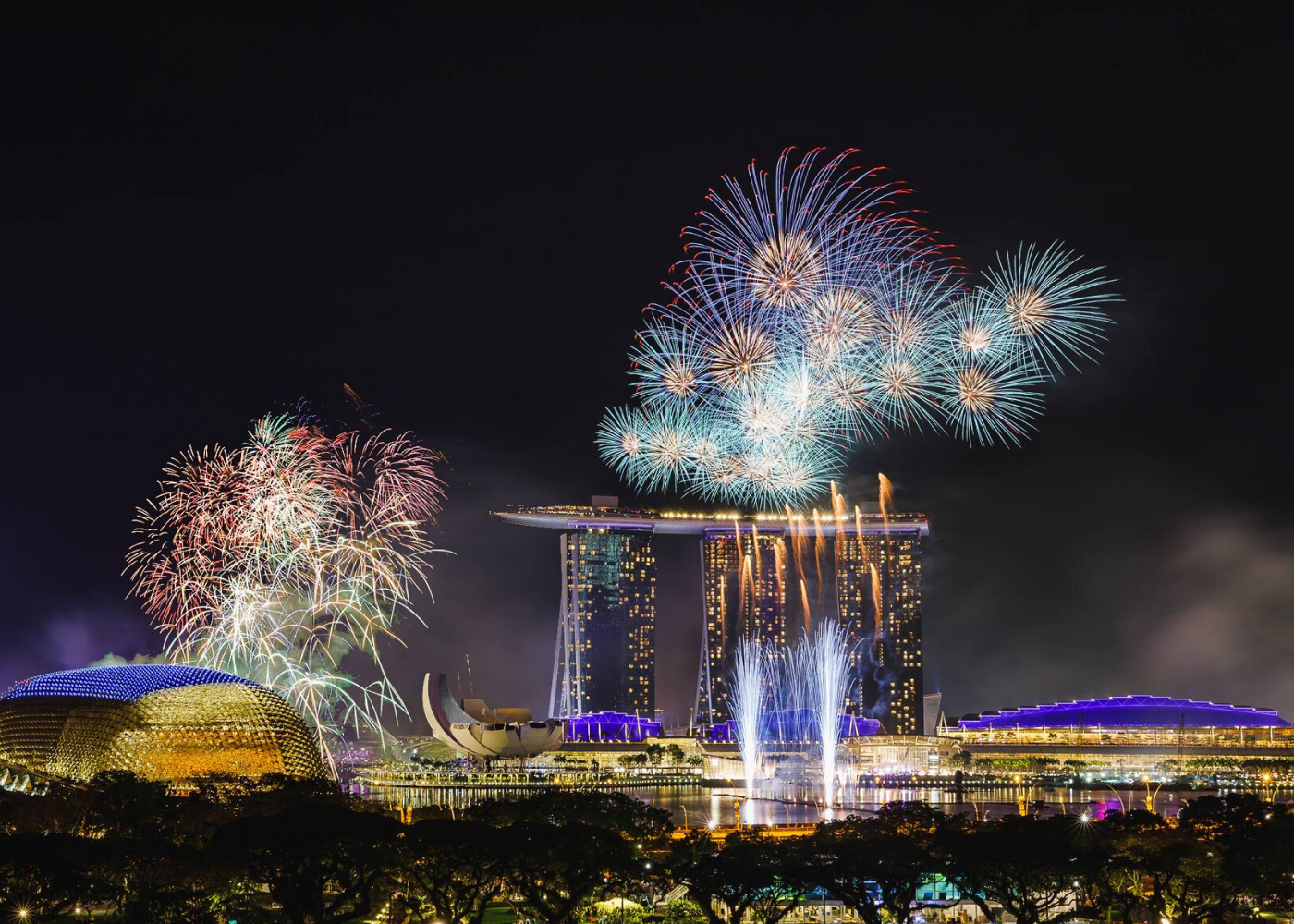 Morning parade: Kick off the day with Prime Minister Lee Hsien Loong's National Day message. The parade at The Padang will hold the presidential gun salute, along with flag-raising ceremonies across the city. Look out for parade favourites including the state flag flypast, the iconic roars of the F-15SG fighter jets, the Red Lions' free-fall jump, the Mobile Column and Maritime Sailpast around the island and heartlands for the first time.
Afternoon activities at home: Make the most out of your public holiday by participating in cooking activities, home workouts and craft activities with the fam. Each Singaporean and PR household will also receive funpacks with additional items like a thermometer, face mask and hand sanitiser. Collect them from now till 2 Aug at your nearest CC.
Evening show and fireworks display: It's going to be an intimate one this year as the number of performers has scaled down to include less than 100 Singaporeans and local celebrities. Expect an inspirational show about resilience and hope, with a tribute to frontline workers and the community.
The show will end with a bang-on five-minute fireworks display around 8.20pm across 10 locations: Ang Mo Kio, Bishan, Buona Vista, Jurong Lake Gardens, Marina Reservoir, Punggol, Sembawang, Tampines, Woodlands and Yew Tee. Take note that the Jurong and Marina Reservoir sites will be closed to the public to encourage people to stay home and enjoy the live broadcast.
An NDP song that hits you right in the feels
This year's National Day theme song is called Everything I Am. Performed by Nathan Hartono, the heartwarming number spotlights community spirit, gratitude and togetherness during these challenging times. The music video gives us all the warm fuzzies.
---
More National Day events, deals and collections for a spark of patriotism
Virtual Istana open house
2 Aug, Saturday
Join President Halimah Yacob for an interactive tour of the Istana. Witness lesser-known areas like the well and bunker – which are usually out of bounds to the public, interact with an artefact from the National Museum of Singapore and watch sneak previews of the National Day programme.
Virtual Istana open house, visit President Halimah's Facebook and Instagram at 10am to join.
On-site and online initiatives at National Gallery Singapore
All month
National Gallery Singapore is joining in the festivities with a gallery light up. If you've witnessed previous light ups, you'll know you're in for an illuminating treat. From 24 July to 30 August, 7pm to midnight, watch the gallery facade feature our national colours and project 60 original artworks by local artists. The gallery is also holding a series of digital art programmes and exhibitions. Miss your trips to the historical site? Enjoy up to one year of free membership and unlimited access to all exhibitions.
On-site and online initiatives at National Gallery Singapore, all month, online or at 1 St Andrew's Road, Singapore 178957
More open houses at museums and heritage institutions
7 – 10 Aug, all weekend
Whether you're out and about or staying home, these places have myriad activities in store for you. Try your hand at The [email protected] Museum of Singapore, a digital scavenger hunt, or explore Asian Civilisations Museum's (ACM) new permanent gallery, Fashion & Textiles, Jewellery and Ceramics, in the comfort of your home. Plus, scan QR codes around the Indian Heritage Centre (IHC) to enjoy curator-led guided tours at your own pace.
Open houses: National Museum: 7-10 Aug; ACM: 8-10 Aug; IHC, Malay Heritage Centre and Sun Yat Sen Nanyang Memorial Hall: 8-9 Aug
Journey through the past with @Home, Truly, a digital exhibition
3 Aug, Sunday
Do we have our history buffs in the house? Fuel your mind with the highs, lows and everything in between of Singapore's storied history with a granddaughter and grandfather duo. This is a digital version and teaser of Home, Truly: Growing up with Singapore, 1950s to the Present, a physical exhibition that will open later this year.
@ Home, Truly, available online from 3 August.
National Day Fiesta by Singapore Sports Hub
9 Aug, Sunday
Singapore Sports Hub goes virtual for its National Day Fiesta this year. The theme for the 55-minute live show is 'Onwards & Stronger Together' and it'll be hosted by the hilarious Michelle Chong in her popular Ah Lian avatar. Play around with the interactive map, get picture ready with Instagram filters, take up the #PlankThatSong challenge (yup, hold a plank while singing your fave NDP song), sweat it out with a K-pop fitness workout and more. The show will be available on Singapore Sports Hub's YouTube channel on 9 Aug at 1pm.
National Day Fiesta by Singapore Sports Hub, watch on YouTube.
#SGCultureAnywhere events and activities
All month
Support local arts groups with National Arts Council's Digital Presentation Grant for the Arts' #SGCultureAnywhere series. Feed your soul with a music video featuring original music by local musicians, an online musical series, augmented reality filters, new Singaporean-inspired artworks for gaming platform Animal Crossing and a virtual exhibition.
#SGCultureAnywhere
National Day dining menus
Don't forget to revel in one of Singapore's favourite pastimes – eating! From untouchable local classics to mod-Sin options delivered straight to your home, this list of National Day menus sees no shortage of options.
SG City Tees by Puma
Puma debuts an exclusive collection of SG City Tees. Wear your love for the nation on your sleeve (in this case, tees) by donning shirts with designs that every Singaporean will love. The series is also part of a larger collection, which includes countries like Istanbul, London and Dubai. Tees are available in adult and kid sizes so the whole fam can join in the celebrations.
Available at Puma stores islandwide and online.
Support local writers with the National Library Board's activities
Bookworms, now's the time to shine the spotlight on local authors 'cos the National Library Board has a line-up of activities waiting for you. It includes One Story, a literary project that showcases books written in our four official languages, as well as creative writing workshops and book club discussions, and SoundscapeSG, a sound map of Singapore with recordings from the everyday lives of locals.
National Library Board
Locally-inspired bottled cocktails by GudSht
They wowed us with quirky cocktail names and equally delish bottled tipples. Now, GudSht has launched two new Singaporean brews. Neslo Gao Peng is perfect for kopi siu dai lovers thanks to the blend of Haku vodka, white cacao, freshly brewed coffee Angostura bitters and malty Milo. It's the best of coffee and Milo with a boozy twist. Salty Egg-ceptional pays homage to our nation's love for salted egg. Bacardi Carta Negra, cinnamon syrup and salted egg make up this savoury drink.
GudSht, order online, both bottles available from 31 July – 31 August.
Value-for-dollar promos by Phyto
Enjoy exclusive promotions from haircare and skincare brands Phyto, Lierac and Jowae. Browse through the site and you'll notice exciting $5.50 and $55 deals and enjoy up to 75% off with storewide discounts.
Shop online
Cafe Coco launches four uniquely Singaporean brews
Cafe Coco at Gardens By The Bay brings the cafe to your home with a #CocoBox filled with locally-inspired brews. Sip on four interesting flavours like gula melaka latte, Teochew orh nee latte, Milo mocha and orchid G&T for a boozy buzz. Look closely at the packaging and you'll notice iconic Singapore landmarks illustrated by the co-founder of Cafe Coco. The exclusive #CocoBox comes with five bottled brews, along with a sweet Milo mocha tiramisu treat.
Cafe Coco, shop online.
Naiise NDP sale
Shop it like it's hot at the local emporium, Naiise. From now till 16 August, you can enjoy 10% off goodies from your favorite local brands including Base Piece Homeware, Soapaholic SG, Twopluso and Chaps V8.2.
Naiise, shop online.
And there you have it – a multitude of events that'll keep you occupied during the long National Day weekend. Enjoy!