Photography: NDPeeps via Facebook
Get patriotic with our guide to great eats, thirst-quenching drinks, and the best deals as we count down to National Day.
ICYMI: the Marina Bay floating platform is under construction, so this year's National Day parade will be held at the Padang on 9 August. The theme for National Day 2023? Onward as One. For anyone that doesn't have a ticket to this year's parade, never fear. We've scouted the best things to do this National Day in Singapore (while listening to National Day songs on repeat to get into the mood).
Guide to National Day 2023 in Singapore
1. What to expect on 9 August: Main parade and show segment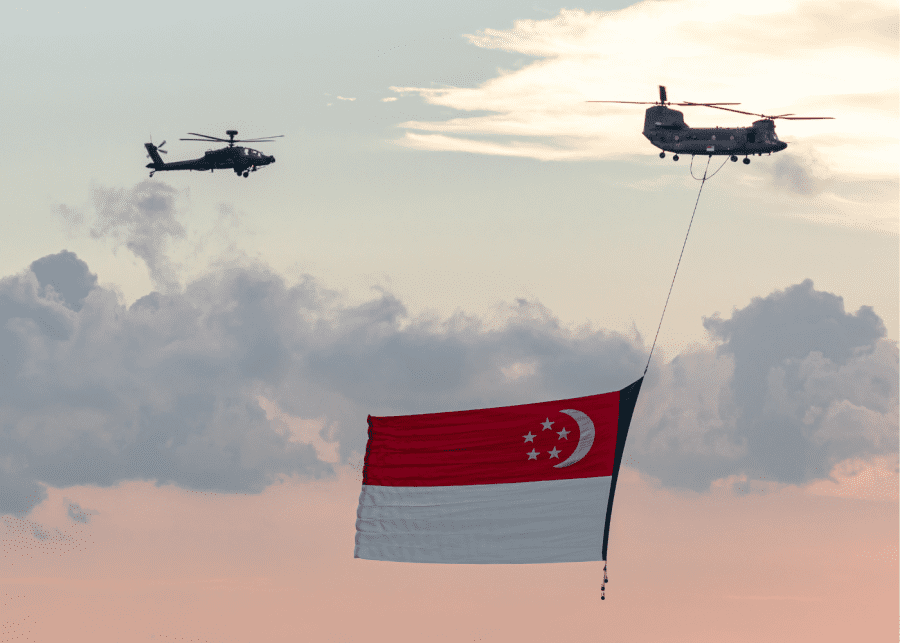 We're excited for this year's parade! The theme, "Defending Our Nation as One", celebrates the commitment, resilience, and contributions of all Singaporeans in protecting the country. The first segment will involve more than 1,700 participants, with performances from the military and a combined school band, plus a choir music video. Of course, don't forget to catch our iconic ​​Red Lions diving and parachuting from the skies to kick off the festivities with a bang.
The second segment is a specially curated piece that includes a showcase of six large floats, with each float representing a Total Defence pillar. It culminates in a finale paying tribute to everyone who's played a part in defending the nation.
2. Fireworks and NDP activities that are just a stone's throw away
With the National Day parade prep in full swing, expect to spot the magnificent fireworks displays even earlier! Jot down these dates: 17 and 24 June, 22 and 29 July and, of course, 9 August. The showcase should start around 8pm; check out our guide for the best places to catch the fireworks.
Not intending to hang around the Padang and jostle with the crowd? Don't worry, because the fun is coming to you! Celebrate National Day at five heartland locations in Singapore. On 5 and 6 August, you can look forward to carnivals in areas like the Jurong West and Woodlands stadiums as well as Our Tampines Hub.
Finally, when the sun sets on the night of 9 August, head to one of the five heartland locations: Our Tampines Hub, Toa Payoh Stadium, Woodlands Stadium, Jurong West Stadium, or Bedok Stadium. The fireworks display will set off at about 8.15pm. Take note: entry to the stadiums is limited and starts at 6pm, so be there early if you want a front row seat to the pyrotechnics!
NDP @ Heartlands, multiple locations including Buona Vista MRT and old Tampines Junior College
3. Celebrate the spirit of Singapore with the Singapore Symphony Orchestra
Celebrate the vibrance of local creativity with a line-up of works by Singaporean composers. Streamed live on the Singapore Symphony Orchestra's YouTube channel, look forward to the release of a music video featuring SSO's musicians and affiliated youth performing artists. They'll be joined by local pop singers Rriley and Rangga Jones to perform a much loved National Day song.
Celebrate the spirit of Singapore with the Singapore Symphony Orchestra, available online
4. Get a scoop of Singapore's first caviar ice cream
As if ice cream isn't already a decadent treat in and of itself, how about combining it with caviar? Sunday Folks has partnered up with local brand Caviar Colony to create this indulgent dessert. Handcrafted ice cream is folded through with pearls of luxurious caviar for a sweet and salty bite. Get two scoops with a waffle cone encased with toasted breadcrumbs, housemade cheddar cheese crisp, a sprig of dill, and a gold leaf. Or go for the dessert bowl that's great for sharing. The ice cream sits in a bowl hidden underneath a layer of cold mashed potatoes. Use the mother-of-pearl spoon to garnish the dessert with the Caviar Colony Russian hybrid caviar to your taste.
Get a scoop of Singapore's first caviar ice cream, multiple locations including Holland Village and Ion Orchard
5. Tinker with the first-ever NDP digital play pack
If you're not planning to head out for National Day celebrations, you can now participate in the festivities in the comfort of your home. Join in on the digital side of the National Day Parade with fancy augmented reality activities and experiences. "Dress" yourself up to take digital photos, "visit", and even "redesign" iconic landmarks of Singapore through the application. Plus have fun with a digitally enhanced parade, where you can enjoy things like immersive 360-degree AR fireworks.
Tinker with the first-ever NDP digital play pack,  available on the Apple Store and Google Play Store
6. Celebrate 58 years with 58 free pints of Tiger
Yes, that's right. Free beer! On 4 and 5 August, Tiger Beer will be taking over the streets of Holland Village for an epic party. Pop by Harry's, Walawala, British Indian Curry Hut, Baden Restaurant and Pub, and The Pit and be at the edge of your seat. Because for just eight minutes, 58 free pints will be dished out. If you miss the timing, don't worry. You can find other restaurants like L'Entrecote, Just Thai, and La Nonna that'll have great deals for the street party.
Celebrate 58 years with 58 free pints of Tiger, multiple locations within Holland Village
7. "Check-in" to the National Museum of Singapore for a whirlwind adventure
To celebrate the Nation's birthday, the National Museum of Singapore will be bringing its very popular National Day Open House programme and activities. This includes two new pop-up rooms that offer you a glimpse of popular sights around Singapore in the 1980s. Inspired by the latest exhibition, Now Boarding: Experiencing Singapore Through Travel, 1800s – 2000s, the rooms will run from 4 August at the Glass Atrium. Settle yourself in the Travel Lounge based on Singapore Airline's Raffles Lounge which was first launched in 1976. Or head to the Hotel room inspired by Goodwood Park Hotel in the 1980s.
And on 9 August, the National Museum of Singapore will be bringing fun-filled activities for the whole fam! Get competitive with a scavenger hunt or bring the kids to a storytelling session. You can even enjoy an outdoor live screening of the National Day Parade on the museum's front lawn.
"Check-in" to the National Museum of Singapore for a whirlwind adventure, National Museum of Singapore, 93 Stamford Road, Singapore 178897
8. Lion Brewery Co's new brew
When you think of Singapore, you often associate heat with our sunny island. And because of that, Lion Brewery Co is celebrating all things hot and spicy with its newly crafted chilli-infused beer that's pushing the boundaries of its craft. After fresh chillies are baked and dried, they're infused into the Api Pils, adding a refreshing aroma and taste with just a touch of heat.
Lion Brewery Co's new brew, 36 Club Street, Singapore 069469
9. Swipe some Chin Mee Chin merch
Besides lovingly made plates of kaya toast and kopi, Chin Mee Chin Confectionery has our hearts with its adorable merchandise full of local charm. To pay homage to Singapore and its 58th birthday, head down to get some accessories of your own! Pick up uniquely Singaporean enamel pins or rock your love for Chin Mee Chin with mugs, socks, and shirts. It's only available in-store, so head down for your morning cuppa if you're keen to pick up some fun gifts. Psst: keep your eyes glued onto Chin Mee Chin's Instagram on 9 August for a chance to win these goodies in a giveaway!
Swipe some Chin Mee Chin merch, 204E East Coast Road, Singapore 428903
10. Check out the Istana Open House
Unfortunately, this year's National Day Istana Open House is over, but we highly recommend keeping an eye out for it next year. Guided tours will be held at the Istana's main building and the enhanced Japanese garden every 45 minutes. Don't forget to pop by food trucks and merchandise booths! We hear they're carrying limited edition Istana and President's Challenge souvenirs. For anyone looking to grow your collection of Singapore paraphernalia, you know where to go.
Istana Open House, Orchard Road, Singapore 238823
Celebrate with all the fun activities for National Day 2023!