You'll find this lush scenery in the Cameron Highlands. Photography: Merlijn Hoek
Road trip! Pack your bags 'cos you're in for a ride. Go on a road trip from Singapore to Malaysia and discover some culture, art, shopping and food along the way.
Making full use of the long weekend and taking a short break from Singapore is always a great idea. What's not so great is packing for airport security, trudging through airports and the possibility of hanging around waiting rooms because a flight is delayed. That's why we love a good ol' road trip… to Malaysia! Time to go old school and just drive across the causeway for a road trip from Singapore to Malaysia.
But first! Some road trip reminders
On packing:
Packing for a road trip is a lot more liberal. No more restrictions on liquid in small 100ml bottles! Still, that doesn't mean you won't look dodgy travelling over to Malaysia with a trunk full of knives and assorted sharp objects. You do still have to make it through immigration…
Be the hostess with the mostest:
Do load up on snacks and water to keep you and your companions hydrated and the opposite of peckish. Although there'll be a lot of food stops in Malaysia you can make along the way…
Immigration matters:
Might seem trivial, but when crossing the border to Malaysia from Singapore, always make sure that the immigration officers have stamped and inked your passport (and that it is visible to the naked eye!). Because if not, coming back in to Singapore is going to be a little difficult. Believe us, we've learned this the hard way.
Put these spots on your map…
Malacca
For the lazy adventurers
This sleepy colonial town is a gem with lively laneways and heritage buildings waiting to be discovered. The best way to get around? By foot! A little like Singapore, Malacca is a small coastal town rich in heritage and culture. A 4-5 hour road trip from Singapore, Malacca's a great place if you're just looking for a bit of quick respite from the city life. Stay in or near the Jonker River to immerse yourself in the hustle and bustle and while you're in Malacca, you have to try the Assam Laksa and chicken rice balls (and that's just the tip of the iceberg!). Lucky for you, we've put together a little field guide to Malacca!
Kuala Lumpur
For the city-slickers
If you find that even on holiday, you get the urge to be near a swish mall, nice restaurants, and tall buildings, then Kuala Lumpur is the city for you across the causeway. A drive from Singapore would take you 5-6 hours, but brace yourself for the traffic in Kuala Lumpur when you arrive. It'll be worth it when you hit the food havens of Jalan Alor (you have to get some roasted chicken wings!) and Petaling Street, shop a storm around KL from Bangsar to Bukit Bintang, and check in to a snazzy hotel like Aloft KL, Chaos Hotel or the rustic Sekeping Backlane.
Cameron Highlands
For the contemplative types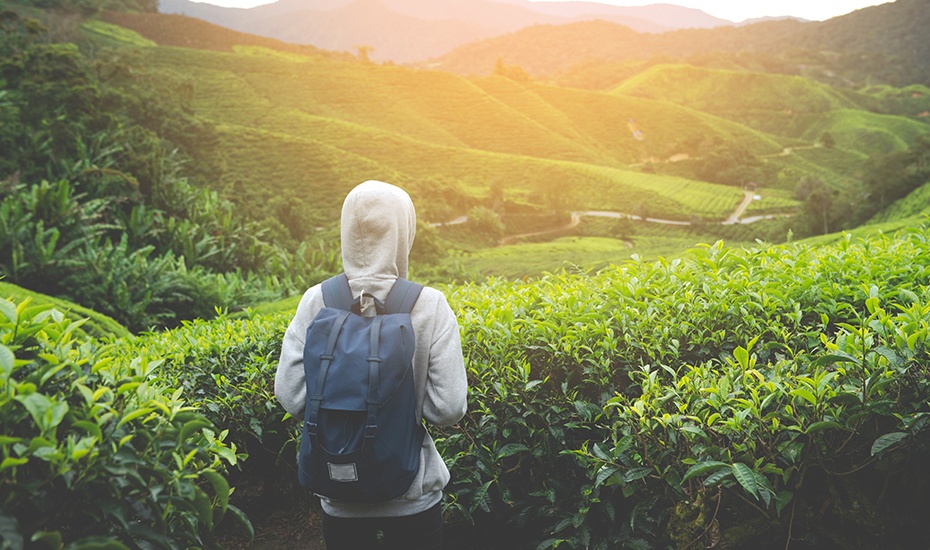 Hills and greenery for miles, fresh clean air, chilly weather… you don't have to go so far, Cameron Highlands is just a road trip away! Go strawberry-picking, stroll through eucalyptus trees, check out tea plantations and generally take it slow because there's always time for tea in Cameron Highlands. Check into Tudor-style resort on the hill,The Lakehouse, or the French chateau inspired Cameron Highlands Resort for that true away-from-the-city vibe.
Penang
For the culture vultures
Listed as a UNESCO World Cultural Heritage Site in 2008, the island of Penang has no shortage of cultural sights and natural scenery. Soft, sandy beaches and great food all around, Penang is also known for its vibrant street art. The quaint nooks and crannies of Georgetown and the Tropical Spice Garden – the only spice garden in South East Asia – as well as Penang's many flea markets and night markets are must-see for visitors. Stay in a cosy B&B for an authentic Penang experience.
Johor Bahru
For the time-strapped traveller
Enough with the day trips to JB! Technically a drive (not a road trip) away, it's about time you check in to a fab hotel for a weekend, and explore the capital of Johor's cafes, night markets, heritage shops and more. It's no secret, JB's our favourite place to pop over for cool little cafes, authentic street Malaysian fare and shopping at those designer outlets.