Photography: Whisper Rock Ranch via Facebook
These modern and luxurious bed and breakfasts around the world are giving us a strong case of wanderlust.
If you've got your finger on the 'book now' button of a hotel website, stop and read this. A five-star hotel may be your usual go-to for a bit of respite, but there's an undeniable charm to checking into a stunning bed and breakfast. These quaint lodgings often immerse you in the local atmosphere and offer a sense of actually living in the destination. Still not convinced? Explore some of the world's most beautiful bed and breakfasts and see for yourself.
Best bed and breakfasts in the world
1. California, USA: Whisper Rock Ranch
We're so obsessed with this hidden gem in California. The Whisper Rock Ranch sits on the brink of untouched wilderness, nestled amidst weathered boulders and ancient juniper trees. Inside, the furniture and decor evoke mid-century modern vibes with a touch of bohemian elements. You'll love the open space floor plan, outdoor pool, and wooden deck that wraps around the space. We hear there's even a projector screen if you're planning a movie night.
Whisper Rock Ranch, from $683/night; 51535 Jalmar Road, Pioneertown, CA 92268
2. Nagano, Japan: B&B Nomanomori
Are you considering taking a skiing holiday in Japan? Be sure to explore this enchanting bed and breakfast in Nagano. Situated just 15 minutes away from Pilatus Ski Resort, it features comfy Western-style rooms, a garden with a terrace, a welcoming fireplace, and homemade bread for breakfast. Travelling here during the summer when the snow dissipates? No problem. This charming retreat nestled in lush nature is the perfect spot to hunker down for a few days.
B&B Nomanomori, from $113/night, 5513-1 Kitayama, Chino, Nagano 391-0301, Japan
3. Central Provence, Southern France: La Bastide De Soubeyras
This magnificent bed and breakfast is tucked away in the heart of the Natural Park of the Luberon in Provence. Boasting a wooded expanse of 2.5 hectares, it affords breathtaking panoramas of Menerbes village, the Luberon mountain, and Mont Ventoux, alongside picturesque vineyards stretching as far as the eye can see. Every room is designed to accommodate two to four guests, and provides luxurious amenities like premium bedding, plush bathrobes, and more.
La Bastide De Soubeyras, from $200/night; 124 Chem. des Alafoux, 84560 Menerbes, France
4. Barcelona, Spain: Circa 1905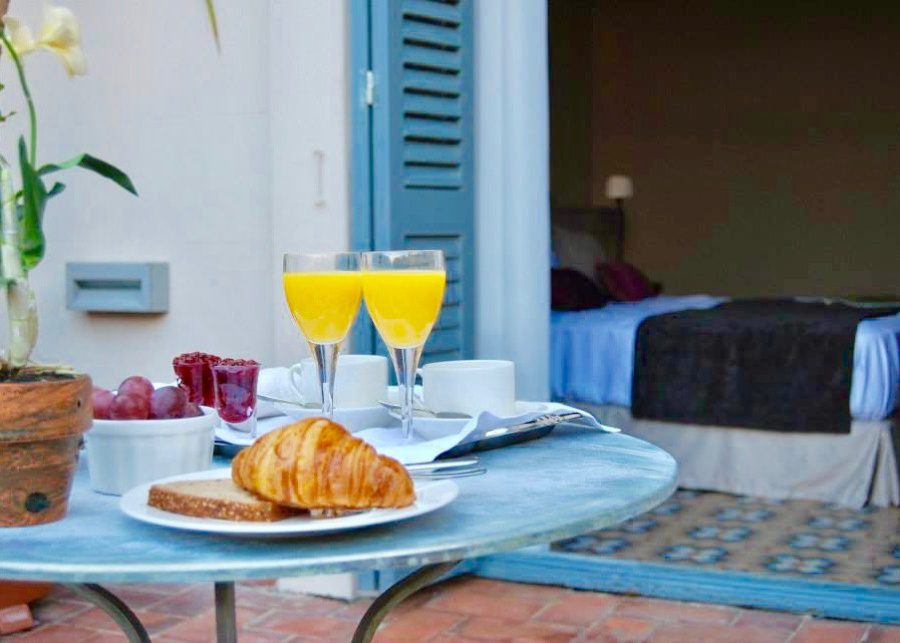 Circa 1905 is a well-kept secret in the city of Barcelona. This boutique bed and breakfast offers rooms with a touch of understated elegance, your own balcony, and free tea and coffee at all hours of the day. We love that it serves breakfast made out of local produce for a true taste of Spain. The best part? It's a stone's throw away from many of Barcelona's sights and attractions. That includes the famous shopping street Passeig de Gracia and a dizzying array of great restaurants and exclusive shops.
Circa 1905, from $217/night; C/de Provenca, 286, Principal, 08008 Barcelona, Spain
5. Duluth, Minnesota, USA: A.G. Thomson House
Of all the bed and breakfasts in the United States, the A.G. Thomson House ranks number one. It's even a winner of Trip Advisor's Travellers' Choice Award. Nestled amidst towering pines and verdant gardens, this stunning accommodation sits in the heart of Duluth's historic mansion district. Luxuriate inside its seven guest rooms, featuring deluxe amenities such as whirlpool tubs, fireplaces, and plush king and queen beds. You can even explore the property's surroundings by taking a cycling or hiking excursion.
A.G. Thomson House, from $621/night; 2617 E 3rd Street, Duluth, Minnesota, United States 55812
6. Port Macquarie, Australia: Ana Mandara Luxury Retreat
If you're embarking on a road trip through New South Wales, take a pit stop at this luxurious boutique bed and breakfast in Port Macquarie. This exclusive retreat is designed exclusively for adults (so there'll be no noisy kids around to mess up the vibe). Enjoy a daily three-course gourmet breakfast, cosy up by the beautiful log fireplace, unwind in the outdoor heated spa, and soak up the stunning waterfront views from your private balcony. To elevate your stay, indulge in an exquisite dinner prepared by the in-house chef as an optional add-on.
Ana Mandara Luxury Retreat, from $400/night; 152 Settlement Point Road, Port Macquarie NSW 2444, Australia
7. Invermoriston, Scotland: Point Clair House
No visit to Scotland is complete without a trip to the iconic Loch Ness. And what better way to experience it than by staying in a luxurious self-catering cottage nestled right by its side? Point Clair House was built in the 1930s and sits on its own private, four-acre grounds. It comes complete with six bedrooms, five bathrooms, two dining rooms, a living room, a games room, and a cinema. Who knows, you may even catch sight of Nessie from your window.
Point Clair House, rates available upon enquiry; Invermoriston, Inverness IV63 7YE, United Kingdom
Pack your bags and check into the world's most beautiful bed and breakfasts!