Shelfie game is strong at new bookstore, cafe and events space The Moon
Lose your-shelf in the world of books. Here's which bookstores to hit in Singapore if you've got a need to read.
Sure, we're in the age of digital, but there's no stopping serious bookworms in their quest for literature (plus, who can resist the new smell of books). From Singaporean poets and local literature to underground zines and international bestsellers, these best bookstores in Singapore will satiate even the most voracious book nerd.
The Moon
This multi-concept space is our recent favourite hangout along Mosque Street in Chinatown. Expect plenty of sunlight, comfy reading nooks and great coffee. Of course, plenty of amazing books (including limited edition, leather-bound classics!). Check out our editor's interview with the founder Sarah Naeem!
The Moon, 37 Mosque St, Singapore 059515
Huggs-Epigram Coffee Bookshop
Books and brews aren't the only two noteworthy things that make this new place. The Huggs-Epigram Coffee Bookshop also stocks only local books. Yup, it's a treasure trove. It will stock 400 books, all either written by Singaporean authors, published by local publishing houses or delve into things that are uniquely Singaporean. Stroll in and you might just bump into an author or artist. Part of Epigram's Artist-in-Attendance (AIA) programme, this lets you pick their brains, get a signed copy or just chat over kopi.
Huggs-Epigram Coffee Bookshop, #01-01, Urban Redevelopment Authority centre, 45 Maxwell Road, Singapore 069118
Basheer Graphic Books
This specialty bookstore for design books and mags is a favourite of many design aficionados. Texts are related to architecture, interior design, landscape design, graphic design, animation, fashion, and art and craft. Whether you work in design or just love the way these heavyweights look on a coffee table, Basheer Graphic Books has some stunning books that are arguably works of art in their own right. Check out our interview with the owner of Basheer Books!
Basheer Graphic Books, Block 231, Bain Street, #04-19, Bras Basah Complex, Singapore 180231
GOHD Books
For the more discerning bookworm, GOHD Books is where you can find out of print and rare books, some of which are first editions and some, 4000 years old. Pick out literary greats like Tolkien, Chekhov and Chaucer, as well as art and history books in this olde bookshoppe.
GOHD Books, #01-37 Burlington Square, 175 Bencoolen St, Singapore 189649
Open Trolley
You'll find over 10 million imported US and UK titles on this online book peddler in Singapore, Indonesia and Malaysia. From children's classics (with really pretty covers) to books on architecture, you can say that they're pretty well-stocked, and affordable too.
Open Trolley, online.
BooksActually
Considered the pioneer of independent bookstores in Singapore, BooksActually also has its own publishing arm with Math Paper Press. You'll find a wide range of literature from classics to emerging local writers, along with knick-knacks and stationery that's made in-house. Into the spoken word scene? Swing by for poetry readings, from both emerging and famed local authors and the celebrity bookstore cats.
BooksActually, No. 9 Yong Siak Street, Tiong Bahru, Singapore 168645
Woods in the Books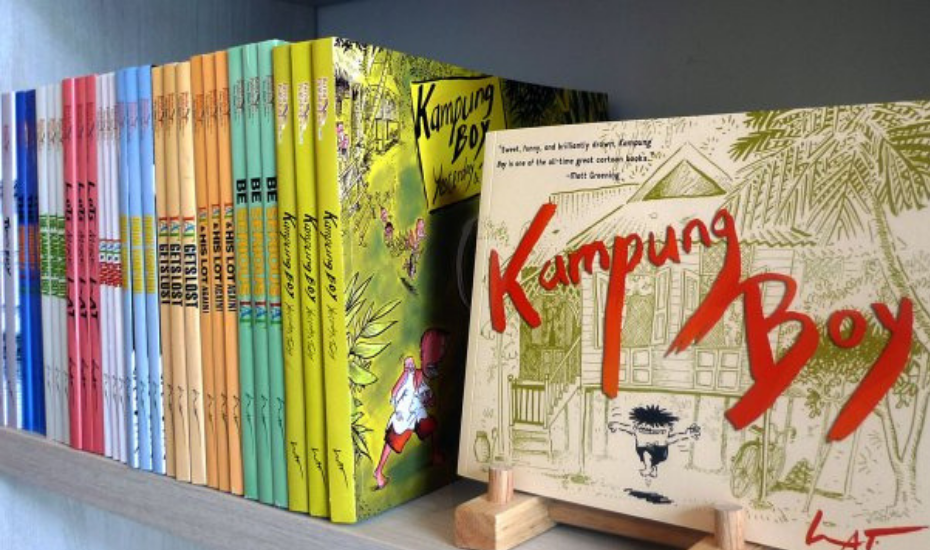 An independent bookshop that takes you back to your childhood, Woods in the Books specialises in picture books for all ages. Whether you were a Meg & Mog fan, loved Tintin, or ran to bed for The Hungry Caterpillar, Woods in the Books will get you nostalgic for the good ol' days. Perfect for expecting Mums, gift ideas for children's birthdays, and those who just want to relive their younger days.
Woods in the Books, No. 3 Yong Siak Street, Tiong Bahru, Singapore 168642, p. 6222 9980
Books Ahoy
Brought to you by the folks behind Woods in the Books, Books Ahoy caters specifically to young readers. Vibrant pictures and easy-to-read chapter books will transport your little ones to a world of adventure – what better way to pique their interest in reading?
Books Ahoy, 583 Orchard Road #02-03 Forum, Singapore 238884
Magpie
No, you won't be thumbing through pages here, but this online magazine store might just be the stuff of dreams. Score hard-to-find magazines sourced from around the world here. Titles include Cereal magazine, The Gentlewoman, Dumbo Feather, and Fast Company.
Magpie, online.
Littered with Books
Tucked away in the hip Duxton area is Littered with Books: our favourite bookstore. They've got fantastic service, competitive prices, a well-edited selection of reads, and readily bring in books when requested.
Littered with Books, 20 Duxton Road, Singapore 089486
Kinokuniya
Not only does Kino stock a wide genre of books that somehow manage to be impeccably arranged every time we visit, they also have texts in different languages. Perfect if you have all day to peruse, not so perfect if your bank account needs a break.
Kinokuniya, various locations including Orchard and Bugis.
LocalBooks.sg
Well, the philosophy is in the title. This online bookstore stocks Singaporean books on a variety of subjects including fiction, cooking and graphic novels. Browse, click and buy these neatly categorised titles written by local authors and published here and overseas.
LocalBooks.sg, online.
The French Bookshop
The only French bookstore in Singapore, this humble reading corner is nestled in the Tiong Bahru district, housing over three thousand French reads. For all the speakers of the language, this is a great way to wrap up an afternoon of cafe hopping around the area.
The French Bookshop, Unit 01/53C, 55 Tiong Bahru, Singapore 160055