Get inspired with women-centric content this International Women's Day and beyond.
Hello, girl power! We're feeling mighty inspired by these women-centric movies, books, podcasts and series.
We're all for a strong female personality whether it's in books, movies, series or in real life – and beyond International Women's Day. Thankfully, we're got plenty of women-centric content out there to inspire us and remind us that we're not alone in this crazy world. Ahead, we share empowering movies, books, series and podcasts about feminism that'll make you smile, cry, ponder and get you ready to take on any sh*t that comes your way.
Empowering women-centric podcasts to tune in to
1. The Guilty Feminist
Ah, feminism. The term has seen its fair share of highs and lows. But aside from a few bad apples (aka misandrists), we collectively strive to be non-toxic feminists. So, what's it like being a feminist in the 21st century? Join comedian Deborah Frances-White and her live audience as she discusses trending topics that feminists agree on, along with insecurities, hypocrisies and fears that undermine their goals.
Listen on Spotify or Apple Podcasts
2. Skimm This
Budding entrepreneurs will never say no to good advice. And this business podcast delivers. Join the co-founders and co-CEOs of theSkimm, Carly Zakin and Danielle Weisberg, as they share their perspectives on starting a business as a woman. Each week, the highly engaging podcast invites a guest from various industries to discuss their journeys, struggles and advice they received along the way. Don't be surprised to see notable names on their guest list.
Listen on Spotify or Apple Podcasts
3. Womanica
If long-form podcasts aren't your thing, give Womanica a listen. This award-winning bite-sized podcast shares tidbits of tastemakers, movers and shakers, and incredible women doing great things throughout history. Just the energy boost and dose of inspiration we need!
Listen on Spotify or Apple Podcasts
4. Anything goes with Emma Chamberlain
Emma is like that friend who's always there for you. Raw, real and incredibly relatable, she chats about anything that's on her mind that week. A quick scroll through her episode list and you'll find topics such as sex and relationships, social media, pet peeves, failure, female friendships, the pressure to overachieve, self-acceptance… and the list goes on. We love how she's really likeable and genuine with her thoughts.
Listen on Spotify
5. Date yourself instead

You may have seen her self-love series on TikTok which fetched over 100 million views in 2021. Today, Lyss Boss takes it to the next level with this podcast that inspires you to become the best version of yourself. Join Lyss on this 'date yourself instead movement' as she delves into her experiences with relationships, beauty, wellness and more.
Listen on Spotify or Apple Podcasts
Female-centric movies that put inspiring ladies in the spotlight
6. Hidden Figures
Loosely based on the book by Margot Lee Shetterly, Hidden Figures is a biographical drama about three female African-American mathematicians who worked at NASA during the Space Race. Before you think this is the kind of preachy big message movie, it's not. The premise is moving, inspiring and brilliantly written. And we can't forget the stars. Taraji P. Henson, Octavia Spencer, Janelle Monáe along with Kevin Costner, Kirsten Dunst, Jim Parsons and Mahershala Ali simply carry the show.
Watch on Disney+
7. Erin Brockovich
This 2000 American biographical legal drama is a true story of a single mother, Erin (played by a fantastic Julia Roberts). She struggles to make ends meet and lands a job at a law firm where she discovers that the drinking water in a small town is contaminated with toxic chemicals. She takes on the energy corporation Pacific Gas and Electric Company – and wins against all odds. The film is a triumph of the human spirit and a testament to the power of perseverance. Roberts kills it in this role, delivering the perfect blend of wit, humour and heart.
Watch on Apple TV
8. The Joy Luck Club
We're thrilled that the Asian-led cast of Everything Everywhere All At Once is receiving countless accolades. But long before this American flick, The Joy Luck Club was one of the rare older films with Asian representation. It follows the lives of four Chinese immigrant families in San Francisco, as the mothers start a mahjong group called The Joy Luck Club. The film highlights the struggles, insecurities, unhealthy expectations and generational trauma that both the mums and daughters experience. If you have mummy issues, you're going to bawl your eyes out.
Watch on Disney+
9. Kill Bill
If you chose violence today, you're in for a bloody good time with Kill Bill, directed by Quentin Tarantino and starring Uma Thurman. The two-part action flick follows the story of The Bride, a former assassin seeking revenge on her ex-lover Bill, and ex-colleagues who left her to die on her wedding day. The film leaves you on the edge of your seat with thrilling martial arts fight sequences and OTT action scenes. Definitely a cult classic!
Watch on Apple TV
10. Norma Rae
This film is based on the true story of Crystal Lee Sutton (played by Sally Field), a textile worker in North Carolina who fought to unionise her factory. She soon becomes the union leader and helps her co-workers fight for better working conditions and fair treatment. It's a powerful commentary about strength, resilience and standing up for your rights. The film went on to receive critical acclaim and won multiple awards, including the 52nd Academy Award for Best Actress for Field's feisty and moving performance.
Watch on Blue-ray
Inspiring books for your reading pleasure
11. In the Company of Women: Inspiration and Advice from over 100 Makers, Artists, and Entrepreneurs by Grace Bonney
Now, this is something to add to your book collection if you're looking to start your own business or if you're in the creative industry. In the Company of Women is a collection of stories of success and challenges faced by female artists, designers, writers, chefs and entrepreneurs of various backgrounds. They offer advice about everything from overcoming self-doubt to achieving a work-life balance.
Available for sale via Amazon, Kinokuniya or for loan at NLB
12. Becoming by Michelle Obama
There are countless celebrity biographies out there but only a few stand out. One of them is former First Lady Michelle Obama's book. Obama shares stories about her childhood, her roles as a wife and mother, and her experiences in the White House. She also reflects on the challenges and discrimination she faced as a black woman in America, and why she created initiatives to improve education and nutrition and advocate for military families. If you're not a bookworm, you can watch her documentary on Netflix.
Available for sale via BookDepository, Amazon, Popular, Kinokuniya or for loan at NLB 
13. Bossypants by Tina Fey
This witty and hilarious memoir gives us a glimpse into comedian and actress Tina Fey's life. It covers her childhood and triumphant career as a writer and performer on Saturday Night Live and 30 Rock. Aside from sharing the creative process of her popular comedy sketches and working in a male-dominated industry, she also delves into her struggles with body image and her personal life.
Available for sale via Amazon and BookDepository
14. Year of Yes: How to Dance It Out, Stand In the Sun and Be Your Own Person by Shonda Rhimes
In this memoir, the creator of shows such as Grey's Anatomy, Scandal and Bridgerton pens down how saying yes to things that scared her changed her life. She encourages the reader to prioritise their own happiness and take risks, even if it sometimes doesn't go according to plan. Rhimes also shares what goes behind the scenes of her hit shows.
Available for sale via Kinokuniya, Amazon and for loan at NLB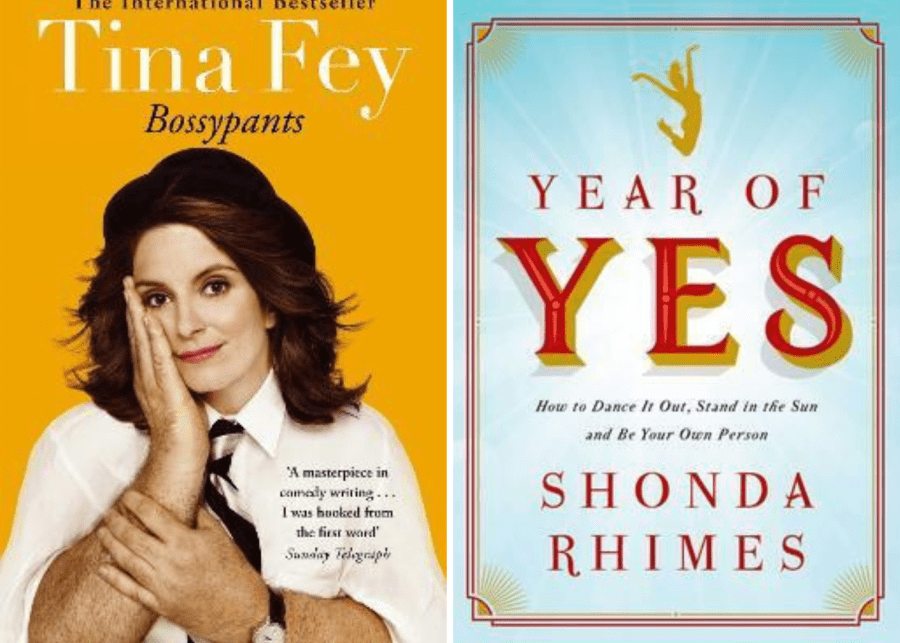 15. Of Mess and Moxie: Wrangling Delight Out of This Wild and Glorious Life by Jen Hatmaker
Jen Hatmaker makes you laugh but ponder with her fresh perspective on the joys and challenges of life. The famous author, speaker and podcaster covers a range of topics from parenting, faith and marriage to social issues through a series of essays. We totally relate to her views on how life can get messy sometimes and it's alright to embrace it. Aside from her own personal struggles and experiences, the book also covers heavier topics such as racism and poverty, and how Hatmaker challenges readers to take action and make a difference in the world.
Available for sale via Amazon
Popular TV series with strong female leads
16. Big Little Lies
Adapted from a novel by Australian author Liane Moriarty, Big Little Lies follows the lives of three mothers in a wealthy beach town in California. The women become friends when their children are enrolled in the same school. The show explores themes of domestic violence, marriage, motherhood, and the struggles of balancing their personal and professional lives. The award-winning series features a stellar all-star ensemble of Reese Witherspoon, Nicole Kidman, Shailene Woodley, Laura Dern, and Zoe Kravitz.
Watch on HBO Go
17. Parks and Recreation
This American political satire mockumentary is inspired by the sitcom The Office. However, everyone from the ensemble cast is fantastic, and charming and has excellent comedic timing – it's not just one or two characters pulling the weight. But the star of the show is the spritely Leslie Knope (portrayed by Amy Poehler). As the deputy director of the Parks and Rec department in the fictional town of Pawnee, she strives to improve her community through her work. She's just a ball of sunshine with a strong work ethic and boundless (sometimes too much) enthusiasm and optimism. She faces many struggles but always finds a way to overcome them with positivity and determination.
Watch on Prime Video
18. The Handmaid's Tale
Imagine a dystopian world where the birthrate has plummeted and fertile women (handmaids) are forced to bear children for the ruling class. The series follows Offred's (whose real name is June Osbourne) desire to reunite with her estranged husband and daughter. It explores themes such as gender roles, sexuality, politics, religion and power, and sparks discussions about women's rights and gender inequality.
Watch on HBO Go
19. Fleabag
If you need something easier to watch, try Fleabag. The British comedy-drama stars Phoebe Waller-Bridge in the titular role. Fleabag is witty, has no filter, takes a dig at the tragedies of life, and showcases the real struggles of a young woman in London.
Watch on Prime Video
20. The Morning Show
Set in the world of a morning news show, Alex Levy (Jennifer Aniston) struggles to keep her job after her co-host Mitch Kessler (Steve Carell) is fired due to sexual misconduct allegations. Her new co-anchor Bradley Jackson (Reese Witherspoon) shakes things up with her unconventional approach to journalism. The revetting show covers the #MeToo movement and the power dynamics in the workplace. We also see how the dynamics between the co-hosts are explored as they navigate the changing landscape of morning news after the scandal.
Watch on Apple TV
Get inspired with women-centric content and feminism in movies this International Women's Day and beyond. Here's to female power!